In the past, luxury was not casual and casual was not luxury. The EUROPA 2 is different. Enjoy smart casual travel and a discerning lifestyle in a modern, relaxed atmosphere – with no formal attire, fixed mealtimes or traditional seating plans in the restaurants on board the best cruise ship in the world according to the Berlitz Cruise Guide 2020.
 With a maximum of 500 guests, enjoy individually tailored service and the highest level of personal space – and an exceptionally luxurious ratio of crew to passengers. The EUROPA 2 combines the comfort of an exclusive resort with the flexibility of a yacht that can also visit small harbours and places off the beaten tracks. Great route diversity opens up whole new opportunities to discover unforgettable destinations.
Specifications
Size

small

Style

Luxury

Type

ocean

Year of launch

2013

Year of last refit

2017

Gross tonnage

42830t

Length

225.38m

Width

26.7m

Speed

21kts

Decks

7

Language

German & English

Currency

Euro (€)

No. of passengers

516

No. of crew

370

No. of cabins

251

-wheelchair access

2
Unique Features
Gourmets can hone their cooking skills on the EUROPA 2 under the guidance of our Tarragon chef. The classroom corresponds to the level of the skill being taught there: the chefs will entertain you in the kitchen of the EUROPA 2 equipped with high-quality MIELE appliances as they teach you how to conjure up cuisine and creatively present it on the table. Devote yourself to the fascinating topic of culinary enjoyment in complete calm on the EUROPA 2.
Gratuities
Gratuities are not compulsory onboard. The acknowledgement of a particularly good service is at the discretion of every guest.
Accommodation
The EUROPA 2 suites are modern and stylish retreats in which to enjoy private moments. Suites up to 114 m² (1,227 ft²) in size are available – naturally with their own veranda and a wonderful ocean view.

The Owner's Suite is so much more than our most exclusive suite; it is an exquisite home on the oceans of the world. Enjoy all the amenities you could possibly need, spread over more than 114 m²/1,227 ft² of personal freedom.

Selected equipment features
Living are: 99 m²/1,066 ft²; veranda 15 m²/161 ft²
Separate living and sleeping area.
Separate dining table.
Guest WC.
Bathroom with two sinks.
Shower with steam sauna.
Whirlpool and daybed in the bathroom area.
Spacious walk-in wardrobe.
Butler service.
Free mini bar (soft drinks, beer and a selection of high-quality spirits).
Other exclusive service privileges.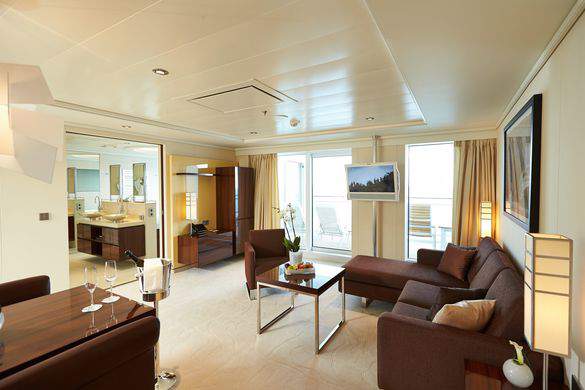 In the Grand Penthouse Suite, you can enjoy lavishness at sea - on a daybed with view of the endless sea, or while taking a bath in the middle of the ocean in your private whirlpool.

Selected equipment features
Living areas: 78 m²/840 ft²; veranda: 10 m²/108 ft².
Separate living and sleeping area.
Separate dining table.
Guest WC.
Bathroom with two sinks.
Shower with steam sauna.
Whirlpool and daybed in the bathroom.
Butler service.
Free mini bar.
Exclusive service privileges.
A private oasis of well-being and a stylish haven of peace
- in the Grand Ocean Suite, you can leave all your worries far behind you.
Pamper your body and soul at the highest level
- with warm colour tones and a spa bath with a panoramic view over the sea.
Selected equipment features
Living area: 42 m²/452 ft²; veranda: 10 m²/ 108 ft².
Bathroom with two sinks.
Separate WC.
Natural light in the bathroom.
Shower with steam sauna.
Whirlpool tub.
Free mini bar.
A wonderfully spacious suite offering the utmost comfort, uniquely located on the upper decks - is there a better place to relax? In the Penthouse Suite, you can enjoy endless views over the sea and all the amenities of a classic Penthouse Suite.
Selected equipment features
Living area: 42 m²/452 ft²; veranda: 10 m²/108 ft².
Walk-in wardrobe.
Bathroom with two sinks.
Separate WC.
Butler service.
Whirlpool tub and separate shower.
Free mini bar.
The Penthouse Suite can also be booked with facilities suitable for disabled guests.
Where everyone will feel comfortable. Plenty of room for you and your personal needs - creating a relaxing family holiday. In the Family Apartments, children and parents live in two separate areas connected by a door and a balcony. The furniture of one of the living areas has been tailored especially for our younger passengers.

Selected equipment features
Living area: 2× 20 m² (2x 215 ft²); veranda: 14 m² (150 ft²), divisible into 2x 7 m² (2x 75 ft²).
Connecting door between the rooms and the verandas.
Separate toilets.
Free mini bars.
The furniture of one of the living areas has been tailored especially for our younger passengers:
Two twin beds, one of which is a Pullman (80 × 200 cm [2 × 6 ft]).
Bathtub (140 × 80 cm [4 × 2 ft]).
Age-appropriate range of toys and games including a games console.
Living area: 2 × 20 m²/215 ft²;
Veranda: 2 × 7 m²/75 ft².
Those who like to start their day with a fantastic view will have a wonderful time in the Ocean Suite. The bathrooms in this category all provide plenty of natural light. Treat yourself to this special luxury and look out over the open ocean from your own bath.

Selected equipment features
Living area: 28 m²/301 ft²; veranda: 7 m²/75 ft².
Natural light in the bathroom.
Bathroom with two sinks.
Whirlpool tub and separate shower.
Separate WC.
Free mini bar.
This comfortable suite has plenty of space for relaxing days on board and boasts wonderful views. The spacious veranda affords a magnificent view over the open sea and the first port lights on the horizon.

Selected equipment features
Living area: 28 m²/301 ft²; veranda: 7 m²/75 ft².
Walk-in wardrobe.
Exclusive living area with a chaise longue.
Bathtub and separate shower.
Free mini bar.
Decks
Zodiacs
Shuffleboard
Sun Deck
Bridge
Veranda Suites
Penthouse Suites
Grand Penthouse Suites
Owner Suites
Restaurant Yacht Club
Sushi Restaurant Sakura
Sun Deck
Pool
Conference Room
Studio
Gallery
Culinary School
Belvedere with library and coffee lounge

Sansibar
Tender
Knopf Club / Kids Club
Veranda Suites
Ocean Suites
Family Apartments
Penthouse Suites (accessible) 
Veranda Suites
Ocean Suites
Veranda Suites
Ocean Suites
Owner Suites
Grand Ocean Suites
Ocean Spa
Sauna
Jacuzzi
Golf
Embarkation and disembarkation
Grand Ocean Suites
Veranda Suites
Ocean Suites
Restaurant Weltmeere
Restaurant Serenissima
Restaurant Elements
Restaurant Tarragon
Grand Reserve
Tour Office
Teens' Club
Boutique / Jeweller
Reception
Foyer
Embarkation / disembarkation
Photo shop
Club 2
Collins
Theatre
Dining
With an eye for detail, the EUROPA 2 chefs are constantly opening up new culinary horizons. Enjoy modern creations or timeless classics with flexible mealtimes and no fixed seating plans in our seven gourmet restaurants.
Restaurant Weltmeere is the biggest restaurant on board. It is located at the stern of the ship and is quite striking thanks to its spacious room concept.
The world a la carte
The flagship restaurant at the heart of the EUROPA 2: enjoy an international and vegetarian gourmet menu that changes every day, and embark on a culinary voyage of discovery. Weltmeere bears the very personal hallmark of our chef and stands for creative culinary sensations – always interpreted in new and extraordinary ways.
CREATIVE CUISINE WITH A PERSONAL TOUCH
Our chef de cuisine looks forward to pampering you with the highest possible standard of cuisine. The culinary range spans from international to vegetarian menus, which are all interpreted in new and surprising ways.
The restaurant on board where our chefs de cuisine demonstrate their very personal flair.
Magical culinary moments with international and vegetarian menus, always interpreted in new and unusual ways.
Dining Experience:
Complimentary
France a la carte
Tarragon stands for great French cuisine and bistro classics, served in an art-deco-style setting. You can look forward to specialities that are at once simple and sophisticated, such as beef tartare prepared at the table.
Dining Experience:
Complimentary
Asia a la carte
Whether Indian, Vietnamese or traditional Chinese dishes – Elements offers a feast for the senses of everyone with a penchant for the flavours of the East. Enjoy varied Asian cuisine, the aroma of lemongrass, seafood and lime – and Elements' exotic, modern ambience.
Dining Experience:
Complimentary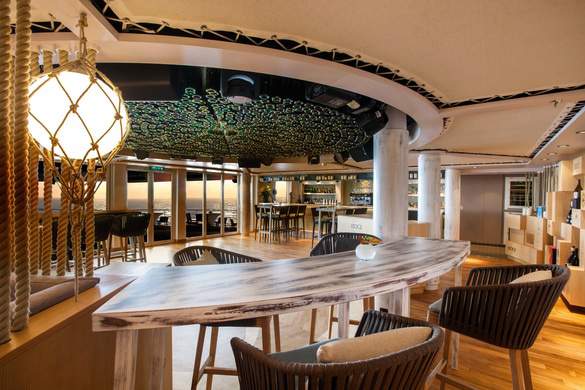 Italy a la carte
Exquisite classics and new interpretations of the flavours of the Italian Mediterranean: the best of Italy's flavours and lifestyle. The house speciality is the tagliatelle con gamberoni all'aglio e olio.
Dining Experience:
Complimentary
Indoor & outdoor gourmet buffet
Relaxed enjoyment under an open sky: at the Yacht Club you can experience the finest cuisine and an unforgettable panoramic ocean view, from breakfast to dinner time.
Enjoy fresh salads, antipasti, freshly grilled specialities, fish, pasta and dishes cooked a la minute direct from the open chef's stations or from the buffet.
Dining Experience:
Complimentary
Modern sushi creations
Our sushi master has perfected the art of conjuring up small masterpieces from the finest ingredients. The result is exquisite sushi, with dishes ranging from classic to creative, which you can enjoy in a stylish setting – with an ocean view, of course.
Dining Experience:
Complimentary
Grand wines & specialities
At the Grande Reserve the focus is on fine wines, which you can taste* in small groups under the direction of a sommelier.
*This service is not included in the cruise price. 

Dining Experience:
Cover charge may apply
Entertainment
Six bars – six stylish locations for celebrating, day and night. Each with its very own, unmistakeable atmosphere, from lounge to glamour – the perfect way to round off every evening.
Germany's most famous beach bar. Also on board.
The little sister of the Sansibar on the German North Sea island of Sylt, this bar has seen a lot more of the world. The view from the open-air bar across the ocean and the parties on the dance floor, with DJ music pumping out into the early hours of the morning, are simply unforgettable. Plus, it's also a fantastic location for a late breakfast or a small bite to eat in the afternoon or evening.
Superb panoramic views.
Providing breathtaking panoramic views when the ship is entering or leaving the harbour, the Belvedere is the ideal place to enjoy a little time out. But it's also an atmospheric lounge with a library, where select coffee and tea specialities are served. Readings and concerts are also held here.
Culinary enjoyment on the sun deck.
In the pool or at the poolside bar – which is the best place for maximum refreshment? This relaxed meeting place on the Pool Deck serves snacks at breakfast and lunch-time, and our famous waffles in the afternoon, plus fresh juices and coffee specialities. It then takes on a laid-back bar atmosphere until late into the evening.
A pleasant atmosphere for a relaxing drink.
The Piano Bar is modelled on the bars found in classic grand hotels: a place to sit back with a first-class drink while you reflect on the highlights of your day and enjoy relaxing music from the Steinway grand piano. All this plus an ocean view that no hotel in the world can match.
Concerts, comedy and cabaret.
The Club 2 is not only a lively part of the on-board nightlife – it`s the place to be for discerning music fans, too. And you can also enjoy comedy and cabaret here.
Largest gin selection at sea.
The perfect backdrop for the perfect drink – nothing more, nothing less. The atmosphere is traditional and stylish, with armchairs and high-grade woods. The menu features Cuban specialities from the humidor, as well as the largest gin selection on the seven seas.
When was the last time you were delighted?
Raise the curtain! Enjoy unforgettable events and spectacular shows featuring famous artists and stars on board the EUROPA 2. Great comedy, music from classical to pop, and exciting presentations and talks - and always first class.
Multifaceted shows.
Performances with numerous guest stars, soloists, entertainers and acrobats.
Concerts from classical music to pop.
Vaudeville highlights.
State-of-the-art stage technology with LED screen.
State of the art
A stroll through the luminous corridors of the EUROPA 2 is as inspiring as a day in a museum of modern art. Over 890 original paintings and exhibits, as well as photographs and sculptures by artists including Damien Hirst and Gerhard Richter, accompany the ship and its guests around the world. The collection is complemented by changing exhibitions and lectures by artists on various aspects of art history. Enjoy fine art on the open sea.
The perfect setting for art
Set sail and discover the world of art – art2sea welcomes prominent artists, gallerists, art experts and curators from great museums. Cooperations with renowned experts reveal fascinating insights into the international art world. Exclusive exhibition, gallery and museum visits offer you a look behind the scenes.
Health and fitness
The spa and fitness area of the EUROPA 2 is 1,000 m² (10,764 ft²) in size and has plenty of space for a modern fitness studio, saunas as well as professional cosmetic treatments and massages. More importantly, it has the luxury of plenty of space where you can breathe deeply and let go. This makes it the perfect place to find yourself.
OCEAN SPA offers everything you need for personal well-being: from our purification programme with luxurious treatments for your body, skin and soul, to deeply relaxing moments on the spacious OCEAN SPA terrace. There are a variety of different treatments* offered in eight treatment rooms. Whether massage or manicure - each of our treatments is carried out by professional hands. In addition, a separate hairdresser area on board means that you can feel your best from head to toe.

Spa offers
Sauna area with herbal sauna, Deep Ocean sauna, Finnish sauna, steam bath and ice fountain
Personal Spa* with a sauna, its own whirlpool, massage tables and various ways to relax
Tepidarium and relaxation area with loungers
Whirlpool
Varied range of massages* with innovative and classic wellness treatments including shiatsu, hot stone, Ayurveda, lymph drainage and Thalasso treatments*
Beauty treatments* and hairdresser*
*This service can be booked at a surcharge.

Explore new worlds of fitness
Relaxed or dynamic, focused or holistic, traditional or innovative: what style of fitness suits you best? The EUROPA 2 offers a wealth of exercise options: various classes, high-end gym machines and tailor-made fitness programmes with a personal trainer* await you. There is also a 15 m (49 ft) long pool, which many guests consider to be the best place on board.
State-of-the-art training apparatuses and courses
State-of-the-art training apparatuses from Technogym, specially designed to protect joints, ensure rapid muscle building and sustained strengthening of the cardiovascular system. And courses including pilates, yoga and spinning are held in small groups for a group workout.
Fitness offers
A 210 m²/2.260 ft² fitness studio equipped with state-of-the-art apparatuses
Comprehensive programme of courses ranging from aqua fitness to pilates and from yoga to jogging on the beach
Targeted training with a personal trainer*: comprehensive fitness check, a systematic training schedule and a detailed nutrition plan
Sport hosts show you the right way to use devices, explain exercise techniques and give you new ideas for your workout
Golf simulators* and fitting station*
*This service can be booked at a surcharge.
Welcome to Golf & Cruise – when the best cruise ship in the world* meets the most interesting greens around the globe. A round of golf and a cruise have much in common. They offer many surprises, make lasting impressions and bring new acquaintances. On our exclusive Golf & Cruise voyages we have reserved the best greens for you. Golfers with a handicap of –36 or better can play on these first-class courses alongside our PGA professionals. While at sea, the golf simulator and modern video analyses invite you to perfect your technique. Our Golf & Cruise voyages are rounded off by friendly get-togethers on board, where you can meet up and talk shop to your heart's content with the pros and fellow golfers.
Our Golf & Cruise package
(only bookable prior to the cruise, at a surcharge)
Welcome cocktail
First-class support from PGA professionals on board and on the course (daily coaching)
Baggage service, shoe shining and golf club cleaning
Individual training at the golf simulator and video coaching
Warm-up on the driving range, including balls (if available and if time permits)
Green fees and trolleys (e-carts subject to availability)
Transfer to and from the golf course with an English-speaking tour guide
Typical local halfway snackThe ideal golfer's breakfast – tips on nutrition from a PGA golf pro
Presentations and personal tips from the PGA golf professionals
EUROPA 2 golf gift set
Exclusiv dinner with a PGA golf professional
Special prices per cruise (for example Nearest to the Pin etc.)
The sea can be experienced particularly intensively on the spacious teak pool deck. Impressive focal point is the long pool that invites guests to calmly swim their lengths or exercise with gentle aqua-fitness. Here, at the heart of the EUROPA 2, there is plenty of room for each individual guest to let his thoughts wander and simply do nothing. Comfortable sun lounges are available for every guest to enjoy either the sun or shade – both in pleasant airy as well as sheltered areas.
Kids and Teens
Riding the waves on a banana boat. Pizza making in Italy. Films in 3D. Building the biggest sandcastle the world has ever seen and turtle watching on the beach. A photo rally on Santorini or discovering a cool amusement park. Children and teens enjoy fun and action on board the EUROPA 2. And what about you? Take some time for yourself!

Holiday time means quality time spent together - especially for families. But also independent experiences - which is why the EUROPA 2 is both child- and parent-friendly. Completely individual and completely active: parents and children will find numerous opportunities to spend the best time of the year with one another. And, at the same time, enough freedom to independently discover new things with new-found friends.
And because no two children are the same, there are lots of age-specific offers. Unique, for instance, is the guaranteed childcare for children as young as 2 years. Trained childcare specialists will ensure that your child won't ever get bored during their exciting day.
The 'Knopf Club' (the care here is subject to a charge and the number of participants is limited) offers two- to three-year-olds great fun. He is cuddly and well travelled: Cap'n Knopf - a genuine Steiff bear and the mascot for family holidays on Hapag-Lloyd Cruises. On board the EUROPA 2, he even has his own club. So it's off to the ball pit, exploring the world on the sensory wall, or just taking it easy in the Steiff cuddle lounge whilst listening to exciting stories- Knopf Club has everything ready for the very first steps into a maritime adventure. And should one of them ever get sleepy, it's no problem - because they can sleep there, reassured and cared for until late evening.
The Kids' Club goes exploring with four- to ten-year-olds. Even for those aged 4 to 10 years old, there is no boredom in sight far and wide. No wonder with the varied range. On board, there is everything that young discoverers need to quickly broaden their horizons: a building corner, research laboratory, computer corner, a treasure hunt in the climbing castle, children's theatre, pottery and mask making in the studio, fashion shows, a children's library, age-appropriate children's excursions (not included in cruise price) and much more.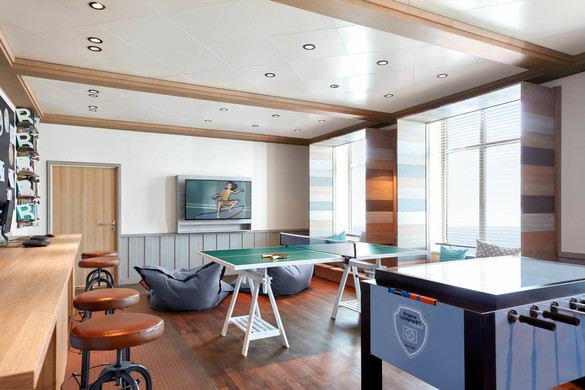 Teens' Club, where kids aged 11-15 years old can go their own way. The holiday means doing what you want to do. And meeting new people. Without the parents (of course). The Teens' Club team knows what gets young people excited. A perfectly organised party is definitely one of them. Not to mention the hip-hop course, the introductory spa offer (not included in cruise price), the latest 3D film in the auditorium or the specially designed teen excursions (not included in the cruise price).

The doors for Teens' Club are wide open everyday. Those who prefer games to the dance floor can try the Wii games console, Playstation or the foosball table. Afterwards they can relax in the chill-out area or in the iPod chair. And finally, a quick check of their e-mails on one of the many PCs in the programme. There's no chance of getting bored here!
Enrichment
If whilst travelling you like to broaden your skills and mind then onboard the EUROPA 2 you'll find just what you need.

After spending time relaxing or enjoying the onboard entertainment, you can enjoy a vast array of lectures from renowned specialist, where informative accounts will breathe life into the places you visit during your cruise. Or try your hand at expanding your cooking skills in the cooking school, and leave with technique to impress your family and friends with on your return home.
---
The EUROPA 2 Cooking School
On board the EUROPA 2, gourmets can hone their cooking skills under the guidance of our Tarragon chef. The classroom corresponds to the level of skill which is taught there: the high-quality kitchen on board the EUROPA 2, which is equipped with MIELE appliances, is the place where our chefs will teach you how to conjure up delicious artworks and serve them with creative flair. Devote yourself to the fascinating topic of culinary enjoyment in a relaxed environment on board the EUROPA 2.
This service is not included in the cruise price.
Our guided shore activities* offer you a varied range of visits, discovery trips and active tours as a group, including cycling tours led by the professional EUROPA bike guide:
Classic excursions* to key sights and to gain initial insights into a region, including excursions for late risers.
Active tours* from snorkelling and rafting to quad biking.
Discovery trips* for new perspectives by plane, helicopter or boat.
Expert excursions* where well-known lecturers shed light on cultural, historical or architectural backgrounds.
Bike tours* from gentle leisure or active adventure tours to rigorous mountain tours.
*This service is not included in the cruise price.

Mountain bike excursions accompanied by a professional bike guide*."Easy-going", "Active and high-energy", "Active lite": the mountain bike tours in the EUROPA 2's shore excursion programme offer something for everyone. Beginners can enjoy the scenery and take in points of interest during a leisurely ride on a flat route. By contrast, experienced cyclists have the opportunity to take part in a challenging ride over uneven terrain that frequently includes hills and inclines. The Hardtail mountain bikes, designed especially for the EUROPA 2 and featuring SLX/XT technology, are available in various sizes. All tours last four to five hours and have a group size of maximum 14 people. You will be given personal advice from the bike guide, with whom you can book the tour you want after a fitness check (in selected ports/based on local conditions).
You are welcome to bring your own bike clothing with you. On board, we will provide you with a bike helmet and a sports rucksack, as well as a bottle of water and an energy bar.
*This service is not included in the cruise price.

---
Private experiences - your travel concierge
Be it on your own, with your family and friends or with your partner: by being our guest, you will benefit from exclusive insider knowledge. Our team of experts assists you with the preparation of your itinerary and turns your ideas into unique, unforgettable experiences. The possibilities are endless:

• Individual activities ashore, private tours, transfers
• Individual pre-/post-cruise arrangements
• Hotel accommodation before or after the cruise
• Golf a la carte arrangements
• Theatre, musical, opera tickets and entrance tickets for sights




*This service is not included in the cruise price.
Useful to know
---
Environmental technology on board
Our driving force – a cruise is the most exciting way of experiencing the earth and its beauty. Protecting the environment is of the highest priority for Hapag-Lloyd Cruises, in order to preserve this beauty for a long time to come. Exploring new shores also means assuming responsibility. When it comes to environmental friendliness, there is rarely one all-encompassing solution. This goes for our ships, too. We combine a variety of smaller- and larger-scale measures to continuously improve our environmental performance. These range from design modifications that help reduce consumption to technical solutions that decrease air emissions as well as various measures within our daily operations.
On board
SCR catalysts - Special SCR catalysts clean the exhaust gases produced and reduce nitrogen oxide emissions by almost 95 %. Our new expedition ships and the EUROPA 2 are fitted with these devices.
Water management - Freshwater is a precious resource wherever you go, but particularly at sea, which is why we use a special osmosis system to convert seawater into freshwater. Removing the salt from the seawater allows it to be used for these and many other purposes. Biological sewage treatment plants clean the waste water produced on board. Only clear water is pumped back into the ocean; any sewage sludge is appropriately disposed of on shore.
Paint - The underwater paint used on our ships is free from tributyltin compounds (TBT), which can disrupt the hormone balance in various marine organisms.
Energy Management - We are also optimising energy consumption beyond the ships' engines through smart management and LED lighting, for example.
Cold ironing - With the exception of the EUROPA and BREMEN, our ships are equipped for cold ironing.
Optimised hull - The optimised hull – installed in the EUROPA 2 and the HANSEATIC class while they were still in the shipyard – allows us to use up to 18 % less fuel and reduce emissions.
Optimised rudder - A PROMAS rudder with special propeller improves the efficiency of the drive in our new ships – helping us to consume less fuel and reduce emissions.
---
More sustainability - less plastic
The oceans must be protected, not least because they provide us with 70 % of our oxygen – far more than forests, for example. Oxygen is produced by plankton, microbes and above all by algae. Plastic waste is collected separately on board our ships and sent for recycling on land. And yet there is more we can do: we are reducing the unnecessary use of plastic on all cruises, foregoing plastic bags, straws and cocktail stirrers and using alternatives made from wood.
We are using sustainable alternatives to plastic in other areas, too: the kayaks on board our new expedition ships are made from HTP, a particularly high-quality and long-lasting polyethylene. No waste is created when the boat hulls are manufactured – and the manufacturer takes them back free of charge for recycling.
---
Efficient route planning and fuels
Avoiding top speeds
The less fuel we consume, the fewer emissions enter the air. The ideal ton of fuel is one that goes unused. Luckily, there is a simple formula we have been using for some time: by avoiding top speeds, we save an above-average amount of fuel. Four knots can save no less than 40 %. And guests can relax a little more as they enjoy the wonders along the route.
Efficient route planning
Careful route planning also helps to optimise fuel consumption. Wherever possible, we choose the shortest route between two destinations. Of course, we don't want our guests to miss out on any highlights: our routes set standards and offer unique experiences and will continue to do so in future.
Foregoing heavy fuel oil
Beautifully untouched, the most remote corners of our world deserve particular protection. When cruising in the Arctic, Antarctic, Kamchatka, Greenland, Alaska and Hawaii, we therefore use low-pollutant marine gas oil and have been consistently foregoing heavy fuel oil in some cruising areas for more than 26 years – despite considerable additional costs and – in some areas - no legal requirements. A responsible attitude to the environment is one of our highest priorities, and so now we are going one step further: from July 2020, our entire fleet will run solely on low-sulphur marine gas oil with a sulphur content of 0.1 % in all cruising areas and for every single nautical mile.
New regulations from January 2020 – in line with IMO
The International Maritime Organization (IMO) does not focus solely on protecting the oceans – it also aims to ensure a significant reduction in air pollution: by 2050 global CO₂ emissions by ships are to be reduced by at least 50 %. Strict limits are already in place in Emission Control Areas (ECAs) – a form of environmental zone – for the sulphur content of fuel and the emission of nitrogen oxides, for example. From 2020, ship emissions both within and outside ECAs may have a maximum sulphur content of 0.5 %. This is significantly lower than the average of 3.5 % in conventional heavy fuel oil. Naturally, we are adjusting the fuel used by our ships in line with this new specification.
---
Responsibility for destinations
Protecting flora and fauna
Our ships use ballast water tanks to help maintain an optimal position in the water at all times - regardless of our fuel levels, the number of guests on board or how many provisions we are carrying. These tanks can be used to take on and get rid of seawater to adjust the weight as necessary. Naturally, the water brought on board will contain smaller organisms such as algae and jellyfish. These would normally travel in the tanks for many nautical miles and then be released in another location the next time the ballast water is exchanged. This runs the risk of introducing them to foreign ecosystems where they could disturb the sensitive balance of flora and fauna. To reliably prevent this from happening, all our ships have a ballast water treatment system, which plays an important role in protecting ecologically sensitive regions. Binding legal standards are expected to be introduced in 2021 - requirements that we are already meeting voluntarily and on principle.
Codes of conduct in protected regions
We plan shore excursions to ensure the protection of local flora and fauna. At the same time, our scientists on board educate guests to adopt a responsible approach to nature. Rules have been established for shore excursions in the polar regions. The German Federal Environment Agency has issued two sets of guidelines for cruises to the Antarctic on particular aspects to be noted; these include avoiding unnecessary noise, maintaining a minimum distance from animals and heeding conservation areas.
CleanUp Svalbard
Whenever we visit Spitsbergen, we get involved in the "Clean Up Svalbard" initiative, joining our guests to collect the rubbish - mainly plastic - that washes up on the coast of Spitsbergen. This allows us to make a direct, personal contribution to preserving the region's unique nature
By taking guests and crew on tours of the engine room, captains and senior officers increase awareness of the environmental protection measures on board. In addition, scientists and experts include recommendations for environmentally conscious behaviour in their presentations, particularly for visits to fragile ecosystems.
Many guests return from their cruise to the Arctic or Antarctic determined to help preserve this unique wilderness – evolving from tourists into environmental ambassadors.
---
Our commitment to people and nature
TUI Care Foundation
We want the regions that we and our guests visit to benefit from tourism. To make the greatest possible impact, we bundle all our commitments into the TUI Care Foundation.* This initiates and supports projects that offer new prospects to young people around the world, protect nature and the environment, and promote the sustainable development of holiday destinations. The foundation focuses on the potential of the tourism sector to drive social development, education and prosperity.
For children from the age of 2, there are qualified childcare specialists who organise both special children's events on board as well as children's and teens' excursions. The supervision times for children from 4 years and up are usually from 9.00 to 17.00 hrs and from 18.30 to 22.00 hrs. The supervision times for adolescents from 11 years and up are usually from 9.00 to 17.00 hrs and from 18.30 to 21.00 hrs. During this time, games, sports and creative programmes will be offered. The Kids' Club and Teens' Club provide rooms for supervised playing and are partly accessible outside of the supervision times. Their equipment is appropriate for the age group concerned.
The childcare service in the Knopf Club for children between the ages of 2 and 3 is available for a fee of EUR 65 (USD 80/GBP 60) per day and is available during the following supervision times: from 9.00 to 17.00 hrs and, as part of our sleeping supervision service, from 18.30 to 22.00 hrs. Registration for the Knopf Club is required before commencement of the cruise.
On days at sea, we offer a childcare late-risers service for parents who wish to enjoy a lie-in. In this case, children from 2 years and up are collected from the suite and taken for a group breakfast in one of the restaurants. In addition, on family cruises we also offer special shore activities for children and teens (subject to a charge). We will also be happy to provide an evening babysitter via our chief nanny (subject to availability and for a fee). Please note that the pool is not supervised on board. Guests use the pool at their own risk.
The EUROPA 2 has a modern, well-equipped ship's hospital (Deck 3) under the supervision of an experienced ship's doctor. Guests who are being treated for any medical condition should contact the ship's doctor directly after embarkation. It is important to bring any medications required on board with you in sufficient quantities in your hand luggage. In the case of an accident caused by Hapag-Lloyd Cruises or its staff members either on board or during a shore activity organised by Hapag-Lloyd Cruises, treatment is provided free of charge. Treatment for seasickness is subject to a charge if you make use of our medical services. We offer thrombosis preven¬tion medication on board if required (subject to a charge). A fee is charged for all other medical treatment in accordance with the valid German medical fee schedule (GOÄ). The costs for any treatment or medication will be charged to your on-board account. At the end of the cruise, you will receive a separate invoice to submit to your health insurance provider. Upon request, a dialysis doctor will be available to you on selected cruises.

---
Guests with limited mobility
The EUROPA 2 offers two Penthouse Suites that are designed to meet the needs of guests with limited mobility. Please note that a large number of our planned Zodiac landings and shore activities require a high level of physical fitness; depending on the conditions, we can only guarantee participation for guests with no mobility restrictions. The EUROPA 2 offers two suites (suites 811 and 813) with fully accessible layout and equipment. We nevertheless highly recommend that you travel together with a responsible companion because, due to special procedures on board a ship, continuous assistance is not possible. Certain groups of people can only be accommodated if they are accompanied. Please bring your own standard-size wheelchair or any other medical equipment with you if you are dependent upon it. Unfortunately, electric wheelchairs and guide dogs cannot be brought on board. Please note that participating in shore activities and going out in the Zodiacs (subject to weather conditions) may not be possible for guests with physical limitations. We reserve the right to restrict participation in group activities to guests who can manage the entire activity without problems and without external assistance. Unfortunately, guests who are dependent on a wheelchair cannot travel in the Zodiacs. Whether or not guests can go ashore by tender boat (when the ship is at anchor) is also dependent on the weather and cannot always be guaranteed. To ensure that you experience a relaxing cruise where everything goes smoothly, before booking please provide us with details of your physical impairment and enquire as to whether we can meet your individual needs.

We are happy to cater to food allergies where possible and subject to availability. Please let us know your wishes when making your booking. Low-calorie meals are available every day for those who like to eat healthily.
There is no set dress code on board the EUROPA 2 during the day. In the evening, however, gentlemen wear smart casual clothing in the restaurants on Deck 4 as well as in the Sushi Restaurant Sakura. This means a jacket or a summer suit – short trousers and T-shirts are not permitted. A tie is not required. It is not necessary to wear a jacket in the evening in the Yacht Club Restaurant.
The private use of drones is not permitted on board our cruise ships. This applies during the cruise and during lay times in port, as well as at landing points in remote regions. In polar regions, Hapag-Lloyd Cruises places great value on respecting international agreements to protect sensitive natural environments and the animal kingdom in particular. In other regions of the world, approval for the use of drones ashore must be made by the passengers individually and without any intervention by Hapag-Lloyd Cruises. As well as a drone licence, which users must acquire in their country of origin, the relevant approval must be available for presentation at all times. Please take these instructions seriously, since passengers who are in breach of these regulations and licensing requirements will be liable to prosecution.
All guests on board our ships can enjoy one hour of free Internet per day*:
Write to your friends and family back home and share your latest pictures. This service will be offered as standard and will be included in the price of all cruises. If you need more than an hour to tell all your stories, you are welcome to remain online for a surcharge.
Fees:
One hour means the total duration of Internet use (60 minutes), regardless of how often you log in and log out. For example, you can divide this hour into three sessions of 20 minutes.
Time that is unused on one day cannot be carried over to the next day. Unused credit will expire at the end of a calendar day at 0.00 hrs (ship's time).
Additional use of the Internet in excess of the free 60 minutes will be charged at € 0.19 per minute. No special notice will be given.
On board EUROPA and EUROPA 2 you can book the following data packages in addition:
- Data package S: 250 MB: € 25
- Data package L 500 MB: € 39
- Data package paket XL: 1 GB: € 69
- Social Media package: € 5 for 24 hours (valid for Facebook, What's app, Twitter and Instagram).
Guests staying in Grand Penthouse and Owner Suites on board EUROPA and EUROPA 2 will continue to enjoy free Internet at all times.
Use of the private email account is free 24 hours a day.
Each guest can have a maximum of two devices online at the same time.
Technical information:
The transmission speed may fluctuate depending on the ship's position.
Email, Internet and telephone connectivity depends on satellites and cannot always be guaranteed due to the weather and the ship's position, in particular in extremely northerly and southerly cruising areas. In extreme regions, such as the Arctic and Antarctica, the Internet, email and telephone service may not be available on a daily basis due to satellite positioning.
Data-intensive services (such as Skype), streaming services (e.g. Netflix, Amazon Prime, YouTube), file-sharing platforms and download libraries (e.g. iTunes) cannot be used for technical reasons. 
The EUROPA 2 has a laundry, dry-cleaning and ironing service (at a surcharge). In the Owner Suites, Grand Penthouse Suites, Grand Ocean Suites and Penthouse Suites, an ironing service is included in the cruise price.
A photographer is on board on every cruise to take pictures during the cruise and on shore. Upon request, they will also print your own photos on photographic paper or burn your digital photos on to a CD (for a fee). In addition there is usually a video producer on board who will record your cruise for you on film. Photos and the film can be purchased.

All restaurants on board are non-smoking restaurants. An exception is the outer terrace of the Yacht Club Restaurant, where smoking and non-smoking tables are clearly labelled. The theatre, the Belvedere, the foyer, Club 2 and the entire OCEAN SPA area are also non-smoking areas. Smoking is permitted on the outer terrace of the Sansibar, while the indoor area of the Sansibar is a non-smoking zone. Cigars, cigarillos and pipes may only be smoked in the Collins (also during them day) and in the outside area of the Sansibar. Please note that smoking is not permitted in the suites. Smoking is permitted on the veranda. On the Pool Deck under the magrodome, smoking is not permitted. All other external decks are smoking zones. Smokers are obliged to exclusively use the ashtrays provided.