Combining the relaxed sophistication of the Musica Class∘ with the variety and opulence of our Fantasia Class ships, MSC Magnifica brings cruise guests the best of both worlds.
The superb venues on this ship spoil you for choice and include 5 gourmet restaurants serving food from around the world,12 bars and 5 different Kids and Teens clubs with their own themed venues.
The ship's award-winning MSC Aurea Spa brings you traditional Balinese massages and ultramodern beauty∘ treatments: a sauna, Turkish bath, fitness centre, thalassotherapy room and relaxation area.
The leisure facilities are no less impressive, with an open-air pool complex, 4 whirlpools, a solarium and a sky lit indoor pool with retractable roof, allowing you to enjoy perfect bathing whatever the weather. For something more energetic there is tennis, mini-golf, a high-tech gym and a jogging track as well as 10-pin bowling and billiards.
The entertainment∘ continues into the evening with a spectacular casino, panoramic disco, 4D cinema, internet café, cigar lounge, plush 1,200 seat theatre and live entertainment in the bar lounges. For a quieter evening step out onto the deck for a romantic drink under the stars and watch the waves go by. 
Specifications
Size

super

Style

Resort

Type

ocean

Year of launch

2010

Gross tonnage

95128t

Length

294.0m

Width

32.2m

Speed

23kts

Decks

13

Language

English

Currency

Euro (€)

No. of passengers

3223

No. of crew

1038

No. of cabins

1259

-wheelchair access

16
Unique Features
MSC are the first line to implement their unique experience∘ system. There are different 'experiences' to choose from when booking the holiday, each comes with specially designated rooms and benefits. The options are: Bella, Fantastica, and Aurea.
Gratuities
15% is automatically added to all Bar and Spa Services. Hotel Service Charges vary depending on destination.
Accommodation
MSC Cruises offer a wide range of cabins and suites to meet your budget and your needs. From peaceful, economical and comfortable∘ inside cabins to spacious suites with private balcony. All offer stylish features and modern conveniences to make you feel right at home whilst you're on holiday.
Features a balcony and a double bed, which can be converted in to two singles. Also includes: air conditioning, spacious wardrobe, bathroom with bathtub, interactive TV, telephone, wi-fi internet (for a fee), mini-bar, safe deposit box.
Features a double bed, which can be converted in to two singles. Also includes: air conditioning, bathroom with shower, interactive TV, telephone, wi-fi internet connection (for a fee), mini-bar, safe deposit box.
Features a porthole and double bed, which can be converted in to two singles. Also includes: air conditioning, bathroom with shower, interactive TV, telephone, wi-fi internet connection (for a fee), mini-bar, safe deposit box.
Features a double bed, which can be converted in to two singles. Also includes: air conditioning, bathroom with shower, interactive TV, telephone, wi-fi internet connection (for a fee) mini-bar, safe deposit box.
---
Outside with Partial View
Features a window with sea view, comfortable double or single beds (on request), relaxing armchair, interactive TV, telephone, Wifi connection available (for a fee), safe and minibar, bathroom with shower, vanity area with hairdryer
Decks
Shuffleboard

Suites

Accessible Balcony Cabin
Balcony Cabins

Suites
Jogging Track

Children's Outdoor Pool & Games

Children's Indoor Playroom
Virtual Reality Games room
4D Cinema
Disco
Bowling
Shuffleboard
MSC Aurea Spa

Large Pool Area

Pool Bars

Whirlpool Baths

Sahara Self Service Buffet

Pizzeria (within Sahara Buffet)

L'Oasi Steakhouse (within Sahara Buffet)
Balcony Cabins

Inside Cabins

Accessible Inside Cabins

Suites
Balcony Cabins

Inside Cabins

Accessible Inside Cabins

Suites
Balcony Cabins

Inside Cabins

Accessible Inside Cabins

Suites
Balcony Cabins

Accessible Balcony Cabins

Inside Cabins

Accessible Inside Cabins

Suites
Ocean View Cabins

Accessible Ocean View Cabins

Balcony Cabins

Inside Cabins

Accessible Inside Cabins

Theatre Upper Level

Atlantic City Casino

Card Room

Library

Art Gallery

Oriental Plaza

Cyber Café

Cuba Cigar Lounge

Photo Gallery
L'Ametista Lounge
L'Olimpiade Sports Bar

Theatre Lower Level
Bars & Lounges
Coffee Bar

Tiger Bar
Poker Room
Shops & Boutiques

Quattro Venti Restaurant
Topazio Piano Bar
Medical Centre

Ocean View Cabins

Inside Cabins

Reception

Le Gocce Coffee Bar

L'Edera Restaurant

Dining
There are a variety of restaurants available onboard, including∘ two main dining rooms, a self-service buffet, and a number of casual snack or lunch options. Two traditional sittings, flexible and casual dining options are all available.
Quattro Venti, located on Deck 6, boasts a top gastronomic selection thanks to the variety of dishes and the high quality of the foods, from choice Italian meats, scrupulously controlled, to fresh fruit. Every product is fresh and carefully handled, such as bread baked on board with the passion and knowledge of the most distinctive boulangerie. Dishes range from traditional and tasty Mediterranean fare, to the most refined international recipes.
Dining Experience:
Complimentary
Located on deck 5, serving a wide variety of dishes, prepared by hand with the freshest ingredients, there's a great variety of choice to be had in the restaurants . One of two main dining rooms onboard, guests will find everything from freshly baked bread, to Italian and Mediterranean styled food here.
Dining Experience:
Complimentary
Oriental Plaza on deck 7 is a small intimate speciality à la carte restaurant seating 54 guests in a room decorated with deep gold, black lacquer, floral prints and dragons.
Serving a range of dishes from Chinese, Indian, Indonesian, Thai and Japanese delicacies, such as Hot & Sour Soup, Ming Combo - 4 Pieces of Dim Su, Tang Combo – 16 Pieces of Dim Sum, Chicken and Rice, Cantonese Style Sweet & Sour Pork, Stir Fried Beef with Bamboo Shoots, Mu Shu Pork, Stir-Fried Beef in Oyster Sauce , Prawns in Black Bean Sauce, Garlic Scallops , Fried Ice Cream, Rice Pudding with Candied Fruit, Banana Spring Rolls.
Oriental Plaza is open from 12.00pm to 4.00pm and 6.00pm to midnight
Dining Experience:
Cover charge may apply
---
Sahara Self Service Restaurant
Sahara can accommodate 472 guests and is located on deck 13. It is the ship's self service buffet restaurant serving breakfast and lunch in a casual environment. It features an omelette station, a sandwich bar, pasta station and a grill that serves hamburgers, hot dogs, and other favourites along with a desserts section.
Open from 6.30am for an Early Birds Coffee, the breakfast buffet is served between 7.00am and 10.00am. Lunch is served between 11.30am and 3.30pm and afternoon tea from 4.15 to 5.00pm.
During the cruise a number of midnight buffets are served from 11.30pm to 12.30am in a variety of locations, including the Sahara Cafeteria, such as a Mediterranean Buffet.

Dining Experience:
Complimentary
---
La Barchetta Ice Cream Bar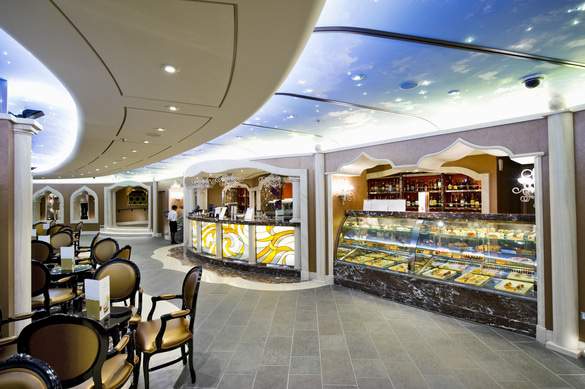 Situated on deck 13, The gelato comes in a wide variety of around 16 different flavours from vanilla, chocolate, strawberry, pineapple and coffee to pistachio, kiwi and lemon. 
Food type:
Ice Cream Parlour
Dining Experience:
Cover charge may apply
---
L'Oasi Restaurant à la carte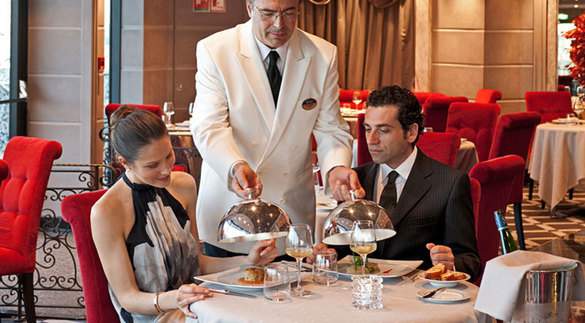 With panoramic sea views L'Oasi on Deck 13 within the Sahara Cafeteria, seating 250 guests, offers a gourmet three-course à la carte meal using typical Mediterranean ingredients with a twist with a menu introduced by acclaimed Italian seafood chef Mauro Uliassi.
Examples of dishes on offer include Duck Foie Gras, Scallops, swordfish and smoked duck breast, Chilled Cucumber and Mint Velouté, Seared Monkfish Medallions, and New York Strip Steak.
L'Oasi opens for dinner only from 6.00pm until midnight.
Food type:
Steak & Seafood
Dining Experience:
Cover charge may apply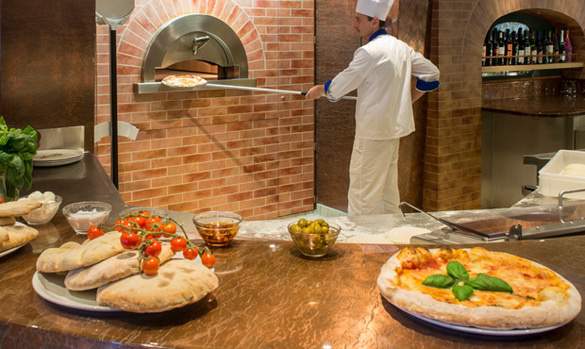 Part of the Sahara Cafeteria on deck 13 becomes a pizzeria at night, from 7.00pm to 10.30pm and serves a selection of pizzas and calzone for a small charge.
Dining Experience:
Cover charge may apply
The ship's Sports Bar, L'Olimpiade, is located on deck 7 and seats 120. It serves an à la carte menu between 10.00am to 1.00am, featuring Steamed shrimp cocktail, Fish & Chips, Buffalo Chicken Wings, and Salad.
Other items range from Italian flat bread with Parma ham and mozzarella, Italian Gragnano bread filled with sausage, mushrooms and cheese and prawn curry to French baguette with ham, cheese, egg and salad, mini hamburgers, Spanish, German, Turkish and Chinese dishes.
Dining Experience:
Cover charge may apply
Entertainment
MSC Cruises' uncompromising dedication to its passengers is nowhere more evident than the unrivalled entertainment programmes and facilities offered on board. With its state-of-the-art 1240 seat Theatre, futuristic Disco and Casino with over 600 square metres of casino∘ gaming and the Virtual Games, video games room.
State of the art theatre, and the main show lounge onboard, with seating for 1,240 people, it is home to MSC Orchestra's shows ranging from singers and jugglers to shadow puppeteers and acrobatic gymnastics. It is split over two levels of seating on Deck 6 & 7.
With a live DJ and open from 11.00pm until late, the ship's disco located on deck 14 and served by its own bar. It has seating for 172 guests.
The ship's 630 square meter casino, situated on deck 7 accommodating 222 guests. It is served by its own bar and features games from roulette and blackjack to poker and slot machines. The Casino is open to over 18's only.
The 220 seat Piano Bar on deck 6 is the ship's reception bar, featuring live piano music and accompanying orchestra.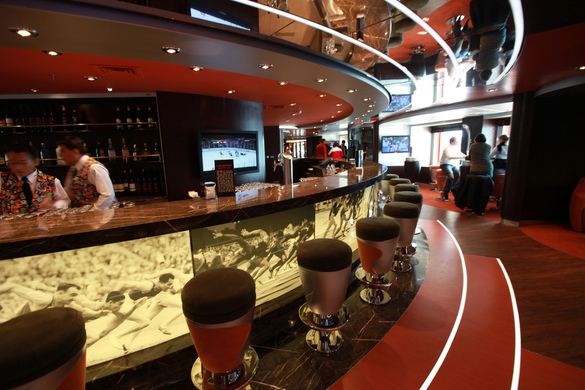 L'Olimpiade on deck 7 with seating for 120 guests, is the ship's themed sports bar serving an à la carte snack menu.
It features large TV screens airing a variety of sporting events and pool tables for guests' use.
Magnifica's Coffee Bar is located on deck 5, midship with seating for 142 guests and music ranging from Latin to classical, drinks on offer range from chilled liquor based coffees such as Espresso Martini, American Style Coffee, Cappuccino and Hot Chocolate.
---
The Purple Bar & Ruby Bar
The Ships cocktail bars are the ideal location for guests to enjoy a pre-dinner cocktail with live musical entertainment.
They are located on deck 6 with seating for up to 45 guests in each bar.
The ship's smoking room and whiskey bar is situated on deck 7 and seats 32 guests.
The Cigar Lounge offers elegant surroundings with leather settees and armchairs for guests to relax on and enjoy a cigar accompanied by a drink selected from the range of fine spirits on offer.
The ship's small library and reading room are located on deck 7, with seats for 15 guests. It has a small selection of books in a variety of languages for guests to borrow. It also contains a number of board games for guests' use.
The Art Gallery can be found on deck 7 of the ship. Guests can view a range of artwork from fine prints, lithographs, water colours and oils which can be purchased during the ship's champagne art auctions.
The Cyber Cafe located on deck 7 is the ship's computer room with 17 workstations and a printer (Charges apply).
Costs are around €3.33 Euros for 10 minutes in the Cyber Cafe or if guests want to spend more time on the internet a number of packages are available as follows (subject to change)
€10 for 60 minutes

€15 100 minutes

€50 for 8 hours

€120 for 24 hours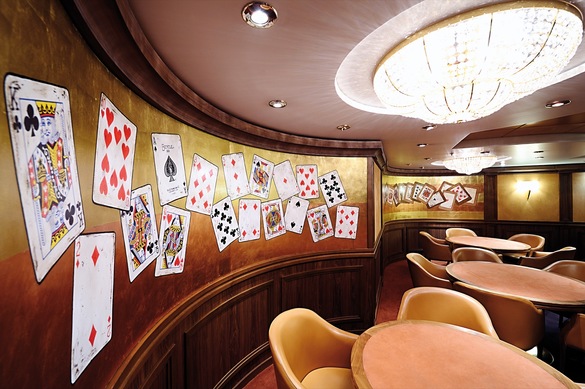 The ship's card room is located on deck 7 and seats 28 guests.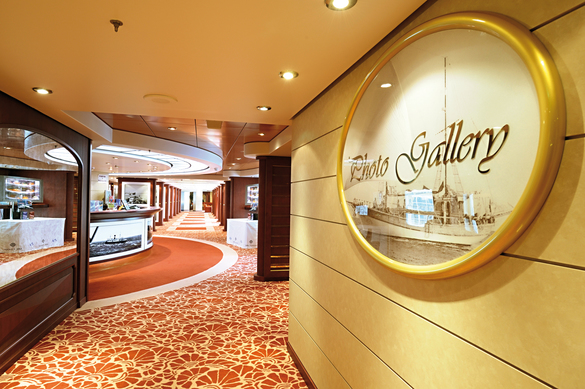 The ship's Photo Gallery on deck 7, displays photos and videos of guests taken by the ship's official photographers which guests can purchase if they wish to. Guests can also have portraits taken with a selection of backdrops or locations throughout the ship.
There are a variety of shops and boutique onboard. From the MSC Logo shop that sells MSC clothes, souvenirs and toys, Le Parfum selling a range of cosmetics and perfumes including Dior and Marc Jacobs.
La Boutique, on deck 6 sells men's, women's and children's fashion with brands including Polo, Ralph Lauren, Lacoste and Armani, with sunglasses, watches and fashion jewellery.
The Duty Free Shop sells a range of tobaccos, liquors and snacks and is located on deck 6.
The Tiger Bar is the ship's second show lounge served by its own bar and dance floor.
It is situated on deck 6 with seating for 477 guests.
Entertainment and activities range from bingo, seminars, Italian lessons and salsa dance classes to audience participation game shows, karaoke and international dance music.
L'Ametista Lounge is located on deck 7 of the Magnifica and has its own bar and dance floor along with seating for 330 guests.
It is a large cabaret style lounge with live shows and bands for guests' entertainment.
The Poker Room is located within the casino on deck 7, and seats 28 guests. It is a separate card room for Texas Hold'Em games.
Magnifica's 4D eight seat cinema, with 3D graphics and moving seats to enhance guests experience, is located on deck 14 and costs around €7.90 per viewing.
Ten pin bowling is available in T32 aft of deck 14.
The bowling alley is designed for maximum entertainment and impact, including a traditional-looking bowling surface made of a tough phenol compound which allows guests to enjoy a game without changing shoes. The alleys are scaled down to work within the area and the bowls themselves are smaller than usual, making them more manageable for youngsters.
The alley also incorporates two large LCD electronic screens featuring interactive videogame animations with a choice of Ten Pin Tour and Turkey Shoot.
The bowling is operated by tokens, priced at around €5 per game, which are available from reception on deck 5, the adjacent 4D cinema, within the T32 disco itself and from vending machines.
Health and fitness
The ship is well equipped to ensure her passengers stay active whilst travelling. From a fully-equipped gym with panoramic sea views, to an outdoor jogging track, to the MSC Aurea Spa∘. The Aurea Spa offers a range of treatments, including massages, facials, aromatherapy, as well as the only Balinese Spa at sea.
The Luxurious MSC Aurea Spa is an exotic paradise with superb sea views. It is a sanctuary of tranquility where a team of expert masseuses and beauty therapists will take care of your well being. 
Choose from a wide range of treatments and facilities which include:
20 different types of massage, 19 body treatments, 19 facials, aromatherapy treatments, manicure and pedicure spa.

A spa doctor and team of specialist masseuses, manicurists, pedicurists, hair stylists, personal trainers and yoga instructors.

Thermal area, sauna, and steam bath.

Exclusive beauty treatments in partnership with renowned international beauty brands.

Further exclusive facilities, including a beauty centre with hair salon and bar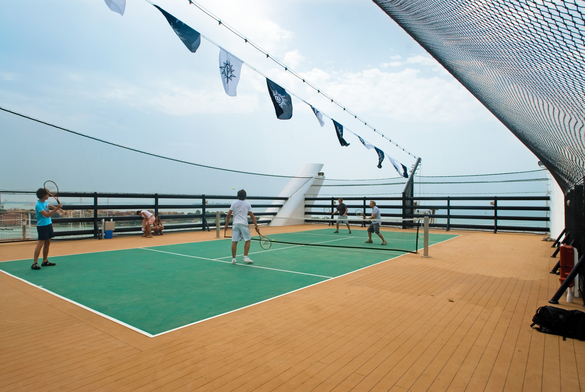 A 474 square metre multi-purpose sports court is located on deck 16 for games such as basketball, tennis, football and volleyball with complimentary equipment hire from the pool area on deck 13.
Shuffleboard is available on decks 14 and 15 of the ship with equipment available from the poolside bar on deck 13.
There are two outdoor salt water pools onboard- one ranging from 1.70 metres to 1.90metres deep, it is the smaller of the two pools at 1300 square metres; the other is the larger of the ship's two outdoor pools at 1600 square metres.
They are served by the outdoor Bar (which also sells additional charge Gelato ice cream) and flanked by two whirlpools.
The smaller pool is located by the ship's outdoor stage area where a range of activities take place from ice carving and cookery demonstrations to complimentary aerobic classes.
Kids and Teens
MSC pay special attention to the needs of families travelling with them, and it is easy to spend time together onboard the ship. There are comfortable, purpose-built family cabins, and a variety of experienced staff onboard to look after the younger passengers will parents disembark upon shore activities or make use of the onboard facilities. The Kids Club comes in five different age groups, and there are dedicated menus for kids in the restaurants. A special Edutainment programme∘ is laid on as well, allowing children to express their creativity, alongside themed parties, and an adult-free zone for teenagers.
Comes in five different age groups, with dedicated services and entertainment activities for each, open from 9am to 11pm.
Baby Club is for those under 3 years.

Mini Club is for those 3-6 years old.

Juniors Club is for 7-11 year olds.

Young Clubis for 12-14 years old.

Teens Club caters for 15-17 year olds.

An onboard arcade, with a variety of video games and digital options. Open to all children onboard.
Enrichment
Enrichment onboard MSC include Language lessons, dance classes, arts & crafts, and many more.
Useful to know
Guests with special needs should inform MSC Cruises∘ of their needs, ideally, at the time of booking, or at the very latest, no more than seven days before departure.
Accessible Cabins are available, and should be requested at the time of booking.
All decks, public areas and tenders have been designed to be as accessible as possible for guests with reduced mobility.
Wheelchairs are available onboard to assist with embarkation or disembarkation only in the case of an emergency.
In the interest of safety, guests with hearing impairments must travel with a carer. Passengers with partial hearing disabilities can travel alone, as long as they request the installation of a TDD System kit∘ in their cabin. This kit is available across the whole fleet, but only in limited numbers.
Trained, certified and healthy guide dogs are allowed onboard, assuming that they possess all documentation for entering any and all foreign countries visited during the course of the voyage.
The medical facilities and equipment onboard may not be adequate enough to deal with a birth or any pregnancy complications. Therefore, for safety reasons, MSC are unable to admit any women onboard who have reached or exceeded their 24th week of pregnancy∘ by the end of the cruise.
Any guests with food intolerances and/or allergies are asked to inform MSC Cruises of their requirements∘ through the Special Needs form (available online). Once onboard, guests must confirm their needs at the Reception, and with the Maitre d'Hôtel.
Casual wear is advised is advised for life onboard and shore excursions. For informal evenings, summery dresses for women and a lightweight jacket for men are recommended. For Gala evenings and Parties, slightly more formal dress is advised. For any formal evenings, cocktail dresses∘ for ladies, and a lightweight suit or dinner jacket for the gentlemen onboard.
MSC Cruises advise bringing a jumper or shawl in your luggage to be prepared for changes in temperature in-between the air conditioned interior of the ship and the deck areas.
For visits to religious sites, appropriate clothing is recommended. This means covering knees, shoulders, and no low-cut tops.
---
Improving Air Quality from Ship Emissions
MSC Cruises is making significant investments into improving air quality. As part of a broader approach to limit sulphur and other emissions in ports and in specific operating areas, we are taking various steps to improve our performance.
All of our newly-built ships either have hybrid Exhaust Gas Cleaning Systems (EGCS) installed or will be fuelled by LNG. For the longer-serving ships in our fleet, we have a robust retrofitting∘ programme focused on equipping our older ships with hybrid EGCS technology.
Our hybrid EGCS systems can operate in a in open or closed loop, and achieve a higher level of emission reductions than using marine ultra-low sulphur fuel to comply with the regulations.
If we're not using an EGCS, we are using ultra low-sulphur fuels in all ports in Europe and while underway in sensitive locations.
By the end of 2019:
- 11 of 17 MSC Cruises ships will be equipped withexhaust gas cleaning systems
- 74% of our total berths will be covered by exhaust gas cleaning technology
What is an Exhaust Gas Cleaning System?
An EGCS quite literally 'cleans' the exhaust gas, actively removing particles and certain emissions from the engine exhaust. The system consists∘ of several components, the most important acting as a network of showers that 'washes' the exhaust gas, removing up to 97% of the sulphur dioxide and greatly reducing particulate matter. Our newest ships MSC Bellissima, MSC Seaview, MSC Seaside and MSC Meraviglia, have all been delivered with such systems installed.
Shore-to-ship power
To help reduce in-port emissions, our latest classes of ships are designed for shore-to-ship power supply. Port authorities around the world are increasingly studying this option and we consider this to be another technology that can potentially help reduce air emissions in port areas. All our cruise ships coming into service from 2017 onwards are already equipped to receive shore side power. In addition, we are prepared to retrofit our existing ships as necessary should shore-to-ship power systems become more widely available.
---
Energy Saving Technology Onboard
Voyage planning software
An optimised itinerary means a reduced consumption of energy. We plan∘ our itineraries efficiently and use specialised software to optimise sailing routes and berthing times.
Trim optimisation
Optimising trim requires constant readjustment. Our ships are equipped with a software application to monitor and optimise trim in real-time. This technology supports ship officers to keep the vessel's trim optimised to reduce fuel consumption and improve performance.
Anti-fouling paint
Ships are naturally prone to barnacles algae and marine organisms. These can increase drag and make vessels less efficient. By using anti-fouling paint on the hulls of all the ships, we keep them as streamlined∘ as they can be. It's TBT-free: we strive to keep toxic substances as far from the ocean as possible.
High efficiency appliances
Reducing our carbon footprint is not just about grand gestures; everyday electricity use is equally important. Energy-efficient appliances including refrigerators, water heaters, dishwashers, washing machines and dryers across our fleet help us keep our carbon footprint lower.
Energy saving LED lighting
Our ships only use energy-efficient LED and fluorescent lighting, saving∘ energy by producing the same amount of light per bulb at a lower wattage.
Smart heating, ventilation & air conditioning system (HVCA)
The HVAC systems on board our ships are designed to reduce energy consumption. They distribute heat and cold intelligently, and are set up to recover heat from warmer areas of a ship in order to heat those which need it more.
---
Energy Efficiency and Advanced Ship Design
From the first line we draw on paper when we design a new ship, to the final light bulb we install, energy efficiency is always the first element∘ we take into consideration.
We have one of the most modern fleets at sea and have designed and developed six different ship classes. Every class always pushes the level of excellence of the earlier ship.
When we build new ships, we don't build copies of existing models. For every new class of ship we completely revise the design of our ships to achieve∘ optimal efficiency. We rethink the ship's overall structure, deck space, weight distribution including the ship's hull, rudder and bulbous bow to reach optimal hydrodynamics, aerodynamics, and maximise energy and fuel efficiency.
MSC Meraviglia carries 20% more guests than our Fantasia Class but requires the same amount of energy.
Fresh water is a finite resource. Our philosophy is to use it sparingly and efficiently. To this end, we take as many steps as possible to reduce∘ our water consumption. From technologies to reduce water usage, to awareness campaigns on board our ships to encourage water responsibility, MSC Cruises∘ leads the way with water preservation.
As a general rule, we do not take away water from ports and coastal communities: virtually all water we use on board is self-produced.
Fresh Water Production Plants are present across our entire fleet. While our most recent ships have high performance∘ water production technologies as standard, our oldest class of ships have been recently upgraded with modern high efficiency systems∘ with increased water production capacity.
On a cabin level, we equip all our ship with vacuum∘ lavatories, which require very little flushing water.
We produce thousands of litres of fresh tap water per day from seawater. On our largest ships, we have the capacity to produce over 2 million litres of tap water per day. Doing this sustainably is an essential part of our philosophy on water and the sea.
---
From Wastewater to High Quality Water Discharges
No black wastewater from our shipboard operations leaves our ships without proper treatment and any discharges from our fleet undergo∘ a comprehensive purification process.
In 2008, when launching our Fantasia Class of ships, we started to equip our ships with Advanced Wastewater Treatment Systems. An Advanced Waste Water Treatment System treats waste water to a very high quality by mixing different waste streams together and filtering out the larger components. What comes out on the other end then gets processed even further through very fine filtration and treatment processes, to produce water discharges of a higher standard than most municipal wastewater requirements around the world.
Through our AWTS systems, hazardous substances and pollutants are filtered out and digested by bacteria. To avoid risking harm to marine life, the remaining purified wastewater is disinfected by UV processing and never chlorine. We monitor key indicators to ensure any remaining bacteria levels are favourable before discharge.
As a result of this process, the wastewater that we discharge reaches near tap water quality.
The separated solid residue is removed∘ from the cycle. It is then dried, compacted and compressed into high-grade pellets. These pellets can act a source of fuel for specific onboard energy needs. Depending on the cruise itinerary, we may also offload this dried biomass ashore, where it can be repurposed for energy production.
Other liquid waste that may be hazardous to the environment such as cooking oil, oily water, machinery lubricants and cleaning products are never discharged into the sea, but are offloaded ashore by authorised companies.
Our Advanced Wastewater Treatment Systems process wastewater to near tap water quality.
---
Protecting Marine Life with Ballast Water Treatment Systems
To protect the marine ecosystem in which the ship sails, our ships are fitted with a ballast water treatment system that complies with the standards∘ set by the international governing body for Ballast Water Management, the International Maritime Organization (IMO). This system prevents against the involuntary introduction of invasive marine species.
---
State-of-the-Art Solid Waste Management
Throughout the years, we have taken voluntary steps to equip our ships with state-of-the-art solid waste management and recycling facilities on board. We manage our waste streams in accordance with CLIA's sound environmental principles and comply with all regulatory MARPOL requirements to prevent marine pollution.
All organic waste, as well as recyclable∘ disposable items including plastics, metals, paper and glass, are collected and separated by specially trained waste handling crew members. Waste is compacted, separated or incinerated, and residual waste is carefully delivered to dedicated port facilities.
Training our crew, not only to handle waste, but to understand the importance of waste management, is central to what we do. Our crew members receive ongoing training to ensure they remain abreast of the highest standards.
As we welcome over 2 million guests on board our ships, solid waste or "garbage" management is a key area of focus and our practices aim at reducing, reusing, recycling the waste we generate. Our ships∘ are equipped with a comprehensive and coherent system to manage all waste aspects on board and ashore and every ship has a waste management plan that details how each type of waste is managed on board.
Every ship in our fleet has an Environmental Officer to make sure our Environmental Plan is correctly executed and is in charge of the onboard garbage management. The Officer has the duty to instruct and train the Crew about garbage management rules on board.
---
Eliminating Single-use Plastics
Under our Plastics Reduction Programme, MSC Cruises is in the final phase of effectively eliminating an extensive number of plastic items from all its ship operations and ashore, and will replace them with environmentally-friendly∘ solutions.
As a first step, the Company has already replaced all plastic straws with 100% compostable and biodegradable substitutes. Moreover, drinks are no longer automatically be served with a straw. Guests who may require a straw will still be able to choose from a variety of environmentally-friendly options.
MSC Cruises is working with a range of international and local suppliers in areas where the ships are deployed and is providing eco-friendly alternatives made of 100% biodegradable resins, consisting of renewable resources including corn- or sugar-based polylactic acid, bamboo, paper or other organic materials. In addition, the Company is also actively working with suppliers∘ at all levels in the supply chain to effectively remove single-use plastics in products and packaging wherever possible.
This is an ongoing journey∘ and when technology doesn't yet allow for sustainable non-plastic substitution, MSC Cruises wants to ensure all remaining disposable plastic waste items are recycled correctly.  
---
Exploring New Technologies and Solutions
Our environmental efforts are an ongoing journey. We will keep exploring and developing new solutions for our future – and existing – ships and will be fitting our fleet with even more innovative solutions for a lower environmental impact.
We will be powering some of our future ships with Liquefied Natural Gas (LNG). Compared∘ to standard marine diesel using conventional fuel, LNG reduces SOx emissions by more than 99% and NOx emissions by up to 85%. It also largely eliminates particulate matter in the exhaust.
Our first LNG-powered ship will enter into service in 2022. Others will follow in 2023, 2024, 2025 and 2027.
Despite its benefits, only a few ports globally can accommodate LNG bunkering operations currently. We will continue to show commitment to this innovative fuel and remain confident that the current supply chain challenges will be overcome.
While we believe that LNG is one of the key elements that will allow∘ us to continue reducing the cruise industry's impact on the environment, it is by no means the only one.
In addition, we will be equipping all of our future new builds with a Selective Catalytic Reduction (SCR) system. SCR technology helps reduce nitrogen oxide (NOx) into harmless nitrogen (N2) and water through advanced active emissions control technology.
MSC Grandiosa will be our first ship equipped with SCR technology. All following ships will be fitted with this technology.
Our environmental concern is part of our ongoing journey. We will keep∘ exploring and developing new solutions for our future – and existing – ships and will be providing our fleet with even more innovative solutions for a lower environmental impact.