From the breathtaking Atrium & Piazza- now over 50 percent larger than our other ships' Atriums and featuring exciting new eateries- to signature features like The SeaWalk a dramatic glass-bottom walkway which USA TODAY calls one of the "Top Gee-Whiz Features at Sea" — you'll quickly come to love the many exciting dining and entertainment options available on this majestic ship.
Specifications
Size

mega

Style

Resort

Type

ocean

Year of launch

2014

Gross tonnage

142000t

Length

330.2m

Width

38.5m

Speed

22kts

Decks

15

Language

English

Currency

US Dollar ($)

No. of passengers

3560

No. of crew

1346

No. of cabins

1800

-wheelchair access

36
Unique Features
Movies Under The Stars - Poolside outdoor cinema with Hollywood movies against a backdrop of sea and sky. Staff provide comfortable chaise lounges, blankets in the evenings and complimentary popcorn, warm cookies and milk.

Princess Live! TV Studio – First TV studio at sea, presenting broadcast-ready events including interactive culinary shows, live concerts, late night comedy and game shows.

Ultimate Balcony Dining - Available to guests with balcony cabins, a dedicated waiting team will serve your private dinner party on your  balcony.

Princess Atrium- In the expanded atrium, discover new casual dining options including Gelato, a charming Italian Gelateria or the trendy Ocean Terrace Seafood Bar. Enjoy exciting Piazza entertainment performances, a martini in Crooner's, a Bellini in Bellini's Bar, or just hang out and socialise with fellow guests.

Gratuities
A discretionary gratuity of $12 per person for mini-suites and suites, and $11.50 per passenger in all other staterooms per day (including children) will be automatically added to your shipboard account on a daily basis.
A 15% gratuity is added to bar charges and dining room wine accounts. This is shared amongst the beverage staff and their support staff.

Casino dealers and Lotus Spa personnel do not share in these gratuities, as not all passengers utilise these services.
Accommodation
Offering a broad range of suites, mini-suites and premium cabins, Regal Princess provides generously sized staterooms and balconies to fit any budget. Ranging from 166-682 square feet in size, each stateroom is the perfect place to unwind. Your steward will take care of everything you need from refreshing your room every day to turning down the bed in the evening. With 24 hour complimentary room service, you will get used to being totally spoilt.
---
Premium Mini-Suite with Balcony
The Premium Mini-Suite offers a spacious cabin with an extra-large balcony. Features and fine amenities are standard in a Premium Mini-Suite stateroom and they include a welcome glass of champagne, Twin beds that convert to a queen-size bed, Evening bed turn-down, chocolates on your pillow, Two flat-panel televisions, Private bathroom with combination tub and shower with Shampoo, conditioner, body lotion, 100% Egyptian cotton linens, Satellite TV, refrigerator, hair dryer, safe, closet, phone and desk, 110-volt, 60-cycle alternating current (AC) with standard U.S. plug fittings as well as daily housekeeping service.
323 Square feet including balcony

Sleeps 2

---
Premium Deluxe Balcony Stateroom
Larger than the standard Balcony Staterooms, Premium Deluxe Balcony cabins provide all the same features of the Balcony stateroom, plus an additional sofa bed for lounging or sleeping a third passenger. Suites also feature complimentary mini-bar set-up, CD/DVD player with access to a complimentary DVD library, Walk-in closet with personal safe, Comfortable luxury pillow-top mattress, Twin beds that convert to a queen size bed, 100% Egyptian cotton linens, Upgraded bathroom amenities and hair dryer, Two 42" flat-panel satellite TVs, Evening bed turn-down, chocolates on your pillow, Refrigerator, Writing desk and phone, 110V, 60-cycle alternating current (AC) with standard U.S. plug fittings, Hot tub in select suites as well as a host of other benefits and amenities.
Stateroom - 233 square feet

Balcony - 41 square feet

Sleeps up to 3
Larger than our Standard Balcony staterooms, Deluxe Balcony cabins provide approximately 233 square feet of comfort, and an approximately 41 square foot balcony and includes all the same features of the Balcony stateroom, plus an additional sofa bed for lounging or sleeping a third passenger. Staterooms also come with a pullman bed to accommodate a 4th passenger, a Balcony with patio furniture, Private bathroom with shower with Shampoo, conditioner, body lotion, 100% Egyptian cotton linens, Satellite TV, refrigerator, hair dryer, safe, closet, phone and desk, 110V, 60-cycle alternating current (AC) with standard U.S. plug fittings, Daily housekeeping service, Evening bed turn-down, chocolates on your pillow.
Stateroom - 233 square feet

Balcony - 41 square feet

Sleeps up to 4
The spacious Balcony stateroom is appointed with fine amenities such as Twin beds that convert to a queen size bed, Private bathroom with shower, Shampoo, conditioner, body lotion, 100% Egyptian cotton linens, Satellite TV, refrigerator, hair dryer, safe, closet, phone and desk, 110V, 60-cycle alternating current (AC) with standard U.S. plug fittings, Daily housekeeping service, Evening bed turn-down, chocolates on your pillow and outstanding views from an approximately 41 square foot private balcony. 
Some Balcony staterooms may have a partial or fully obstructed view from the balcony.
Stateroom - 222 square feet

Balcony - 41 square feet

Sleeps 2
The Interior stateroom is approximately 166 to 175 square feet and richly appointed with fine amenities such as Twin beds that convert to a queen size bed, Private bathroom with shower, Shampoo, conditioner, body lotion, 100% Egyptian cotton linens Satellite TV, refrigerator, hair dryer, safe, closet, phone and desk 110V, 60-cycle alternating current (AC) with standard U.S. plug fittings, Daily housekeeping service, and an evening bed turn-down, with chocolates on your pillow.
Some also have pullman beds to accommodate 3rd and 4th passengers.
Stateroom - 166-175 square feet

Sleeps up to 4
Decks
Centre Court

Golf Practice Cage

Laser Shooting Range

Movies Under The Stars

Princess Sports Central

Shuffleboard

Table Tennis

The Game Lounge

The Greens

Hot Tubs

Pelicans and Shockwaves

Platinum Studio

Remix

Retreat Pool & Bar

SeaWalk

Skylight

Teen Open Area

Terrace Pool

The Sanctuary

Vista Lounge

Fitness Centre

Calypso Cabana

Fountain Pool

Horizon Bistro

Horizon Court

Horizon Terrace

Hot Tubs

Mermaid's Tail

Outrigger Bar

Prego Pizzeria

SeaWalk

Seaview Bar

Swirls

The Pastry Shop

Trident Grill
Interior cabins
Balcony cabins
Mini-Suite cabins
Interior cabins

Balcony cabins

Mini-Suite cabins

Suites

Wedding Chapel

Concierge Lounge

Interior cabins

Balcony cabins

Mini-Suite cabins

Suites

Interior cabins

Balcony cabins

Mini-Suite cabins
Suites
Interior cabins

Balcony cabins

Mini-Suite cabins

Suites

Interior cabins

Balcony cabins

Mini-Suite cabins

Suites

Interior cabins

Balcony cabins

Suites

Interior cabins

Balcony cabins

Suite cabins

Crooners Lounge & Bar

Crown Grill

Ocean Terrace (Seafood Bar)

Shops & Boutiques
Princess Fine Arts Gallery

Princess Live

Princess Live Café

Princess Theatre

The Library

Vista Lounge

Wheelhouse Bar & Crown Grill

Captain's Circle Desk


Alfredo's Pizzeria

Allegro Dining Room

Bellini's

Casino

Churchills Cigar lounge

Club 6 Disco

Concerto Dining Room

Princess Theatre
Beauty Salon

Celebrations

Gelato

International Dining Room

Internet Café

Lotus Spa
Plaza Court

Plaza Trattoria

Sabatini's

Shore Excursions Desk

Symphony Dining Room

The Enclave

The Piazza

Vines Bar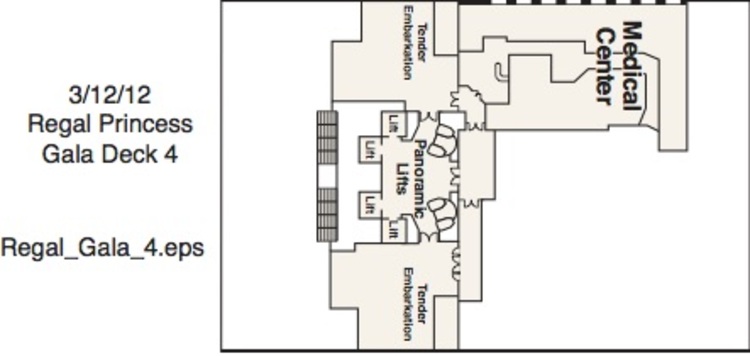 Dining
There is a wide array of venues featuring food freshly prepared each day, a number of complimentary, speciality and casual dining options available onboard.
Offering both fixed and anytime dining, chose whether you want to dine in the main restaurant at the same time each evening, with the same table mates and waiters, or if you would rather dine with whomever you wish at any time to suit you.
---
Traditional Dining- Symphony & Concerto Dining Rooms
Symphony Dining Room, located on Deck 5 features the "anytime" dining plan where guests can dine when, where and with whom they wish.
The room features a circular wine cellar where up to 12 passengers can enjoy a private dining experience surrounded by shelves full of wine.
The Concerto Dining Room, offers anytime dining like the Symphony Dining Room where guests can choose when they want to dine and with whom each night.
It is located on Deck 6 and also features a circular wine cellar.
Dining Experience:
Complimentary
As an option in the Traditional Dining Rooms, you can choose to dine at the Chef's Table Lumiere with a private dining experience amidst a softly-lit curtain that encloses your extravagant table.
The Chef's Table experience provides the chance to tour the ship's busy galley during dinner service, where the ship's executive chef previews the evenings menu with a selection of hors d'oeuvres and Champagne for guests to enjoy.
Guests are then taken to a private table in the main dining room to enjoy a specially created multi-course menu accompanied by selected wines to complement each course.
During the dessert course the chef re-joins the table to discuss the evenings menu and share their culinary knowledge.
Dining Experience:
Cover charge may apply
The elegant speciality restaurant is the perfect place to celebrate a special night out. With menus that reflect regional flavours from around the world, they only serve dishes made with the freshest ingredients.
Dining Experience:
Cover charge may apply
Specialising in steak and seafood, The Crown Grill was voted one of the 'Best Cruise Ship Steakhouses' by USA Today! Crown Grill serves premium steak and seafood including lobster, scallops, clams and cooked-to-order steaks. Some items may be subject to additional charge and reservations are recommended. The room has a club like atmosphere to it and includes live piano entertainment.
The complimentary pub lunch, which has become a big hit with guests since it debuted in 2008, is served daily across the combined space in the Crown Grill and the Wheelhouse Bar. The Regal Princess offers the full traditional pub-style lunch on all sea days- and on port days serves fish and chips and a ploughman's lunch- along with signature brews.
Food type:
Steak & Seafood
Dining Experience:
Cover charge may apply
One of Princess' most popular casual dining options, the Horizon Court buffet on Regal Princess provides additional dining options, including action station choices such as Asian cuisine, Mediterranean dishes, a pasta corner and salad-tossing stations. For early risers on the go, new "Grab & Go" options are available, while healthy breakfast options offer the fuel guests need to make the most of a day at sea or ashore. Those who love to sleep in will even find a special "late, late risers" breakfast corner. At lunch, a variety of new live stations feature a regional flair, including a rotisserie, and Japanese Hibachi Grill.
Dining Experience:
Complimentary
The Horizon Court aboard Regal Princess features a dedicated pastry shop. Here guests can indulge in fresh-baked goodies throughout the day, including croissants, pastries, hot desserts, freshly baked waffles and French toast at breakfast; classic and modern desserts at lunch and dinner; tea sandwiches, cookies, desserts and waffles at tea time; and special show pieces and flambés in the evening. 
This completely separate space features its own unique design, décor, function and seating area, plus a dedicated specialty coffee section. Guests even get to see Princess' pastry chefs in action as they demonstrate their skills in chocolate work and cake decorating.
Dining Experience:
Complimentary
Serving up fresh, hand-tossed Neapolitan-style pizzas hot out of the oven, Alfredo's pizzeria, already a guest favourite on several vessels, will take Princess' reputation for serving the best pizza at sea to a new level. 
Aboard Regal Princess the sit-down restaurant's complimentary menu has been expanded to include a variety of Italian antipasti, soup and salads, a hearty calzone and pizza baguette, and delicious baked pastas in addition to desserts. With 121 seats, Alfredo's is the largest such pizza restaurant at sea, and features an open kitchen where guests can watch as chefs craft their pizza.
Dining Experience:
Complimentary
The Ocean Terrace seafood bar will indulge those who love treats from the sea. The bar offers an array of à la carte ocean treasures, including a flight of oyster shooters, fresh sushi and sashimi, ahi tuna poke, king crab cocktail, chili and lime crab margarita, a royal lobster dish, a chilled seafood sampler, and the world-renowned smoked Balik salmon, the salmon of the tsars.
Dining Experience:
Cover charge may apply
A gelateria and creperie, Gelato offers delicious Italian-style ice cream creations – including designer sundaes, creamy fruit smoothies, and frosty shakes, plus sweet crespelle (Italian crepes) and delightful homemade waffle ice cream cones. Guests can have their favorite flavors in a delicious waffle cone or ice cream sandwich. The extensive menu includes 20 toppings and sauces, including house-made hot fudge. Specialty items such as alcoholic and non-alcoholic sundaes are also on the menu, as are sweet crespelle with a choice of either nutty banana or spiced Washington Apple filling. Or guests can indulge in a classic banana split- or a pineapple split for an old favourite with a new twist.
Dining Experience:
Cover charge may apply
The International Cafe situated on Deck 5 serves up some savoury and sweet items including cupcakes, pies, and muffins to go with the café's array of pastries, panini sandwiches, fresh-baked cookies and specialty coffees and teas. In addition, a variety of hot sandwiches with international flavors debuts, including Cuban sandwiches and Mexican tortas. Open 24 hours, the space also has an expanded seating area, making it the perfect area to grab a light meal, meet friends for coffee or enjoy a snack while watching the array of Piazza entertainers.
Dining Experience:
Complimentary
Vines wine and tapas bar serves a selection of exclusive new- and old-world vintage wines along with wine sampling, food pairing and unique events. In addition to the full wine and spirits bar, Vines serves up small plates to go with the wines, including Spanish tapas, Greek mezes, Venetian cicchetti, Latin American pinchos and Caribbean cutters. 
Vines is also be a convenient pre-dinner gathering place for Sabatini's diners, and tempts with Sabatini's Bites where guests can sample small tastes of such dishes as Tuscan Brochettes, Beef Carpaccio and Lamb Chop Lollipops.
Dining Experience:
Cover charge may apply
Stay in for dinner and enjoy the Ultimate Balcony Dining Experience, delivered right to the comfort of your own balcony.
Dining Experience:
Cover charge may apply
Adjacent to Regal Princess' unique television studio, the café serves up barista-style coffee and tea selections, accompanied by daily changing quick-bite food selections. After 5 pm, the bar offers up a menu of aperitifs and digestifs.
Dining Experience:
Complimentary
Trident Grill- In addition to the hot dogs, hamburgers and chicken sandwiches guests love at the Trident Grill, aboard Regal Princess this poolside spot transforms into a traditional smokehouse-style barbecue each evening, serving up hearty plates of jumbo chicken wings, Route 66 beef chili, Texas-style barbecue brisket, Kansas City Sweet & Smoky Pork Spare Ribs, and North Carolina Pulled Pork.
Outrigger Bar- This top-deck bar celebrates throughout the day and includes a Margarita Bar starting a lunch time, accompanied by made-to-order burritos, crispy pork flautas, barbecued pork fajitas, fresh tortilla chips with guacamole and Mexican salsa to keep the fiesta going into the night. The drink menu includes 12 specialty margaritas, Sunsational Slushies, and a morning Bloody Mary bar.
Prego Pizzeria- A perennial Princess guest favorite, Prego serves up freshly made Italian-style pizza by the slice, featuring classic flavors and a daily special
Swirls- Guests can enjoy a refreshing soft-serve cone complete with dipping sauces and sprinkles or splurge on other ice cream treats.
Cabana Picnic- At the new adults-only Retreat pool and bar, guests can not only enjoy sea views and a relaxed atmosphere in private cabanas, but can also indulge in a gourmet picnic. A variety of picnic basket options, filled with artisan sandwiches with accompaniments and desserts, are available along with champagne packages.
Dining Experience:
Complimentary
Seafood lovers won't want to miss this full crab shack experience. An intriguing bistro option housed within the Horizon Court buffet, Crab Shack diners can savor Bayou-style boiled crawfish and spicy sausage, popcorn shrimp, steaming clam chowder and a tantalizing mixed steamer pot filled with snow crab, jumbo shrimp, clams and mussels.

Dining Experience:

Cover charge may apply
Entertainment
From great nights out to relaxing afternoons spent lounging on the sun deck, find the perfect way to spend your time onboard with Princess Cruises.
From hot tubs to giant movie screens, the ship provides a range of first-at-sea experiences, as well as all the classic cruise entertainment.
Boasting a giant screen 30% larger than Princess Cruises' other ships, this signature poolside venue presents first-run movies, sporting events and concerts under the night sky, accompanied by complimentary fresh-popped popcorn. The 300 square foot theatre offers a unique opportunity to enjoy a blockbuster Hollywood movie against a backdrop of twinkling stars. Personal touches include comfortable chaise lounges, complimentary popcorn, warm cookies and milk, with cosy blankets in the evenings.
With unobstructed sight lines from every seat, the Princess Theatre offers high-definition screens and a state of the art lighting system to enhance each show. This spectacular space for the line's original production shows and entertainers debuts with two new productions on its stage – "Fiera!" takes guests on a journey the fairground, and "Bravo… A Regal Celebration" a celebration of lights opera, musical theatre and p'opera. Two favourites- "Spectacular!" a musical revue extravaganza, and "Sweet Soul Music" an upbeat tribute to Rhythm and Blues- will also be featured after their rave debuts on Regal Princess.

The television studio aboard Regal Princess features programming throughout the day from 8 am until midnight. Guests can enjoy live talk shows, demonstrations and performers here, including the daily Wake Show. With seating for just under 300, the space gives guests a more intimate opportunity to meet the ship's entertainers, play games and enjoy refreshments with the dedicated café.
Extending 28 feet beyond the edge of the ship, this unique glass-paneled walkway offers an incredible view of the ocean by day and lights up for romantic strolls by night – a Princess first!
---
Princess WaterColor Fantasy
Princess WaterColor Fantasy - In the evening, the top deck pools transform into a dazzling interactive sound and light show accompanied by dancing fountains that shoot water up to 33 feet into the night sky.
This fantastic water and light show brings intrigue, beauty and excitement to the top deck pools with fountains that shoot plumes of water to delight and amaze all members of the family. Regal Princess also boasts a second-level stage above the pool area where live bands will play during unforgettable evening parties.
Regal Princess' energetic dance club, conveniently located on Deck 6 near the Atrium, Club 6 offers a vibrant space with an intimate atmosphere and contemporary decor. Guests can grab a cocktail and dance to their favourite hits. The resident DJ keeps the party going whether guests just want to people-watch or get up and move to the beat.
The Princess Casino aboard Regal Princess features the latest slots and table games. Guests can indulge in their favourite games of chance, from blackjack to Texas Hold'em and roulette, or participate in the excitement of slot tournaments. Standing at the heart of the casino is a stunning spiral staircase which leads up to Deck 7 and the onboard boutiques, while an adjacent bar makes it easy to pop in for drinks between games.
The Vista Lounge at the aft of the ship serves as an alternate evening performance venue, offering a more intimate entertainment setting. The Vista Lounge will host a variety of top-notch entertainers each night, from live bands to comedians and illusionists, plus themed parties and special events. 
The Bellini's bar, offers a prime location for watching the action in the Piazza below. This hotspot serves a variety of Bellini-inspired drinks, including the signature "Royal Bellini."
This Italian-inspired cocktail venue is a perfect place to enjoy the lively atmosphere of the Atrium's activities, while indulging in Bellini-inspired cocktails. Based on the famous drink from Harry's Bar in Venice that mixes prosecco with white peach puree, Bellini's serves a variety of refreshing sparkling wine cocktails. Guests will also enjoy views of the Piazza below in this "floating" space.
The resident entertainer in Crooners will keep the crowds singing along while guests choose their favourite from the bar's famous selection of more than 50 martini varieties.
Enjoy Whiskey Flights at the Wheelhouse Bar; Inspired by the growing popularity of whiskey, the line's signature Wheelhouse Bar features a menu of three different whiskey flights- each featuring three whiskeys. Guests can choose from single malts, three "Glens," and other iconic whiskey options, each featuring tasting notes.
The onboard library is fully stocked with a wide range of titles, all of which can be checked out free of charge - so you might want to save your money and avoid the airport book shop.
For smokers, The cigar lounge is the perfect place. A cozy space with small humidors, located near the ship's casinos. 
The ship's art auctions give travelers the chance to view and bid on a wide range of fine art, including pieces by famous artists like Thomas Kincade, Wyland, and Michael Godard. Some cruises even have Picasso replica pieces available. Not only are these pieces in high demand, but passengers have the opportunity to snag them at significant savings because of the auction format.
Internet access is available on all Princess vessels through the 24-hour onboard Internet Cafe and wireless network- which is available in staterooms and various public.
Use the state-of-the-art computer systems to access your web-based email account, or browse the Internet for world news, sports and stock trading. Or bring your wireless-enabled laptop and access the Internet through the improved onboard wireless service.
The boutiques onboard offer more than just accessories and sundries you may have left at home. Shop onboard and benefit from incredible tax-and duty-free savings off suggested U.S. retail prices on fragrances, cosmetics, jewellery and gifts, apparel and liquor.
In addition to everyday savings, they bring you special promotions throughout the cruise. 
Plus, Elite Captain's Circle members receive a 10% boutiques discount!
Opposite the ship's signature SeaWalk, the SeaView bar also extends over the waves for dramatic views. This beach-style bar serves up tropical cocktails while bartenders dazzle the crowds with daily flair bartending shows. At midday and sunset, talented bartenders will show off their impressive bottle-tossing and mixing skills.
Health and fitness
Whether you are looking to soak up the views and work up a sweat while having an invigorating gym session, or to just sit back and relax as you get your nails and hair done in the salon, the ship offers a wide range of health, beauty and fitness options.
An oasis of tranquility on Regal Princess, The Sanctuary adds four private Sanctuary Cabanas for a more luxurious experience, plus two Lotus Spa Cabanas offering an elegant private space for a range of spa treatments. Guests can relax on luxurious plush lounge chairs or circular daybeds, while Serenity Stewards provide healthy refreshments and music players with peaceful music. Space in The Sanctuary can be reserved for $20 for a half day/$40 for a full day, per person. Cabanas are available beginning at $80 for a half day. Seats 62
Adjacent to The Sanctuary, the Retreat Pool offers an exclusive area for adults to relax and rejuvenate. Retreat Cabanas, which can be reserved for an enhanced experience, are the perfect way to enjoy private space poolside, or even add the indulgence of one of the ship's special picnic baskets. The Retreat Pool is open to all adults, and Retreat Pool Cabana rental will be available beginning at $50 for a half day and the gourmet picnic baskets begin at $40. At night, this area will turn into the "Chill Lounge," offering guests a relaxed outdoor space to enjoy the night with drinks and music.
The Lotus Spa features a relaxing atmosphere and treatments inspired by ancient therapies and rituals from the Far East and the most contemporary Western technologies. Highlights include a series of unique spa and beauty treatments to pamper guests including Elemis Aroma Stone Therapy, Elemis Face and Body Sensation which includes an "ice-cool thermal muscle massage" followed by the Elemis Tri-Enzyme Resurfacing Facial), Exotic Lime & Ginger Salt Glow with Massage, and a couples massage in the suite reserved for two. 
Other favourites include Elemis Oxydermy Facial, Deep Tissue Muscle Massage and body wraps such as the Elemis Aroma Spa Seaweed Massage. The spa also features Acupuncture services and Medispa skin treatments.
The extensive spa facilities include sauna, steam rooms, and on many ship, a thermal suite. A communal relaxation centre, the thermal suite offers different grottos and chambers that release a variety of dry heat, steam and mists into the air with aromatherapy filled vapours. Spa goers can relax on a warm stone bed designed to make the pressures of life melt away. Daily and weekly passes are available for regular use of the thermal suite. A number of ships also feature a rasul room in which couples can enjoy the therapeutic benefits of steam and dry heat in a private climate-controlled treatment suite with mud for self-application.
The spa's salon offers hand and foot pampering with choices such as the Elemis Pro-Collagen Hand and Nail Treatment with Manicure, Elemis Sole Delight Foot Treatment with Pedicure, paraffin wax dips, plus a variety of other manicure and pedicure choices. Haircut, colouring, styling options and teeth whitening round out the salon options.
Male visitors to the spa will enjoy the "Time for Men" menu featuring comfortable, fuss-free services. The Barber on Board program lets men settle back in a comfortable barber station where they can indulge in luxurious shaves, as well as soothing face and scalp massages. Other pampering options for men include special hair care, facials and body treatments that appeal to male guests.
Teens will find a selection of spa treatment options just for them with the YSPA program, especially for ages 13 to 17. Whether they opt to escape from school stress with a Heavenly Massage or enjoy a Fabulous Fruity Facial, teens can indulge in spa treatments alone (if 16 or older with parental permission) or choose some bonding time with a Mother and Daughter Paradise Massage, or Father and Son Chill Out Massage.
The fitness centre offer a wide range of invigorating classes, including such popular options as cycling, Pilates, yoga, stretch, and abs classes. Among the more popular options are TRX Suspension Training- a revolutionary method of functional training using a suspension trainer and bodyweight exercises that originated with the U.S. Navy SEALS – and Body Sculpt Boot Camp, which is designed to be completed with only 1 dumbbell making the continuity from cruise to home easy. Body Sculpt participants can expect to burn up to 700 calories in the 40 minute class, and each receives a take-home poster/program which outlines all the exercises and breaks the program up into four manageable workouts.
Other advanced options available on many ships include one-on-one training and body composition analysis. The fitness centre also offers a range of complimentary classes and seminars including Detox for Health & Weight Loss and Relieving Back Pain and Improving Posture with Good Feet.
A putting green, bocce ball and croquet area available on the top deck.
The multi-sport area on decks 18 and 19 is designed to offer a collection of fun options, including court games, lawn activities and even a lounge for virtual gaming. The Centre Court can be used for basketball, tennis, volleyball and badminton, while baseball fans can even practice their swing at the portable batting cage. Golfers will find a driving range facility, while the simulated laser shooting range offers a new onboard activity. The Game Lounge will offer a comfortable space to meet up for games, including table tennis and virtual gaming with Kinect systems.
The double-lane jogging track features separate paths for runners and walkers. In addition, a circuit program with unique outdoor exercise stations makes it the perfect place for guests who want to burn a few extra calories or work on strength moves al fresco. This modern outdoor fitness equipment will offer a new option for those who wish to work out on deck and enjoy the sea air. The track area will be decorated with art picturing iconic global travel destinations, giving guests the opportunity to "run around the world."
The Plunge and Fountain fresh water pools flank an island area between them. During the day passengers can relax and rejuvenate poolside in a variety of seating options, including circular loungers, garden-style furniture, bar-height tables and stools, and chaise lounges. At night, the pool area transforms with architectural lighting effects to set the mood. The island area becomes a stage showcasing an interactive sound and light show featuring dancing fountains. With a sophisticated lighting and sound system, and a computerised fountain featuring 85 water jets, passengers can marvel as streams of water shoot 33 feet into the night sky.
Kids and Teens
Regal Princess' youth and teen centre is fully equipped with everything from the latest video games and movies, arts and crafts and a DJ booth – plus a dedicated outdoor space for each age group. Catering for children aged 3-17, kids can have fun making new friends whilst you take advantage of some of the adults-only facilities available onboard.
Ages 3-7. 
There's an exciting toddler area, a mini air hockey table, great arts and crafts stations, plus a space for group activities like movie nights.Offering dance parties, movies and cartoons, along with ice cream and pizza parties, your little ones can enjoy T-shirt colouring, theme nights and getting creative with art projects.
Ages 8-12.
Offering games and activities like air hockey, skeeball, and video game stations – not to mention a dedicated lounge with a giant TV and arts and crafts tables. There are plenty of exciting activities for older kids to enjoy, including kids-only dinners, movies, PS2/PS3, Wii (and all the latest games), along with scavenger hunts, talent shows and sports tournaments. California Science Centre workshops and junior chef@sea educational classes are also on offer.
Ages 13-17.
Featuring a new lounge area, perfect for meeting new friends, with skeeball, football, and great video games. In the teen-only exclusive lounges, junior cruisers can come and go as they please. Make new friends whilst enjoying PS2/PS3 and Wii games, football tables, sports competitions and late night movies. Take part in the shipboard Olympics, mocktail parties, DJ workshops, or check out the hot tub parties and formal dinners.
Enrichment
From fitness to pop choir classes, wine tasting to art classes, Regal Princess offers a wide variety of enrichment classes for passengers to enjoy.
Expand your mind with an array of engaging Scholarship@sea opportunities. There are up to 40 classes on every cruise. Tantalise your taste buds on the Culinary Arts course or take a Wine Tasting seminar. Discover your crafty side and create a wonderful holiday keepsake.
Are you are ready to join in on the pop culture spotlight? Meet and rehearse with fellow song birds in a fun and participative performance choir. Then, take center stage as you and your fellow passengers put together a show-stopping performance of Princess Pop Choir.
Get ready for a tantalising tour of the world of fine food. Put your chef's hat on and learn the secrets of preparing a spectacular array of mouth-watering gourmet specialities served onboard with our culinary arts courses. They feature entertaining demonstrations from guest chefs as well as their own onboard experts — with recipes to take home.
Whether you're a beginner looking to learn the basics of wine tasting, or a connoisseur interested in expanding your knowledge, onboard wine tasting seminars should be on your schedule. These fun and fascinating adventures in the exciting world of wine offer a wonderful opportunity to make new friends as you taste superb selections hand-picked by our cellar master.
Learn to capture your cruise memories forever by creating beautiful cards or a keepsake journal. Creativity@Sea provides a fun social atmosphere where you'll discover how to create a wonderful personal memento of your Princess vacation. Some courses are complimentary where you'll learn basic card-making skills and design, while others offer additional crafting tips and clever ideas at a nominal fee.
On select voyages and vessels, onboard enrichment speakers bring you the best lectures at sea. Noted experts in their fields present intriguing talks and Q&As on a wide variety of subjects ranging from ports and destination highlights, to maritime history, theatre, art history, politics, science and more. These stimulating presentations bring a wealth of information to enhance your ScholarShip@Sea experience.
From ancient mariners to modern vessels, if you've always wondered what it takes to navigate a cruise ship, this is for you! While different navigation techniques have evolved over the ages, this exciting multimedia presentation highlights all the basics of cruise ship operation presented by one of your ship's officers. Join fellow passengers as you learn the history of navigation and increase your maritime terminology from bow to stern.
Presented by their onboard art experts, join fellow passengers as you take a tour on an array of subjects: from aesthetics to specific periods, or artistic movements and important figures in the history of art.
They're called smartphones, but they can make users feel anything but. Luckily Princess Cruises' new program called Digital Basics is here!

Hosted by the Internet Café Manager, this free series of workshops tackles technology in a fun, interactive way, so you'll soon be clicking, sharing or tweeting with the best of them. Workshops come in four varieties:
Smartphones: Use apps, take photos and discover other uses for these digital devices.
Snap!: Get more from your digital camera.
Downloads: Learn the ins and outs of accessing music, videos and other types of content.
Web: Enter a bold new world of blogging, social networking, email and more.
Plus a Digital Basics website lets passengers review information covered in the workshops at their leisure - for free!
---
Princess Cruises Book Club
The Princess Cruises Book Club offers an opportunity for fascinating literary discussions among passengers. Books are carefully selected from a variety of sources, offering titles that appeal to many different interests.

Depending on the length of the voyage, one or more Book Club meetings will be scheduled. For those who wish to participate on their voyage but haven't yet read the selection, multiple copies of the book will be available at the ship's library.
Useful to know
Royal Princess has a choice of 36 wheelchair accessible cabins.

---
Special Dietary Requirements
Princess Cruises are happy to meet your request for low-sodium, low-fat, low-sugar and vegetarian diets. Kosher meals and baby food are available upon advance written request. Any other special diet requests must be authorised in advance by the Princess corporate office.
You or your travel agent must advise Princess in writing of any special diet, allergies or medical needs. Requests must be received no later than 35 days prior to departure for cruises to Alaska, Canada/New England, Caribbean, Hawaii, Mexico, Panama Canal and Coastal Getaways. For all other cruises, requests must be received no later than 65 days prior to departure. Once onboard, please check with the Maitre D' to confirm your request.
The legal drinking age of 21 years is always observed onboard all ships, 18 years on Grand Princess Mediterranean itineraries, and proof of age may be required. All onboard staff are trained to take their responsibility to not serve alcohol to underage passengers seriously. The age restrictions are clearly posted in the bars.
Entry into the disco is limited to passengers 18 years and older. Be sure to check with the child and teen centres, however, for special disco events designed just for kids. Children under the age of 18 are welcome in the gymnasium, spa and jacuzzi; and also in the evening entertainment show lounges when accompanied by a parent or guardian.
In line with domestic age limits, as well as Princess' company policy, the casino is reserved for passengers 21 years and older. Additionally, only those passengers 21 years and older will be allowed to purchase or consume alcohol. For those whose age is questionable, picture identification may be requested.
You should dress for a cruise with Princess the same way you would for any stylish land-based resort.
Casual sportswear, including shorts, lightweight pants and jogging suits, is the order of the day both at sea and ashore in hotter climates.

Princess recommend you bring a sweater, a jacket or an all-weather coat for cool evenings, and for shore excursions, depending on your destination. Due to unpredictable weather, don't forget a hat or visor and a collapsible umbrella. Please be sure to bring proper clothing for visits to religious sites. You'll also want low-heeled, rubber soled shoes for strolling on deck, as well as comfortable walking shoes or sandals to wear.

Princess makes it easy to know what to pack and what to wear when you're dining onboard our spectacular ships. There are two designations for dress codes: Smart Casual and Formal.

Smart Casual
Passenger attire should be in keeping with what they would wear to a nice restaurant at home; Skirts/dresses, slacks, and sweaters for ladies, trousers and open-neck shirts for men
Inappropriate dinner wear such as pool or beach attire, shorts, ball caps and casual jeans (with fraying and/or holes) are not permitted in the dining rooms. Shoes must be worn.

Formal
When formal nights are held, please observe the dress code in the Traditional Dining and Anytime Dining venues for the enjoyment of all guests. Evening gowns and cocktail dresses are suggested for women; Tuxedos, dinner jackets or dark suits with a tie for men
---
E-cigarette & Smoking Policies
Designated Smoking Areas
Clearly marked "Designated Smoking Areas" are available onboard and include a sufficient number of ashtrays that are emptied regularly. Generally, these areas include cigar lounges, a section of the nightclub and casino, as well as a portion of the open decks. As a safety precaution, passengers are reminded to properly dispose of cigarettes, cigars and pipe tobacco, which are never to be thrown overboard as this may be sucked back into the ship and cause fires.

Stateroom Smoking Policy Update
For all voyages departing after January 15th, 2012, Princess Cruises will prohibit smoking in passenger staterooms and balconies. This policy change reflects the preferences of a vast majority of our passengers who value having their primary living space (both stateroom and balcony) smoke-free. As balconies are a hallmark of Princess Cruises, we believe it is important to keep this peaceful space clear of smoke. Violations to this policy will result in a $250 fine for each occurrence, which will be charged to the passenger's stateroom account. Keeping with the global trend toward more restrictive smoking policies and honouring the wishes of our passengers, we feel this change will enhance our onboard experience and do more to help our passengers escape completely.

Electronic Cigarettes
The use of electronic cigarettes is allowed within the confines of the passenger's stateroom (balcony not included) and within designated smoking areas only.
All Inclusive Beverage Package
You can now relax and enjoy the convenience of an all inclusive beverage package featuring any drink up to $10 including cocktails, wine, beer, sodas, lattes, cappuccinos, bottled water & more. All for just $49 per person per day!
15% gratuity will be included in addition to the price. Package is not currently offered on Dawn, Sea and Sun Princess.

Unlimited Soda Packages
With our Unlimited Soda Package you'll never be without your favorite fountain sodas, from Coke, Diet Coke, Sprite and Barq's Root Beer, to nostalgic orange soda, soda water, tonic water and ginger ale. Our Unlimited Soda & More Package allows you as many fountain sodas, refreshing juices, fruity mocktails and creamy ice cream shakes as you can handle.

Café Selects Coffee Card
Treat yourself to flavor with perks and get the Café Selects Coffee Card, which entitles you to 15 espresso-based specialty coffees for a delicious pick-me-up at any time of day. Choose from a satisfying array of coffee creations like frothy cappuccinos and steamy lattes – perfect for coffee lovers!