Rhapsody of the Seas is a light and airy ship enjoying more than two acres of glass canopies, skylights and floor to ceiling windows, offering fabulous views, including the must see 360 degree panoramic view available in the Viking Crown Lounge. Burn off energy at the rock climbing wall, fitness centre or one of the pools. 
Send an e-postcard from the internet café, relax in the whirlpool or indulge in a treatment in the spa. After sundown, Rhapsody of the Seas offers a selection of dining options from fine dining to casual dining, themed bars, a theatre and a Casino.
Specifications
Lloyds No

9116864

Size

medium

Style

resort

Type

ocean

Year of launch

1997

Year of last refit

2012

Gross tonnage

78491t

Length

301.5m

Width

32.2m

Speed

22kts

Decks

11

Language

English (American)

Currency

US Dollar ($)

No. of passengers

2409

No. of crew

765

No. of cabins

999

-wheelchair access

14
Gratuities
Recommended gratuities for guests in a Grand suite or above, is advised to be $14.25 per guest per day.
For guests in a Junior suite or a Stateroom it is advised to be $12.00 per guest per day.
A 15 % gratuity will automatically be added to bar bill or wine bills and for services in the Spa or Salon.
Accommodation
Whether you've had a full-on day sightseeing or a laid-back day in the sun, it's good to know you've somewhere relaxing to come back to; somewhere you can recharge and refresh in private. That's why all the staterooms on board Rhapsody of the Seas are designed with your comfort in mind.
Wonderfully airy and extremely well appointed, they are all tastefully decorated in soft, calming colours. There are four main categories of stateroom; once you've chosen a category you then select a specific room type depending on your needs.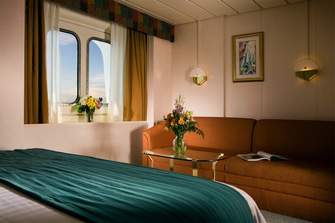 Outside or promenade views through picture window, two twin or one king size bed, refrigerator or mini-bar, TV, telephone and private en-suite bathroom with shower.
Large Ocean View Stateroom: 151 square feet, sleeps 2

Panoramic Ocean View Stateroom: 220 square feet, sleeps 2

Twin or king size bed, refrigerator or mini-bar, TV, telephone and private en-suite bathroom with shower.
Interior Stateroom: 132 square feet, sleeps 2

Large Interior Stateroom: 142 square feet, sleeps 2

Superior Interior Stateroom: 164 square feet, sleeps 2

Views of the open seas or Boardwalk through a fully accessible balcony, two twin or one king size bed, refrigerator or mini-bar, TV, telephone and private en-suite bathroom with shower.

Deluxe Ocean View Stateroom: 148 square feet (balcony 33 square feet), sleeps 2

Superior Ocean View Stateroom: 176 square feet (balcony 37 square feet), sleeps 3

Designed with larger families and groups in mind, accommodating up to 8. The largest cabins onboard, they offer priority boarding, dedicated entertainment seating and private concierge services. A private balcony with ocean views, sitting area with sofa bed, two twin or one king size bed, refrigerator or mini-bar, TV, telephone and private en-suite bathroom with bathtub.
Junior Suite: 230 square feet (balcony 76 square feet), sleeps 3

Grand Suite: 355 square feet (balcony 114 square feet), sleeps 3

Family Junior Suite: 452 square feet (balcony 54 square feet), sleeps 6

Royal Family Suite: 515 square feet (balcony 75 square feet), sleeps 7

Owner's Suite: 516 square feet (balcony 116 square feet), sleeps 4

Royal Suite: 1,002 square feet (balcony 138 square feet), sleeps 4
Decks
Family Ocean View Staterooms

Large Ocean View Staterooms
Large Interior Staterooms

Interior Staterooms
Family Ocean View Staterooms

Large Ocean View Staterooms

Large Interior Staterooms

Interior Staterooms

Family Ocean View Staterooms

Large Ocean View Staterooms

Large Interior Staterooms

Interior Staterooms

Centrum
R Bar
RCI Online
Next Cruise
Conference Centre
Main Dining Room
Chef's Table
Theatre
Casino Royale
Guest Services
Shore Excursions
Main Dining Room
Theatre

Centrum Shops
Cafe Latte-tudes

Photo Gallery
Chops Grille
Schooner Bar
Giovanni's Table
Conference Centre
Shall We Dance Lounge
Diamond Club
Royal Family Suite with Balcony

Superior Ocean View Staterooms with Balcony
Preferred Ocean View Staterooms
Large Interior Staterooms
Interior Staterooms

Royal Suite with Balcony

Owner's Suites with Balcony
Royal Family Suites with Balcony
Grand Suites with Balcony
Junior Suites with Balcony

Superior Family Ocean View Staterooms

Preferred Ocean View Staterooms

Superior Interior Staterooms
Large Interior Staterooms
Interior Staterooms
Windjammer Cafe

Main Pool

Whirlpools

Outdoor Movie Screen

Solarium

Park Cafe

Vitality Spa & Fitness Centre
Adventure Ocean Programme

Teen Centre

Royal Babies & Tots Nursery
Video Arcade
Jogging Track

Vitality at Sea Spa & Fitness Centre
Rock Climbing Wall

Crystal Canopy
Viking Crown Lounge

Concierge Club

Dining
Open almost around the clock, Windjammer Café offers a great range of dishes from salads to burgers, a carvery, a buffet and hot main dishes. For a cup of coffee and light snack head to the speciality coffee house Latte-tudes or for more formal dining, explore the culinary delights of our Main Dining Room.
Enjoy gourmet cuisine and wine pairing in Chef's Table, Italian family favourite Giovanni's Table, and if grade-A cuts of steak and sumptuous desserts appeals, head to Chops Grille. 
The two-tier main dining room, features a grand staircase and huge windows allowing for impressive views. Open for breakfast, lunch and dinner, it offers flexible 'My Time Dining' – allowing passengers to eat when they want, in addition to more traditional two-sitting dining. Tables typically seat 4-12, with limited seating for 2 available upon request.
Dining Experience:
Complimentary
Self-service buffet breakfasts and lunches, with restaurant service during the evenings. Casual atmosphere combined with a changing evening menu makes Windjammer one of the more popular eateries onboard.
Dining Experience:
Complimentary
From sushi to sashimi and tableside cooking preparation using Hot Rocks, Royal Caribbean's Izumi offers guests an exotic Asian-inspired dining experience.
Dining Experience:
Cover charge may apply
A high-end grill where you'll find filet mignon and mesquite-grilled salmon on a menu that changes daily. There's no better place for a special occasion – great steaks and seafood are the speciality.
Food type:
Steak & Seafood
Dining Experience:
Cover charge may apply
Serving Seattle's Best Coffee, Latte-tudes is a hip and happening coffee shop. It's a great place to recharge, or settle down with a good book and a steaming mug of coffee. The menu includes lattes, cappuccinos and espressos. You'll also find pastries, beer, wine and soft drinks in this informal cafe.
Located in an intimate, exclusive enclave within Chops Grille, this private epicurean experience for up to 16 people treats you to a five-course, upgraded steakhouse menu and wine tasting.
Dinner at Chef's Table is both experiential and educational, as the Chef de Cuisine specially prepares and presents each course, while explaining its cooking techniques, ingredients and flavors. Then a sommelier pairs every course with wine chosen to enhance your enjoyment of the dish.
Dining Experience:
Cover charge may apply
Savour great Italian home cooking in this family-friendly restaurant specialising in the traditional dishes of Tuscany.
Dining Experience:
Cover charge may apply
Order fresh, made-to-order salads, paninis, crêpes, stir fries and more. Or stock up on snacks for your excursions or to take back to your stateroom.
Dining Experience:
Complimentary
Entertainment
From traditional cruise favourites to innovative, first at sea activities; the entertainment onboard offers something for all ages and preferences.
The exciting Casino Royale offers, roulette, black jack, poker and slot machines, with lessons, games and tournaments for players of all abilities.
This Broadway-style performance space offers contemporary and Broadway-inspired shows, headline musicals and live comedy.
The ship's pool bars make it easy to stay cool in the sun without having to stray too far from the deck chair. They offer a range of refreshing drinks and cocktails for passengers to enjoy.
This nautical themed bar is available on all Royal Caribbean ships. In the evening this is a popular place to be, with live piano playing and singing.
Offering the best views at sea The Viking Crown Lounge is Royal Caribbean's signature bar. Located on the top deck, this glass lounge, offers unmissable panoramic great views.
Hoisted high above the pool deck these outdoor movie screens are a new addition to Royal Caribbean ships and enable passengers to enjoy the latest movies and sporting events, all with a cocktail in hand or under the stars.
Experience a 1960s vibe at the all-new R Bar, featuring iconic furnishings and classic cocktails — gimlet, martini, gin, whiskeys and more — all served by the ship's resident mixologist. And be sure to try the drink specials, specially created to complement the Centrum's nightly theme and aerial performance.
Enjoy daytime activities, including classes, game shows and more. Visit at night for dazzling entertainment and jaw-dropping aerial spectacles. Even the glass elevators facing into the Centrum feature LED panels down their entire length, providing a backdrop of moving visuals five decks high.
Diamond, Diamond Plus, and Pinnacle Club Crown & Anchor® Society members enjoy access to this lounge, created to serve these loyal guests with concierge access, complimentary continental breakfast, and evening drinks.
Guests staying in Grand Suite-level rooms and higher, Diamond Plus and Pinnacle Club Crown & Anchor® Society members enjoy access to this lounge serving complimentary continental breakfast and evening drinks.
The Show Lounge with its large windows offers a light and airy atmosphere for guests to enjoy along with a large central dance floor and its own bar.
The large lounge acts as the ships second entertainment venue with a host of entertainment and activities taking place throughout the day and night from seminars, enrichment lectures, live art auctions and trivia competitions to karaoke and game shows including The Quest game show and Majority Rules.
The Royal Caribbean distinctive storefronts offer an array of merchandise ranging from logo items, perfume and jewellery to liquor and cruise wear.
Health and fitness
The ship features a fantastic array of health and fitness facilities including, a spa, a fitness centre, a rock climbing wall and much more.
Passengers can also enjoy the ship's fantastic sporting facilities, which include: a golf simulator, a running track, as well as basketball and volleyball courts. Thrill seekers can also make use of the impressive rock climbing wall.
A fully equipped gym and fitness centre, including free weights, weight machines and cardiovascular machines. Classes include pilates, spinning, kickboxing, yoga and salsa mania (Latin dance-inspired exercise). A steamroom and sauna are also available
The Solarium offers a calm, quiet, peaceful atmosphere for adults to relax in. Both in and outdoors, the lounge area can be covered during cooler weather by a large glass roof.
A range of services and relaxation treatments are available from the Vitality Spa & fitness Centre. The salon, located within the spa area, offers haircuts, styling, manicures, pedicures and teeth whitening. Visit Vitality Spa for massages, reflexology, facials, bodywraps and acupuncture. 
Health, fitness and beauty demonstrations are run by qualified professionals during most voyages. The Vitality Wellness Programme offers a holistic approach to well being, with seminars, expert advice, healthy menu options, fitness programmes and spa.
Ever thought about climbing a rock wall 200ft above sea level? With the ship's onboard rock wall this can become a reality. Passengers who take on the challenge will experience some of the best views at sea.
The ship's main pool is heated and incorporates a shallow end for children to splash around in, separated from rest of the pool by a safety barrier.
Kids and Teens
Royal Caribbean International's cruise ships offer a wide range of options for the whole family, as well as a great range of just-for-kids options.
---
Adventure Ocean Programme
With three age-specific groups – Aquanauts (3-5 years), Explorers (6-8 years and Voyagers (9-11 years), this award-winning youth programme is so much fun, kids won't even notice that it's educational as well! Events run from morning until ten in the evening every day, kids can make new friends whilst enjoying a whole range of activities and games.
Aquanauts
Enjoy the magic of Bubbling Potions, uncover the dinosaur-sized secrets of Jurassic Jr, and take over the ship with the Pirate Party Parade. Parents of three-year olds can opt for pagers so Adventure Ocean staff can stay in touch.
Explorers
Space Mud, Fossil Fever and Meteorology Madness. Hands-on science gets young minds churning – along with explorations of arts with Adventure Art and Adventure Theatre. Round out the night with dancing through the decades and ice cream for all.
Voyagers
For 9 to 11 year olds there's a range of cool and educational activities including science experiments, backstage tours and new sports like Gagaball.
Parents love the new colourful nursery where the littlest guests can be left in the care of trained professionals, to enjoy specially-designed programming and playgroups.
Treating teenagers more like adults, this programme is a way for them to meet new friends while they enjoy their favourite pastimes, from morning until 2am. As well as sports, gaming, pool parties, dancing and music, teens have their very own designated areas to hang out in such as The Video Arcade and teen night club.
Enrichment
Enrichment programs, or 'Explorer Academy' classes cover a wide range of topics, from wine tasting to casino tuition.
Classes include:

Wine tasting - learn about wines from around the world

Casino tuition - from poker to blackjack, learn how to play some of the casino's most popular games

Dance and fitness - including yoga, pilates, ice skating and dance

Language

Cookery - try your hand at cupcake decoration

Useful to know
---
Special Dietary Requirements
Special meals can be provided on all ships, when requested in advance, however not all requests are guaranteed. Requests must be submitted no later than 60 days prior to sailing. 
A wide range of vegetarian and gluten free meals are available onboard as standard.
Wheelchair accessible staterooms are available on request. These can include electric entrance doors and accessible shower facilities. Priority and assisted boarding is also available on request. 
The ship has ramps and lifts on most decks, and hoists are available on request at certain pools and jacuzzis. Please note that passengers must provide their own wheelchairs/scooters or hire from an outside vendor.
There are three distinct types of evening on board: casual, smart casual and formal. Suggested guidelines for these nights are:
Casual: Polo shirts and trousers for men, sundresses or trousers for women.

Smart Casual: Jacket and shirt for men, dresses or trouser suits for women.

Formal: Suits and ties or tuxedos for men, cocktail dresses or trouser suits for women.
There are however certain restaurants onboard which maintain a casual dress code throughout the cruise. On a typical 14 night cruise, 8 nights will be casual, 3 nights will be smart casual and 3 nights will be formal, however this depends upon individual cruise itineraries.

For sailings that depart from a port in Europe, Australia, New Zealand, South America and Asia, the minimum age for purchase and consumption of alcohol is 18. , For any sailing which commences outside of the above stated areas, the minimum drinking age is 21. Therefore any ships departing from or calling at a port in North America the minimum drinking age will be 21. 
Passengers who wish to use the spa, casino and adult nightclub must be 18 years or over. Those wishing to use the solarium and whirlpools must be 16 years or over. Under 16s must be accompanied by an adult when attending the theatre.
The following drinks packages are available onboard:
Select Drinks Package - from $40 per person per day (approx £25)- Includes: Beer (a selection of bottle, can and draught), wine by the glass (up to $8 value), fountain soft drinks with souvenir cup and non-alcoholic cocktails. 
Premium Drinks Package - from $55 per person per day (approx £35) - Includes: All house spirits with mixer and premium cocktails, beers (a selection of bottle, can and draft), premium wine by the glass (up to $12 value), frozen & non-alcoholic cocktails, fountain soda with souvenir cup, still bottled water (500ml). 
Ultimate Drinks Package - from $65 per person per day (approx £40) - Virtually unlimited options. A combination of all the benefits from the Premium and Royal Replenish Packages. 
Wine & Dine Package - from $99 per person (approx £60) - Wine enthusiasts can save up to 25% on standard list prices with a multi-bottle Wine Package. Choose from a renowned selection and enjoy your wine in the Main Dining Room, speciality restaurants or the Windjammer Café. 
Evian Water Package - from $28.45 per person per day (approx £18.70). Stay perfectly refreshed with Evian 1 litre bottled water, available in quantities of 8, 12, 16 and 24 and delivered conveniently to staterooms, with savings up to 35% on individual bottles. 
Juice Package - from $20.15 per person per day (approx £13.20) - Minute Maid bottled juice packages delivered to your stateroom. They're available in a variety of flavours and quantities (6, 8 and 12 bottles) for savings of up to 25% on individual bottles. 
Please note: 15% gratuity is included in all package prices.