As the first of our unique Xpedition Class, Celebrity Xpedition is a little different to the rest of the Celebrity Cruises fleet. Sailing to the legendary Galapagos Islands, Xpedition offers a once in a lifetime experience that is half luxury cruise, half intrepid exploration.
This smaller ship is the perfect place to relax after a day spent exploring the mythical Galapagos Islands. From the peace of the library to the serenity of the hot tub on the sun-soaked sunrise desk, you'll soon find your personal favourite spot on Celebrity Xpedition.
You can also enjoy spectacular views of the natural wonders outside from the Blue Finch Bar on the Panorama Deck. The Discovery Lounge, with its warm and lively atmosphere, hosts daily lectures from a number of expert naturalists, preparing you for the rare and unique creatures awaiting you on the shores of the Galapagos Islands.
Specifications
Size

boutique

Style

Premium

Type

ocean

Year of launch

2004

Year of last refit

2013

Gross tonnage

2842t

Length

90.0m

Width

13.0m

Speed

15kts

Decks

4

Language

English (American)

Currency

US Dollar ($)

No. of passengers

100

No. of crew

61

No. of cabins

48

-wheelchair access

0
Unique Features
Offering an experience somewhere between a cosmopolitan cruise and an intrepid explorer's voyage, Celebrity Xpedition offers the unique combination of luxurious interiors and comfort with exciting destinations and ports of call.
Gratuities
Celebrity Galapagos: All onboard gratuities are included in the price of your Galapagos cruise. This covers all Service Personnel including the waiters and head waiters who look after you in the dining rooms, housekeeping staff, your Butler and Stateroom Attendants.
Accommodation
Celebrity's spacious suites and staterooms transform your vacation into a completely indulgent experience. With décor influenced by Darwin's theory of evolution, the exploration elements of Celebrity Xpedition can be seen throughout.
In the Galapagos Islands, the Penthouse Suite is exclusive to Celebrity Xpedition. Enjoy a spacious living room with floor-to-ceiling sliding glass doors, a large private balcony boasting its own Jacuzzi, and a separate bedroom with its own ensuite bathroom and second balcony.

The Royal Suite can be found onboard the largest of our Xpedition Class ships – Celebrity Xpedition. Relax in your lounge area after a day exploring, step out onto your spacious private balcony and take in the incredible sights, or try out your complimentary binoculars to get a closer look.
The Xpedition Suite is exclusive to Celebrity Xpedition, the first of our ships in the Galapagos Islands. The sleeping and living area is a relaxing space for you to unwind in after a day of adventure, and the balcony is the perfect private hideaway from which you can observe the islands.
The Junior Suite can be found onboard two of our Xpedition Class ships, Celebrity Xpedition and Celebrity Xploration. Our Xpedition Class ships have ample outdoor space to enjoy, but these suites are perfect for those that want a private outdoor balcony on holiday.
---
Premium Ocean View Staterooms
Enjoy a room with a view of the world's most amazing archipelago in an Ocean View Stateroom on our Xpedition Class ships.
Celebrity Cruises is proud to have three ships in the Galapagos Islands, the 100 guest capacity Celebrity Xpedition, the 48 guest capacity Celebrity Xperience, and the 16 guest capacity Celebrity Xploration. Across the three members of our Galapagos fleet, we have four different types of Ocean View Stateroom, all of which feature a window, making them the perfect place to sit back and take in the ever changing views.
The Premium Ocean View Stateroom is featured onboard Celebrity Xpedition and Celebrity Xperience. It's the perfect tranquil space for you to rest on holiday – and after a day spent exploring the incredible Galapagos Islands, that rest will be well deserved.

---
Deluxe Ocean View Stateroom
The Deluxe Ocean View Stateroom is featured onboard two of our Xpedition Class ships, the 100 guest capacity Celebrity Xpedition and 48 guest capacity Celebrity Xperience. Sit back and relax in this deluxe stateroom and enjoy the view of the Galapagos Islands.
In the Galapagos Islands, the Ocean View Stateroom is exclusive to the first of our Xpedition Class ships, Celebrity Xpedition. With so many sights to see on your Galapagos Island cruise, a room with a view will add so much to your holiday.
Decks

The Penthouse Suite

The Royal Suite

Xpedition Suites

Exercise Room

Massage Room

Hot Tub

Junior Suites

Xpedition Suites

Blue Finch Bar

Premium Staterooms
Guest Relations

Library

Internet Cafe

Discovery Lounge 

Dance Floor

Beagle Grill

Ocean View Staterooms

Deluxe Staterooms

Darwin's Dining Room

Gift Shop

Beach Club

Dining
Providing casual, open-seating in Darwin's Restaurant, guests can enjoy the flexibility to chose their dining companions whilst enjoying locally grown (or caught) ingredients. Inspired by its namesake, Darwin, and his theory of evolution, subtle hints of this theme run throughout the ship.
Right at the heart of the Celebrity Cruises dining experience is the grand main dining room. Eat, drink, laugh and take your taste buds on a journey of their own.
Chic and contemporary, the Celebrity Cruise main dining options are the centrepiece of the onboard experience. The unparalleled range of choices and attentive, friendly service are as delightful as the array of flavours available. Everything about this venue is lavish, so attire is suitably stylish. It is smart casual for most sittings, with a more sophisticated dress code for Celebrity's sensational special events.

Their chefs work round the clock to supply the most incredible tastes and textures. Each dish is a little masterpiece in its own right, with every detail designed to please, right down to the garnish. The options change every night – sample a variety of top-quality meats, like quail and black salmon, coupled with expertly-crafted side dishes and full-on flavour sauces. Dinner in the Main Restaurant is always the main attraction.

The range of options is tailored to suit every taste: if you prefer to dine at the same time every night then our Traditional Dining is for you. For more flexibility and to make reservations each day, opt for Select Dining choice. They also cater for Special Needs, with a dedicated team of specialist chefs to whip up perfect meals for your individual dietary requirements.
Dining Experience:
Complimentary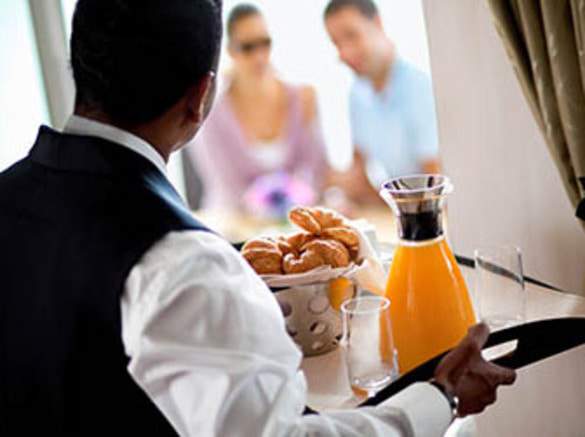 Enjoy Celebrity's delectable dining delivered right to your stateroom or suite, complimentary and at any time. Tired from a day of exploring? Whether you are recuperating or just in the mood to relax, with complimentary cruise 24-hour room service you may never want to leave the comfort of your stateroom. Breakfast on the balcony? Choose from a continental or full breakfast. Or select from a wide range of delicious dishes at any time of day, or night!
Dining Experience:
Complimentary
Open for lunch and dinner, Celebrity Xpedition's Beagle Grill is a great place to go for standards such as hamburgers, hot dogs, chicken sandwiches, salads, freshly baked bread and pizzas, and fresh fruit.
When weather permits, you also have the option to have dinner by candlelight with table side service.
Dining Experience:
Complimentary
Entertainment
A mixture of contemporary, classic and innovative forms of entertainment can be found onboard.
Feeling lucky? Combining the ambience of Monte Carlo and the energy of Las Vegas, Fortunes Casino is a perfect spot to participate in a game of chance or comfortably view all of the action at the ticket in/ticket out slot machines and table games.
One of the most popular venues onboard. During evenings, education and ambience come together to create a great meeting place.
Take in the spectacular views from the characterful Blue Finch Bar on the Panorama Deck.
Health and fitness
Massage and exercise facilities are available onboard.
Kids and Teens
Please note: there are no children's or teens facilities onboard the Celebrity Xpedition.
Enrichment
In association with Rosetta Stone and Apple, Celebrity offers an impressive range of educational activities and guest speakers during most of their sailings.
Held in the art studio, meet resident artists or attend interactive classes and demonstrations, covering topics from jewellery making to sketching and painting.
---
Rosetta Stone Language Sessions
Learn the basics of how to order in the local language of the next port of call, brush up on existing language skills or learn a new language.
Useful to know
Ability to accommodate guests with special needs aboard Celebrity Xpedition is limited. This ship does not have an elevator or accessible staterooms. There is very little wheelchair accessibility on the Galapagos Islands, and service animals are not permitted in the Galapagos National Park.
A casual dress code applies at all times onboard Celebrity Xpedition.
For the comfort and enjoyment of all guests, each Celebrity ship is non-smoking. Designated outdoor areas on the ship are the only locations where cigarette, cigar and pipe smoking are permitted.
Guests must be 18 years of age or older to sail, and then to purchase, possess or use tobacco onboard.
The minimum drinking age for those sailing on Celebrity Cruises ships from North America is 21. Those sailing from South America, Europe, Asia, Australia and New Zealand must be 18 years or older.
Lighting
We're replacing higher wattage halogen and incandescent light bulbs with longer lasting fluorescent and Light Emitting Diode (LED) lights throughout our fleet. Fluorescent and LED bulbs require 80% less energy, generate 50% less heat, reduce energy consumption, last much longer and contribute to more efficient air conditioning due to the cooler bulbs.
Propulsion and Hull Design
A new approach to hull design and propulsion systems, resulted in significant energy savings. Ships equiped with Common Rail Diesel Engines reduce energy consumption and NOX emissions at all engine loads.
Heating, Ventilation, and AC
Our ships are equipped with the latest and most efficient air-conditioning equipment commercially available. Coupled with improvements in system design and automation.
Operation Conservation Measures
Our environmental policies guide both our shipboard and shoreside employees in beneficial environmental practices. Our crewmembers are an integral part of our energy-conservation efforts. Staff and guests are advised to turn off lights, water and appliances when not needed, adjust temperature thermostats to comfortable levels when no one is present and using towels and bed linens more than once before laundering.
Fresh Water Consumption
We ask our crewmembers and guests to help us conserve water whenever possible. To help reduce the energy needed to produce fresh water, we have installed water-reduction technology and appliances throughout our fleet to reduce the use of water-producing equipment that consumes fuel or electricity. These features include sink aerators, showerheads, reduced-flow dishwashers and low-consumption laundry equipment.
Advanced Wastewater Purification
We Installed Advanced Wastewater Purification (AWP) systems throughout the fleet. These technologically advanced systems clean the wastewater generated onboard our ships to create clean water that exceeds ship wastewater discharge standards throughout the world.
Renewable Energy Sources
Our ships are equipped with solar power technology. The panels and the clean power they produce can help reduce the consumption of energy derived from fossil fuels. 500m2 of solar panels produce enough electricity to power a ship's guest elevators or approximately 7,000 LED lights.
High-Efficiency Appliances
We have installed high-efficiency appliances throughout the ship in order to minimize their impact on climate change and reduce our energy load. Every type of appliance onboard our ships is being evaluated for efficiency, including TV's, coffeemakers, ice makers, ovens and dishwashers.
Energy-Efficient Windows
Across the fleet we have applied window films that are specially glazed to prevent solar heat from penetrating, thereby reducing the amount of air conditioning needed to cool the ship, thereby saving energy.
Hull Coatings
We apply new silicone paints on the hull, which are innovative and environmentally safe coatings that increase the smoothness of our ships' hull. By creating a smoother hull, we can reduce the amount of energy needed to travel through water.