One of the ships that first introduced MSC Cruises' distinctive combination of classic Mediterranean∘ style and pioneering design, MSC Armonia is now even better equipped to satisfy every need, thanks to an impressive∘ array of new features and facilities. So step on board and embark on a voyage of discovery before you even set sail!

A resort ship that accommodates∘ over 1,700 passengers. Guests can dine on fine, authentic Italian-style dishes, and relax with a variety of entertainment options aimed towards both adults and children. The ship provides a glamorous, eye-catching interior, featuring fine woodworks, marble floors, and acres of vibrant fabrics.
Specifications
Size

medium

Style

Resort

Type

ocean

Year of launch

2004

Year of last refit

2014

Gross tonnage

65542t

Length

275.0m

Width

32.0m

Speed

20kts

Decks

9

Language

English

Currency

Euro (€)

No. of passengers

2679

No. of crew

721

No. of cabins

976

-wheelchair access

5
Unique Features
Onboard Experiences: MSC are the first line to implement their unique experience system. There are four different 'experiences' to choose from when booking the holiday, each comes with specially designated rooms and benefits.
The options are:
Bella: Experience a dream cruise with the people who know the seas∘ better than anyone. 'Bella' experiences are the great-value way to enjoy the comforts of life onboard an elegant, modern cruise ship. Relax in a well-equipped cabin and savour the wide variety of superb specialities onboard, with the chance to request your preferred dinner sitting. What's more, you can spoil yourself with the delights of a gourmet buffet that's open 20 hours a day. Enjoy Broadway-style entertainment and a packed programme of daily activities organised by our multilingual team of friendly personnel. Take advantage of the pool, cutting-edge panoramic gym and open-air sports facilities to stay in shape and earn MSC Club points, so you can enjoy even more benefits on your next cruise!
Fantastica: Savour the Mediterranean∘ way of life with a cruise dedicated to comfort and flexibility. 'Fantastica' experiences offer all the benefits of 'Bella', plus a variety of extra privileges. Choose from prestigious cabins (including SuperFamily where available) located on the upper decks, with rapid access to lifts and lounges. Make use of the freedom to change your booking∘ details if necessary, including passenger names and departure dates: even cancellation∘ is flexible. Enjoy 24-hour-a-day room service with free delivery and priorit choice of dining times in the gourmet restaurants. Have fun with dedicated activities for children, like foreign language games and Master Chef cooking sessions with our staff all while earning MSC Clup points!
Aurea: Put well-being, pampering∘ and peace of mind at the heart of your cruise. In addition to all the features of 'Bella' and 'Fantastica', the 'Aurea' experiences offer a series of relaxing benefits∘ for body and soul. Embark smoothly with priority boarding then relax in an elegant cabin where you'll find a set of complimentary∘ well-being products and a bathrobe and slippers. Dine at the time of your choice in a reserved area of the restaurant, enjoying unlimited∘ free drinks with every meal. Bask in the exclusivity of a private sun deck (available only for adults) and, best of all, take advantage of a fantastic spa package including a welcome cocktail, Balinese massage, solar shower, private consultation and unrestricted use of the Thermal Area throughout your cruise. Set sail for pure relaxation.
MSC Yacht Club: The epitome of elegance and luxury at sea, MSC Yacht Club offers a cruise experience like no other. Lavishly appointed suites, an exclusive 24-hour butler service and a dedicated concierge are only the start. All-inclusive à la carte meals served at your preferred time in the private restaurant, unlimited drinks in all MSC Yacht Club areas or from your mini-bar and exclusive access to The One Sun Deck and Top Sail Lounge are just some of the other privileges. So, if you're looking for exclusivity and privacy in a world of choice, the MSC Yacht Club is the ultimate solution.
Gratuities
Each day, MSC Cruises will debit the Service Charge to your onboard account. The charge covers the onboard hospitality services actually enjoyed and is calculated∘ according to the itinerary chosen and the number of nights. For further details of the amounts payable in each currency, please refer to the table below.
However, should you wish to adjust or cancel any of the daily hotel service charges in the unlikely event that you did not receive a satisfactory service, you may do so on board.
MSC Cruises does not recommend tipping individual members of staff.
A 15% Bar Service Charge is automatically added to all food and beverage purchases, with the exception of the prepaid dining packages and beverage packages.
Accommodation
Choose from a wide variety of elegant accommodation, including comfortable suites, ocean-view cabins, and cabins with their own private balcony.

Features a double bed, which can be converted in to two singles. Also includes: air conditioning, spacious wardrobe, bathroom with bathtub, TV, telephone, cable internet connection (for a fee), mini-bar, safe deposit box.
Balcony
Sitting area with sofa
Spacious Wardrobe
Comfortable double or single beds (on request)
TV, telephone, safe and minibar
Bathroom with bathtub , vanity area with hairdryer
Features a double bed, which can be converted∘ in to two singles. Also includes: air conditioning, bathroom with shower, hairdryer, shampoo & shower gel,TV, telephone, cable internet connection (for a fee), mini-bar, safe deposit box.
Balcony
Sitting area with sofa
Comfortable double or single beds (on request)
TV, telephone, safe and minibar
Bathroom with shower, vanity area with hairdryer
Window with sea view
Comfortable double or single beds (on request)
Relaxing armchair
TV, telephone, safe and minibar
Bathroom with shower, vanity area with hairdryer
Surface approx. from 13 to 22 sq.m.
Some cabins are suitable for families comprising a bedroom area and a living area with up to 4 berths.
---
Outside with Partial View
Window with sea view
Comfortable double or single beds (on request)
Relaxing armchair
TV, telephone, safe and minibar
Bathroom with shower, vanity area with hairdryer
Surface approx. 13 sq.m.
Available Experience: Bella
Comfortable double or single beds (on request)*
Relaxing armchair
TV, telephone, safe and minibar
Bathroom with shower, vanity area and hairdryer
Surface approx. from 13 to 21 sq.m.**
Choose the experience that best suits you for added benefits!
Available Experiences: Bella and Fantastica
* Cabins for guests with disabilities or reduced mobility have only single beds.
**This size range includes both standard cabins and cabins for guests with disabilities or reduced mobility, which are larger. 

Features single beds. Also includes: air conditioning, bathroom with shower, TV, telephone, mini-bar, safe deposit box. There is a fold-down seat in the shower. The seat is 48cm from the floor. The toilet has support rails fitted.
Cabin - 226.04 square feet
Bathroom - 26.91 square feet
Cabin door width - 88cm
Bathroom door width - 88cm
Fold-down shower seat - 48cm from floor
Toilet with support rails
This cabin is available as part of the Bella and Fantastica experiences
Decks
Minigolf
Sports Centre
Shuffleboard
Top 13 Exclusive Solarium
Starlight Disco
Young Club
Juniors Club
Power Walking Track
Aurea Experience - Suite
La Brasserie Buffet Restaurant
Il Girasole Hamburger Paradise
Il Girasole Pizza & Pasta
Il Girasole Outside Cafeteria
Doremi Spray Park
La Piscine
Gelateria Italiana
Vitamin Bar
Il Lido Bar
Mini Club
Baby Club
Thermal Suite
MSC Aurea Spa
Massage Rooms
Relaxation Room
Gym
Fantastica Experience - Suite
Fantastica Experience - Balcony
Fantastica Experience - Ocean View
Fantastica Experience - Interior
Aurea Experience - Suite
Fantastica Experience - Balcony
Fantastica Experience - Ocean View
Fantastica Experience - Interior
Bella Experience - Interior
Aurea Experience - Balcony
Fantastica Experience - Ocean View

Fantastica Experience - Interior
Bella Experience - Interior
Accessible Cabins
Fantastica Experience - Ocean View
Fantastica Experience - Interior
Bella Experience - Outside with Partial View
Accessible Cabins
Medical Centre
La Pergola Restaurant
Shopping Area
Photo Gallery
The Red Bar Piano Bar
Armonia Lounge & Library
Palm Beach Casino
Video Games Arcade
Teens Club
MSC Business Centre
Caffe San Marco
Teatro La Fenice
Marco Polo Restaurant
Bar del Duomo
Shopping Area
Cruise Consultant
MSC Voyagers Club
Internet Cafe
Reception
Guest Services
The White Lion Pub
Cigar Room
Teatro La Fenice
Dining
MSC Armonia has four gourmet eateries in addition to a 20-hour buffet. Each gourmet eatery has its own distinctive style and cuisine, but all share the same Mediterranean passion for fine dining, serving slow-food delicacies freshly prepared using the finest ingredients
At our Buffet explore the astonishing variety of our cuisine∘ as and when you want, with the freedom to walk in and treat yourself at any time

from breakfast through to late-night snacks - 20 hours a day.
If you prefer, our onboard main restaurants will always give you a wide choice of high quality cuisine with a different menu selection every day and signature dishes by star chefs, from International to the best Mediterranean food.
Depending on your Ship and Experience, you can choose from Classic to Early or Late Dining when booking and we'll reserve table for you for the entire duration of your cruise. To enjoy even more flexibility you can choose My Choice dining style that lets you dine any time you like during the main restaurant's opening hours.
Dining Experience:
Complimentary
MSC Armonia offers 2 main restaurants, La Pergola and Marco Polo and an outdoor restaurant, Il Girasole. Each one boasts a superb selection of gastronomy. Quality is the key from properly sourced choice Italian meats∘ to the freshest of fresh fruit. Every product is fresh and carefully handled, such as bread baked on board with the passion and knowledge of the most distinctive boulangerie. Dishes range from traditional and tasty Mediterranean fare, to the most refined international recipes.
Open for breakfast, lunch, and dinner, tables seat anywhere from 2-8 guests.
A Gala Buffet is held every night at midnight with the exception of the first and last night of the cruise.
Food type:
Regionally Inspired
Dining Experience:
Complimentary
As one of the healthiest diets on the planet, Mediterranean∘ food takes centre stage at our main restaurants, tempting you with French, Italian and Spanish cuisine. Don't miss the Elegant Dinner with a signature dish by one of our Michelin-starred chefs: Carlo Cracco, Ramón Freixa or Joe Bastianich.

Dining Experience:
Complimentary
Indulge in a favorite mouthwatering surf 'n' turf meal with the juiciest∘ of steaks and bountiful seafood.
Our menu will take your taste buds on a cruise of their own as you indulge in hearty seafood favorites, such as crab cakes and lobster, and melt-in-your-mouth fillets and ribeyes.
Food type:
Steak & Seafood
Dining Experience:
Cover charge may apply
Enjoy a well-crafted cup of coffee as well as conversations with friends and family.
Dining Experience:
Complimentary
Bar with vitamin drinks made from fresh fruits and juice such as Orange Delight and Carrot Fantasy.
Food type:
Healthy Option
Dining Experience:
Complimentary
MSC Cruises∘ is proud to bring the very best in artisanal gelato to our travellers. Venchi has been making superlative desserts since 1878 and owes much of its success to the use of 100% natural ingredients and exclusive recipes, from its intense extra dark chocolate to luscious gianduja and refreshing fruit sorbets.
Freshly made daily on board
Food type:
Ice Cream Parlour
Dining Experience:
Complimentary
Entertainment
Whilst en route to a number of beautiful destinations around the world, be dazzled by the choice of entertainment∘ options onboard. MSC Opera offers a rich programme of spectacular shows, impressive theatre performances, live music, and dance until dawn nightlife. 
MSC offer a rich entertainment programme∘ with music and activities, day and night. There are a wide variety of theatrical performances, from circus shows to opera and international musicals, showing six shows a week with 25 stage artists. A great variety of music is on offer, from live performances to club nights with DJs. Theme days and nights are also hosted on the ship, which include White Parties, beer festivals, MSC Factor, Hollywood Nights and karaoke.
713 seat theatre, and the main show lounge onboard. Offers tiered seating, and features small-scale production shows and cabaret performances.
Full gaming casino which offers roulette, poker, blackjack, and slot machines. It is open until late at night whilst at sea. Tournaments are regularly held onboard, and there are surprise promotions offered for those who play the slots - the winners are picked at random.
Late-night bar and nightclub with a 450 square foot dance floor.
---
The Red Bar Piano Bar & Lounge
Show lounge, with piano and bar and 193 square foot dance floor.
The ship's card room is located on deck 7 and seats 28 guests.
On MSC Armonia guests can choose from 8 bars, inspired by different themes and inimitable in their wine and food selection, thus satisfying even the most sophisticated and demanding palates. These include The White Lion English Pub and The Duomo Bar.
There is a cigar room on board.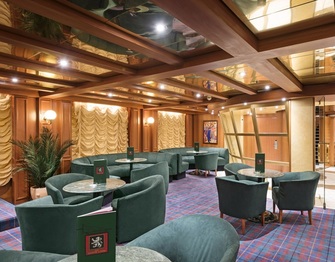 Health and fitness
MSC Armonia is well equipped to ensure her passengers∘ stay active whilst travelling. From a fully-equipped gym with panoramic sea views, to an outdoor jogging track, to the MSC Aurea Spa.
MSC Armonia now offers even more routes to relaxation, since the lavish MSC Aurea Spa has been enhanced to provide∘ more space for its traditional Balinese massages. There's also a well-equipped gym with superb sea views and a power walking track.
The Luxurious MSC Aurea Spa is an exotic paradise with superb sea views. It is a sanctuary of tranquility where a team of expert masseuses and beauty therapists will take care of your well being. Choose from a wide range of treatments and facilities which include:
20 different types of massage, 19 body treatments, 19 facials, aromatherapy treatments, manicure and pedicure spa.
A spa doctor and team of specialist masseuses, manicurists, pedicurists, hair stylists, personal trainers and yoga instructors.
Thermal area, sauna, and steam bath.
Exclusive beauty treatments in partnership with renowned international beauty brands.
Further exclusive facilities, including a beauty centre with hair salon and bar.
Exclusive Top 18 Sun Deck, offering selected express treatments in a reserved area.
Also includes a fully equipped fitness centre. In addition to this, qualified fitness instructors can be found here.
---
Power Walking / Jogging Track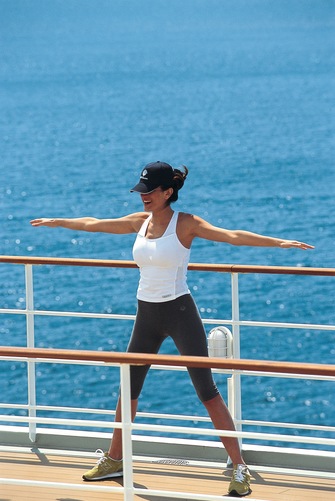 215 square foot court. Located on Deck Twelve.
Located on Deck Thirteen.
---
Le Piscine & Children's Spray Park
Pool area with separate children's Spray Park. Located on Deck Eleven.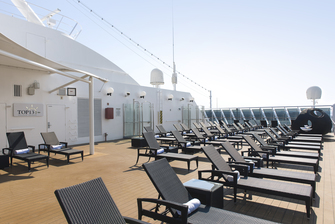 Exclusively for adults, this calm, quiet and peaceful retreat can be found on the Sun Deck.
Kids and Teens
MSC pay special attention to the needs of families travelling with them, and it is easy to spend time together onboard Opera. There are comfortable, purpose-built family cabins, and a variety of experienced staff∘ onboard to look after the younger passengers will parents disembark upon shore activities or make use of the onboard facilities.
The Kids Club comes in five different age groups, and there are dedicated menus for kids in the restaurants. A special Edutainment programme∘ is laid on as well, allowing children to express their creativity, alongside themed parties, and an adult-free zone for teenagers.
MSC brought in experienced∘ partners from the world of children's play, like Chicco, LEGO® and Namco®, to help us design colourful new play areas on MSC Armonia for kids of all ages. The open-air spray park promises∘ endless fun for the whole family. 

Kids from 3 to 6 years of age will enjoy many fun activities specially catered for their age group.
In addition, during the cruise little sailors can hold a special event called: LEGO® Experience On Board. 
Every day, kids from 7 to 11 years of age will enjoy experimenting with a vast choice of games and activities specially catered for their needs. Let your kids dive into a world of entertainment with our sport tournaments, hi-tech games and art & craft activities.
In addition, during the cruise little sailors can hold a special event called: LEGO® Experience On Board. 
Youngsters have a place of their own with fantastic supervised facilities where they can meet up and do their own thing. From themed games to sports and competitions, they will have a massive choice of activities to have fun and make new friends .
Teenagers can look forward to having the time of their lives onboard, from sports and competitions, dance contests and social network games to Wii, Xbox and PS3 tournaments. And in the evening, they can enjoy the teen disco, karaoke, White Party, Flashmob and many other themed events.
Kids all over the world know and love LEGO® bricks. But did you know that the name LEGO is an abbreviation of the two Danish words: "leg godt", meaning "play well"?
That's why we have chosen The LEGO Group as an exclusive entertainment partner: we want to give all the children who cruise with us the chance to play with the best toys in the most fun environment.
Children can enjoy the Doremi Spray park on board.
A dedicated area and a range of facilities for babies and toddlers to enjoy. The clubs include two special services:
MSC Baby Time: babies can play with their parents
MSC Baby Care: parents can leave their babies with the Youth Staff
Enrichment
Enrichment onboard MSC include Language lessons, dance classes, arts & crafts, and many more.
Useful to know
MSC Cruises∘ and its staff are constantly striving to provide the best service possible for all guests, including those of reduced mobility or disabilities.

Medicines should be carried in hand luggage. We also advise our guests to carry the list of medicines they intend to take on board with them, to allow on-board medical staff to provide assistance in the event of a medical emergency.
MSC Cruises should be informed of all special needs∘ via the Special Needs Form, which is available online and at all accredited travel agencies. In addition to the Form, a medical certificate confirming that the guest is fit to go on a cruise may be requested.

All on board staff receive special in-house training∘ that sensitizes them to the needs of passengers with disabilities or reduced mobility, and which prepares them to provide any necessary assistance.

The majority of excursions are fully accessible, however we would recommend that all our guests to read-through the programme of available tours at the Excursion Office on board.

Properly trained and certified guide dogs are allowed∘ on board, provided they are in good health and have all documents required for entering the countries visited during the cruise. The guest will be informed in advance about the kind of accommodation provided for the dog, any facilities provided and the procedure for embarking and disembarking. Guests are personally responsible for the custody, feeding and general care of the animal.

All MSC cruise ships are fitted with Braille signage in public areas, in lifts and at the entrance to cabins. There is also a voice system∘ in lifts on Fantasia and Musica class ships that announces the floor in English.

All decks and public areas of our ships are accessible to guests with reduced mobility.

All ships in the fleet contain a number of specially fitted cabins with extra floor space and more room for movement. These cabins should be requested at the time of booking.
All MSC cruise ships have a well-equipped Medical Centre, supervised by a ship's doctor and other medical personnel. The Medical Centre∘ is open at the times advertised in the ship's Daily Programme. Emergency services are available round the clock by calling the Medical Emergency number.

Excluding emergencies, medical services carry a fee and prices are available on board. Guests who incur medical expenses during their cruise can ask their insurance company for reimbursement once ashore.

The medical facilities and equipment∘ onboard may not be adequate enough to deal with a birth or any pregnancy complications. Therefore, for safety reasons, MSC are unable to admit any women onboard who have reached or exceeded their 24th week of pregnancy by the end of the cruise.
---
Special Dietary Requirements
We believe everyone's special∘ on an MSC cruise ship which is why we provide tailored menus and solutions to meet everyone's dining requirements:
Vegetarian Menus of delicious specialities, freshly prepared to the gourmet standards for which MSC is renowned;
Pre-packed Kosher meals and high-quality Halal products (beef, lamb and poultry) are available if requested at least two months before departure;
Gluten-Free Menus MSC Cruises has obtained a certification from Bureau Veritas to provide gluten-free menus worldwide (food code: < 20 ppm) 
Casual wear is advised is advised for life onboard and shore excursions. For informal evenings, summery dresses for women and a lightweight jacket for men are recommended. For Gala evenings and Parties, slightly more formal dress is advised. For any formal evenings, cocktail dresses for ladies, and a lightweight suit or dinner jacket for the gentlemen onboard.
MSC Cruises advise bringing a jumper or shawl in your luggage to be prepared for changes in temperature in-between the air conditioned interior of the ship and the deck areas.
For visits to religious sites, appropriate clothing is recommended. This means covering knees, shoulders, and no low-cut tops.
In line with global standards, smoking areas on board are fewer than non-smoking areas and are indicated by signage and ashtrays.
Smoking (including e-cigarettes) is not permitted in cabins, on cabin balconies and anywhere not expressly indicated by signage and ashtrays.
The Company reserves the right to levy a fee should passengers be found smoking in non-designated areas of the vessel. Repeatedly smoking in non-smoking areas can ultimately lead to disembarkation.
We remind you that throwing cigarette butts or anything else overboard at sea is strictly prohibited as it may seriously put in danger safety at sea.
Wi-Fi is available on board all MSC ships (at a fee).
Satellite Internet Access∘ is available in all public areas of the ship and in most cabins, including all MSC Yacht Club suites. All you need is one of our Satellite Internet Access packages and a mobile internet device (smartphone, tablet, laptop, etc.).

Standard Internet
Ideal for limited internet usage, the "Standard Internet " package lets you access all social networks and chat APPs, check email and browse the web. Up to 2 devices. internet data amount may vary depending on the lenght of the cruise
Premium Internet
Full Internet package, perfect for heavy users or families. This package allows to connect up to 4-device and offers full web browsing∘, access to all social networks and chat APP and email checking. Internet data amount may vary depending on the lenght of the cruise.
Chat & Social
Get Your Social Notifications during the day. This package allows to connect 1 device to social networks∘ and chat apps - Facebook, Twitter, Instagram, Linkedin, Whatsapp, Snapchat, WeChat, Pinterest, VK, Odnoklassniki, Sinaweibo, Qzone, Line. You can post photos, bu audio and video are not available.
The company uses six main languages∘ for its communications: English, Italian, German, French, Spanish and Brazilian Portuguese. The order in which these languages appear is determined exclusively by the number of guests in each language group as a proportion of our total guests. The cabin information booklet and other printed material used on board are available in different versions for each of the six languages listed above. The order of the languages used in our menus changes depending on the area of the world in which each ship is located.
---
Improving Air Quality from Ship Emissions
MSC Cruises is making significant investments∘ into improving air quality. As part of a broader approach to limit sulphur and other emissions in ports and in specific operating areas, we are taking various steps to improve our performance.
All of our newly-built ships either have hybrid Exhaust Gas Cleaning Systems (EGCS) installed or will be fuelled by LNG. For the longer-serving ships in our fleet, we have a robust retrofitting programme∘ focused on equipping our older ships with hybrid EGCS technology.
Our hybrid EGCS systems can operate in a in open or closed loop, and achieve a higher level of emission reductions than using marine ultra-low sulphur fuel to comply with the regulations.
If we're not using an EGCS, we are using ultra low-sulphur fuels in all ports in Europe and while underway in sensitive locations.
By the end of 2019:
- 11 of 17 MSC Cruises ships will be equipped withexhaust gas cleaning systems
- 74% of our total berths will be covered by exhaust gas cleaning technology
What is an Exhaust Gas Cleaning System?
An EGCS quite literally 'cleans' the exhaust gas, actively removing particles and certain emissions from the engine exhaust. The system consists of several components, the most important acting as a network∘ of showers that 'washes' the exhaust gas, removing up to 97% of the sulphur dioxide and greatly reducing particulate matter. Our newest ships MSC Bellissima, MSC Seaview, MSC Seaside and MSC Meraviglia, have all been delivered with such systems installed.
Shore-to-ship power
To help reduce in-port emissions, our latest classes∘ of ships are designed for shore-to-ship power supply. Port authorities around the world are increasingly studying this option and we consider this to be another technology that can potentially help reduce air emissions in port areas. All our cruise ships coming into service from 2017 onwards are already equipped to receive shore side power. In addition, we are prepared to retrofit our existing ships as necessary should shore-to-ship power systems become more widely available.
Voyage planning software
An optimised itinerary means a reduced consumption∘ of energy. We plan our itineraries efficiently and use specialised software to optimise sailing routes and berthing times.
Trim optimisation
Optimising trim requires constant readjustment. Our ships are equipped with a software application to monitor and optimise∘ trim in real-time. This technology supports ship officers to keep the vessel's trim optimised to reduce fuel consumption and improve performance.
Anti-fouling paint
Ships are naturally prone to barnacles algae and marine organisms. These can increase drag and make vessels less efficient. By using anti-fouling paint on the hulls of all the ships, we keep them as streamlined as they can be. It's TBT-free: we strive to keep toxic substances as far from the ocean as possible.
High efficiency appliances
Reducing our carbon footprint is not just about grand gestures; everyday electricity use is equally∘ important. Energy-efficient appliances including refrigerators, water heaters, dishwashers, washing machines and dryers across our fleet help us keep our carbon footprint lower.
Energy saving LED lighting
Our ships only use energy-efficient LED and fluorescent lighting, saving energy by producing the same amount of light per bulb at a lower wattage.
Smart heating, ventilation & air conditioning system (HVCA)
The HVAC systems on board our ships are designed to reduce energy consumption. They distribute heat∘ and cold intelligently, and are set up to recover heat from warmer areas of a ship in order to heat those which need it more.
---
Energy Efficiency and Advanced Ship Design
From the first line we draw on paper when we design a new ship, to the final light bulb we install, energy efficiency is always∘ the first element we take into consideration.
We have one of the most modern fleets at sea and have designed and developed six different ship classes. Every class always pushes the level of excellence of the earlier ship.
When we build new ships, we don't build copies of existing models. For every new class of ship we completely revise the design of our ships∘ to achieve optimal efficiency. We rethink the ship's overall structure, deck space, weight distribution including the ship's hull, rudder and bulbous bow to reach optimal hydrodynamics, aerodynamics, and maximise energy and fuel efficiency.
MSC Meraviglia carries 20% more guests than our Fantasia Class but requires the same amount of energy.
Fresh water is a finite resource. Our philosophy is to use it sparingly and efficiently. To this end, we take as many steps as possible to reduce our water consumption. From technologies to reduce water usage, to awareness campaigns on board our ships to encourage water responsibility, MSC Cruises leads the way with water preservation.
As a general rule, we do not take away∘ water from ports and coastal communities: virtually all water we use on board is self-produced.
Fresh Water Production Plants are present across our entire fleet. While our most recent ships have high performance water production∘ technologies as standard, our oldest class of ships have been recently upgraded with modern high efficiency systems with increased water production capacity.
On a cabin level, we equip all our ship with vacuum lavatories, which require very little flushing water.
We produce thousands of litres of fresh tap water per day from seawater. On our largest ships, we have the capacity to produce over 2 million litres of tap water per day. Doing this sustainably is an essential part of our philosophy on water and the sea.
---
From Wastewater to High Quality Water Discharges
No black wastewater from our shipboard operations leaves our ships without proper treatment and any discharges from our fleet undergo a comprehensive purification process.
In 2008, when launching our Fantasia Class of ships, we started to equip our ships with Advanced Wastewater Treatment Systems∘. An Advanced Waste Water Treatment System∘ treats waste water to a very high quality by mixing different waste streams together and filtering out the larger components. What comes out on the other end then gets processed even further through very fine filtration and treatment processes, to produce water discharges of a higher standard than most municipal wastewater requirements around the world.
Through our AWTS systems, hazardous substances and pollutants∘ are filtered out and digested by bacteria. To avoid risking harm to marine life, the remaining purified wastewater is disinfected by UV processing∘ and never chlorine. We monitor key indicators to ensure any remaining bacteria levels are favourable before discharge.
As a result of this process, the wastewater∘ that we discharge reaches near tap water quality.
The separated solid residue is removed from the cycle. It is then dried, compacted and compressed into high-grade pellets. These pellets can act a source of fuel for specific onboard energy needs. Depending on the cruise itinerary, we may also offload this dried biomass ashore∘, where it can be re-purposed for energy production.
Other liquid waste that may be hazardous∘ to the environment such as cooking oil, oily water, machinery lubricants and cleaning products are never discharged into the sea, but are offloaded ashore by authorised companies.
Our Advanced Wastewater Treatment Systems process wastewater to near tap water quality.
---
Protecting Marine Life with Ballast Water Treatment Systems
To protect the marine ecosystem∘ in which the ship sails, our ships are fitted with a ballast water treatment system that complies with the standards set by the international governing body for Ballast Water Management, the International Maritime Organization (IMO). This system prevents against the involuntary introduction of invasive marine species.
---
State of the Art Solid Waste Management
Throughout the years, we have taken voluntary steps∘ to equip our ships with state-of-the-art solid waste management∘ and recycling facilities on board. We manage our waste streams in accordance with CLIA's sound environmental principles and comply with all regulatory MARPOL∘ requirements to prevent marine pollution.
All organic waste, as well as recyclable disposable items including plastics, metals, paper and glass, are collected and separated∘ by specially trained waste handling crew members. Waste is compacted, separated or incinerated, and residual waste is carefully delivered to dedicated port facilities.
Training our crew, not only to handle waste, but to understand∘ the importance of waste management, is central to what we do. Our crew members receive ongoing training to ensure they remain abreast of the highest standards.
As we welcome over 2 million guests on board our ships, solid waste or "garbage" management is a key area of focus and our practices aim at reducing, reusing, recycling the waste we generate. Our ships are equipped with a comprehensive and coherent system to manage all waste aspects on board and ashore and every ship has a waste management plan that details how each type of waste is managed on board.
Every ship in our fleet has an Environmental Officer to make sure our Environmental Plan is correctly executed and is in charge of the onboard garbage management. The Officer has the duty to instruct and train the Crew about garbage management rules on board.
---
Eliminating Single Use Plastics
Under our Plastics Reduction Programme, MSC Cruises is in the final phase of effectively eliminating an extensive number of plastic items from all its ship operations and ashore, and will replace them with environmentally-friendly solutions.
As a first step, the Company has already replaced all plastic straws with 100% compostable and biodegradable substitutes. Moreover, drinks are no longer automatically be served with a straw. Guests who may require a straw will still be able to choose from a variety of environmentally-friendly options.
MSC Cruises∘ is working with a range of international and local suppliers in areas where the ships are deployed and is providing eco-friendly alternatives made of 100% biodegradable resins, consisting of renewable resources including corn- or sugar-based polylactic acid, bamboo, paper or other organic materials. In addition, the Company is also actively working with suppliers at all levels in the supply chain to effectively remove single-use plastics in products and packaging wherever possible.
This is an ongoing journey and when technology doesn't yet allow for sustainable non-plastic substitution, MSC Cruises wants to ensure all remaining disposable plastic waste items are recycled correctly.  
---
Exploring New Technologies and Solutions
Our environmental efforts are an ongoing journey. We will keep exploring and developing new solutions for our future∘ – and existing – ships and will be fitting our fleet with even more innovative solutions for a lower environmental impact.
We will be powering some of our future ships with Liquefied Natural Gas (LNG). Compared to standard marine diesel using conventional fuel, LNG reduces SOx emissions by more than 99% and NOx emissions by up to 85%. It also largely eliminates particulate matter in the exhaust.
Our first LNG-powered ship will enter into service in 2022. Others will follow in 2023, 2024, 2025 and 2027.