Queen Mary 2 is a remarkable flagship, her style and elegance are legendary. Above all, it's the space she offers and the luxury for you to do as little or as much as you wish which sets her apart.
Welcome to a true icon. Our flagship is a truly astonishing liner and you'll find an incredible sense of freedom from the space she offers. Whether you're in the mood for complete relaxation or something more active, you can find it. Immerse yourself in enthralling entertainment, be indulged in the Canyon Ranch Spa Club or simply relax with a book in her vast library. You'll discover remarkable craftsmanship in the elegant staterooms and suites and savouring her many sumptuous restaurants and bars is always a pleasure.
Specifications
Lloyds No

9241061

Size

super

Style

resort

Type

ocean

Year of launch

2004

Year of last refit

2018

Gross tonnage

148528t

Length

345.0m

Width

41.0m

Speed

28kts

Decks

12

Language

English

Currency

US Dollar ($)

No. of passengers

2691

No. of crew

1292

No. of cabins

1310

-wheelchair access

30
Unique Features
The ship's fantastic Illuminations movie theatre also converts into the only planetarium at sea. Seating 150 guests, shows run approximately four times per sea day. Passengers can enjoy high-tech programmes, including astronomy shows and virtual reality movies underneath the impressive planetarium dome.

Designed in a classic opera house style, The Royal Theatre features 20 private Royal Boxes which are available for passengers to reserve. These glamorous private boxes, provide passengers with an intimate environment to spend an unforgettable night at the theatre.

Cunard is also famous for it's signature White Star Service, and the Queen Elizabeth is no exception, white gloved officers and crew on hand to provide the highest standards of service.

The wonderful Cunard Insights programme provides a wide range of speakers, from explorers, academics and historians to scientists, novelists and biographers. Former ambassadors and politicians, award winning actors and film makers have also given talks on historical and contemporary issues.
Gratuities
Queens Grill and Princess Grill passengers are automatically charged $13.50 per person per day. Britannia passengers are charged $11.50 per person per day. A 15% gratuity is applied to all bar purchases. Spa treatments have a 12.5% gratuity included in the prices.
Accommodation
Whether you want a sumptuous suite, or a room with a view, Queen Mary 2 features a variety of accommodation to make your voyage as comfortable as possible. There are a variety of cabins types available, including Duplex Apartments, Suites, Balcony Staterooms and Interior Staterooms.
Each stateroom will fall into one of these categories:
Queens Grill- Queens Grill guests enjoy the largest suites on board, commanding the most spectacular views. Meanwhile the exclusive Grills Lounge, private deck and restaurant offer the opportunity to relax in tranquil luxury.

Princess Grill- Exclusive suites and access to the private Grills Lounge and Terrace offer Princess Grill passengers space and privacy to relax in calming luxury.

Britannia Club-Beautiful ocean views, breakfast on your balcony and wonderful natural daylight - the ever-changing seascape will continuously enthrall you. Britannia Club is the perfect way to relax and unwind whilst travelling with us.

Britannia-Peaceful havens in which to relax, Britannia staterooms offer comfort and the opportunity to dine in the truly spectacular Britannia restaurant - an awe inspiring room that will remind you of the great ocean liners of the past.
The Balmoral and Sandringham Duplexes are the most lavish and magnificent suites afloat. The sweeping living quarters with extensive balcony and spectacular vies over the stern include a fully stocked bar, dining area for eight, dressing room, interactive plasma screen TV and home office corner. Upstairs, the master bedroom has private exercise equipment, a second TV, two marble 'his and hers' dressing rooms with connecting bathrooms with separate whirlpool bath and shower. (Guest bathroom with shower downstairs). 
 2,249 Square Feet

Sleeps up to 4

Queens Grill
The Windsor and Buckingham Duplexes and Holyrood Duplex are similar to the above but feature slightly smaller staterooms and balconies. These two-storey apartments with panoramic views over the stern also feature a fully-stocked bar, dining area for eight, dressing room, plasma screen TV system and home office corner. The open stairway leads to the vaulted ceiling bedroom area with private exercise equipment and two connecting baths with whirlpool bath and shower with body jets. 
1,471- 1,566 Square Feet

Sleeps up to 4

Queens Grill
The Queen Mary and Queen Elizabeth Suites provide guests with a glass lift with private access on Deck 10 that opens into these two rooms. Located all the way forward with commanding ocean views, the luxuriously furnished living quarters feature a marble floor entrance, fully stocked bar and dining area for eight. A secondary living area offers a guest bath and interactive TV system. And there's a second TV in the master bedroom. The Master bathroom features shower and separate whirlpool bath. 
The Queen Anne and Queen Victoria Suites offer commanding views over the bow of the ship and are the same as the Queen Mary and Queen Elizabeth Suites but with no balcony. Living and dining area. Features include guest bath, marble entryway, Frette linens, fully stocked bar, two TVs in both the living room and master bedroom, a dining area for four and walk-in wardrobes. The Master bathroom features shower and separate whirlpool bath
796-1,194 Square Feet

Sleeps up to 4

Queens Grill
Penthouses feature living and dining area with large balcony. Other features also include Frette linens and full dressing room. The entrance and dining areas feature seating for four and there is a fully-stocked bar and guest bath. Both the bedroom and living room connect to a teak balcony. 
758 Square Feet

Sleeps up to 4

Queens Grill
Each suite features a large balcony, spacious living area, dressing room and bathroom with separate shower and whirlpool bath. Original art graces the walls.The sitting area includes a sofa and dual-height coffee table that can be extended to a dining table. The bedroom area features a king-size bed and a separate dressing area with walk-in wardrobes. 
506 Square Feet

Sleeps up to 3

Princess Grill
Deluxe Balcony cabins and Premium Balcony cabins include a panoramic hull balcony with loungers and tables. King-size beds may be converted to twins and a dual height coffee table may be used for in-room dining. The sitting area features a sofa and there is ample wardrobe space and bathroom with shower. 
248-269 Square Feet

Sleeps 2

Britannia Club
---
Standard Oceanview Stateroom
These staterooms provide spacious comfort with king size or twin beds. Other features include a dual height coffee table for in-room dining. 
194 Square Feet

Sleeps 2

Britannia
These staterooms provide spacious comfort with king size or twin beds. Each of these 12 cabins feature views into the atrium below. Other features include a dual-height coffee table for in-room dining
194 Square Feet

Sleeps 2

Britannia
---
Standard Inside Stateroom
These staterooms provide spacious comfort with king size or twin beds. Other features include a dual-height coffee table for in-room dining. 
194 Square Feet

Sleeps 2

Britannia
---
Single Ocean View Stateroom
Relax in comfortable bliss with a stunning view or share everything your ship has to offer with fellow guests – the 15 Single staterooms on board Queen Mary 2 offer the opportunity to do as much or little as you desire

With a large window in each stateroom, watch the world sail by and enjoy waking to natural light every morning from the comfort of your comfortable stateroom.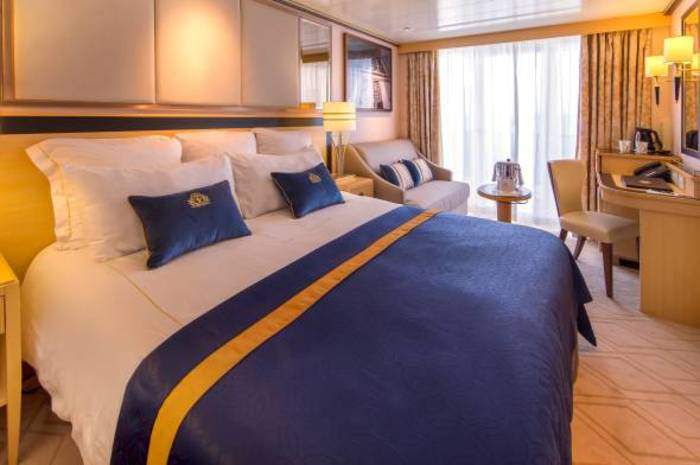 Your stateroom is bathed in natural light and benefits from ample storage. There's a turndown service, complete with a pillow chocolate, ready for a comfortable night's sleep in your king-sized bed. Your bathroom features a shower, enhanced by Penhaligon's toiletries, a bathrobe and slippers. There's a living area with a desk, satellite TV, tea and coffee-making facilities and a mini bar. Regular visits from your steward ensure everything stays pristine, and there's also round-the-clock complimentary room service.
Decks
Sliding Glass Roof
Sun Deck
Sports Centre
The Lookout
Club Balcony Staterooms
Standard Inside Staterooms

Boardwalk Cafe
Kennels
Shuffleboard
Photo Studio
The Fairways
Pavilion Pool & Bar
Club Balcony Staterooms
Balcony Staterooms
Inside Cabins
Queens Suites
Staterooms
Observation Deck
Atlantic Room
The Grill's Terrace
Whirlpool
Balmoral Duplex Suite
Windsor Suite
Holyrood Suite
Buckingham Suite
Sandringham Duplex Suite
Penthouse Suite
Queen Mary Suite
Queen Anne Suite
Queen Victoria Suite
Queen Elizabeth Suite
Queens Suites
Princess Suites
Inside Staterooms
Balmoral Duplex
Windsor Suite
Holyrood Suite
Buckingham Suite
Sandringham Duplex
Penthouse
Commodore Club
Bar
Boardroom
Churchill's
Queens Suites
Pool

Band Stand

Terrace Bar
The Verandah Restaurant
Beauty Salon
Canyon Ranch Spa Club
Book Shop
Library
Balcony Staterooms
Inside Staterooms
Princess Grill

Queens Grill
Grills Lounge & Bar
Kings Court
Carinthia Lounge
Bar
Therapy Pool
Canyon Ranch Spa Club
Relaxation Lounge
Fitness Centre
Minnows Pool
Splash Pool
The Kids Zone
Teen Zone
Play Zone
Baby Zone
Balcony Staterooms
Oceanview Staterooms
Inside Staterooms
Balcony Staterooms

Oceanview Staterooms
Inside Staterooms
Atrium View Staterooms
Balcony Staterooms

Oceanview Staterooms
Standard Inside Staterooms
G32 (Deck 3L)
Queens Room
Art Gallery
Britannia Restaurant Upper
Chart Room
Sir Samuel's
Shops
Grand Lobby
Champagne Bar
Royal Court TheatreIlluminations
Single Oceanview Staterooms
G32 (Deck 3L)
Britannia Restaurant
Britannia Club
Photo Gallery
Golden Lion
Grand Lobby
Pursers Office
Tour Office
Bar
Casino
Royal Court Theatre
Cunard Connexions
Illuminations
Single Oceanview Staterooms
Dining
A range of complimentary and speciality dining restaurants are available, with menus created by Jean-Marie Zimmermann, Cunard's Global Culinary Ambassador. Tables for 4-8 are typical, with seating allocated prior to cruising. Limited numbers of tables for two are available on request.
The Queen's Grill is a luxurious, fine-dining venue reserved exclusively for Queens Grill Suite passengers. The elegant restaurant is open for breakfast, lunch and dinner, with an a la carte menu also available.
Dining Experience:
Complimentary
The Princess Grill offers an intimate, fine dining experience, reserved exclusively for Princess Grill Suite passengers. Open for breakfast, lunch and dinner, with an a la cart menu is also available.
Dining Experience:
Complimentary
---
Britannia & Britannia Club Restaurant
Make a dramatic entrance down the grand staircase into the elegant Britannia two tier dining room and revel in the sumptuous menus and perfectly attentive service. Choose between an early or late sitting or book a Britannia Club Balcony stateroom and enjoy single-seating dining in the intimate Britannia Club restaurant.
Dining Experience:
Complimentary
The Verandah restaurant offers contemporary French cuisine that makes use of seasonal ingredients of real provenance. Designed to create a genuine dining experience, The Verandah takes design inspiration from the original Verandah Grill on board Queen Mary.

Dining Experience:
Cover charge may apply
The elegant tradition of Afternoon Tea is a Cunard signature not to be missed. Here white-gloved waiters serve delightful cucumber sandwiches, fresh scones and tea accompanied by the sounds of the orchestra in the magnificent Queens Room ballroom.
Dining Experience:
Cover charge may apply
Enjoy a casual breakfast, lunch or late-night buffet in the relaxed self-service Kings Court restaurant. In the evenings, savour a unique experience as the restaurant transforms into four alternating intimate venues; Lotus: Asian cuisine, the Carvery: British-style carved roasts, La Piazza: Italian cuisine and the Chef's Galley: as the chef reveal their culinary secrets.
Food type:
Regionally Inspired
Dining Experience:
Cover charge may apply
Entertainment
Queen Mary 2 provides you with a wealth of engaging experiences to keep you entertained day and night. From the glamorous Royal Night Balls on one of the largest dance floors at sea, to the excitement of the Empire Casino or Royal Court Theatre
Designed in an elegant opera house style, The Royal Court Theatre showcases classic and modern films during the afternoon, with fantastic live comedy, cabaret and theatre performances in the evenings.
This elegant casino will set your heart racing as you spin the roulette wheel, play the slots or try your hand at black jack. If you are not sure how to play then the casino also offers complimentary gaming lessons.
If you are seeking a quieter evening, sit back and relax with a superb collection of movies showing in Illuminations each night.
The wonderful Queens Room provides the opportunity to foxtrot in the largest ballroom at sea. There is no better place to hone your dancing skills than under the dramatic high ceiling with its beautiful crystal chandeliers.
Royal night themed balls in the magnificent Queens Room Ballroom are your chance to don your formal dancing attire and take to the floor in a sea of glittering ball gowns and tuxedos accompanied by sounds from the orchestra.
Dance the night away to the sounds of our resident party band and DJ in our fabulous dual-level nightclub. Enjoy popular themed nights from the Sixties, Seventies and Eighties such as Saturday Night Fever and Shake Rattle and Roll.
Art connoisseurs can enjoy a choice of three galleries. Cladendon Fine Art features original artwork and lithographs by 20th and 21st century artists. Cunardia and Cunarder's Gallery each focus on artefacts from past Cunard lines, black and white photography of famous faces and stories of those who have travelled with Cunard over the years.
The ship features a variety of shops for those who enjoy a spot of retail therapy. Passengers can find designer brands in the Royal Arcade boutiques, pick up souvenir photographs in the Image Photo Gallery, or check out the nautical literature and memorabilia in the bookshop.
Cunard's signature Commodore Club majestically overlooks the bow of Queen Mary 2 and provides glorious panoramic views as you sail towards the horizon. An extensive selection of Martinis are available and you may even be tempted to try our Martini Mixology or Whisky Tasting classes.
---
Veuve Cliquot Champagne Bar
Share conversations and sip champagne from beautiful Waterford crystal flutes. Guests may choose from among seven different Veuve Clicquot champagnes, served by the bottle or the glass.
Darts, karaoke, live sports and ale – everything you'd expect of an authentic English pub. There's even a traditional pub lunch served every day, with classic favourites such as fish and chips and cottage pie.
A tranquil retreat by day, the serene Carinthia Lounge provides the perfect place to relax and catch up with friends, or a good book, as well as enjoy light breakfast and lunch dishes along with premium teas and coffee, handmade patisseries and a special Champagne Afternoon Tea experience. When the sun sets, the atmosphere evolves into an inviting evening spot where carefully selected wines are paired with tasting plates, and relaxed entertainment. Carinthia Lounge will be available from June 2016.
The perfect place to relax with a speciality coffee and cake or light lunch, Sir Samuel's offers expansive views over the ocean from large windows with comfortable chairs to while away a few hours.
Health and fitness
The ship features a fantastic array of health and fitness facilities for passengers that wish to stay active or relax and be pampered. These include, a spa, a fitness centre, a games deck, sports courts and much more.
Enjoy the ultimate in pampering and wellness at the exquisite Canyon Ranch SpaClub. Indulge in signature Canyon Ranch massages, treatments and facials from the classic Canyon Stone Massage or Rasul Ceremony, to exotic Ayurvedic or Thai treatments.
Passengers who wish to stay active can make use of the fully equipped gymnasium. As well as state of the art gym equipment, the centre also offers classes, including yoga, pilates, aerobics and spinning.
There are a total of five swimming pools on board Queen Mary 2, including the Terrace Pool on Deck 8, The Minnows Pool especially for children on Deck 9, the Sun Deck Splash Pool on the top of the ship and our most popular Pavilion Pool on Deck 12 which features a retractable dome for any weather.
Queen Mary 2 offers a wide variety of sports facilities for passengers who want to stay active during their cruise. These fantastic facilities include, basketball courts, paddle tennis courts and a golf simulator.
When the warm weather entices you onto the spacious Games Deck you'll notice a definite English country garden ambience, with the gentle clunk of croquet balls in the welcome shade of its canopy. The games on offer include traditional cruise favourites such as shuffle-board, bowls, quoits, and paddle tennis, with occasional tournaments also taking place.
Kids and Teens
For younger cruise passengers, there are a number of facilities available to keep them entertained. Running primarily during the school holidays, kids clubs are available for children or teens travelling on Queen Mary 2.
Open between 6pm – 11pm, the Night Nursery operates on a first come, first served basis. Providing trained childcare for 12-23 month olds, parents and grandparents can drop their little ones off and enjoy an evening to themselves.
Designed for 2-7's, Play Zone provides a supervised play area for some of Cunard's youngest passengers. The club features arts and crafts, books, puzzles, toys and computer games.
A supervised play area for 8-12's, Kids Zone provides games, consoles, activities, arts and crafts for kids to enjoy, along with sports competitions and scavenger hunts.
The Teen Zone is a programme for 13 to 17 year olds on board. Activities include deck sports, discos, gaming consoles, quizzes and more. The exact age groupings for older children will depend on the number of children travelling on any particular cruise.
Enrichment
Enrichment programs and lectures on contemporary and classical subjects are popular features on Cunard cruises. Queen Elizabeth covers a wide range of activities from ballroom dancing to computing lessons.
Explore a number of historical and contemporary issues presented by a wide range of speakers including explorers, academics, former ambassadors and politicians, historians and scientists, novelists, biographers and award winning actors and film makers.
Cunard ConneXions offers a programme of activities all day every day from watercolour to computer lessons, wine tasting to ballroom dancing as well as bridge and board games.
The RADA actors offer guests the chance to share some of the training they received during their 3 years at the famous drama school. Each workshop lasts approximately 45 minutes.
Recall ocean travel's golden heyday at this unique exhibition located throughout the ship's corridors and stairwells. Unveil Cunard's proud history from Samuel Cunard's first venture across the Atlantic in 1840 to the building and subsequent Remastering of the current three Queens.
Useful to know
---
Special Dietary Requirements
The ship can cater for the following dietary requirements on request: vegetarian, low /no fat, low salt /no salt, lactose intolerant, dairy free, gluten free, wheat free, low cholesterol, diabetic, kosher and vegan. Passengers requiring any of the above diets should notify the Customer Contact Centre prior to sailing.
During the day casual shirts, shorts, trousers and beachwear are ideal. The main restaurants require a casual dress code for breakfast and lunch, however you may wear shorts in either the Kings Court (Queen Mary 2) or Lido Restaurant (Queen Victoria & Queen Elizabeth).

Evenings are split into two different dress codes. As a guide, these are: Formal evening wear consisting of an evening or cocktail dress or smart trouser suit for ladies, a tuxedo, dinner jacket or dark suit for men. Passengers may wear formal national dress or military uniform if they wish.

Informal evenings would consist of a required jacket and optional tie for gentlemen, whilst ladies should wear cocktail dresses, stylish separates or equivalent.
Fully accessible adapted cabins are available onboard the ship and some suites are also suitable for wheelchair users as the cabin door is wider and the bathroom offers a larger floor space. Assisted embarkation and disembarkation is available at some ports.

Passengers who have a disability which might mean that they require additional assistance, in particular in an emergency situation, must inform the Customer Contact Centre at the time of booking.
---
Smoking & E-cigarette Policy
There are dedicated areas on the ship where passengers are permitted to smoke. Smoking is not permitted in any public room, inside your cabin or on your cabin balcony. (with the exception of Churchill's Cigar Lounge, which is reserved for cigar and pipe smokers only)

Electronic cigarettes and vaporising devices, including those which do not emit smoke/vapour, are permitted in designated smoking areas only.
Children older than six months may travel with us, however Transatlantic crossings have a minimum age requirement of 12 months. Guests under 16 years of age must be accompanied in the stateroom by a guest who is 16 years of age or older.

As with UK laws, the age limit for purchase and consumption of alcohol on board is 18 years of age, however, when in US waters, the age limit increases to 21.