A proud member of the Millennium Class, Celebrity Infinity will take you sailing in style to both South America and Northern Europe.
Put simply, Celebrity Infinity is the trendiest hot spot at sea. This star of the Millennium Class shines even brighter thanks to her recent grand makeover. Expect gleaming new staterooms, enhanced public areas and freshness at the highest levels - literally - on the chic Rooftop Terrace. It's home to A Taste of Film, where you can cosy down and catch an al fresco movie in intimate, comfortable surroundings. Grab yourself some themed drinks and snacks, and enjoy a show under the stars!
When you're not onshore exploring exciting destinations, use your cruise on Celebrity Infinity to discover new culinary experiences. The cosy, rustic Tuscan Grille restaurant is the ultimate place for fresh pastas, dry-aged steaks and Italian cocktails.
Specifications
Lloyds No

9189421

Size

large

Style

premium_resort

Type

ocean

Year of launch

2001

Year of last refit

2015

Gross tonnage

90940t

Length

324.0m

Width

32.0m

Speed

24kts

Decks

11

Language

English (American)

Currency

US Dollar ($)

No. of passengers

2046

No. of crew

1000

No. of cabins

1085

-wheelchair access

27
Unique Features
Extend Your Stay Programme
Remain onboard and enjoy some of the ship's services until 90 minutes prior to the ship's next departure. Complimentary breakfast and lunch, non-alcoholic drinks, first-run movies, access to the pool, fitness centre and select spa services, along with an extra hour in your stateroom.
Apple Products
The first apple reseller at sea, Celebrity Infinity offers a wide range of Apple and Mac products for sale.
Cellar Masters
Using innovative, first at sea technology Cellar Masters Bar features an Enomatic Wine Bar that allows passengers to select and serve a wide range of wines by the glass at the touch of a button.
Gratuities
An approximate daily total of $11.50 per guest ($12.00 for Concierge Class and Aqua Class guests and $15.00 for suite guests) per cruise day, will cover the stateroom and dining room service for adults and children.
Accommodation
A range of accommodation and cabin grades are offered onboard, with six main cabin and suite types. Over 85% offer sweeping balcony views, contemporary décor and dedicated 24-hour stateroom attendants.
Warm browns, golds and reds are the predominant colours across the ship's furniture, carpets and wood trims.

All grades include twin beds (convertible into a queen size bed), a sitting area, vanity desk with hair dryer, 32-inch (or larger) flat screen television, Wi-Fi (at an additional cost) and premium bedding. En-suites include a shower enclosure, toilet and wash basin. Each suite grade offers more space, larger balconies, sun loungers and a larger range of personal amenities than staterooms.
Booking one of their Suites is guaranteed to make your Celebrity cruise truly unique and special; they are Celebrity's most well-appointed rooms, with full height windows and doors leading onto panoramic balconies.
Most Suites feature separate sleeping areas, and all include European-style Butler Service.

In addition to Butler Service, you will find your Suite includes lots of luxury features and amenities.
As well as standard features like 100% Egyptian cotton linens and plush bedding, you will find welcome sparkling wine, fresh flowers, a daily fresh fruit platter, complimentary daily in-suite espresso and cappuccino, and an afternoon canapés and tea service. Also provided are plush Frette bathrobes, oversized towels and slippers, custom luxury bath products, personalised stationery and an extra hair dryer. You can even choose the perfect pillows from our menu, helping you get a relaxing night's sleep.
When you book one of the Suites you are also given VIP treatment at every turn, with priority embarkation and debarkation, express luggage delivery, priority tender service and preferential restaurant and theatre seating.
If you choose one of the Penthouse Suites you will find extra luxury features like a marble master bath, balcony whirlpool, butler's pantry, exercise equipment and baby grand piano. Please note that Penthouse Suite features vary throughout the fleet.
Suite guests will receive one complimentary dinner for two for a cruise of 6 or 7 nights, or two complimentary dinners for two for a cruise of 8 nights or more in one of the Speciality Restaurants. Please note this is available on Solstice Class and Millennium Class ships only.
Having your own European-style Butler service is truly the way to travel in style. Your Butler will be happy to help you with unpacking and packing, as well as bring you a full breakfast, lunch and dinner service whenever you'd like to dine in your suite.
You will also receive daily newspapers, and be served with drinks and hors d'oeuvres in your Suite before dinner. Your Butler can make spa appointments, dinner reservations, book shore excursions, and even shine your shoes for you – it is all part of the service you can enjoy as a guest in a Celebrity Cruises Suite.
Stateroom: 253 - 1430 Square Feet

Verandah: 55 - 1100 Square Feet

Sleeps up to 5

For the ultimate Spa enthusiast, Celebrity's serene AquaClass Staterooms are located close to the stunning Aquaspa, offering a beautiful balcony and some in-room extras to help you relax. You will also have access to your own restaurant, Blu, which offers healthy and delicious breakfast and dinner exclusively for AquaClass guests.
You will find an AquaClass Stateroom offers all the in-room features of the standard Staterooms, but with a spa-inspired twist. AquaClass rooms all have a private balcony, and are located high above it all, nestled comfortably close to the AquaSpa Relaxation Room, the Solarium and the Persian Garden.
Your stateroom includes all the luxury features you would expect from Celebrity Cruises – premium mattresses, Egyptian cotton linens, interactive TV and luxury toiletries. As an AquaClass guest, you will also receive a plush bathrobe and slippers, an aromatherapy diffuser, pillow menu and additional toiletries including shower gel, facial spray and lip balm. There are daily deliveries of bottled water and teas, as well as an enhanced room service menu designed with health-conscious guests in mind.
All AquaClass rooms have a private balcony, so you can sit back, relax and enjoy the view in the comfort of your own space. There are plenty of other relaxation areas too – as an AquaClass guest, you will have free, unlimited access to the Persian Garden, where you can relax on heated loungers and enjoy stunning sea views, and you are welcome to unwind at any time in the Relaxation room. Your Personal Spa Concierge will arrange AquaSpa treatments for you, and you can also take part in the special programme of wellness classes like meditation and yoga.
As an AquaClass guest, discover your own exclusive restaurant for breakfast and dinner. It is called Blu, and offers "clean cuisine" – popular dishes served with a little imagination, plenty of flavour and no fuss. For example, you will find tender steak served with a flavourful truffle vinaigrette instead of a heavy béarnaise, as well as a full breakfast and dinner menu, including plenty of tempting desserts.
Stateroom: 195 square feet

Veranda: 54 square feet

Sleeps up to 4

---
Concierge Class Staterooms
Concierge Class from Celebrity Cruises is perfect if you are a discerning traveller who appreciates the finer details – personal service, priority bookings, and those finishing touches that make all the difference.
Concierge Class staterooms each have a private balcony, and are located in the most desirable locations of each ship. You will find all the in-room features of our standard Staterooms, but with high-end furnishings and lots of extra touches that make them a little bit special, like welcome sparkling wine, fresh fruit, personalised stationery, and a pillow menu so you can enjoy the perfect night's rest.
Your stateroom includes all the luxury features you expect from Celebrity Cruises – premium mattresses, Egyptian cotton linens, interactive TV and luxury toiletries. As a Concierge Class guest, you also receive a plush bathrobe, an extra hair dryer and evening hors d'oeuvres in your room, as well as an expanded room service menu. Celebrity even offer a complimentary shoeshine – it is all part of your personal Concierge Class service.
Concierge Class is all about attention to detail, and the little things that make your cruise truly special. At the start of your Celebrity cruise you will be offered priority check-in, as well as express luggage delivery. When it is time to return home, you will be given access to the exclusive Concierge Class Pre-departure lounge and priority disembarkation, based on your travel needs.
Your personalised Concierge service is the key to effortless cruising. Celebrity will help you organise the finer details of your cruise, like offering main and speciality restaurant seating time preferences. They will also be there for the small things, like complimentary use of binoculars and a golf umbrella should you need them. Nothing is too much trouble.
Stateroom: 204 square feet

Veranda: 42 square feet

Sleeps up to 4

Celebrity Cruises Ocean View Staterooms include large windows, as well as a comfortable seating area where you can settle down and relax after a day exploring the ship or the shore.

Ocean View Staterooms have ample space to sleep, relax and enjoy your private space on board, with large windows offering spectacular views.
Like all of their Staterooms, you'll find they have been designed with your comfort in mind. Inside your room you will find 100% Egyptian cotton linens, plush bedding and mattresses, and lots of extra special finishing touches. They have included everything you need for ultimate comfort and convenience, including a hair dryer, private mini-bar, water and wine glasses, private safe and dual voltage power outlets.
Every one of Celebrity's luxuriously-appointed staterooms benefits from the friendly, personalised service that has become a trademark of Celebrity Cruises. Your room is serviced twice daily (makeup and turndown), and they offer a daily supply of ice in stainless steel ice buckets to ensure you stay refreshed. Room service is available 24 hours a day, offering refreshments whenever you need them.
A room with a view can add so much to your cruise – every day brings something different, whether it is a breath-taking sea view, a stunning sunset or a tantalising glimpse of the next port of call. Ocean View staterooms include all the space you need to relax and enjoy the ever-changing vista from the privacy of your own personal space.
Stateroom: 170 square feet

Sleeps 2

Celebrity Cruises Inside Staterooms offer outstanding value for money, and are tastefully designed with a comfortable sitting area where you can relax after a day exploring the ship or the shore.
The Inside Staterooms have been thoughtfully designed, with ample space to sleep, relax and enjoy your private space onboard. Your room includes 100% Egyptian cotton linens, plush bedding and mattresses, and lots of finishing touches that will make your stateroom feel like a real home from home.
Your luxurious stateroom includes bathrobes and a tote bag for your use, interactive TV and luxury toiletries. Celebrity have been sure to include everything you need for your comfort and convenience, like a hair dryer, private mini-bar, water and wine glasses, private safe and dual voltage power outlets.

Every Celebrity Cruises stateroom benefits from the friendly, personalised service that we are known for. They provide both a makeup and turndown service every day, as well as a daily supply of ice in stainless steel ice buckets. Their 24-hour room service also means we are on hand with refreshments whenever you need them.
Inside Staterooms are ideal for guests looking for a comfortable place to sleep, and for whom the outstanding facilities of the ship and the exciting ports of call are the ultimate destination.

There is so much to experience on a Celebrity Cruise, and it is comforting to know you can return to your room at the end of the day and enjoy a peaceful night's sleep in spacious and relaxing surroundings.
Stateroom: 170 square feet

Sleeps 2

Decks
Rooftop Terrace
Sports Deck
Constellation Lounge

Video Arcade

X Club

Fun Factory
Jogging Track

Mast Bar

Qsine

Inside Staterooms

Aqua Class Staterooms
Fitness Centre

Salon

Canyon Ranch Spa Club

Persian Garden

Solarium

Spa Cafe

Pool Area

Pool Grill

Ocean View Cafe & Grill

 Ocean View Bar

AquaClass Staterooms

Celebrity Suites

Sky Suites

Sky Suites Accessible

Concierge Class Staterooms

Family Ocean View Stateroom Veranda

Deluxe Ocean View Stateroom Veranda

Ocean View Staterooms

Interior Staterooms

Celebrity iLounge
Celebrity Suites

Sky Suites

Sky Suites Accessible

Concierge Class Staterooms

Family Ocean View Stateroom Veranda

Deluxe Ocean View Stateroom Veranda

Ocean View Staterooms

Interior Staterooms

Library
Celebrity Suites

Concierge Class Staterooms

Family Ocean View Stateroom Veranda

Deluxe Ocean View Stateroom Veranda

Ocean View Staterooms

Interior Staterooms


Penthouse Suites

Royal Suites

Celebrity Suites

Sky Suites

Concierge Class Staterooms

Deluxe Ocean View Stateroom Veranda

Ocean View Staterooms

Interior Staterooms

Celebrity Theatre

Boutiques

Grand Foyer

The Emporium

Art Gallery

Gelateria & Cafe Al Bacio

Bistro on Five

Cellar Masters

Blu

The Trellis Restaurant


Celebrity Theatre

Photo Gallery

Michael's Club

Fortunes Casino

Martini Bar/ Crush

Grand Foyer

Rendezvous Lounge

Luminae
The Trellis Restaurant

Celebrity Theatre

Ocean View Staterooms

Inside Staterooms

Concierge Class Stateroom
Wine Cellar

Tuscan Grille

Demonstration Kitchen

Conference Centre

Ocean View Staterooms

Inside Staterooms

Dining
Offering a variety of seating options. Passengers can chose from traditional, set table seating at 6pm or 8.30pm, or Celebrity Select - the choice to dine any time between 6.30pm – 9pm. Advanced bookings are available.
Cool, contemporary and a little offbeat, the trailblazing Qsine offers a culinary adventure with a Uniquely Unordinary edge designed to surprise and delight.
Leave your preconceptions at the door when you take your seat at Qsine restaurant.
This unique culinary experience starts when you order your meal using an iPad. Interact with your dinner like never before as you prepare to try new things and satisfy your appetite for gastronomic adventure. The fun is matched by the contemporary twist in the classic décor, which combines flamboyance with sleek style and demands a similarly smart-casual dress code.
With an experience so interactive and exciting, you can expect nothing but a culinary revelation on your plate at Qsine. Luckily, Celebrity's expert chefs use their exceptional skill to craft some of the most entrancing dishes you will ever see. Expect to find some twists on familiar favourites, including sushi lollipops, lobster escargot, popcorn fish and chips, and much more.
With flavours originating from around the world – and combined in ways you would never expect – dining out at Celebrity Qsine is the perfect complement to a voyage to some of the most captivating destinations on earth.
Dining Experience:
Cover charge may apply
Right at the heart of the Celebrity Cruises dining experience is the grand main dining room. Eat, drink, laugh and take your taste buds on a journey of their own.
Chic and contemporary, the Celebrity Cruise main dining options are the centrepiece of the onboard experience. The unparalleled range of choices and attentive, friendly service are as delightful as the array of flavours available.
Everything about this venue is lavish, so attire is suitably stylish. It is smart casual for most sittings, with a more sophisticated dress code for our sensational special events.
Their chefs work round the clock to supply the most incredible tastes and textures. Each dish is a little masterpiece in its own right, with every detail designed to please, right down to the garnish. The options change every night – sample a variety of top-quality meats, like quail and black salmon, coupled with expertly-crafted side dishes and full-on flavour sauces.
Dinner in the Main Restaurant is always the main attraction.
The range of options is tailored to suit every taste: if you prefer to dine at the same time every night then our Traditional Dining is for you. For more flexibility and to make reservations each day, opt for Select Dining choice. They also cater for Special Needs, with a dedicated team of specialist chefs to whip up perfect meals for your individual dietary requirements.
Dining Experience:
Complimentary
Enjoy Celebrity's delectable dining delivered right to your stateroom or suite, complimentary and at any time.
Complimentary in-stateroom dining.
Tired from a day of exploring? Whether you are recuperating or just in the mood to relax, with complimentary cruise 24-hour room service you may never want to leave the comfort of your stateroom. Breakfast on the balcony? Choose from a continental or full breakfast. Or select from a wide range of delicious dishes at any time of day, or night!
Dining Experience:
Complimentary
Vibrant and flavoursome – just two of the words they'd use to describe Tuscan Grille. In both the menu and the ambience, the food-loving flair of Italy is fused with cool, contemporary dining.
Tuscan Grille makes the most of classic Italian design and style and provides a warm, inviting and smart casual atmosphere to help you fully relax.
Big statement flavours are in abundance at Tuscan Grille. From crab cakes with citrus and tarragon emulsion to rich dark chocolate fondue, the menu is distinctive and unforgettable from start to finish. Don't forget to try Tuscan Grille's famous steak, which is accompanied by creamy parmesan polenta.
Dining Experience:
Cover charge may apply
Oceanview Café
The Oceanview Café reflects the fantastic choice and value of an international marketplace. Help yourself and take a voyage around the world to discover flavours from across the globe. From pasta and pizza to stir-fry and sushi, there is something for everyone at lunch, dinner and late into the night.
The AquaSpa Café
The unique AquaSpa Café is the first cruise dining option of its kind. This spa-inspired restaurant serves an eclectic mix of dishes that will satisfy your hunger but still keep you in shape. Each meal combines flavoursome and healthy ingredients to please you whether you are a food lover or fitness fan.
Pool/Mast Grill
The relaxed atmosphere of the Pool/Mast Bar & Grill makes it the perfect casual dining place to sit back and relax. Sip a cocktail or a soft drink on deck, or order a light bite to eat poolside. Music and entertainment add to the dining ambience.
Dining Experience:
Complimentary
Creperie serving delicious sandwiches, salads, crepes and desserts with table side service for lunch and dinner.
Dining Experience:
Cover charge may apply
---
Café al Bacio & Gelateria
Traditional European coffeehouse offering guests a variety of traditional gelatos and Italian ices, pastries and specialty coffees.
Dining Experience:
Cover charge may apply
AquaClass® guests can enjoy Blu, their own exclusive restaurant for breakfast and dinner. The cuisine at Blu is simply an imaginative way of preparing popular dishes without fussiness or pretence.
Dining Experience:
Cover charge may apply
Entertainment
A mixture of contemporary, classic and innovative forms of entertainment can be found onboard. Classic entertainment options include a two-deck library, art gallery, cinema, card room, quizzes and trivia contests. Pool volleyball, lawn games and video games are also on offer.
Energetic, lively and casual; a large poolside spot for light and refreshing cocktails, frozen specialities and non-alcoholic offerings, from sun up to sundown. The musical program transitions from the latest hits to cool Ibiza Beach and hot Latin House rhythms.
This is Celebrity's chic, new approach to the Internet lounge that's also the first Authorised Apple Reseller at Sea. It's the modern way to connect while onboard. Here, you'll find state-of-the-art workstations featuring MacBook Pro laptops and iMac desktops where you can take a class, check your email, surf the web or print a boarding pass.
Certified staff will help you master the latest audio and video products. Learn how to get the most from the hippest tech devices, like the iPhone, iPad, iPod Touch, and MacBook Pro. And, if you like, you can purchase some of these items on your cruise. Celebrity iLounge is available on most ships.
The Main Theatre is the place to sit back and be entertained – the talented Celebrity Cruises entertainment team will dazzle you with musical theatre tribute shows and song and dance spectaculars. Exciting custom productions like "Pulse", "Remix" and "Edge", are mixed with classic tribute shows that rival the very best of Broadway, the West End and Vegas. You can even enjoy the unique fun of a traditional British panto, created by UK production company, Qdos Entertainment.
Feeling lucky? Combining the ambience of Monte Carlo and the energy of Las Vegas, Fortunes Casino is a perfect spot to participate in a game of chance or comfortably view all of the action at the ticket in/ticket out slot machines and table games.
Refined culture at sea is what you will experience in Celebrity's inspiring and thought-provoking Art Gallery. Stop in on your way to dinner and it just might spark up an enriching table conversation; swing by after dinner and have a touch of sophistication for dessert. You may even find yourself buying an irresistible one-of-a-kind souvenir to bring back from your trip.
A private lounge for those in Celebrity, Signature, Royal, Penthouse and Reflection Suites, as well as for Captain's Club Zenith members. This luxurious club features a large-screen TV, reading areas stocked with magazines, newspapers, and books, a premium continental breakfast, light lunch, and self-service snacks.
Pre-dinner drinks are complimentary between 5.30pm - 8pm daily. Its dedicated Concierge can help arrange your speciality dining, shore excursions, even handle inquiries about various ports of call. Desk hours vary by itinerary. Michael's Club is available 24 hours a day.
On the totally cool, ice-topped bar, our talented bartenders put on a high-energy show preparing an intriguing menu of classic and contemporary Martinis, including the 20-Year Martini in celebration of Celebrity's 20th Anniversary. Sit back in the contemporary plush high-back chairs while listening to up-tempo tunes and enjoy a collection of classic and rare vodkas and a portfolio of fine caviares.
The charming wine bar, equipped with the state-of-the-art Enomatic wine system, allows guests to serve themselves from an extensive array of first-class wines, or be served by expert staff. 
The Constellation Lounge is the ship's second show lounge. Situated at the top of the ship it offers panoramic views making it the ideal observation lounge during the day.
Activities on offer range from workshops and dance classes whilst at night the area comes alive with music for guests to dance along to and a DJ playing from midnight until late.
The Rendezvous Lounge is the ideal meeting place with quiet recesses to sit in and enjoy a drink. During the day a range of entertainment is on offer from classic and contemporary music, trivia quizzes and XBOX Kinect and Nintendo Wii competitions.
The lounge also has its own large dance floor for dancing the night away or alternatively guests can take part in a bit of karaoke.
Onboard Celebrity Infinity, you can now catch a movie under the stars in chic, intimate surroundings accompanied by themed drinks and snacks.
The red carpet has been rolled out for film fanatics, who can take their seats at a brand new Rooftop Terrace on deck 12. This beautiful multi-functional area boasts a garden-like design adorned with decorative lighting, cabanas, space heaters (for chillier destinations) and a jumbo-tron TV screen.
Health and fitness
Relax and rejuvenate in the serene Canyon Ranch Spa, treat yourself to a new look at the hair and beauty salon, or relax by the pool in the adults-only Solarium.
Those who enjoy a more active lifestyle can take part in a range of sports including basketball and tennis, or spend an hour with a personal trainer in the Fitness Centre.
To provide you with the ultimate in relaxation onboard, they've partnered with Canyon Ranch, one of the world's leading spa and wellness brands. The indulgent Canyon Ranch SpaClub offers the largest and most comprehensive spa at sea, as well as a range of fitness classes including yoga.
Disembark looking as good as you feel. Onboard treatments include:
Ageless Oxygen Boost

Deep Cleansing Facial

Medi-Peel Facials

Aromatherapy Massage

Couple Massages

Paraffin Hand Treatment

Reflexology

Acupuncture

Body Scrubs

Detoxifying Body treatments

Yoga classes

In the fitness centre you can meet with a personal trainer, take a fitness class, try out the resistance swimming pool or challenge yourself on the state-of-the-art exercise equipment.
Find true poolside serenity at the Solarium. Featuring a gorgeous pool, sparkling waterfalls, thickly padded lounge chairs, and an adults-only policy, tranquillity is always just a few steps away.
Practise skills on your own, play with old or new friends, or take part in a tournament with one of the Celebrity cruise Play sports activities. Choose from a range of sports including basketball, table tennis and golf putting. Or take a leisurely jog around the track.
The Pool area comprises of two pools separated by a bridge, the forward one being the deeper sports pool and the aft one the shallower more family friendly pool and location of pool games such as pool volleyball.
Both pools are flanked by a pair of whirlpools, the aft ones for use by all ages whilst the forward ones are reserved for adults only.
Kids and Teens
Celebrity Cruises offer many unique family-friendly activities, as well as more traditional children's clubs. Designed for children of all ages and interests, each program is geared towards a specific age group and supervised by an experienced youth staff member.
Younger cruisers ages 12-17 can cut loose and kick back the way they want in our hip VIP area geared specifically for teens. From teen-oriented explorations to the dance club and coffee lounge designed with them in mind, XClub is sure to be a hit with teenage guests.
Designed exclusively for junior cruisers, Fun Factory is a place where magic happens. Children age 3-11 will thrive in this environment, which features LeapFrog educational tools for knowledge and play.
ShipMates offers plenty of games to play and activities to take part in specifically for children age 3-5.
---
Largest Xbox Experience at Sea
Dedicated Xbox stations and mobile consoles. Solo, tournament and theme nights for kids, teens and adults. The latest releases, all free to play, with Kinnect for the Xbox 360 available in the Fun Factory and X-club for kids and teens.
Video project just for teens. From story boarding to filming and editing, prizes are awarded for numerous film category winners at the X-club Film Festival and Award Ceremony towards the end of each cruise.
Enrichment
In association with Rosetta Stone and Apple, Celebrity offers an impressive range of educational activities and guest speakers during most of their sailings. Learn how to dance, brush up on your language skills, or take in a unique hot glass show - the first at sea.
Speaker series, covering a range of topics exploring the culture, history and biology of some of the destinations visited during each cruise.
A series of salsa, jive, ballroom and modern dance classes.
Talks from the Ship's Officers, giving an insight into the workings of the ship; from navigation to recycling and solar power.
---
Rosetta Stone Language Sessions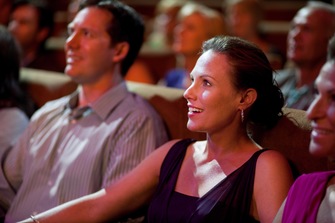 Learn the basics of how to order in the local language of the next port of call, brush up on existing language skills or learn a new language.
Held in the art studio, meet resident artists or attend interactive classes and demonstrations, covering topics from jewellery making to sketching and painting.
Useful to know
You may bring and use wheelchairs, mobility scooters and other assistive devices onboard the ships. Due to safety regulations, Segways may not be used onboard.

Assistive devices including mobility scooters must be stored and recharged in your stateroom so fire doors, corridors and elevator lobbies are kept clear for emergency evacuation. When parked throughout the ship, they must be parked out of the way to allow safe and easy access by other guests and crewmembers.

Assistive devices should fit through a standard stateroom entry doorway which is at least 23 inches wide. Celebrity offer accessible staterooms which have wider doors which are at least 32 inches wide and may accommodate larger devices. If you have an assistive device larger than 32 inches wide, please contact the Access Department for assistance.

Guests with mobility issues may use the following services;
-Early boarding
-Cruise transfers utilizing wheelchair accessible vehicles
-Boarding and departure assistance
-Scooter access
-Lifts for one pool and one whirlpool on all ships
-Accessible Blackjack tables in the casino
-Accessible Guest Relations Desks
Please Note: Crewmembers are not permitted to lift assistive devices.

Service Animals:
Service Animals are welcome onboard all ships except those sailing to the United Kingdom (UK) due to DEFRA regulations.

---
Special Dietary Requirements
Celebrity Cruises makes every effort to accommodate guest's dietary requirements wherever possible. Most dietary needs can be catered for such as:
Vegetarian, Gluten free, food allergies, low calorie and Kosher.
VEGETARIAN MEALS are available on all menus in the dining room and a varied selection will also be available in the buffet restaurant on a daily basis.
GLUTEN FREE menus are not provided onboard any of their ships, however, they prefer to customize their existing menus, which give guests more freedom of choice whilst still catering to their individual needs.
Please be aware that guests are allowed to bring their own supply of dry, non-perishable food items onboard, such as biscuits, crisps and energy bars.
Items can not be brought on the ship that may be deemed as potentially hazardous. (These can include items that require refrigeration, freezing, reheating, or storage by the galley).
FOOD ALLERGIES can be catered for however, all guests who have a food allergy must ensure they meet with the Maître D or Head Waiter once onboard the ship to review the menus and identify the items that need to be avoided or modified.
The ship's medical facility will have the necessary medication and equipment needed to treat guests with allergic reactions. However, guests are reminded that any necessary medications need to be kept with them at all times.
KOSHER MEALS are available at no extra charge onboard all Celebrity ships.
The meals provided are all prepackaged and all orders must be placed in advance of sailing, please see the strict ordering deadlines below:
European sailings - 90 Days prior to sailing
North America sailings - 45 Days prior to sailing
Asia/Australia sailing - 100 Days prior to sailing
Please note: Kosher meals for Passover MUST be requested at least 90 days prior to sailing to be accommodated.
SOYA milk can be provided onboard at no extra charge; however, requests for these items must be made prior to sailing to ensure sufficient stock is available.
European sailings - 90 Days prior
North American sailings - 45 Days prior
Australia/Asia sailings - 100 days prior
Please note: Any requests input after the above deadlines will be honored on an individual basis, last minute requests are totally dependent on the ships available inventory.
DIABETIC menus are not provided onboard however, they do offer sugar-free desserts, all of which are listed in the menus in the main dining room. Sugar-free desserts and snacks will also be available in the buffet restaurant. Guests are also advised to speak to their Head Waiter once onboard if a sugar-free diet is required.
HALAL meat is not offered at this time.
Please be aware that due to the limitations of the Speciality Restaurant galleys, the ships are not able to customize the offerings in these locations.

Drinking:
The minimum drinking age for all alcoholic beverages on all Celebrity Cruises ships is 21 years of age.
However, on ships sailing from ports in Europe, South America, Asia and Australia, they reduce the minimum drinking age to 18 years old in order to purchase and consume alcoholic beverages. Please note, when the ship is sailing in ports in North America and at  private destinations, the minimum drinking age will remain at 21.
Casino:
Guests under the age of 18 are not permitted in the Casino at any time.
A Celebrity cruise is a step into luxury, so it's the perfect opportunity to dress up for dining every evening.
Whether enjoying a table for two or sharing a meal with friends, the right cruise dining attire ensures everyone enjoys their onboard dining experience. Depending on how long you've booked your cruise for, you will enjoy a number of smart casual and formal evening wear events. The dress code is smart casual for all speciality restaurants on every night of your cruise.
Smart casual and above
For smart casual cruise dining attire, women should wear a skirt or trousers (with no holes, rips or tears) complemented by a sweater or a blouse. Gentlemen will need to pack trousers (with no holes, rips or tears) coupled with a collared sports shirt or sweater for smart casual dining events. Any shirts must have sleeves.
Formal wear
Formal attire is only required in the main dining room on your formal evenings. On these occasions, women can choose their favourite cocktail dress to wear, or substitute it for a gown or dressy trouser suit. Gentleman's attire for formal dining should comprise a tuxedo or dinner suit.

There's also an onboard formalwear rental service for men. The tailored service allows elegant formalwear to be delivered.

Onboard Celebrity's ships you can experience several unique speciality restaurants and enjoy great savings when you purchase one of their Speciality Dining packages. Awaken your inner foodie on a culinary journey at Qsine. Experience impeccable service and world-class cuisine at Murano. Savour the bold flavours of Tuscan Grille, the Italian steakhouse. Enjoy interactive, open-air grilling with ocean views at the Lawn Club Grill.

3 Dinners Speciality Package
This scrumptious sampling includes three dinner in speciality restaurants on board. Save up to 18% when you book this package.
(*Not available on Celebrity Silhouette and Celebrity Reflection)

4 Dinners Speciality Package
This culinary experience includes four dinners in speciality restaurants on board. Save up to 17% when you book this package.
(*Offered exclusively on Celebrity Silhouette and Celebrity Reflection)

5 Dinners Speciality Package
This fine dining indulgence includes five dinners in speciality restaurants on board. Save up to 31% when you book this package.

Celebrity's Speciality Restaurant Packages include cover charges and dining gratuities; all other charges, such as beverages and beverage gratuities, are additional, with Celebrity's award-winning Beverage Packages an option available to all guests.

How do I book a beverage package?

The packages can be pre-reserved up to a minimum of four days before your sail date. To purchase on board, please visit the Guest Relations desk for more information.
Soft Drink Soda Packages
Enjoy unlimited fountain and canned drinks during the duration of your cruise. $9.20 per guest, per day
Premium Water Package
Enjoy the pure refreshment of Evian still water and/or Pellegrino sparkling bottled water for the duration of your cruise. Perfected by nature in the French Alps, Evian replenishes your body and mind. San Pellegrino, sourced from three great springs in northern Italy, provides the ideal accompaniment to any meal.
$16.10 per guest, per day
Premium & Classic Packages
Classic Non-Alcoholic Package
In addition to enjoying your favourite Coca Cola can and fountain sodas selections such as Coke, Diet Coke, Sprite, Fanta Orange and Coke Zero, you may also enjoy fresh squeezed and bottled juices, Premium Coffees and Teas and Non-Premium Bottled Water.
$18.40 per guest, per day
Premium Non-Alcoholic Package
Enjoy nearly Celebrity's entire selection of Non-Alcoholic beverages onboard including all canned and fountain soft drinks from Coca Cola, Premium Bottled Water from Evian, Perrier and San Pellegrino, Specialty Coffees and Teas, Non-Alcoholic Frozen Drinks and Smoothies, Red Bull Energy Drink and Specialty Waters from Vitamin Water.
$23.00 per guest, per day*
Classic Package
Upgrade your cruise experience and pay one price to enjoy all of the benefits of the Classic Non-Alcoholic package as well as all Beers up to $6 per serving and spirits, liqueurs, cocktails and wines by the glass up to $8 per serving. The Classic package also provides you with the chance to receive a discount of 15% on bottles of wine purchased.
$56.35 per guest, per day
Premium Package
For the ultimate in value and convenience, the premium package provides all the benefits of the Premium Non-Alcoholic Package. In addition, you can enjoy their entire selection of Beers as well as Spirits, liqueurs, Cocktails and Wines by the Glass up to $13 per serving. The Premium package also provides you with the chance to receive a discount of 20% on bottles of wine purchased.
$67.85 per guest, per day
Taste of Vineyards Packages (3, 5 or 7 bottle options)
The Premium Package
The Premium Package offers a superb collection of wines suitable for all your tastes and preferences. You may also choose to mix and match wines from the Classic Package to further enhance your enjoyment. Package pricing represents a saving of 10% off the regular list prices.
Starting from $171.35

The Classic Package
With the Classic Package, savour premium international selections. Sample wines from Italy such as Bertani, Renwood from Washington, and S.A. Prum from Germany. Package pricing represents a saving of 5% off the regular list prices.
Starting from $125.35