Onboard, bond with a smaller community of just 680 guests and indulge in the warm, welcoming service for which Princess Cruises is renowned. Whether celebrating a special occasion or simply going to dinner, have an incredible meal, freshly prepared in one of the elegant restaurants, the Sterling Steakhouse or Sabatini's, featuring menus that won't be soon forgotten.
Specifications
Size

small

Style

Classic

Type

ocean

Year of launch

1999

Year of last refit

2019

Gross tonnage

30277t

Length

180.4m

Width

25.5m

Speed

19kts

Decks

11

Language

English

Currency

US Dollar ($)

No. of passengers

670

No. of crew

375

No. of cabins

338

-wheelchair access

5
Unique Features
Ultimate Balcony Dining - Available to guests with balcony cabins, a dedicated waiting team will serve your private dinner party on your  balcony.
Gratuities
During your cruise, regardless of which Princess ship you choose, you will meet staff who provide you with excellent service. Crew members often rotate to different vessels within the Princess fleet which helps to maintain our high standards on every ship. These dedicated workers reflect our philosophy that all crew on all ships are but one family who share in our success.
To simplify the tipping process for our guests, a discretionary gratuity of $16.50 per guest for suites, $15.50 per guest for mini-suites and club class, and $14.50 per guest for interior, oceanview, and balcony staterooms. This gratuity will be shared amongst those staff who help provide and support your cruise experience, including all waitstaff, stateroom stewards, buffet stewards, and housekeeping staff across the fleet.
A 18% gratuity is added to bar charges, dining room wine accounts, and Lotus Spa® services. This is shared amongst the beverage staff, their support staff and Lotus Spa® personnel.
Casino dealers and youth staff do not share in these gratuities. We know you will find these services onboard exemplary.
Please note gratuities will be deemed undisputed unless a request to modify is received prior to disembarking the ship.
Accommodation
Offering a broad range of suites, mini-suites and premium cabins, she provides generously sized staterooms and balconies to fit any budget. Ranging from 158 - 932 square feet in size, each stateroom is the perfect place to unwind. Your steward will take care of everything you need from refreshing your room every day to turning down the bed in the evening. We offer the deluxe amenities you'd expect from a first-class hotel — from 24-hour room service to chocolates on your pillow at night.
Suite staterooms include a spacious cabin and large balcony with room for four with two comfortable loungers, a table and two chairs. They also feature special suite-only benefits, such as a separate seating area with a sofa or sofa bed, walk-in closet, full bathroom with deluxe amenities including Complimentary mini-bar set-up, CD/DVD player with access to a complimentary DVD library, personal safe, Comfortable luxury pillow-top mattress, A luxurious queen-size bed, 100% Egyptian cotton linens, Upgraded bathroom amenities and hair dryer, Two flat-panel satellite TVs, Evening bed turn-down, chocolates on your pillow, Refrigerator, Writing desk and phone, 110V, 60-cycle alternating current (AC) with standard U.S. plug fittings, Daily housekeeping service and enhanced nightly turn-down service.
Staterooms - 750 - 932 square feet

Balcony - 288 square feet

Sleeps 2-4
The luxurious Mini-Suite offers guests a welcome glass of champagne, Separate seating area with a sofa or sofa bed, Balcony with patio furniture, Twin beds that convert to a queen-size bed, Evening bed turn-down, chocolates on your pillow, Two flat-panel televisions, Private bathroom with combination tub and shower with Shampoo, conditioner, body lotion, 100% Egyptian cotton linens, Satellite TV, refrigerator, hair dryer, safe, closet, phone and desk, 110-volt, 60-cycle alternating current (AC) with standard U.S. plug fittings and a daily housekeeping service.
Staterooms - 322 square feet

Balcony - 55 square feet

Sleeps 2-4
The Balcony stateroom is appointed with fine amenities such as a Balcony with patio furniture and outstanding views, twin beds that convert to a queen size bed, Private bathroom with shower with Shampoo, conditioner, body lotion, 100% Egyptian cotton linens, Satellite TV, refrigerator, hair dryer, safe, closet, phone and desk, 110V, 60-cycle alternating current (AC) with standard U.S. plug fittings and Daily housekeeping service, Evening bed turn-down and chocolates on your pillow.
Staterooms - 216 square feet

Balcony - 36 square feet

Sleeps 2
The Oceanview and Premium Oceanview staterooms feature a picture window for memorable views. They are richly appointed with fine amenities such as Twin beds that convert to a queen size bed, Private bathroom with shower, Shampoo, conditioner, body lotion, 100% Egyptian cotton linens, Satellite TV, refrigerator, hair dryer, safe, closet, phone and desk, 110V, 60-cycle alternating current (AC) with standard U.S. plug fittings, Daily housekeeping service, Evening bed turn-down and chocolates on your pillow.
The Interior stateroom is richly appointed with fine amenities such as twin beds that convert to a queen size bed, Private bathroom with shower with Shampoo, conditioner, body lotion, 100% Egyptian cotton linens, Satellite TV, refrigerator, hair dryer, safe, closet, phone and desk, 110V, 60-cycle alternating current (AC) with standard U.S. plug fittings, Daily housekeeping service, Evening bed turn-down and chocolates on your pillow. Some also have pullman beds to accommodate 3rd and 4th passengers.
158 square feet

Sleeps 2-4
Decks
Golf Practice Cage

Shuffleboard

Sun Deck

Jogging Track

Library

Sabatini's

Sterling Steakhouse

Pacific Lounge

Dance Floor

Spa
Deck BBQ

Bandstand

Beauty Salon

Card Room

Fitness Centre

Internet Café

Lotus Spa

Panorama Buffet

Pizzeria

Pool & Hot Tubs

Pool Bar

Steam Room

Interior Staterooms

Balcony Staterooms

Mini-Suite Staterooms

Suite Staterooms

Interior Staterooms

Oceanview Staterooms

Balcony Staterooms

Suite Staterooms

Oceanview Staterooms

Balcony Staterooms

Suite Staterooms

Boutiques

Cabaret Lounge
Casino

Casino Bar
Club Restaurant & Bar

Dance Floor
Photo Gallery

Interior Staterooms

Oceanview Staterooms

Medical Centre

Passenger Services

Shore Excursions

Dining
The Princess chefs are true culinary artists who insist on serving the very finest cuisine - and it shows. The entire fleet has been inducted into the prestigious Chaîne des Rôtisseurs gastronomic society. Each chef's menu is creative and the selections change every day. Pair that with impeccable service and you're in for an unforgettable gourmet experience.
---
Traditional- Club Restaurant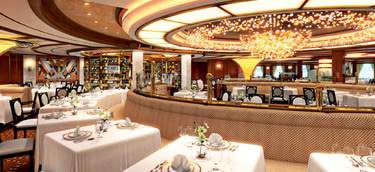 Ocean Princess' Club Restaurant, located on deck 5, is it's main dining room.
With open seating from 7.30am to 9.30am for breakfast, 12 to 1.30pm for lunch (sea days), dinner is traditional dining at set tables with either early (6pm) or late (8.15pm) seatings.
The lunch time menu offers starters, main courses and desserts ranging from items such as avocado and shrimp or soup for starters, pasta, salmon or beef for mains and apple tarte tatin or ice cream for dessert.
Dining Experience:
Complimentary
This Italian restaurant is a refined yet casual dining establishment rich in atmosphere, showcasing an Italian and Mediterranean menu with a heavy emphasis on premium seafood. Sabatini's is open for dinner.
Dining Experience:
Cover charge may apply
The Sterling Steakhouse, recently voted one of the "Best Cruise Ship Steakhouses" by USA Today, showcases prime cuts of Sterling Silver grain-fed beef presented to passengers on a silver presentation tray. Passengers are treated to a traditional American Steakhouse experience with special table settings, decorative linens, signature cutlery and table lanterns.
Dining Experience:
Cover charge may apply
Stay in for dinner and enjoy the Ultimate Balcony Dining Experience, delivered right to the comfort of your own balcony.
Dining Experience:
Cover charge may apply
---
Panorama Buffet & Pizzeria
The Panorama Buffet is Ocean's casual buffet style eatery open for breakfast, lunch, afternoon tea and dinner and has both indoor and outdoor seating.
With a selection of self-serve cooked and continental breakfast options, including cooked to order eggs and themed buffets such as Chinese and carvery for lunch, at dinner it becomes a casual restaurant.
The Pizzeria on deck 9 is located within the Panorama Buffet and serves slices of thin crust pizza from 11am to 2.30pm and 7pm onwards.
Dining Experience:
Complimentary
Follow your nose to the Trident Grill where the burgers are flipping and the hotdogs roasting, served with a variety of fixin's and crisp fries. Veggie burgers, bratwurst and grilled chicken breast are also served and all are sure to hit the spot when you are relaxing out on deck.
Dining Experience:
Complimentary
Entertainment
To say the night-life on-board is entertaining is an understatement. Illuminating the stage in captivating productions, Princess Cruises performers are some of the most talented musicians, singers and dancers at sea. Our Princess Signature Shows, lounge performers, movies and casinos are just some of the entertainment our guests enjoy as they escape completely.
The ideal place for guests to go and watch a theatre production or a movie on the big screen. 
Located on deck 5, The Cabaret has its own large dance floor, bar and stage.
The second large lounge, located on deck 10 is the Pacific Lounge. High on the ship overlooking the bow, it offers spectacular views. There is a bar, a large dance floor, stage, and areas reminiscent of a cocktail lounge. 
The casino on Deck 5 features an array of the latest slots and your favourite games of chance including blackjack, Texas Hold'em, and roulette.
The adjacent Casino Bar has the character of a gentleman's club and presents live music in the evenings. 
There is also has a card room on deck 9, along with selection of board games for guests to use.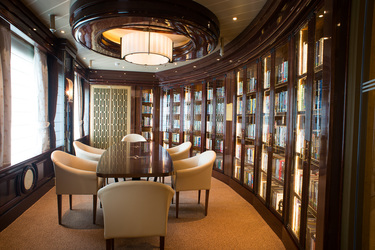 The ship's library has a wide range of both fiction and non-fiction books for guests to read either in the comfortable seating provided or to take out and read.
The Internet Cafe on deck 9 has 8 computer stations and printing facilities (charges apply for printing also).
Charges for the internet (subject to change and including account activation fee) are as follows:-
120 minutes for $62.95 (includes 20 bonus minutes for pre-purchasing an Internet time package).

190 minutes for $82.95 (includes 40 bonus minutes for pre-purchasing an Internet time package).

310 minutes for $102.95 (includes 60 bonus minutes for pre-purchasing an Internet time package).

1100 minutes for $252.95 (includes 100 bonus minutes for pre-purchasing an Internet time package and available on World Cruises only).

The ship has two shops on deck 5 selling items ranging from fashion, logo clothing and souvenirs to duty free spirits, jewellery and sundries.
Health and fitness
The many activities on-board our ships are designed to stimulate, educate, entertain, inspire and sweat - not necessarily in that order. But, guests can be sure crew onboard will do their best to cover all the bases. From art auctions to the Spa, this ship is loaded with fun things to do.
You'll enjoy complete relaxation as you float serenely in the pool, located on deck 9 with two hot tubs. The Pool area is catered for by the outdoor Deck BBQ serving burgers and hotdogs and the pool bar.
Entertainment is also provided from the bandstand area by the pool and includes live music and ice carving demonstrations.
This ship will keep you on the run, literally, with basketball, paddle tennis, jogging tracks and state-of-the-art gyms equipped with machines that'll keep your heart rate pumping. If that isn't enough, there is also a golf practice cage for guests to use on Deck 11.
The Lotus Spa includes a fitness centre, beauty salon, treatments rooms with treatments such as massages, body wraps and facials and Steam rooms and the Thalasso spa pool. 
The Thalasso Spa Pool contains gently heated concentrated seawater offering guests the chance to relax and experience the benefits of healing salts combined with massage jets to relax and rejuvenate the body. Partially covered, it is surrounded by a decked area to relax on the teak loungers provided. There is an additional charge to use this pool.
The ship's unisex salon, offers a range of services from cuts and colours to manicures and pedicures.

Kids and Teens
Ocean Princess has no facilities for children as due to the nature of the cruises, the ship doesn't attract many children. 
However when 20 or more children aged from 3-17 are travelling youth programmes are offered with events designed to cater for them.
Enrichment
When is a cruise an opportunity to enrich? When it's a Princess cruise. This ship offers area lectures, art exhibits and classes taught by local experts.
Expand your mind with an array of engaging Scholarship@sea opportunities. There are up to 40 classes on every cruise. Tantalise your taste buds on the Culinary Arts course or take a Wine Tasting seminar. Discover your crafty side and create a wonderful holiday keepsake.

Fancy a little enlightenment on your holiday? Learn to navigate a cruise ship at an engaging presentation. Embrace the digital age and tackle technology at one of the
Useful to know
Wheelchair users will find access-friendly design across most of the Princess fleet, making it easy to enjoy each vessel's restaurants, theaters, spas, lounges and open deck space. Elevators have generous 36- to 42-inch doorways, and wheelchair seating is available in show lounges and other public spaces.

Guests with sight and hearing disabilities will find vessels equipped with such helpful features as Braille elevator call buttons, audible arrival sounds and infrared listening assistance systems in the Princess theatres. ADA "all in one" kits are available upon request -- featuring telephone amplifiers, visual smoke detectors, door knock sensors, text telephones (TDD) and other aids.

Princess ships also welcome service animals, and have hosted a variety of such special helpers, including seeing-eye dogs, hearing-assistance dogs, and even a "helping hands" monkey.
---
Special Dietary Requirements
Princess Cruises are happy to meet your request for low-sodium, low-fat, low-sugar and vegetarian diets. Kosher meals and baby food are available upon advance written request. Any other special diet requests must be authorized in advance by the Princess corporate office.

You or your travel agent must advise Princess in writing of any special diet, allergies or medical needs. Requests must be received no later than 35 days prior to departure for cruises to Alaska, Canada/New England, Caribbean, Hawaii, Mexico, Panama Canal and Coastal Getaways. For all other cruises, requests must be received no later than 65 days prior to departure. Once onboard, please check with the Maitre D' to confirm your request.
The legal drinking age of 21 years is always observed on-board all ships and proof of age may be required. All on-board staff are trained to take their responsibility to not serve alcohol to under-age passengers seriously. The age restrictions are clearly posted in the bars.
Entry into the disco is limited to passengers 18 years and older. Be sure to check with the child and teen centres, however, for special disco events designed just for kids. Children under the age of 18 are welcome in the gymnasium, spa and jacuzzi; and also in the evening entertainment show lounges when accompanied by a parent or guardian.

In line with domestic age limits, as well as Princess' company policy, the casino is reserved for passengers 21 years and older. Additionally, only those passengers 21 years and older will be allowed to purchase or consume alcohol. For those whose age is questionable, picture identification may be requested.
You should dress for a cruise with Princess the same way you would for any stylish land-based resort.
Casual sportswear, including shorts, lightweight pants and jogging suits, is the order of the day both at sea and ashore in hotter climates.

Princess recommend you bring a sweater, a jacket or an all-weather coat for cool evenings, and for shore excursions, depending on your destination. Due to unpredictable weather, don't forget a hat or visor and a collapsible umbrella. Please be sure to bring proper clothing for visits to religious sites. You'll also want low-heeled, rubber soled shoes for strolling on deck, as well as comfortable walking shoes or sandals to wear.

Princess makes it easy to know what to pack and what to wear when you're dining on-board our spectacular ships. There are two designations for dress codes: Smart Casual and Formal.

Smart Casual:
Passenger attire should be in keeping with what they would wear to a nice restaurant at home; Skirts/dresses, slacks, and sweaters for ladies, trousers and open-neck shirts for men
Inappropriate dinner wear such as pool or beach attire, shorts, ball caps and casual jeans (with fraying and/or holes) are not permitted in the dining rooms. Shoes must be worn.

Formal:
When formal nights are held, please observe the dress code in the Traditional Dining and Anytime Dining venues for the enjoyment of all guests. Evening gowns and cocktail dresses are suggested for women; Tuxedos, dinner jackets or dark suits with a tie for men
All Inclusive Beverage Package:
Relax and enjoy the convenience of an all inclusive beverage package featuring any drink up to $10 including cocktails, wine, beer, sodas, lattes, cappuccinos, bottled water & more. All for just $49 per person per day.

Unlimited Soda Packages:
Guests wi'll never be without their favourite fountain sodas, from Coke, Diet Coke, Sprite and Barq's Root Beer, to nostalgic orange soda, soda water, tonic water and ginger ale. The Unlimited Soda & More Package allows guests as many fountain sodas, refreshing juices, fruity mocktails and creamy ice cream shakes as you can handle.
---
E-Cigarette & Smoking Policies
Keeping the comfort of our guests a priority, and in consideration of consumer studies which show smokers are a small minority of guests, Princess has implemented the following smoking policy:
Designated Smoking Areas
Clearly marked "Designated Smoking Areas" are available onboard and include a sufficient number of ashtrays that are emptied regularly. Generally, these areas include cigar lounges, a section of the nightclub, as well as a portion of the open decks. The Casino and Casino Bar are non-smoking areas on board, with the exception of designated slot machines where guests are permitted to smoke only while playing at those machines. All table games are non-smoking. The Casino will also have one or more non-smoking nights (6 pm to closing), depending on length of voyage. Show lounges, dining rooms and all food services areas on board all Princess ships are non-smoking. As a safety precaution, guests are reminded to properly dispose of cigarettes, cigars and pipe tobacco, which are never to be thrown overboard as this may be sucked back into the ship and cause fires.
Stateroom Smoking Policy
Princess Cruises prohibits smoking in guest staterooms and balconies. This reflects the preferences of a vast majority of our guests who value having their primary living space (both stateroom and balcony) smoke-free. As balconies are a hallmark of Princess Cruises, we believe it is important to keep this peaceful space clear of smoke. Violations to this policy will result in a $250 fine for each occurrence, which will be charged to the guest's stateroom account. Keeping with the global trend toward more restrictive smoking policies and honoring the wishes of our guests, we feel this enhances our onboard experience.
Electronic Cigarettes
The use of electronic cigarettes is allowed within the confines of the guest's stateroom (balcony not included) and within designated smoking areas only.