Is it adventure you seek, or a restful retreat from life on land? Royal Caribbean's Explorer of the Seas is home to an array of innovations that give you whatever type of vacation you desire. Climb a rock wall that overlooks the sea, or find your adventure on the basketball court, ice-skating rink or mini-golf course. If it's zen you seek, achieve it poolside or at the relaxing Vitality Spa. Liven up your nights on the Royal Promenade, with parades, dancing, and duty-free shopping deals. And bring along some friends—with spacious public areas, enhanced staterooms, and a spectacular three-story dining room, this ship has room for your whole crew.
Specifications
Lloyds No

9161728

Size

mega

Style

resort

Type

ocean

Year of launch

2000

Year of last refit

2014

Gross tonnage

137308t

Length

310.9m

Width

48.0m

Speed

22kts

Decks

14

Language

English (American)

Currency

US Dollar ($)

No. of passengers

3840

No. of crew

1185

No. of cabins

1557

-wheelchair access

26
Gratuities
On all our ships, it is customary to offer tips to staff members for their good service and personal attention. You can pre-pay your service charge as part of your booking and this will be shared among Dining Services Staff, Stateroom Attendants and Other Housekeeping Services Personnel. If you have opted not to pre-pay your Service Charge before your cruise, for your convenience we will automatically add a $14.50 per guest per day service charge to each guest's SeaPass account on a daily basis. For guests in a Grand Suite or above, the amount is $17.50.
An 18% service charge is also automatically added to beverages and beverage packages, mini-bar items, spa & salon purchases as well as specialty dining products, including packages, classes and brunches.
Many of our guests choose to reward exceptional service during their cruise by providing additional gratuities. You may do so by providing an additional gratuity to your SeaPass onboard account or a cash gratuity at your discretion.
Accommodation
Four main types of stateroom are available – Suites/Deluxe, Balcony, Outside and Inside – each with 24 hour service provided by an attendant. A total of 19 cabin types are currently available, including accessible and family rooms.
---
Suites & Deluxe Staterooms
The most spacious and luxurious of all suites, these include extra touches such as private balconies and a personalised concierge service. 
Royal Suite: 1090 Square Feet, Balcony 215 Square Feet, Sleeps 4

Owner's Suite: 560 Square Feet, Balcony 90 Square Feet, Sleeps 4

Royal Family Suite: 560 Square Feet, Balcony 245 Square Feet, Sleeps 8

Grand Suite: 350 Square Feet, Balcony 100 Square Feet, Sleeps 4

Junior Suite: 265 Square Feet, Balcony 75 Square Feet, Sleeps 4

Throw open the doors and let the ocean air invigorate you. Take in the view all the way to the horizon in a luxurious stateroom with a private balcony. 
Superior Balcony Stateroom: 180 Square Feet, Balcony 50 Square Feet, Sleeps 2

Deluxe Balcony Stateroom: 165 Square Feet, Balcony 50 Square Feet, Sleeps 2

Even after a day of activity there's no need to lose your sea view – Outside Staterooms give you a panoramic window on the world. 
Family Ocean View: 265 Square Feet, Sleeps 6

Panoramic Ocean View: 190-405 Square Feet, Sleeps 4

Large Ocean View 175 Square Feet, Sleeps 2

Ocean View: 160 Square Feet, Sleeps 2

Comfort and little luxuries are the order of the day in these cosy and affordable Interior Staterooms. 
Interior Staterooms: 150 Square Feet, Sleep 2

Decks
Ocean View Staterooms

Conference Centre

Loyalty Ambassador Desk
Ocean View Staterooms
Interior Staterooms
The Palace Theatre
Studio B & Ice Rink
RCTV
Sapphire Dining Room
Focus


The Palace Theatre
Schooner Bar
Giovanni's Table
Casino Royale
The Centrum
The Tavern
Art Gallery
Sapphire Dining Room


Observation Deck
Star Lounge
Connoisseur Club
Cafe Promenade
Royal Promenade & Shops
Ice Cream Parlour
Crown & Kettle Pub
R Bar
Shore Excursions
Guest Services
Sapphire Dining Rooms


Junior Balcony Suite
Superior Ocean View Staterooms with Balcony
Deluxe Ocean View Staterooms with Balcony
Family Ocean View Staterooms
Large Ocean View Staterooms
Ocean View Staterooms
Promenade Staterooms
Interior Staterooms
Next Cruise


Junior Balcony Suite
Superior Ocean View Staterooms with Balcony
Deluxe Ocean View Staterooms with Balcony
Family Ocean View Staterooms
Large Ocean View Staterooms
Ocean View Staterooms
Promenade Staterooms
Interior Staterooms
Library
Royal Family Suite with Balcony
Superior Ocean View Staterooms with Balcony
Deluxe Ocean View Staterooms with Balcony
Family Ocean View Staterooms
Large Ocean View Staterooms
Promenade Staterooms
Interior Staterooms
RCI Online
Royal Family Suite with Balcony
Junior Suites with Balcony
Superior Ocean View Staterooms with Balcony
Deluxe Ocean View Staterooms with Balcony
Family Ocean View Staterooms
Large Ocean View Staterooms
Ocean View Staterooms
Promenade Staterooms
Interior Staterooms with Virtual Balcony
Interior Staterooms
Concierge Club
Royal Family Suite with Balcony
Owners Suite with Balcony
Grand Suite with Balcony
Junior Suites with Balcony
Superior Ocean View Staterooms with Balcony
Deluxe Ocean View Staterooms with Balcony
Interior Staterooms with Virtual Balcony
Interior Staterooms
Vitality Spa & Fitness Centre
Whirlpools
Swimming Pools
Solarium
Pool Bars
Sea Trek Dive Shop
Outdoor Movie Screen
Chops Grille 
Windjammer Cafe
Deluxe Ocean View Staterooms with Balcony
Family Panoramic Ocean View Staterooms
Larger Panoramic Ocean View Staterooms
Accessible Panoramic Ocean View Staterooms
Panoramic Ocean View Staterooms
Vitality at Sea Spa
Sky Bar
Running Track
Video Arcade
Optix Teen Disco
Adventure Ocean
Johnny Rockets
Outdoor Youth Area
Rock Climbing Wall
Sports Court
Explorer Dunes Golf Course
Flow Rider
Izumi 
Dizzy's
Viking Crown Lounge
Diamond Club
Dining
Whatever you're in the mood for, you can tempt your taste buds with delicious food and drink at a variety of fantastic venues onboard Explorer of the Seas®.
This elegant 3 story restaurant is the perfect place for a special occasion, with a menu of fine dining and our trademark excellent service.
Dining Experience:
Complimentary
1950s style diner, offering fast, friendly service. A traditional burger joint serving a range of hamburgers, hotdogs, milkshakes and sodas, indoor and outdoor seating is available, with jukeboxes adding to the ambiance.
Dining Experience:
Cover charge may apply
Self-service buffet breakfasts and lunches, with restaurant service during the evenings. Casual atmosphere combined with a changing evening menu makes Windjammer one of the more popular eateries onboard.
Dining Experience:
Complimentary
Be transported to an Italian trattoria at this rustic venue, where the signature flavours of Tuscany and delicious fresh ingredients combine to make a truly special dining experience.
Dining Experience:
Cover charge may apply
The traditional japanese dishes at Izumi will impress you with their pure, delicate flavours, freshness of ingredients and impeccable presentation. Diners can choose from popular sushi rolls, sashimi, Hot Rock (Ishiyaki) Plates, sukiyaki and more.
Dining Experience:
Cover charge may apply
Royal Caribbean's popular signature steakhouse, featuring grade-A premium cuts of steak cooked to your specifications, plus fresh seafood, hearty side dishes and signature desserts in an upscale, contemporary setting.
Food type:
Steak & Seafood
Dining Experience:
Cover charge may apply
This café on the Royal Promenade offers specialty coffees, snacks and pastries in the morning and sandwiches and cookies throughout the day and night.
Dining Experience:
Cover charge may apply
Entertainment
From traditional cruise favourites to innovative, first at sea activities; the entertainment onboard offers something for all ages and preferences.
The exciting Casino Royale offers, roulette, black jack, poker and slot machines, with lessons, games and tournaments for players of all abilities.
Located in the heart of the ship; 2 football pitches long and 4 decks high – the Royal Promenade is lined with boutiques, as well as 24-hour casual dining and drinking options.
Standing five decks high (from orchestra pit to domed ceiling), the impressive Palace Theatre showcases contemporary musical stage productions, West End style shows and stand up comedians.
Studio B is a multi-purpose complex housing a wide range of activities – from ice skating to cooking demonstrations and classes.
The Champagne Bar is elegant, sophisticated and most importantly stocks some of the finest champagnes at sea. This venue is great for a special occasion, a pre dinner drink or just to celebrate that you are on holiday. Accompanying drinks will be an assortment of canapés.
Offering traditional ales and lagers within a great British pub atmosphere, this venue truly is a home from home.
The ship's pool bars make it easy to stay cool in the sun without having to stray too far from the deck chair. They offer a range of refreshing drinks and cocktails for passengers to enjoy.
This nautical themed bar is available on all Royal Caribbean ships. In the evening this is a popular place to be, with live piano playing and singing.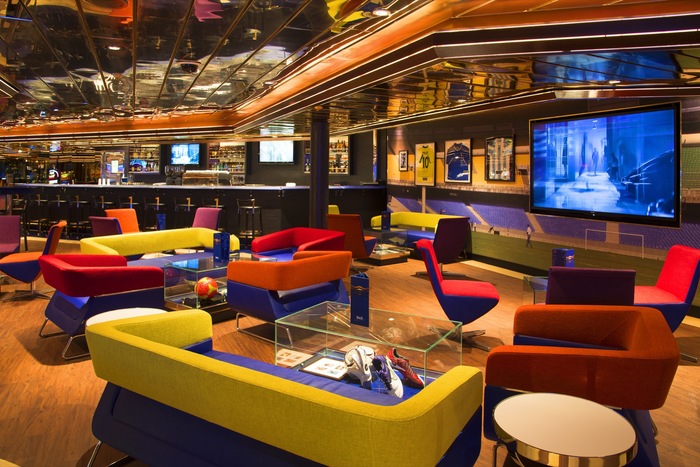 Passengers can grab a beer and catch all the big matches in the ship's Sports Bar. It's just like your favourite sports bar at home - only it's at sea!
Offering the best views at sea The Viking Crown Lounge is Royal Caribbean's signature bar. Located on the top deck, this glass lounge, offers unmissable panoramic great views.
Original art is displayed in the onboard art gallery as well as throughout the ship. To purchase something for your own collection, visit an onboard art auction.
Live music, dancing, and entertainment.
This dimly-lit lounge is perfect for sipping on a cognac.
Experience a 1960s vibe at the all-new R Bar, featuring iconic furnishings and classic cocktails — gimlet, martini, gin, whiskeys and more — all served by the ship's resident mixologist. And be sure to try the drink specials, specially created to complement the Centrum's nightly theme and aerial performance.
Peace, quiet, and your next great read – find it all at the well-stocked library, featuring a variety of genres, plus tables for cards and board games. Everything's complimentary for your enjoyment.
Guests staying in Grand Suite-level rooms and higher, Diamond Plus and Pinnacle Club Crown & Anchor® Society members enjoy access to this lounge serving complimentary continental breakfast and evening drinks.
Watch first-run movies and big time sporting events the way they were meant to be seen - poolside, under the stars. A screen hoisted above the main pool area will showcase all the larger-than-life action.
Diamond, Diamond Plus, and Pinnacle Club Crown & Anchor® Society members enjoy access to this lounge, created to serve these loyal guests with concierge access, complimentary continental breakfast, and evening drinks.
Health and fitness
The ship features a fantastic array of health and fitness facilities including a spa, fitness centre, rock climbing wall and much more.
A range of services and relaxation treatments are available from the Vitality Spa & fitness Centre. The salon, located within the spa area, offers haircuts, styling, manicures, pedicures and teeth whitening. Visit Vitality Spa for massages, reflexology, facials, bodywraps and acupuncture. 
Health, fitness and beauty demonstrations are run by qualified professionals during most voyages. The Vitality Wellness Programme offers a holistic approach to well being, with seminars, expert advice, healthy menu options, fitness programmes and spa.
Passengers can also enjoy the ship's fantastic sporting facilities, which include: an ice rink, a golf simulator, a jogging track, as well as basketball and volleyball courts. Thrill seekers can also try out the impressive rock climbing wall.
The Solarium offers a calm, quiet, peaceful atmosphere for adults to relax in. Both in and outdoors, the lounge area can be covered during cooler weather by a large glass roof.
Ever thought about climbing a rock wall 200ft above sea level? With the ship's onboard rock wall this can become a reality. Passengers who take on the challenge will experience some of the best views at sea.
Your friends are never going to believe you surfed onboard a ship! Even the best beaches have bad days, but on the FlowRider®, surf's always up. Plus, whether you're boogie boarding or surfing, the FlowRider® is great fun for all ages and all skill levels.
---
Explorers Dunes Golf Course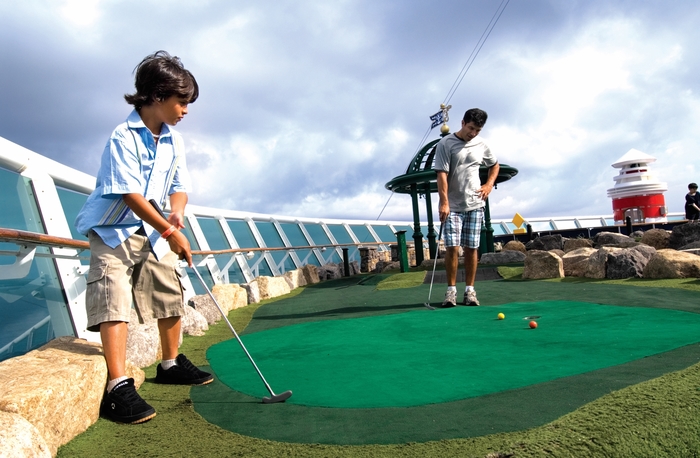 Our 9-hole miniature golf course will entertain adults and children alike.
---
Swimming Pools & Whirlpools
Warm up in one of the relaxing whirlpools or take a refreshing dip in one of the three swimming pools.
Run laps while taking in the view with tracks that are open to anyone.
Kids and Teens
Royal Caribbean International's cruise ships offer a wide range of options for the whole family, as well as a great range of just-for-kids options.
The Adventure Beach family pool area offers deckchairs, a slide and pool for kids to splash around in to their hearts content.
Optix Teen Disco lets teens have the chance to relax, hang out, dance and have some fun away from mum and dad.
A play area with specially designed activities for kids from 3-17. Run by exceptional, energetic and college-educated staff.
Blips, bleeps, clangs and cheers. Play to win in a classic arcade atmosphere with timeless games like Pacman and table hockey, plus the latest – Guitar Hero, Fast and Furious Drift and more.
Enrichment
Enrichment programs, or 'Explorer Academy' classes cover a wide range of topics, from wine tasting to casino tuition.
Classes include:

Wine tasting - learn about wines from around the world

Casino tuition - from poker to blackjack, learn how to play some of the casino's most popular games

Dance and fitness - including yoga, pilates, ice skating and dance

Language

Cookery - try your hand at cupcake decoration

Useful to know
---
Special Dietary Requirements
Special meals can be provided on all ships, when requested in advance, however not all requests are guaranteed. Requests must be submitted no later than 60 days prior to sailing. 
A wide range of vegetarian and gluten free meals are available onboard as standard.
Wheelchair accessible staterooms are available on request. These can include electric entrance doors and accessible shower facilities. Priority and assisted boarding is also available on request. 
The ship has ramps and lifts on most decks, and hoists are available on request at certain pools and jacuzzis. Please note that passengers must provide their own wheelchairs/scooters or hire from an outside vendor.

There are three distinct types of evening on board: casual, smart casual and formal. Suggested guidelines for these nights are:
Casual: Polo shirts and trousers for men, sundresses or trousers for women.

Smart Casual: Jacket and shirt for men, dresses or trouser suits for women.

Formal: Suits and ties or tuxedos for men, cocktail dresses or trouser suits for women.
There are however certain restaurants onboard which maintain a casual dress code throughout the cruise. On a typical 14 night cruise, 8 nights will be casual, 3 nights will be smart casual and 3 nights will be formal, however this depends upon individual cruise itineraries.

For sailings that depart from a port in Europe, Australia, New Zealand, South America and Asia, the minimum age for purchase and consumption of alcohol is 18. , For any sailing which commences outside of the above stated areas, the minimum drinking age is 21. Therefore any ships departing from or calling at a port in North America the minimum drinking age will be 21. 
Passengers who wish to use the spa, casino and adult nightclub must be 18 years or over. Those wishing to use the solarium and whirlpools must be 16 years or over. Under 16s must be accompanied by an adult when attending the theatre.
The following drinks packages are available onboard:
Deluxe Beverage Package
Enjoy any individual beverage item up to $12 (retail value) available onboard, choosing from selected cocktails, spirits, liqueurs, wines, beer, soda beverages, bottled water, freshly squeezed juices, mocktails, premium coffee and premium tea. Plus a 40% discount on bottles of wine under $100 and 20% off bottles over $100. Prices start from $65/day (Including onboard tax)
Refreshment Package
Enjoy our selection of premium coffees and teas, bottled water, fresh-squeezed juices, non-alcoholic cocktails, plus fountain soda with a free Coca-cola souvenir cup. Prices start from $30/day (including onboard tax)
Classic Soda Package
Quench your thirst for just a few dollars a day with unlimited fountain soda refills and receive a free Coca-cola souvenir cup. Prices start from $10/day (including onboard tax)
Café Select Coffee Card
Indulge in your favourite brews with a card that entitles you to any 15 speciality espresso-based coffees, premium teas, and hot chocolate all for one low price. Prices start from $36/day (Including onboard tax).