Combining the chic with the classic, Arcadia offers a wonderful blend of features tailored to relaxation and pampering. With one main restaurant with two tiers, a grill restaurant from Marco Pierre White and 'Sindhu', in addition to an expansive spa with thermal suite and hydro-therapy pool, art gallery, a three-tiered theatre and a boutique cinema, she offers more than a hint of extravagance.
Specifications
Size

super

Style

Resort

Type

ocean

Year of launch

2005

Year of last refit

2017

Gross tonnage

83700t

Length

285.0m

Width

29.0m

Speed

24kts

Decks

11

Language

English

Currency

Pound Sterling (£)

No. of passengers

2385

No. of crew

880

No. of cabins

1008

-wheelchair access

28
Unique Features
The ship benefits from the skill and expertise of award winning celebrity chef Marco Pierre White in his wonderful Ocean Grill restaurant. From Baked Portobello Mushroom with Spinach Leaf and Pecan Salad to Salt Marsh Lamb Rack with Dauphinoise Potato, crushed Minted Peas and Romarin Scented Jus, passengers are sure to enjoy the culinary masterpieces on offer.

The ship's fantastic New Horizons programme offers to passengers the chance to leave their cruise with a new hobby, skill or passion. With classes ranging from cookery, and ballroom dancing, to feng shui and tai chi, passengers can search for true enlightenment.
Gratuities
Gratuities are included in the price so you can relax knowing that it's all taken care of.

Accommodation
From inside cabins to balcony cabins and luxurious suites, you will find a room for every budget and taste.
All cabins are air-conditioned and well designed, to give you as much space as possible and to help you relax into your surroundings. Many feature balconies to give you additional outside space. All feature Egyptian cotton sheets, free tea & coffee making facilities, refrigerator, hairdryer, safe, in-cabin television and good sized en-suite bathrooms with toiletries pack. You will also enjoy the services of a personal cabin steward who will look after your every need, and can enjoy room service from early morning until late evening at no extra cost.
Passengers can travel in style and luxury with the butler-service Suites. These fully air-conditioned suites feature a separate bedroom with two single beds, convertible into one king-size bed. The bathroom boasts a whirlpool bath, shower and WC, as well as complimentary bathrobes & slippers. Additionally there is a useful dressing area with an iron & ironing board, trouser press and a hairdryer.
449-753 square feet

Sleeps up to 4

These fully air-conditioned suites feature two single beds, convertible to one king-size bed. The bathrooms boast a whirlpool bath, shower, dual sink vanity unit and a WC. Suites include a complimentary premier pamper pack with bathrobe & slippers. Additionally there is an iron & ironing board, trouser press and a hairdryer.
368-384 square feet

Sleeps up to 4

There's nothing quite like opening the doors onto your own private balcony. These fully air-conditioned balcony cabins enjoy two single beds convertible to one king-size bed. The bathrooms boast a bath with shower or shower only, sink, and WC.
178-237 square feet (including balcony)

Sleeps 2

These spacious cabins are perfect for passengers who want a more economical way to travel. These air-conditioned outside cabins have two lower beds that are convertible to one king-size bed with wardrobe and drawer space. The bathroom has a shower, or a shower over bath, and a WC. There is a writing desk and TV. Outside cabins may have a window or a porthole.
137-181 square feet

Sleeps 2

A beautifully designed space to rest your head, Inside Cabins offer a comfortable and economical way to travel.

Fully air-conditioned, they feature two lower beds convertible to one king-size bed. The bathrooms boast a bath with shower or shower only, sink, and WC.
137-181 square feet

Sleeps 2

With the choice of either an inside or outside location, these cabins are perfect for the single traveller. These beautifully designed cabins feature a single bed, shower, sink, and WC. Outside cabins will have a window or porthole. Inside cabins will have a mirror.
Decks
The Palladium

Reception

Outside Cabins

Inside Cabins

The Palladium

Monte Carlo Casino

The Rising Sun

The Globe

Art Gallery

Ocean Grill

Intermezzo

Spinnaker Bar

Meridian Restaurant

The Palladium

Shopping

Horizon

The Screening Room

Caffe Vivo

Library

Emporium

The Piano Bar

Meridian Restaurant

Suites
Deluxe Balcony Cabins

Outside Cabins
Inside Cabin

Suites

Mini-Suites
Deluxe Balcony Cabins
Inside Cabins

Suites

Deluxe Balcony Cabins

Outside Cabins

Inside Cabins

Suites

Mini-Suites

Deluxe Balcony Cabins

Inside Cabins
Deluxe Balcony Cabins

Inside Cabins

Suites

Gym

Oasis Spa & Salon

Hydro Pool

Steam Rooms

Sauna

Neptune Pool

Neptune Bar

The Belvedere

Aquarius Pool

Aquarius Bar

The Crow's Nest

Skydome

Diversions

The Retreat

Wedding Venue/Viceroy Room

Mini-Suites

Deluxe Balcony Cabins

Single Balcony Cabins

Single Inside Cabins

Inside Cabins

Sports Court

Sindhu

East Bar

Dining
The ship features two speciality restaurants, a grand two-tier main dining room and a host of café's and snack bars. From elegant fine dining to self-service buffets, there's a wide choice of flexible, casual and club dining options to suit everyone.
Featuring a galleried layout and refined décor, every night will be an occasion in the Meridian Restaurant.

At the stern end of F Deck, with easy access from the aft lifts, you will find the two-tier Meridian Restaurant - a first for P&O Cruises! As you enter the restaurant you'll be welcomed by the sight of beautifully laid tables adorned with the whitest of linen. Warm creams and yellow colours set a natural tone within the restaurant, and a spiral staircase, central bandstand and a collection of unusual, hand-made, fibre-optic enhanced glass chandeliers add drama to your dining experience. Surrounded by art depicting natural themes including trees, landscapes and plant structures, you can enjoy a six-course menu featuring an eclectic range of traditionally British cuisine, as well as choices influenced from ideas around the globe.
Dining Experience:
Complimentary
Just a few steps away from Arcadia's shops, this fantastic coffee shop is a great place to take a break and people watch.
Located on the starboard side of Promenade Deck, between the Library and The Screening Room, is Caffè Vivo. Adorned with brown leather sofas, high tables and stools and wooden floors, Caffè Vivo takes its cues from the warmth and vibrancy of the Mediterranean and provides a cosy and inviting atmosphere. Relax over a delectable cookie or pastry with a magazine, refresh your palate with a smoothie or freshly squeezed juice, or opt for a lunchtime snack. With anything from salads and bagels, to crostini and noodles on the menu, Caffè Vivo is much more than simply a coffee bar.
Dining Experience:
Cover charge may apply
For casual dining at its best, stop by the Neptune Grill, midships on the starboard side of Lido Deck.
Serving snacks, refreshments and daytime meals, the Neptune Grill is a great place for relaxing and enjoying a casual poolside snack. Situated in a large sunbathing area, with a bar and an area set aside for a band, you'll often be treated to some music on deck, as you enjoy the laid-back atmosphere around the pool. When the weather is not the best, the grill is protected by the amazing retractable Skydome. It's a great place to get into the holiday mood, for here the sun always shines!
For flexible dining at any time, visit The Belvedere Restaurant, midships on Lido Deck.
So named because it commands fine views through floor-to-ceiling windows, The Belvedere food court offers informal dining around the clock. With a wide choice of menus from Oriental and Italian to bistro-style dishes and a delicatessen counter, this stylish and modern venue is the place to go for casual dining any time of the day or night. Light and airy, the décor has a soft, calm Japanese theme and is furnished with outside seating so you can opt to dine alfresco.
Dining Experience:
Complimentary
In Marco Pierre White's Ocean Grill you can look forward to all kinds of culinary delights.
From Baked Portobello Mushroom with Spinach Leaf and Pecan Salad to Salt Marsh Lamb Rack with Dauphinoise Potato, crushed Minted Peas and Romarin Scented Jus - the choice is yours. Of course, no self-respecting grill restaurant would be complete without succulent steaks - all our cuts come from Premium Grass-fed beef, dry-aged on the bone for a minimum period of 28 days
Dining Experience:
Cover charge may apply
Experience a taste of India in the Sindhu Restaurant.

The restaurant is located at the top of Arcadia on Sky Deck, adjacent to the central lifts. Here you will be welcomed by panoramic views, an informal atmosphere and contemporary décor. Warm neutral tones, exciting materials and elegant fabrics envelope the room and the artwork combines the rich colours of eastern spices with typical oriental themes, which enriches the Sindhu Restaurant's warm and relaxing ambience. At Sindhu you can expect modern Indian cuisine with a British twist.
Dining Experience:
Cover charge may apply
Entertainment
There's never a dull moment...
P&O Cruises offers the very best in cruise entertainment. Days can be filled with as much or as little as you want, whilst evenings are no doubt the social highlight. When the sun goes down your ship begins to come alive with the hum of conversation and music, and you can be sure of a memorable night.
This impressive three tier theatre, is located at the very forward end of the ship. Comfortable theatre-style-seating arcs around the stage in three tiers, affording excellent views from every angle.

In The Palladium, the drama is not confined to the stage, as the décor adds a theatrical touch of its own. A rich colour scheme of royal blue, violet, midnight blue and silver sets off the main attraction - the shows themselves. Providing all the magic and anticipation of the West End, it features several major production shows, an array of cabaret acts and classical concerts.
This relaxed lounge offers sweeping panoramic ocean views and a convivial atmosphere. By day passengers can sit back and relax with a book in one hand and a coffee in the other, pausing every now and again to enjoy the view. Jazz nights, cabaret and dancing all make the Crow's Nest a perfectly relaxed and elegant post-dinner venue.
The Monte Carlo Casino it a great place to continue a fun night out after post dinner drinks or a show. It is adorned with purple leather chairs around felt gaming tables, giving the casino a sumptuous, glamorous feel. In addition to the two roulette tables and three blackjack tables, passengers will find over 50 slot machines.
With its shining black marble bar, sparkling starlights and glamorous décor, The Globe certainly provides the perfect atmosphere to relax in style. Here passengers can catch the latest film releases on its cinema screen, attend an art auction, enjoy some late night cabaret or boogie the night away to some live music.
This 30-seat boutique cinema is Arcadia's dedicated space for showing films on board. It offers a variety of classic British films, family favourites and some of the latest blockbusters.
With numerous bars and venues emanating from it, the Atrium has a wonderfully contemporary feel. It boasts a dramatic shimmering two-tone curtain that cascades down over the three levels.
For a particularly special evening, luxuriate in Intermezzo with a glass of champagne or your favourite cocktail. The classy and modern hangout, provides an elegant backdrop for an unforgettable evening.
The large windows of the yacht-inspired Spinnaker Bar allow natural light to fill the room, showcasing its sophisticated, contemporary décor. Its the perfect meeting place for a pre or post dinner tipple during the evening.
The intimate Piano Bar provides the perfect atmosphere to relax with a drink and enjoy some beautiful music. With performances from the resident pianist, its a charming place to enjoy a pre-dinner drink.
If you thought the British Victorian style pub was a thing of the past, you'll be pleased to know it lives on in the form of The Rising Sun. This traditional style pub is decked out with wood panelling, etched glass and burgundy leather bar stools and seats. The jukebox, stage and snug bar, which is lined by bottle green marble, combine to create an authentic pub atmosphere. With everything from darts, karaoke, talent shows, 'pub night', dancing and sport screenings to keep you amused, you'll find this is a great place to come for a lively evening with friends.
With stunning views out to the ocean beyond, the colonial style East Bar is the perfect place to relax. As the sun sets and warm ambient light pours into the room, you can enjoy a pre-dinner drink.
The Viceroy Room has a timeless gentleman's club feel. This restful space is designed for peace, reflection, and quiet conversation. Chat with fellow passengers about the topical issues of the day, or simply relax and unwind as you watch the world float by.

Decorative ceramic pebbles cover the bar surround, giving you the feel of a pebble beach come rain or shine. But, as the entire area is protected by the sliding glass Skydome, including the Neptune Pool and Neptune Grill, you won't have to worry about it raining on your fun.
This full-service, outdoor bar is bamboo clad and lends a tropical feel to the Aquarius Pool area. Enjoy a brief respite from the sun on one of its stools or stay on your deck lounger and have a refreshing cocktail - or two.
Health and fitness
From the revitalising hydrotherapy pool, to the state of the art gymnasium, there's plenty of facilities onboard to refresh your mind, body and soul. Passengers can enjoy luxury massages and treatments in the Oasis Spa, or head out to the top deck sports court for a spot of tennis.
With superb ocean views and relaxing cream décor, the tranquil Oasis Spa is the perfect place to relax and be pampered. In the treatment rooms you can enjoy private ocean views as you succumb to a relaxing massage.

Also linked to the Oasis Spa is the hydrotherapy pool, which offers a hydromassage; a type of treatment that increases circulation, eases tension and aids restful sleep. Flooded with light via a pyramid skylight, the hydropool lies in the centre of several tiled columns. Alternatively passengers can head for Arcadia's thermal suite on the starboard side where they'll find three steam rooms, a sauna and a heated swimming pool.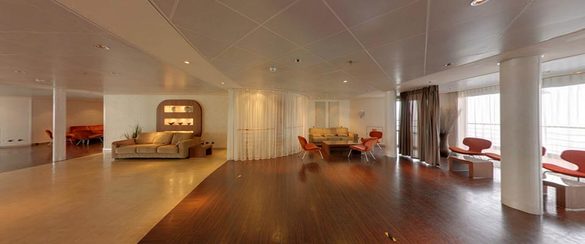 The Retreat, is a room designed to be 'zen' - the ultimate space for relaxation. This light and airy room, with comfy cream sofas and easy chairs, floor-to-ceiling windows and a large expanse of wooden floor, provides an atmosphere perfect for activities such as Tai Chi, meditation and yoga.
Whether you enjoy the friendly competition of an organised tournament or prefer to play casually with your own party, short tennis, football, volleyball, basketball and cricket are just some of the options available in the Sports Court. And just aft of the Sports Court you will find the golf nets, where you can perfect your swing, using your own clubs or those provided.
Passengers can watch the waves as they work out with all the latest equipment, including exercise bikes, rowing machines, running machines, steppers, resistance machines and a range of weights. After the workout, visitors can head to the Oasis Spa for a relaxing massage, a stimulating therapeutic treatment or a warming and cleansing sauna.
The fully equipped salon is the perfect place for those who want to look their best. Located in the spa, passengers can try a new colour or style in the hands of fully trained stylists.
Neptune Pool- Covered by a skydome, you can always take to the water no matter what the weather. Located on Lido Deck, between the forward and central lifts is the sparkling Neptune Pool, Arcadia's largest. The sliding glass roof can be retracted in good weather, or left closed in cooler climes - so you can enjoy a relaxing swim as soon as you leave Southampton! The skydome covers the entire pool area, including the Neptune Bar and Neptune Grill.
Aquarius Pool- Located at the stern of Arcadia, this pool is the perfect place to relax during the day. As the sun sets, there's no better place to take in the beautiful ocean and unparalleled views afforded by this peaceful spot.
Kids and Teens
As an adult only ship, Arcadia does not feature any Kids & Teens facilities.
Enrichment
The ship's fantastic New Horizons programme offers to passengers the chance to leave their cruise with a new hobby, skill or passion. With classes ranging from cookery, and ballroom dancing, to feng shui and tai chi, passengers can search for true enlightenment.
There are coupled dance instructors onboard who offer a variety of dance lessons. The main types of dance offered are ballroom and Latin. As well a group lessons, it is also possible to arrange 1 to 1 tuition. On some occasions, there are celebrity dance instructors on board too. Everyone is welcome regardless of experience.
The ship's well-stocked library is perfect for finding a great book to enjoy by the pool. Choose from an extensive range of fiction and non-fiction books, or browse through the tempting selection of books which are available for purchase, in an area operated by Waterstones book shop.
Useful to know
---
Special Dietary Requirements
The ship can cater for the following diets; vegetarian, low /no fat, low salt /no salt, lactose intolerant /dairy free, gluten /wheat free /celiac, low cholesterol, diabetic, kosher and vegan. Passengers requiring any of the above diets should contact the Customer Contact Centre prior to their cruise.
Fully accessible adapted cabins and suites are available, which are suitable for wheelchair / mobility scooter users. Passengers with a disability which may affect their mobility onboard are asked to inform the Customer Contact Centre prior to their cruise. Assisted embarkation and disembarkation is available when sailing from Southampton.
As with UK laws, the age limit for purchase and consumption of alcohol on board is 18 years of age, however, when in US waters, the age limit increases to 21.

Passengers must be over the age of 18 to use the spa facilities including treatments. If you are under the age of 18 and if you would like a treatment then you will need to be accompanied by an adult.
The ship operates three styles of dress code: Smart, Evening Casual and Black Tie.

On Smart evenings ladies typically wear tailored trousers and separates or even a stylish dress, while men are in a shirt and trousers with a jacket, such as a blazer or sports jacket, or a suit and tie if they wish. For a typical two week cruise there are normally four Smart evenings.

Stylish resort or leisurewear is ideal for Evening Casual nights, for example casual separates or dresses for ladies and open-neck polo shirts and casual trousers (not shorts) for men. A jacket and smart trousers can be worn but are not compulsory. Smart dark denim is also fine, but not trainers, football shirts or tracksuits. For a typical two week cruise on Azura, Britannia, Oceana or Ventura there are normally ten Evening Casual nights. On Adonia, Arcadia, Aurora and Oriana there are normally six Evening Casual nights.

Black Tie nights (also known as Gala Evenings)add a touch of glamour and a real sense of occasion to evenings at sea. Ladies wear glamorous evening wear including cocktail dresses, ball gowns or even smart trouser suits. For men, dinner jackets or tuxedos are the norm, but a dark lounge or business suit and tie can be worn as an alternative. For a typical two week cruise there are normally four Black Tie evenings on board.

During the day casual shirts, shorts, trousers and beachwear are ideal.
---
Smoking & E-cigarette Policy
There are dedicated areas onboard where smoking is permitted. Smoking is not permitted in any public room, inside cabin or on cabin balconies.

Onboard Arcadia, guests may smoke on:
-Deck 11 A Deck; Port side, outside the East Bar
-Deck 10 B Deck; Port side, outside the Crow's Nest Bar
-Deck 10 B Deck; Port side, above Aquarius Bar
-Deck 9 Lido Deck; Port side, table area of Aquarius Bar
Deck 7 Promenade Deck; Starboard side of Promenade deck


Electronic cigarettes, including those which do not emit smoke, can be used in designated smoking areas only.

Although we recognise that electronic cigarettes are not covered by the UK legislation we have taken the decision to prohibit their use in all public areas and cabins in the same way as real cigarettes for the benefit of all of our guests.