First of our Vista-class ships, Zuiderdam boasts classic nautical lines and finishes, modern amenities and a spectacular art and antique collection. While on board, explore the world's wonders through BBC Earth Experiences. Enjoy regional cooking demonstrations and food and wine tastings with EXC Port to Table. Relax with a rejuvenating treatment at the Greenhouse Spa & Salon. Enjoy the wide array of delectable cuisines in our restaurants.

Specifications
Size

large

Style

Premium

Type

ocean

Year of launch

2001

Year of last refit

2015

Gross tonnage

82305t

Length

285.2m

Width

32.2m

Speed

24kts

Decks

11

Language

English (American)

Currency

US Dollar ($)

No. of passengers

1964

No. of crew

817

No. of cabins

958

-wheelchair access

28
Unique Features
The Zuiderdam features 68% balcony staterooms and a range of dining, entertainment and enrichment amenities that appeal to guests of all ages.
Gratuities
Our crew works very hard to make sure that every aspect of your cruise meets the highest standards. This includes those crew members who serve you directly, such as Dining Room wait staff and the stewards who service your stateroom each day. There are also many others who support their efforts whom you may never meet, such as galley and laundry staff. To ensure that the efforts of all of our crew members are recognized and rewarded, a daily Hotel Service Charge is automatically added to each guest's shipboard account.
The daily Hotel Service Charge is $14.50* per guest per day for non-suite stateroom guests and $16.00* per guest per day for suite guests.
*These charges are subject to change without notice.
If our service exceeds or fails to meet your expectations, you are free to adjust this amount at the end of each segment and/or voyage. The Hotel Service Charge is paid entirely to Holland America Line crew members, and represents an important part of their compensation. A 15% Bar Service Charge is automatically added to bar charges and Dining Room wine purchases. In terminals, airports, ports of call and on shore excursions, we suggest that you extend gratuities consistent with customary local practices.  
Accommodation
With refined amenities and Holland America Line signature Mariner's Dream bed gracing each elegant stateroom, the ship offers six grades of staterooms. Most are ocean-facing, many featuring teak-lined verandas for dining alfresco or private sunbathing.
Generously proportioned and filled with light, these elegant suites include a living room, dining room, pantry with microwave and refrigerator, and floor-to-ceiling windows overlooking a private verandah with whirlpool. The bedroom features a king-size bed—our Signature Mariner's Dream™ bed with plush Euro-Top mattresses, plus a separate dressing room and the bath includes an oversize whirlpool bath and shower as well as an additional shower stall. There's also a sofa bed, suitable for two people, and a guest toilet. Amenities include a private stereo system, use of the exclusive Neptune Lounge, private concierge and an array of complimentary services. The configuration of staterooms may vary from the images shown.

With floor-to-ceiling windows overlooking a private verandah, these spacious suites are flooded with light. They feature a large sitting area and two lower beds convertible to one king-size bed—our signature Mariner's Dream™ bed with plush Euro-Top mattresses plus a separate dressing room. There's also a sofa bed, suitable for two people. The bathroom comes with a dual-sink vanity, full-size whirlpool bath and shower, plus additional shower stall. Amenities include use of the exclusive Neptune Lounge, a private concierge and an array of complimentary services. The configuration of staterooms may vary from the images shown.

500-712 Square feet

Private Veranda 

Sleeps 4

These large, comfortable suites feature a spacious sitting area with floor-to-ceiling windows overlooking a private verandah, two lower beds convertible to one queen-size bed—our signature Mariner's Dream™ bed with plush Euro-Top mattresses, and one sofa bed for one person. The bathroom includes a dual-sink vanity, full-size whirlpool bath and shower, and an additional shower stall. The configuration of staterooms may vary from the images shown.

372-384 Square feet 

Private Veranda

Sleeps 3

Filled with light from floor-to-ceiling windows overlooking a private verandah, these staterooms include a sitting area, two lower beds convertible to one queen-size bed—our signature Mariner's Dream™ bed with plush Euro-Top mattresses, and bath tub with premium massage showerheads. The configuration of staterooms may vary from the images shown.

212-359 Square feet 

Private Veranda

Sleeps 2

Ocean View:
These expansive staterooms include include two lower beds convertible to one queen-size bed—our Signature Mariner's Dream™ bed with plush Euro-Top mattresses, premium massage shower heads, a host of amenities and an ocean view. The configuration of staterooms may vary from the images shown.

Partial Ocean View:
These staterooms feature a partial sea view and include two lower beds convertible to one queen-size bed—our signature Mariner's Dream™ bed with plush Euro-Top mattresses, plus premium massage shower heads and a variety of amenities. The configuration of staterooms may vary from the images shown.

Fully Obstructed View:
These large staterooms include two lower beds convertible to one queen-size bed—our Signature Mariner's Dream™ bed with plush Euro-Top mattresses, premium massage shower heads and a host of amenities. The view is fully obstructed. The configuration of staterooms may vary from the images shown.

174-180 Square feet 

Ocean View

Sleeps 2

Two lower beds convertible to one queen-size bed—our signature Mariner's Dream™ bed with plush Euro-Top mattresses, premium massage shower heads and a host of amenities are featured in these comfortable staterooms. The configuration of staterooms may vary from the images shown.

151-233 Square feet 

Sleeps 2

Decks
Observation Deck

The Retreat 
Volleyball Court

Basketball Court

Crow's Nest

Explorations Café

Sliding Dome Cover
The Loft

Club HAL

Fitness Centre

Therapy Rooms

Greenhouse Spa & Salon

Thermal Suites

Hydro Pool

Lido Pool

Lido Bar

Terrace Grill

Canaletto Restaurant

Lido Market

Sea View Bar

Sea View Pool

Neptune Suites
Signature Suites
Verandah Staterooms
Interior Staterooms
Neptune Suites

Pinnacle Suites
Verandah Staterooms

Interior Staterooms

Neptune Suites

Signature Suites

Verandah Staterooms

Interior Suites

Neptune Suites

Verandah Staterooms

Ocean View Staterooms

Interior Staterooms

Neptune Suites

Signature Suites
Verandah Staterooms

Ocean view Staterooms
Interior Staterooms

Vista Lounge Balcony
Screening Room
Stuyvesant

Merabella Luxury Shop

Shopping Arcade

Ocean Bar

PhotoGallery

The Dining Room

Vista Lounge Balcony

Casino

Piano Bar

Sports Bar

Northern Lights Night Club

Queen's Lounge and Culinary Arts Centre

Pinnacle Grill

Pinnacle Bar

Explorer's Lounge

The Dining Room

Atrium

Mainstage 
Guest Services 
Ocean View Staterooms

Interior Staterooms

Dining
Holland America Line invites you to dine "As You Wish". To savour Italian cuisine one night and a perfectly grilled porterhouse steak the next. To take your place in the Dining Room at a specific seating time or be spontaneous, following your desires. Onboard, there are restaurants to suit every mood, along with the flexibility to choose the dining style you prefer.
For an elegant breakfast, leisurely lunch or unforgettable multi-course dinner, The Dining Room is your destination. Behind the scenes, our Culinary Council,® an elite team of seven world-renowned chefs, and our talented onboard executive chefs have worked to bring each dish to perfection. For dinner, choose from classics such as Boneless Lamb Loin en Croute, Rosemary Roasted Chicken, as well as regionally inspired cuisine and artfully prepared vegetarian dishes. Enrich your journey with an extensive selection of wines, carefully selected by our Wine Curator, world-renowned wine critic James Suckling. 

Dining Experience:
Complimentary
Explore a world of intriguing culinary possibilities in the Lido Market. Steps from the Lido pool, this modern marketplace includes a curated selection of delicious options that you can grab on the go or have made to order: Breadboard, with freshly baked breads and pastries; Wild Harvest, offering a bountiful selection of hearty salads; Homestead, serving up comfort classics; Distant Lands, featuring global cuisine; Sweet Spot, for ice cream creations and desserts; Roasting Pan, hand-carved meats, fish and other hearty entrees; Perk, freshly brewed beverages and chilled juices; Quench, premium coffee, beer, wine, and soda available for purchase; Rise, savory quiches, croissants and sandwiches, and more.
Dining Experience:
Complimentary
Reserve a table in the intimate Pinnacle Grill for lunch or dinner and celebrate the day's adventures with cuisine inspired by the bounty of America's Pacific Northwest. In this elegantly appointed room, service is warm and engaging, and a meal is an event. The menu focuses on premium ingredients expertly prepared—from wild-caught king salmon from Alaska to sustainably raised beef from Washington State's Double R Ranch. And, every evening in this venue offers a chance for you to experience the signature recipes of Culinary Council Chef David Burke. Complementing your perfectly prepared meals are boutique wines from the Pacific Northwest and other celebrated vineyards from around the world.
*Meals at Pinnacle Grill are half price for kids 12 years old or under, or free when they order from the kids' menu.
Food type:
Steak & Seafood
Dining Experience:
Cover charge may apply
In Italy, there's nothing more important than coming together to celebrate the joy of great food. This is the inspiration for our onboard Italian restaurant, Canaletto. Enjoy amazing Italian classics like braised chicken cacciatore al forno, branzino ai ferri or garlic shrimp ravioli. And for dessert: tiramisù, cannoli alla Siciliana, gelato, and more. Including pasta made fresh daily. Buon Appetito!

Dining Experience:
Cover charge may apply
Dive-In offers a variety of casual culinary classics, using the highest quality ingredients. Enjoy a burger, grilled to perfection and served on a toasted brioche with our own trade-marked secret sauce. Savor a succulent Nathan's Famous gourmet hot dog with golden French fries. Or choose a grilled chicken breast sandwich or juicy portabella mushroom stack. Dive-In is the perfect spot to dine poolside on the best burgers at sea.

Dining Experience:
Complimentary
Sleep in and have breakfast delivered. Enjoy an early dinner on your verandah before an evening excursion. Order a salad, sandwich or entrée any time. In-Room Dining is only a phone call away. All selections are included in your cruise fare unless otherwise noted on the in-room menu.
Dining Experience:
Complimentary
Explorations Cafe, located on the Observation Deck, features a bar serving speciality coffees and pastries.
Dining Experience:
Cover charge may apply
Entertainment
Every day aboard a Holland America cruise ship brings a wealth of cruise activities and indulgences, along with the freedom to partake in as many- or as few- as you please. It's an opportunity to try something new that surprises you, every day. Dabble, discover, daydream- do everything, or do nothing at all.
In an exclusive partnership with the world's leading center for the performing arts, we proudly present Lincoln Center Stage, showcasing outstanding musicians performing multiple programs of chamber music most evenings, as well as afternoon recitals during leisurely days at sea.
Direct from Beale Street, B.B. King's All Stars bring the best of Memphis music to sea. From funky and fast to soulful and smooth, enjoy dancing and try specialty cocktails like the Lucille and Rock Me Baby.
We have partnered with BBC Earth to bring you unforgettable new ways to experience the world's natural wonders. Through the innovative and breathtaking programming, guests will be taken closer to the ocean and the natural world through groundbreaking concerts and films.
Explorations Central™ (EXC®), Holland America Line's exclusive destination programming, is designed to deepen your understanding of the places you visit. Its indispensable travel resources and opportunities to engage with experts and local insiders, make exploring each port of call more vivid and meaningful.
Learn how technology can make your voyage more meaningful and memorable with our complimentary small-group courses at the new Microsoft Studio. Designed for all abilities using the latest Surface Laptop 2 devices, our Microsoft-trained hosts will show you everything from creating photo albums and movies to using 3D effects and staying safe online. Drop in during scheduled times for courses or join our Creative Studio Time every day to work on your projects.
Fifty years of chart-topping hits rock the house as two pianists play music that you know and love. It's all part of Billboard Onboard, an interactive experience made possible by a partnership with Billboard, the leading global destination for charts, news, trends and innovation in music. 
Showcasing music, song, dance, comedy and more, the World Stage presents a myriad of performances and presentations to entertain and inform throughout your voyage.
Your Holland America Line ship's Casino offers a wide array of gaming options. Whether you prefer slot machines or want to try your hand at blackjack or poker, our dealers and staff are available to provide complimentary instruction — and we offer many engaging tournament options. The Casino is only open at sea.
Holland America Line offers you a wide selection of lounges onboard. The panoramic view takes center stage in The Crow's Nest at the top of the ship, where you can relax just about any time of day and enjoy your favorite drink.
The Explorer's Lounge is an elegant and refined space to enjoy a glass of wine, a cocktail, or your favorite liqueur.
This sophisticated venue is adorned with an eclectic and whimsical mix of artwork including portraits, landscapes, still life and abstract pieces. Order your favorite cocktail or try one from our signature cocktail menu created in partnership with our Master Mixologist Dale DeGroff, a James Beard "Who's Who" inductee.
Enjoy live music in this popular bar perfect for pre-dinner cocktails.
Discover a world-class shopping experience only steps away. The Signature Shops onboard offer a great selection of fine jewellery, watches, fragrances, premium liquor, exclusive Holland America Line souvenirs and more all at tax and duty free savings. You'll find many famous brands with designer names specially selected with you in mind. Knowledgeable specialists will gladly answer all your questions and are dedicated to providing you with excellent service, helping to make your cruise vacation, relaxing and enjoyable.
As a guest onboard Holland America Line, you are invited to indulge your inner art connoisseur by immersing yourself in the ship's exclusive onboard gallery and fine art experience. Through exciting live auctions, dazzling gallery exhibitions, enriching educational programs and intimate champagne-sipping enthusiast events, you are destined for a memorable artistic encounter that will ignite your passion for fine art.
Representatives from Park West Gallery bring their expertise to Holland America Line and afford the art novice to seasoned aficionado access to an extensive array of paintings, prints, drawings, watercolours, mixed-media, sports memorabilia and animation art. Park West engages guests in a way that is sure to surprise and delight every level of collector.
Vibrant works of art by world-renowned contemporary artist Peter Max, quiet cottage scenes by Thomas Kinkade and collectable sports memorabilia from favourite athletes are but glimpses of the broad range of exquisite items offered by Park West Gallery to guests on board Holland America Line. Be sure to visit the gallery on embarkation day to pre-register for the art activities and ensure a space in one of the educational programs and champagne events. Gallery event guests also have the opportunity to take home a complimentary gift of art and enter raffle drawings for special art prizes.
Founded in 1969, Park West Gallery has brought fine works of art to more than 1.3 million clients worldwide through events at sea, at its gallery locations in Michigan and Florida, and by select auctions in major metropolitan areas. Every purchase from Park West Gallery comes with a certificate of authenticity, assuring that each is subjected to the highest level of artistic and critical scrutiny. The gallery also offers convenient shipping and framing services so you may easily enjoy your new work of art at home.
It all begins with a great photo taken at embarkation -- the first of many photo opportunities. Your onboard photographers, called "Image Creators" will be with you throughout the cruise, ready to capture that special moment at the Bon Voyage Party, Formal Night, Scenic Cruising and more.
The Photo Gallery on board offers print and digital photos, photo packages and DVDs of your cruise itinerary and voyage. Be sure to take home memories of your voyage that will last a lifetime.
Black Label Photography
Whether the look he captures on film is thoughtful, irreverent or joyous, Joe Craig believes a successful photograph reveals the soul of its subject. He has spent his life perfecting his craft and teaching it to others. See what his approach can show you.
Joe Craig Black Label creates images that blend innocence and sophistication. It's a great opportunity for you and your friends, family or special someone to capture the memory of your voyage in interpretive photography.
All Black Label artists on board are personally trained by Joe, and studio sessions are complimentary, with no obligation to buy and no sitting fee.
Health and fitness
Whether you want to workout in the Fitness Centre, learn yoga, pamper yourself with a massage and spa treatment, or enjoy a game of basketball, there's a perfect onboard activity for everyone.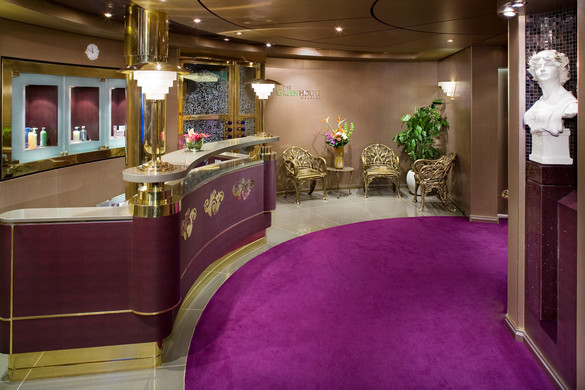 Refresh, Relax and Rejuvenate
During a leisurely day at sea, few places help you refresh, relax and rejuvenate like the Greenhouse Spa & Salon®. This heavenly retreat nurtures every aspect of your well-being with renowned spa rituals and healing touches. In the spa, pamper your skin with facial treatments featuring premium, naturally sourced ingredients. Nurture your body, too, with massage treatments employing time-honored, hands-on massage techniques gleaned from around the world.
Relaxing treatment rooms also offer breathtaking views where guests can enjoy exotic skin, body and hair treatments ranging from hot stone massages and pedicures to hair styling and facials. Facilities include:
• A hydrotherapy pool bubbling with warm, therapeutic seawater. (Available on select ships only.)
• Heated ceramic lounge reminiscent of an opulent Turkish bath [except ms Prinsendam.]
• Private treatment rooms, including couple's massage rooms.
• Massage therapy inspired by an exotic blend of cultures — from Hawaiian Lomi Lomi to the Thai Herbal Poultice Massage.
• The latest exotic skin, body, hair and nail treatments.
• Knowledgeable, professional therapists trained to guide you through your spa experience.
---
Fitness Centre & Onboard Recreations
Stop by the professionally staffed Fitness Center equipped with the latest cardio and weight machines. Try one of our classes on indoor cycling, Pilates and more or work out at your own pace. You can also head out for fresh air and exercise on deck, where you'll find basketball and volleyball courts, and two refreshing pools (available on select ships). Some classes may have a nominal fee.
Fitness classes may include:

• Pathway to Yoga: Yoga is an ancient Hindu practice that offers a pathway to enlightenment through specific postures and breathing techniques. They offer a variety of Yoga styles in classes for students of all levels.
• Mat Pilates: Developed in the 1920s by the legendary personal trainer Joseph Pilates, the Pilates method is an exercise system that combines posture and controlled moves. This class is mat based and appropriate for students of all levels.
• Cardio Ki-Bo Circuit Training: A great combination of Chi-releasing moves including boxercise, kickboxing and aerobic conditioning. They place emphasis on technique and help push you to your cardiovascular limit.
• Aquarobics: This program features a low-impact water workout. You will effortlessly strengthen tone and energise mind and body.
• Pilates Reformer: The Pilates method is an exercise system focused on improving flexibility and strength for the total body without building bulk. The Pilates method is not just exercise; it is a series of controlled movements engaging your body and mind, performed on specifically designed exercise apparatus and supervised by trained fitness directors.
There is also a Sports Court up on Deck 11, designed for both Volleyball and Basketball.
The Sea View Pool aft of deck 9 is the ship's open air pool featuring two whirlpools and served by the Sea View Bar and Slice the pizzeria.
The pool itself has a shallow area around the edge of it for sitting in to cool down. This pool is designated for adults only.
The Lido Pool is also located midship on deck 9. It has 3 hot tubs and is protected by a retractable glass dome cover during inclement weather. It is served by the Lido Bar and Trident Grill for light meals and has a bandstand for live entertainment. 
Kids and Teens
Holland America Line's youth activities program, Club HAL, offers an array of entertaining events for kids and teens ages 3-17, supervised by a full-time, professionally trained staff. They'll have an opportunity to join other kids their age for arts and crafts, sports, video game competitions, scavenger hunts, challenging team games and themed parties. Club HAL is offered on board all ships except for Oosterdam*.

Children, ages 3-7, can participate in such activities as pirate treasure hunts, hands-on pizza making, storytelling, "Little Artists" crafts, ice cream sundae parties and a farewell pyjama party.
All children participating in Club HAL must be completely toilet trained. No diapers or pull–ups are permitted in the Youth Centre. Youth Staff cannot assist children in the restroom.
Tweens, ages 8-12 take part in Xbox and Wii tournaments, relay races, scavenger hunts, karaoke disco parties and participate in the award-winning National Park Service Jr. Ranger Program in Alaska on Alaska cruises.
---
The Loft and The Oasis - Teens
Teens, ages 13-17 enjoy mocktail mixology classes, late night sporting competitions, teen yoga and hip hop classes, guys verses girls scavenger hunts, cooking demos, tech classes and teen only night club events. When there are more than 100 children onboard, a HAL Talent Show is offered. [The Loft and Oasis are not available on the Prinsendam. The Oasis is located on the Statendam, Ryndam, Veendam, Rotterdam, Zaandam, Volendam and Amsterdam.]
Workshops and lively demonstrations for kids and teens offering basic cooking techniques, kitchen safety and recipe instruction. Workshops are offered for two age groups: ages 3-7, and ages 8-15. Demonstrations are open to all ages.
Enrichment
Boasting an expansive range of enrichment facilities and opportunity, Holland America Line's ships are bound to offer something you'll want to know more about. Why not have a go at the Digital Workshop powered by Windows and learn how to enhance your holiday picture or how to easily share them.
Guests on Holland America Line cruises can learn how to display and share their vacation memories through the Digital Workshop powered by Windows. This enrichment program offers free, informative sessions that are led by a Microsoft-trained "techspert" on a variety of relevant topics such as:
• How to take, edit and enhance better photos
• How to post your photos to the web or email them to friends and family back home
• How to create blog entries, videos, scrapbooks and more
The Digital Workshop offers many free, easy-to-use photo sharing tips and tools, so it's not necessary to be an expert photographer or an experienced computer user to benefit from the program. The workshops showcase state-of-the-art technology provided and maintained by Microsoft -- including Windows8 computers, printers, scanners and a wireless network -- and conveniently have their own dedicated space on each ship. Flat-screen TVs in each session allow for easy viewing of videos and "techspert" demonstrations.
The jargon-free interactive classes include:
• Editing your cruise photos
• Turning your cruise photos and videos into a slide show
• Getting your photos out of the camera and into the computer
• Advanced editing of your cruise photos
• Sharing your cruise photos via email and the Internet
• PC safety and maintenance
• Learning fun ways of staying connected with instant messaging and webcams
• Learning the basics of staying connected through social networking
• Understanding the basics of your digital camera
• Learning what PC is right for your lifestyle and how to find the best offers
• Seeing how Windows 8 can simplify your PC and your life
Guests can choose to attend all or just some of these 60-minute workshops, each of which will be offered at various times and days throughout each cruise. Multiple workshops will be held every day. In addition, one-on-one coaching called "Techspert Time" will also be available every day.
Scheduling of classes can be done on board only and cannot be pre-reserved prior to sailing.
From steel drum lessons in the Caribbean, to tai chi with a master in Asia, to Celtic fiddlers in the Canadian Maritimes—Holland America Line's "On Location" program brings local culture to life showcasing unique entertainment and enriching activities as well as the cuisine of each region.
"On Location" provides so many experiences for guests to enjoy, like taking a Tango lesson in Argentina, a hula class in Hawaii or searching the southern sky with an astronomer in the South Pacific, the options go on and on. The Culinary Arts Center also comes alive as visiting chefs from along the route add local flavour to cooking shows and hands-on classes. Guests may choose to prepare the perfect salmon in Alaska, make sushi in Asia or learn to enhance dishes with the spices of the Caribbean. Wine lovers can pair food with the perfect wine as experts from vineyards in Europe, Australia and Chile host tastings.
There will also be a new sizzle to Holland America Line's menus each day. The onboard chefs will create dishes using locally sourced ingredients, which will delight guests with an enticing array of regional cuisine.
---
Culinary Arts Centre - Demonstrations & Classes
Hosted by the on-board party planner, classes take place in the Culinary Arts Centre, a first-class "show kitchen at sea," or in one of the many bars and lounges. The line schedules classes throughout the day on both sea and port days to fulfil the demand for the culinary program.
Ranging from seasonal cuisine to fruit and vegetable art, the flavourful and fun classes enable guests to learn from Holland America Line's own professional culinary staff and discover the finer art of entertaining during their cruise. Itinerary themed cooking demonstrations focus on the ship's sailing region and bring the local flavours on board. When in Alaska, the program offers "Flavours of the Northwest" and "Fresh Ketch." Guests sailing on Caribbean itineraries may learn how to make jerk chicken or shrimp scampi, while those on Mediterranean cruises could prepare pasta with chorizo sauce or a warm crostini with classic caponata and mozzarella.
---
Culinary Arts Centre - Signature Cooking Classes
The Culinary Art Centre features a theatre-style venue, with two large plasma video screens and a large cooking display counter where guests can learn from Holland America Line's own professional culinary staff. Offered on all sailings and ranging from itinerary based cuisine to fruit and vegetable art, the flavourful and fun classes enable guests to discover the finer art of entertaining during their cruise. Sign up for an intimate hands on cooking class or attend one of the very popular cooking demonstrations in the theatre.
---
Culinary Arts Centre - Wine Tasting and Mixology
In conjunction with the Holland America Line Beverage team, the Culinary Art Centre offers a Signature Cocktail program where guests can learn how to prepare world class cocktails from one of the ship's bartenders. Wine tastings hosted by the Cellar Master and Party Planner are also available on every cruise. You can enjoy two different tasting levels – Navigator Wine Tasting or Premium Wine Tasting.
---
Culinary Arts Centre - Party Planner
To complete the culinary experience the Culinary Art Centre features demonstrations on the Fine Art of Flower Arranging, Ice Carving, Cake Decorating, Plate Presentation and Garnishing, Easy Entertaining and more. All hosted by the onboard Party Planner and demonstrated by Holland America Line culinary experts, florists, and carvers.
Useful to know
Service Animals
Holland America Line only permits service animals onboard, defined as those animals that are individually trained to provide assistance to an individual with a disability. They do not permit guests to bring pets, therapy/companion animals, and other animals that do not meet the definition of service animals. If you have any questions about whether the animal you wish to bring on board is, in fact, a service animal, you may contact the Access & Compliance Department.
Guests who are Deaf or Hard of Hearing
To help maximise the cruise experience for guests who are deaf or hard of hearing, Holland America Line has made the following items available:
• Stateroom kits that include a visual and tactile alert for someone knocking at the door, the phone ringing, or an alarm.
• Stateroom televisions capable of showing closed captioning (some satellite feeds do not transmit with captioning, so this feature is available only when the signal the ship receives has captioning).
• Telephones with amplified sound for staterooms.
• Assistive Listening Systems with portable receivers in the show lounges to assist guests who are hard of hearing to hear the shows.
• Written safety information and a copy of the lifeboat drill safety speech.
Guests who are Blind or have Low Vision
To help maximise the cruise experience for our guests who are blind or have low vision, Holland America Line has made the following items available:
• Window-Eyes computer software in the Explorations Café that allows guests to navigate the web by listening to the text.
• Downloadable daily activities, news, and menus for guests with laptops with screen reader programs. These items may also be downloaded to the Window-Eyes enabled computer in the Explorations Café.
• With 45 days notice, large print or Braille menus describing the inspired cuisine offered across a myriad of venues, from the elegant Dining Room to the casual Lido Restaurant.
• Familiarisation tour of the vessel upon arrival.
Cruising for Children with Special Needs
At Holland America Line we do not discriminate against individuals on the basis of disability. We seek to the extent feasible to accommodate the needs of all individuals with disabilities, including children. However, due to the sensitivity of caring for any child, with or without a disability, we must first determine what the child's specific needs are so we may properly evaluate and determine the best and safest way to meet the child's needs. We encourage families to contact our Access & Compliance Department prior to their cruise, to evaluate and determine what the child's specific needs will be and how best to accommodate those needs.
Personal Mobility Equipment
For the safety of all our guests and crew and to enhance accessibility, Holland America Line strongly recommends that all personal electric mobility equipment meets the following criteria:
Width: 23" maximum in order to be accommodated in a standard stateroom, unless collapsible to a width of 23" or less
Weight: 100 lbs. maximum without battery
Batteries: Must be Gel or Dry Cell or AGM (Absorbed Glass Mat) only
They recognise that for some people, a larger scooter may be essential. If you believe you need a larger scooter, please contact the Access & Compliance Department so that you can discuss your requirements.
---
Special Dietary Requirements
For guests with food intolerances or allergies that are not life-threatening, please contact the Ship Services Department. For guests with life-threatening food allergies, Holland America Line asks that guests provide detailed information to the Access & Compliance Department by completing a Special Requirements Information (SRI) Form. Guests should indicate on this form which foods may potentially cause a severe reaction.
Guests with a variety of severe food allergies sail with Holland America Line regularly. Their galley staff on board is accustomed to and experienced in dealing with these types of needs. The galley itself has many different areas of food preparation, which can help reduce the possibility of cross-contamination. It is important to note, however, that meals are prepared in mass quantities on board, thus there is always the possibility of some cross-contamination. As such, Holland America Line cannot guarantee that a guest will not come in contact with those items. Although the Access & Compliance Department will provide the ship with an advance notice of all food allergies detailed on an SRI submitted to them, it is recommended that guests also contact the Dining Room Manager upon boarding to review the details of these special dietary needs.
Guests under 21 years of age must be accompanied by a parent, guardian or chaperone who is at least 21 years old; one adult chaperone is required for every five people under the age of 21 (25 years of age or older in the case of persons serving as chaperones for approved organised student/youth groups). Alcoholic beverages will not be served to guests under age 21. Due to limited medical facilities on the ships, we will not accept reservations for infants under 6 months old at time of sailing. For trans-ocean crossings, or other itineraries which the Medical Department feel present a significant risk, infants must be a minimum of 12 months of age at embarkation. Guest under the age of 16 are not allowed in the Greenhouse Spa & Salon.
Minors under age 18 traveling to certain foreign countries must be accompanied by both parents or have a notarised letter of consent signed by the parent(s) not traveling. If the other parent is deceased or the child has only one legal parent, a notarised statement must be obtained as proof.
All minors under age 18 must travel with all proper identification requirements in addition to the signed letter of authorisation. Minors who are U.S. citizens should have a certified copy of their birth certificate or another form of proof of citizenship. Children 16 or older are also required to have a photo ID. If traveling outside of the Western Hemisphere, a passport is required. Your travel agent can provide additional information about this requirement.
Parents, guardians and chaperones are responsible for overseeing the conduct of minors in their care. As such, minors may not be left unsupervised on board the ship. A parent or legal guardian MUST accompany all children under the age of 18 on all tours for safety and liability reasons.
Minors Going Ashore
Parents and guardians are responsible for deciding whether or not minors under age 16 are allowed to go ashore without adult supervision. If you want to permit a minor traveling with you to go ashore without an adult companion, please discuss this in advance with the ship's Security Officer so that they can make a notation of this in the gangway control system software. Absent this approval, the security personnel will generally prohibit minors from leaving the ship without an adult companion although the line cannot provide absolute assurances in this regard. It is ultimately the responsibility of parents and guardians to ensure that minors traveling with them act in accordance with their instructions.
The right clothing can make a big difference in the enjoyment of your cruise. First and foremost, dress for comfort. Daily life aboard ship and in ports of call is relaxed and casual. Warmer climates call for clothing made of lightweight, breathable fabrics. For cooler climates, the line suggests casual clothes that can be layered easily and possibly a raincoat and waterproof hat or umbrella and gloves. Certain shore excursions may require particular attention to clothing. For example, certain churches or other places of worship may not allow tank tops or short pants. Bring a swimsuit as all of our ships have pools and whirlpools. You may wish to bring more than one outfit for the water. We ask that you wear shoes and a cover-up over a bathing suit when walking through the interior of the ship. If you would like to jog on the sports deck or work out in the fitness centre, bring workout gear. Footwear should include comfortable walking shoes for visits ashore and sandals or rubber-soled shoes for strolling on deck.
Evening dress falls into two distinct categories: Formal or Smart Casual. Smart Casual can be defined as slacks and collared shirts for men and casual dresses, slacks and informal evening wear for women. T-shirts, swimsuits, tank tops and shorts are not allowed in the restaurants or public areas during the evening hours. On festive Formal evenings, ladies may wear a suit, cocktail dress, gown or fancy blouse/top with slacks and gentlemen wear a jacket and tie, dark suit or tuxedo. There are approximately two formal nights per week.
In order to complement your fellow guests, Holland America Line asks that you observe the suggested dress code throughout the entire evening.
Cellar Master Package (prices starting at $224.00) — includes Wine Navigator's Choice of 5 bottles; standard wine tasting; premium wine tasting; Pinnacle Grill dinner; wine related gift set; Holland America commemorative bottle of wine.
Evenings in the Pinnacle Package ($52.00 per person) — includes two evenings in the Pinnacle Grill. Booking the package reflects a $6 per person savings. Reservation times confirmed once on board.
Signature Dining Package ($35.00 per person) — includes one evening in the Pinnacle Grill and one in Canaletto. Booking the package reflects a $4 per person savings. Reservation times confirmed once on board.
[Distinctive Dining Package ($50.00 per person) — includes one evening in the the Pinnacle Grill, one in Canaletto, and one in Tamarind. Booking the package reflects a $9 per person savings. Exclusively on the ms Nieuw Amsterdam and ms Eurodam. Reservation times confirmed once on board.]
Electronic cigarettes are permitted in staterooms but not in other public areas of the ship other than on outside decks designated as smoking areas.