Specially commissioned to sail the Rhône and Saône as part of our Sensations of Southern France river cruise, Emerald Liberté is one of three Star-Ships added to the Emerald Waterways fleet in 2017.
Mirroring the effortless sophistication and beauty of the French countryside, this beautiful ship offers locally-sourced, authentic fine-dining to be paired with the perfect wine accompaniment by our on-board sommeliers, a level of service and attention-to-detail which is sewn into its very essence, providing an experience comparable to that of a world-class hotel.
With a capacity of 132 guests, and a series of cutting-edge amenities, Emerald Liberté represents the next generation of river cruising. The suites, staterooms and public spaces are set across four beautifully-appointed decks, providing endless scope for relaxation and enjoyment whilst cruising.
Travelling from Lyon to Avignon, the ship will explore culturally-rich and enigmatic cities before dissecting the wine regions and charming Mediterranean settlements of France. The Mediterranean climate provides the perfect opportunity to enjoy the amenities of the Sun Deck, where you can sit back and relax or sink a few balls on the putting green. While the heated pool boasts a glass roof which is retractable to let in a cool breeze on a warm day. And, we've incorporated the hugely popular Horizon Bar & Lounge, offering the perfect setting for you to enjoy your favourite tipples.
During days on the water, you can indulge in a little 'me' time aboard the Emerald Liberté, with a skilled hairdresser on the Riviera Deck, spa facilities and a well-equipped gym in the wellness and fitness area. Find your centre and feel thoroughly relaxed from start to finish.
Specifications
Size

boutique

Style

Luxury

Type

river

Year of launch

2017

Length

110.0m

Decks

4

Language

English (British)

Currency

Euro (€)

No. of passengers

132

No. of crew

53

No. of cabins

67

-wheelchair access

0
Unique Features
No need to tip
Don't stress over how much you need to tip your crew on-board, because gratuities are included in the fare. We want you to relax and enjoy your time with us, and this is just one little thing we do to help with that.
Gratuities
Included for Emerald's staff and land tours
Accommodation
Our suites and staterooms are chic, modern sanctuaries, something you would expect from that of a world-class hotel. Inspired by innovation and contemporary design, we have five suite and stateroom grades. In all suites, the traditional French balcony has been substituted for our ingenious all-weather system, transforming your balcony into the perfect place for you to enjoy the endless river views, regardless of the weather. Our staterooms offer a picture window, perfect for admiring the views.
All suites and staterooms boast a wealth of sumptuous features, from luxurious toiletries and a revitalising shower in your spacious en-suite bathroom, to a queen size* or twin hotel-style bed, draped with luxurious linens. Not forgetting, a flat screen HDTV and infotainment system, free Wi-Fi to keep you connected with loved ones, and a bottle of water, replenished daily. We also provide trekking poles to assist on guided walking tours and hikes.
---
Owner's One-Bedroom Suite
Some of the most sumptuous suites on European waterways, our Owners One-Bedroom Suite has it all. A separate lounge and bedroom area allows the luxury of space, from which to enjoy your complimentary continental breakfast in the morning, a drink from your fully stocked minibar or after-dinner sweet treats before bed.
Your queen-size or twin hotel-style bed will be draped in high quality linens, for the perfect night's sleep, plus you'll have the pleasure of selecting your preferred pillow from our extensive menu. Get comfortable for the night after a busy day exploring, and prepare for the next as you unwind with a film on your flat screen TV and infotainment system in true comfort.
A walk-in wardrobe makes unpacking even more of a dream. A great space to keep all your belongings and outfits for special occasions, such as your exclusive dinner at the Captain's Table. You'll even have the option to have four items laundered a day to ensure that favourite dress or suit is in the best possible condition for your event.
In the morning, enjoy the perfect wake-up call with a fresh coffee from your in-suite Nespresso™ machine. Sip it on the balcony, wrapped in the comfort of your Emerald Waterways bathrobe and slippers after a refreshing shower in your stylish in-suite bathroom, enhanced by luxurious toiletries.
You'll have so much to tell your loved ones back home, so we've made keeping in contact really easy. Not only will you have an in-suite telephone, but complimentary Wi-Fi throughout the Star-Ship and an iPad means you can choose your favourite method of communication, whenever the moment suits. 
Staying in the Emerald Grand Balcony Suite makes waking up and going to sleep a dream. Open your balcony, with the simple press of a button, to let in the river breeze on a lazy morning, as the unrivalled comfort of your queen-size or twin hotel-style bed, dressed with luxurious linens, encourages you to lie in that little bit longer.
Wake up to the luxurious surrounds of your stylish bathroom, enjoying a revitalising shower, complete with sumptuous toiletries. Then, what could be better than having a continental breakfast brought to your door to enjoy on your own private balcony? Complimentary bathrobes and slippers make lounging comfortable, and your own in-suite Nespresso™ machine means you can sip a fresh coffee as you ponder your itinerary and what the day has to offer.
Select your preferred pillow from our extensive menu and enjoy an exceptionally comfortable night's sleep, or simply relax as you watch a film on your suite's flat screen TV and infotainment system, during some down time. Individual climate control enables your room to stay at the right temperature to suit you, whether you're sailing in the warmer summer months, or the cooler winter.
And, stay in touch with family and friends using your in-suite telephone or make the most of complimentary Wi-Fi for contacting them by your preferred method.  
---
Emerald Panorama Balcony Suite
Your Emerald Panorama Balcony Suite offers everything you could possibly need throughout your cruise, and more. You'll be surrounded by elegant décor and opulent, comfortable furnishings, as you unwind in your home-away-from-home. Relax on your balcony as the stunning landscapes pass by, and transform it from an indoor to an outdoor space with ease, as the floor-to-ceiling window lowers to a halfway point at the touch of a button. Enjoy the river breeze from your comfortable chair, enjoying a a good book or the unfolding vistas. Treat yourself to a drink from your suite's minibar, or use it to keep your complimentary bottle of water chilled, or for any souvenirs that require it.
When it's time to retire to bed, you can look forward to the exceptional comfort of your queen-size or twin hotel-style bed, complete with luxurious linens. Treat yourself to an indulgent shower with luxury toiletries, to really prepare yourself for an excellent night's sleep.
Of course, keeping in touch with your loved ones is really easy. Every suite has its own telephone, as well as complimentary Wi-Fi being available throughout the Star-Ship. 
An Emerald Stateroom is home to all the amenities you need to settle into your home-away-from-home. A great size picture window lets in the perfect amount of light, welcoming in the golden summer sunshine, or the winter sun during cooler months.
Comfort is of the highest importance, so each room features individual climate control, allowing you to personalise your room's temperature to suit your preferences and the time of year you're cruising.
We've designed our bathrooms as a relaxing retreat to retire to after an exciting day exploring. Enjoy a sumptuous shower complete with indulgent toiletries, as well as a hairdryer, all before settling into your queen or twin hotel-style bed, complete with luscious linens, as you enjoy a movie on your flat screen TV and infotainment system with, perhaps, a nightcap from your mini-bar.
If you wish to stay in contact with loved ones throughout your trip, you can do so using your in-suite telephone or our free Wi-Fi available throughout the ship.
We make solo travel easy and comfortable as all of our Star-Ships, except Emerald Radiance, boast two Emerald Single Staterooms. Home to a deluxe single bed, a bathroom with shower, indulgent toiletries and hairdryer, you'll have all the comforts you need at your fingertips. Your picture window welcomes in a lovely amount of light and individual climate control ensures you can keep at a comfortable temperature regardless of which season you're travelling in.
A flat screen TV and infotainment system shows films and television programmes, so you can spend mornings and evenings relaxing in comfort before an exciting day ahead. Catch up with loved ones, using the suite's telephone or the free Wi-Fi, and enjoy a drink from your minibar.  
Decks
Sun deck with Deck Chairs

Navigation bridge

Sky Barbecue

Golf Putting Green

Games Area

Retractable Glass Roof

Walking Track

Daytime Pool & Bar / Evening Cinema

The Terrace

Horizon Bar and Lounge

Emerald Panorama Balcony Suite

Grand Balcony Suite

Owner's One-Bedroom Suite

Reception

Fitness Area

Reflections Restaurant

Emerald Panorama Balcony Suite

Wellness Centre

Hairdresser

Emerald Staterooms

Dining
Expect truly memorable on board dining experiences, from start to finish. Every Emerald Waterways river cruise begins with a festive Welcome Buffet Dinner where you'll meet the intimate group of cruise guests, and ends with a sumptuous Captain's Farewell Dinner where you share mutually treasured moments in camaraderie with new-found friends.
We believe that great service plays an important role in the dining experience, which is why all of our team members have been carefully selected for their experience and expertise. And with one of the very best guest to crew ratios on Europe's and Asia's rivers, you can expect customer care at its finest. No matter where or how you choose to dine on-board our ships, you'll find our friendly, professional team are always ready to help you.
Free drinks with meals
What's better than free meals? Free drinks perhaps? During mealtimes on-board Emerald Sun and Emerald Dawn, you'll be able to enjoy complimentary drinks, including a selection of beers, wines and soft drinks. Alternatively, buy a drinks package to take advantage of our bar menu whenever you fancy throughout the day.
Reflections Restaurant is the centre-point of our dining experience on-board, where you can enjoy breakfast, lunch and dinner in relaxing, contemporary surroundings. All the dishes served in Reflections Restaurant are chef-prepared and inspired by the local region, so you can look forward to some excellent cuisine during your time on-board, as well as some much-loved favourites from home.
Dining Experience:
Complimentary
A beautifully decked area at the front of the Star-Ship, The Terrace provides a lovely retreat from which to enjoy a light snack or refreshing drink. Depending on the Star-Ship, this partly indoor and outdoor space is a spectacular vantage point from which to soak up the scenery, whatever the weather. This peaceful setting is also a great spot to enjoy a glass of local wine or beer with your loved ones or new-found companions.
Dining Experience:
Complimentary
The Sky Barbecue can be found on the Sun Deck.

Dining Experience:

Complimentary
Entertainment
As the host on-board, our Cruise Directors strive to ensure there's never a dull moment during an Emerald Waterways river cruise. With this in mind, a fantastic range of entertaining activities are available for you to enjoy.
Thanks to the unique design of our Star-Ships, we are able to host a unique event program throughout your cruise. In the Horizon Bar & Lounge, immerse yourself in ancient folklores, passed from one generation to another for hundreds of years, during an authentic show. Or, let the music of a nation sweep you off your feet as a local band takes to the floor in their traditional attire. Alternatively, catch that film you never got round to seeing during movie nights in the cinema.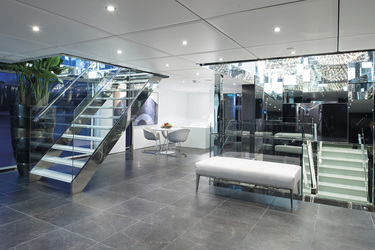 If you want to purchase a drinks package, enquire about a DiscoverMORE excursion or simply catch-up with our friendly crew, you'll always receive a warm welcome in our on-board reception area.
The Horizon Bar & Lounge is the social heartbeat of our Star-Ships. Surprisingly spacious and exceedingly modern, this contemporary and comfortable haven is one of the most popular areas of our vessels day or night.
There's a fully stocked bar with attentive bartenders, help-yourself to a selection of coffees from out high-tech coffee-machine, or try one of our speciality teas, and take a seat in our plush and spacious sofas and chairs. In the day it's a place to catch up with new friends and unwind.
Each evening before dinner, your Cruise Director welcomes you to the Horizon Bar and Lounge for an informal yet fascinating talk on your forthcoming ports of call. With tips on what you'll see and things to look out for, this is an ideal opportunity to plan for the day ahead. When the evening arrives, we have a medley of entertainment planned especially for you.
After another delicious dinner in our Reflections Restaurant, head up to the Horizon Bar and Lounge to listen to your resident pianist play. Relax with your favourite cocktail and catch up with your new found friends.
On select evenings guests are invited to watch local performances in the traditional style. From a Bavarian band to Hungarian dancing, there's no finer way to celebrate the native culture than in the comfort of familiar surroundings.
The Horizon Bar & Lounge also plays host to challenging quizzes and our popular crew show. This jovial event happens at the end of every cruise after the Farewell Dinner.
---
Daytime Pool & Bar/Evening Cinema
Among the many innovations on-board is our daytime pool and evening cinema. Cleverly transforming from a swimming pool into a cinema, it's one of the unique features that set our Star-Ships apart from the competition.

The Sun Deck is your panoramic outdoor space on-board, a place to relax, unwind and take in inspiring views of the river. Complete with deck chairs, walking track and games area, you'll find the Sun Deck at the very top of your Emerald Star-Ship.
---
Games Area and Golf Putting Green
During downtime on-board feel free to enjoy our games area and golf putting green. It's the perfect way to enjoy the scenery while you challenge new-found friends.
Health and fitness
During days on the move, it is possible to indulge in a little 'me time' aboard the Emerald Liberté, with a skilled hairdresser bobbing and weaving on the Riviera Deck. A comprehensive selection of gym equipment and spa facilities are also available to all guests in the wellness and fitness areas – keeping you treated and toned throughout the cruise.
Where else can you enjoy an indoor heated pool with retractable roof?
Make your way to the back of our Star-Ships and you'll discover our most innovative feature, the likes of which you won't find anywhere else on Europe's rivers. In our constant dedication to bring the highlights of ocean cruising to the intimacy of Europe's waterways, we've developed a custom-built feature that promises to give your time on board an edge.
Our indoor heated pool is located on the Horizon Deck of most of our vessels*. This sanctuary of calm features a retractable roof which will welcome the cool river breeze during those warmer days on the water. Floor-to-ceiling windows surrounding the entire area bring the outside in and promise endless views while you enjoy a revitalising swim.
Whether you choose to soak in the sights from the crystal-clear pool during your morning dip or lie back pool-side to marvel at the awe-inspiring night skies, it's hard to imagine a more tranquil setting to relax and unwind.
If you would prefer to stay dry, you will find that the contemporary decked area surrounding the pool is the perfect place to unwind with a good read. There's a scattering of comfy lounger chairs and tables, topped off with a tranquil ambience.
Speciality teas and coffees are available free of charge from the intimate cafe at any time of the day. Feel free to help yourself to a creamy cappuccino and take some time to yourself as your Star-Ship navigates the water at a leisurely pace. Whether you're looking to relax after a morning of sightseeing or being your day with a refreshing dip before stepping foot ashore, this oasis of serenity will soon become one of your most cherished areas of our ships.
At Emerald Waterways, we strive to exceed your expectations. That's why we go above and beyond to provide guests with memorable experiences, both on-board and onshore. From the luxurious comfort of our heated indoor pool, to the sleek, modern design of our suites and public areas, it's no surprise that our commitment to excellence has been recognised with countless industry awards over the years. 
---
Fitness and Wellness area
Don't let your holiday stand in the way of your fitness routine. Whatever time of day you like to work out, you can get your heart pumping in our purpose-built fitness area.
Stretch your legs and take in the sights as you enjoy a stroll on our purpose-built walking track. Taking you around the outside of the Sun Deck, it's a great addition for those who like to stay active on their travels.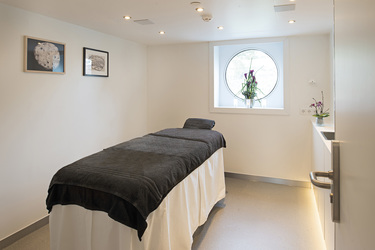 Enjoy a massage, nail treatment or facial in our custom-built wellness area. Our on-board beauty therapist will be happy to help you choose a service to suit your needs, whenever you feel like it.
In need of a quick trim during your travels? On-board you can treat yourself at any point during your cruise with our dedicated hairdressers – perfect if you're looking to get spruced up for a special evening.
Kids and Teens
Please note: There are no children's facilities onboard the Emerald Liberte.
Enrichment
First setting sail in 2017, Emerald Liberté sails both the Rhine & Saone. You can expect a stylish and spacious ship, designed to ensure the most comfortable journey. What you may not have expected is a custom-built ship, built to offer more space per guest than most other operators and to incorporate many spectacular ship innovations, unique to river cruising.
To immerse you further in local history and culture, we also offer optional DiscoverMORE special excursions (at an additional cost). Look out for details on each itinerary. These can either be booked before you go or once on-board.
Head into France's storied past, or the region's glitzy cities with a DiscoverMORE excursion along the Rhône.
With DiscoverMORE, you're free to revel in the awe-inspiring wonder of Pont du Gard, the highest of all Roman-built aqueducts. A striking example of Roman engineering, the Pont du Gard stretches powerfully across the Gardon River. Built in the 1st century, the structure remains solid to this day, a testament to the precision and skill of Roman engineers, despite the simplicity of the technology they used. 
Showcasing the very best that Europe has to offer, our exceptional river cruises introduce the highlights of the continent – from the splendour of the Rhine Gorge to the elegant boulevards of Vienna. In between memorable sightseeing and cultural encounters, you can enjoy an exciting collection of EmeraldACTIVE excursions, special events that let you stretch your legs and keep active amid the inspiring backdrops of Europe's iconic waterways.
Hike the vineyards of the Côtes du Rhône

Beyond the limits of medieval Tournon lies the terraced vine slopes of the Côtes du Rhône, one of France's most esteemed wine-making appellations. It's here, within sight of the weaving passage of the river, that you can enjoy an EmeraldACTIVE vineyard hike – taking in the fragrant grape rows, inspiring scenery and warm, Mediterranean climate. Climb from the river's edge to the summit of the valley through these celebrated wine lands promises, and enjoy a post-walk tasting session.

The EmeraldPLUS experience takes you to the heart of local culture, helping you enjoy authentic customs and traditions while learning what day-to-day life is like for local people. These enriching events seek to avoid typical tourist hotspots, so you can be sure that your experience goes beyond that of the ordinary traveller. 

From the culinary capital of Europe, Lyon, to the balmy climes of the Mediterranean Coast, the Rhône explores a truly beautiful stretch of France.
Regional wine tasting in Tournon

The South of France has winemaking pedigree that is hard to match, anywhere in the world. As your Star-Ship journeys through Tournon, you'll be given chance to sample some of the region's best-loved and most celebrated wines. Hosted on-board the ship, with the stunning backdrop of southern France passing you by, you're free to try these delightful vintages.
Enjoy this EmeraldPLUS experience as part of our Sensations of Lyon & Provence river cruise.
Provencal dinners hosted by renowned local chef
As well as a rich winemaking heritage, Provence is also home to some of the world's favourite dishes and most respected chefs. During our river cruises through this amazing part of the world – a popular local chef will join you on-board and host an amazing dinner filled with delicacies and Provencal favourites.
Take part in this EmeraldPLUS experience during our Sensations of Lyon & Provence with Nice river cruise.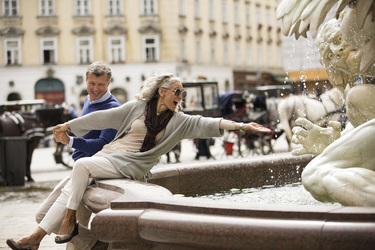 With a different port call almost every day of your cruise; Emerald Waterways have organised a series of inspiring days ashore – taking you to the very heart of the beautiful towns and cities we visit. Exploring authentic local cultures, Emerald Waterways excursions are led by experienced, knowledgeable guides – introducing you to a wealth of knowledge.
Featuring as many as 16 destinations across up to five different countries, an Emerald Waterways cruise provides the perfect platform to absorb a huge array of cultures and traditions in one fell swoop. Every Emerald Waterways cruise itinerary is carefully planned to ensure the ship visits only the most fascinating, rewarding port towns and cities – affording you the opportunity to derive maximum reward and pleasure.
Whether exploring a new town on foot or navigating the streets of an ancient city by coach, English-speaking guides will be on hand to bring your destination to life through educational and enlightening commentary. And to ensure you don't miss a second of the tour, we will provide all of our guests with a personal headset.
Useful to know
Emerald Waterways welcomes disabled guests but wishes all guests to understand that limitations could exist on-board and during shore excursions. The lifts on the ships service three out of four decks, with access to the Sun Deck only possible using stairs. Under appropriate circumstances guests are welcome to use collapsible wheelchairs on-board. Many tours are conducted from coaches,so guests need to be able to climb up and down the stairs to board. Some shore excursions may require movement over cobblestones or up and down stairs;accordingly, guests with limited mobility will require the services of a responsible companion to be travelling with them, since crew availability is limited. If you have any medical, physical or other special needs, please contact the travel advisors for further information and have a look at the deck plan to gain an understanding of the layout of any particular ship. On occasion they will be required to dock next to other ships, which may mean accessing the shore via the Sun Deck, requiring you to ascend and descend stairs.

One of the things Emerald Waterways guests love about travelling with us is the relaxed dress code. We're not strict about what you wear, only that you bring clothes that will help you enjoy the great cultural tapestry of Europe in complete ease and comfort.
Below, we list our recommendations for the clothing you should bring for an eight-day European river cruise, both for days and evenings. We've tried to be as comprehensive as possible, taking into account different clothing for the time of year.
During the day, your everyday clothing should do the trick, so no need to splash out on a new wardrobe. Our good friend, the travel writer and cruise expert, Alan Fairfax, says: "Think chinos and sports shirts, while ladies - the choice is yours."
A choice of t-shirts, tops or casual shirts that are comfortable for day-long wear. In the colder months, these can be worn as a base layer.
A couple of warm sweaters, sweatshirts or knitted tops. Even in spring and summer evenings can be chilly, so make sure you have something warm to pull on – particularly when you're away from the ship.
A few pairs of trousers, jeans or chinos (we'd recommend around three for an eight-day cruise). Of course, if the forecast looks warm, bring a couple of pairs of comfortable shorts, too.
A light weather-proof jacket, rising to a good winter coat in the colder months. Even the summer months can't guarantee dry weather, so don't get caught without a rain and wind-proof jacket.
A good pair of walking shoes. The cobblestones of Europe can be tough on feet, so make sure you bring a pair of comfortable, thick-soled walking shoes for comfortable daily wear.
Swimwear. With Emerald Star-Ships boasting a pool, be sure to pack your swimwear to enjoy a leisurely dip as your ship floats to its next destination.
Hats, gloves and a scarf – for those chilly winter days on the river.
Sunglasses and sun hat.
During evening meals, smartening up is a nice touch, but there's no need to bring your tuxedo; open-neck shirts, trousers and dresses complement our luxury surroundings just fine.
A selection of long-sleeved, open-neck shirts for gents, and a couple of casual evening dresses for ladies. There's no need be overly formal – think smart casual comfort.
A couple of pairs of chinos, smart jeans or trousers. These can be the same as the ones worn during the day, paired with an open-neck shirt, for instance.
A blazer or smart jacket. Though not necessary, it's nice to dress up for the Captain's Welcome dinner or evenings spent onshore – but there's no need to bring a tie.
A comfortable pair of smart shoes. While you're free to wear the same pair as during the day, there's a chance they could get dirty, so it's good to have a reserve for the evenings.
Travellers who are less than 21 years old on the departure date must be accompanied by and share a cabin/room with an adult aged 21 or over. Children under 12 years of age are not accepted. This is a condition of carriers and cruise operators.
Completely removing the risk of an awkward silence at the end of a delectable meal, or upon receipt of a bottle of crisp champagne to your suite; Emerald Waterways have already taken care of on-board tipping.
The last thing you want at the end of an amazing holiday is to be presented with additional and unexpected charges. This can leave a sour taste in your mouth and a dent in your spending money. When you travel with Emerald Waterways, you don't have to worry about any unwanted surprises because we include all tips.
By including all tipping in the price of your cruise, which can add up to £440 per couple on a 15-day journey, we ensure that you don't get hit with any shock expenses. It's also a great way to guarantee that our hardworking servers receive the gratuities they deserve. What's more, all the other little things like port charges, airport taxes and transfer costs are also taken care of, so all you have to worry about is enjoying the journey of a lifetime.
Paired with the complimentary dining options, free drinks with meals and all-inclusive services; you'll seldom need your wallet or money clip whilst on-board an Emerald Waterways river cruise. Your days on-board can be spent enjoying the views and uncompromised services, rather than budgeting, scrimping and saving.
So whether you're exploring the capital cities dotted along the Danube or navigating the mighty Rhine, you can rest assured that tips and gratuities have already been taken care of. You're free to spend each day on-board an Emerald Waterways river cruise enjoying the attentive service of our experienced team, the wonderful amenities and luxurious settings as the ship meanders through one of Europe's beautiful rivers.
Complimentary Wi-Fi is available on-board all the Emerald Waterways ships throughout the public spaces, cabins and suites.
Please note: Wi-Fi connection strength and speed may change as the vessel moves.
Emerald Waterways endeavour to cater for all dietary requirements and requests. We ask that you inform us of any requirements or requests at the time of booking. This will give us chance to meet your requirements.
Smoking is not permitted in the cabins or any indoor parts of any of the ships in the Emerald Waterways fleet.
There are areas on the ships' external decks where smoking is permitted.
While we do not offer a separate vegan menu, all of our vegetarian dishes are clearly marked and there will be a vegetarian option available with every meal.
We do offer all of our guests the opportunity to make dietary requests at the time of booking. These are then reviewed and special arrangements can be made. Personalised menus are also available.
Certified vegan wines are also available on board each of our cruises, one white and one red. If you would like, then you can request something special at the time of booking so that it can be sourced for you before your cruise.
---
What to Pack for a River Cruise
Essentials
With clothing and footwear wrapped up neatly in your suitcase, it's time to consider those easy-to-forget essentials that you may or may not need during your river journey. Below, we recommend a list of personal items and electronics which you should pop in your case for a comfortable and hassle-free trip.
Personal Items
Medication
From prescribed medications (clearly labelled) to painkillers, allergy relief tablets and travel sickness pills, you shouldn't leave home without packing those all-important medicines.
A backpack, satchel or travel bag
Remember to bring the charging lead for your phone, camera and other electronic items, as well as a travel adapter. All Emerald Waterways Star-Ships feature two-pin standard European sockets, so you'll need an adapter plug.
Insect repellent
Depending on the time of year you travel, you may want to pack insect repellent to divert the attention of Europe's creepy crawlies, including mosquitoes and midges.
Toiletries and cosmetics
While we provide a selection of complimentary toiletries, we understand there are some things you can't live without – so don't forget your washbag.
Travel documents
An obvious one, but easy to neglect; make sure to pack your passport, tickets, boarding passes and any other documents related to your trip.
Tech and handheld devices
A smartphone or tablet
While a river cruise is a chance to escape the realities of everyday life, a smartphone or tablet is useful for helping to plan and research the day's activities, or help you navigate one of the continent's bustling cities.
Device chargers and travel adapters
Remember to bring the charging lead for your phone, camera and other electronic items, as well as a travel adapter. All Emerald Waterways Star-Ships feature two-pin standard European sockets, so you'll need an adapter plug.
A camera
From the Rhine Gorge to Buda Hill, the rivers of Europe boast some truly beautiful vistas, so pack a camera to document those special moments.
Headphones
Whether listening to music by the pool or tuning into coach tour commentary, a pair of headphones is a useful addition to your suitcase.
Extra memory cards
From the moment you set out, you'll feel the impulse to capture your surroundings, so pack additional memory cards for your camera or smartphone to ensure you never miss a beat.
E-reader
There's something wonderful about reading a book as the great spectacle of Europe floats by, so if you're an avid reader, save space in your case with an E-reader.
"Take lots of guide books. You'll want to read more." – Sarah Lucas
Alan Fairfax was kind enough to provide a handy checklist, compiling some little extras to make your first-time river cruise even more enjoyable.
Don't forget a lightweight plastic hooded rain mac for those unexpected showers.
A small rucksack for your camera, binoculars, rain macs and other items when out on excursions is essential.
Research the countries you'll visit. Check their currency, especially if travelling the Danube. If you're using cash, get it before you leave. If you choose to use a credit card, ensure there are no transaction charges. Emerald Waterways Star-Ships do hold a small amount of currency – please refer to the FAQ page for more information.
Don't forget your electrical plug adapters. All sockets on the ships are the two-pin variety.
A phrase book is always handy, especially in the smaller, more provincial towns and villages.
Check your mobile network provider for any overseas charges, and don't forget chargers and cables.