She offers nearly 900 balcony staterooms from which to take in the colourful sunrise over the ocean, or capture a breathtaking sunset sail-in to a romantic city like Venice. 
Leisurely days spent onboard in the Piazza-style atrium are relaxing and entertaining, with the nearby International Café and Vines wine bar fulfilling your cravings for warm cookies, toasted paninis, and even hand rolled sushi. Whether you're getting refreshed with a work-out in the fitness centre or putting your feet up at Movies Under the Stars, your experience on Emerald Princess is sure to be unforgettable.
Specifications
Size

super

Style

Resort

Type

ocean

Year of launch

2007

Year of last refit

2019

Gross tonnage

113561t

Length

289.9m

Width

48.5m

Speed

22kts

Decks

19

Language

English

Currency

US Dollar ($)

No. of passengers

3080

No. of crew

1200

No. of cabins

1539

-wheelchair access

31
Unique Features
Movies Under the Stars - Poolside outdoor cinema with Hollywood movies against a backdrop of sea and sky. Staff provide comfortable chaise lounges, blankets in the evenings and complimentary popcorn, warm cookies and milk.

Ultimate Balcony Dining - Available to guests with balcony cabins, a dedicated waiting team will serve your private dinner party on your  balcony.
Gratuities
A discretionary gratuity of $12 per person for mini-suites and suites, and $11.50 per passenger in all other staterooms per day (including children) will be automatically added to your shipboard account on a daily basis. 
A 15% gratuity is added to bar charges and dining room wine accounts. This is shared amongst the beverage staff and their support staff.

Casino dealers and Lotus Spa personnel do not share in these gratuities, as not all passengers utilise these services.
Accommodation
Offering a broad range of suites and mini-suites, Star Princess provides generously sized staterooms and balconies to fit any budget. Ranging from 162-777 square feet in size, each stateroom is the perfect place to unwind. Your steward will take care of everything you need from refreshing your room every day to turning down the bed in the evening. We offer the deluxe amenities you'd expect from a first-class hotel — from 24-hour room service to chocolates on your pillow at night.
Surrounding you with deluxe accommodations, a spacious Suite with balcony* includes all the amenities of a Club Class Mini-Suite, plus incredible premiums. Enjoy more living space, a sofa bed and separate seating areas, and wonderfully enhanced amenities that range from priority embarkation and disembarkation to a complimentary mini-bar setup in suite and so much more.
Staterooms - 460-777 square feet

Balcony - 95-241 square feet

Sleeps 2

A premium stateroom category featuring our best located Mini-Suite staterooms, as well as the great amenities found in all Mini-Suites — plus premier dining benefits and luxurious perks. Each night, enjoy Club Class Dining, an exclusive dining area featuring expedited seating with no wait, expanded menu options, dedicated wait staff and tableside preparations. Other amenities include priority embarkation and disembarkation, a complimentary one-time wine set-up and so much more!
Staterooms - 460-777 square feet

Balcony - 9 -241 square feet

Sleeps 2-4

The luxurious Mini-Suite offers a separate seating area with a sofa bed for lounging or sleeping a third passenger. The bathroom offers a combination tub and shower with Shampoo, conditioner and body lotion. Other features include, a welcome glass of champagne, Balcony with patio furniture, Twin beds that convert to a queen-size bed, Evening bed turn-down, chocolates on your pillow, Two flat-panel televisions, 100% Egyptian cotton linens, Satellite TV, refrigerator, hair dryer, safe, closet, phone and desk, 110-volt, 60-cycle alternating current (AC) with standard U.S. plug fittings, daily housekeeping service. Some Mini-Suites also have a pullman bed to accommodate a 4th passenger.
Staterooms - 323 square feet

Balcony - 57 square feet

Sleeps 2-4

Balcony staterooms are appointed with fine amenities such as Balcony patio furniture, Twin beds that convert to a queen-size bed, Private bathroom with shower and Shampoo, conditioner and body lotion, 100% Egyptian cotton linens, Satellite TV, refrigerator, hair dryer, safe, closet, phone and desk, 110V, 60-cycle alternating current (AC) with standard U.S. plug fittings, daily housekeeping service, Evening bed turn-down, chocolates on your pillow. Premium staterooms feature a large balcony of 54 to 109 square feet and/or have a rear-facing balcony from which to enjoy dramatic wake views. Some staterooms also have pullman beds to accommodate 3rd and 4th passengers.
Featuring a picture window for memorable views, the Oceanview stateroom is richly appointed with fine amenities. Some also have pullman beds to accommodate 3rd and 4th passengers.
Staterooms - 179 square feet

Sleeps 2-4

The Interior staterooms are richly appointed with fine amenities such as Twin beds convertible to a queen-size bed, Private bathroom with shower, Shampoo, conditioner and body lotion, 100% Egyptian cotton linens, Satellite TV, refrigerator, hair dryer, safe, closet, phone and desk, 110V AC electrical outlet with U.S. plug fittings, daily housekeeping service, and nightly turn-down service. Some also have pullman beds to accommodate 3rd and 4th passengers. 
Staterooms - 162-182 square feet

Sleeps 2-4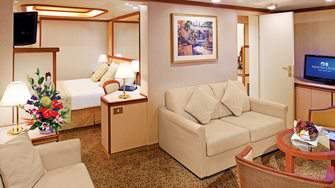 These suites are for larger families or groups traveling together and include special suite-only benefits and two bathrooms — connected by a large living room, which leads to an expansive private balcony. Each suite sleeps up to eight people.
Decks
Centre Court

Jogging Track

Platinum Studio

Princess Links

Skywalkers Nightclub

Movies Under The Stars Seating

Sun Terrace

Teen Centre

The Sanctuary

Video Game Arcade

Youth Centre

Adagio's Bar

Conference Room

Fitness Centre

Lotus Spa

Movies Under The Stars

Sabatini's Restaurant

Tradewinds Bar

Wedding Chapel

Calypso Reef & Pool

Horizon Court & Café Caribe

Horizon Terrace

Hot Tubs

Lotus Spa

Neptune's Reef & Pool

Pizza and Ice Cream Bar

Trident Grill

Pool Bars
Interior Staterooms

Oceanview Staterooms

Balcony Staterooms

Suites

Terrace Pool

Interior Staterooms

Oceanview Staterooms

Balcony Staterooms

Suites

Interior Staterooms

Balcony Staterooms

Suites

Interior Staterooms

Balcony Staterooms
Interior Staterooms

Balcony Staterooms

Suites

Interior Staterooms

Balcony Staterooms

Suites

Mini-Suites

Interior Staterooms

Balcony Staterooms

Oceanview Staterooms

Suites

Mini-Suites

Boutiques

Club Fusion

Crooners Lounge & Bar

Crown Grill

Dance Floor

Explorers Lounge

Library

Photo Gallery

Princess Theatre

Shore Excursions

Wheelhouse Bar

Botticelli Dining Room
Casino Bar

Conference Centre

Da Vinci Dining Room

Gatsby's Casino
Boutiques
Princess Theatre

Speakeasy Cigar Lounge

The Piazza

Escapes Travel Café

International Café

Internet Café

Michelangelo Dining Room

Princess Fine Arts Gallery

The Piazza

Vines Bar

Interior Staterooms
Oceanview Staterooms
Dining
The Princess chefs are true culinary artists who insist on serving the very finest cuisine - and it shows. The entire fleet has been inducted into the prestigious Chaîne des Rôtisseurs gastronomic society. Each chef's menu is creative and the selections change every day. Pair that with impeccable service and you're in for an unforgettable gourmet experience.
---
Traditional Dining Room- Botticelli Dining Room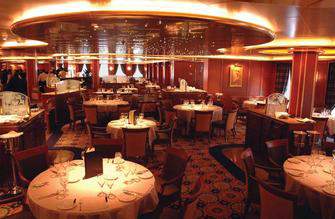 The Botticelli Dining room is the ship's traditional dining room allowing guests to eat at the same time and table each evening with either an early option of 6pm or late option of 8.15pm.
Examples of evening meals include poached seafood and avocado, vegetarian spring rolls or blue crab cake quiche for starters, grilled vegetables on lettuce salad or tortellini and spinach soup, New York strip with peppercorn sauce, lobster or spaghetti carbonara for mains and pistachio ice cream, chocolate cake or fresh fruits for dessert.
Vegetarian options such as aubergine lasagne and fettuccine alfredo are also available along with Lotus Spa healthy options.
Dining Experience:
Complimentary
This Italian restaurant is a refined yet casual dining establishment rich in atmosphere, showcasing an Italian and Mediterranean menu with a heavy emphasis on premium seafood. Sabatini's is open for dinner from 6pm until 11pm.
Dining Experience:
Cover charge may apply
Recently voted one of the "Best Cruise Ship Steakhouses" by USA Today, the Crown Grill features premium beef and seafood items, plus up-scale appetisers and special desserts. This unique concept offers a show-place eatery with an open, theatre-style kitchen where chefs custom-prepare steamed shellfish such as lobster, scallops, clams and mussels and cooked-to-order steaks and chops.
Food type:
Steak & Seafood
Dining Experience:
Cover charge may apply
---
Anytime Dining- Michaelangelo & Da Vinci Dining Rooms
Just like a restaurant at home, Anytime Dining enables guests the freedom to dine when and with whom they wish..
The Da Vinci Dining Room on Deck 6 is open for breakfast, served between 7.30am and 9.30am, afternoon tea from 3.30 to 4.30 and Princess' Anytime Seating Option for Dinner from 7.30pm to 10pm.
Emerald's Michelangelo Dining Room on Deck 5 of the ship is open for dinner only between 5.30pm and 10pm with anytime seating arrangements allowing passengers the flexibility to select a dining time to suit each day, seated either with other guests or at a table for two.
Breakfast options range from cereals, bagels with smoked salmon and cream cheese, eggs cooked in a variety of ways, fresh fruit, pancakes, muffins and pastries, cold meats and two specials each morning such as Alaska scrambled or eggs Florentine.
Examples of lunch choices include chefs salad, hamburgers and chicken burgers, tortilla soup, roast beef sandwiches and fried catfish.
Afternoon tea offers finger sandwiches, pastries, scones and cookies served with white-glove service accompanied by a wide selection of premium teas or coffee and music for entertainment.
All main dining rooms tend to offer the same four course dinner menu with set choices on one side of the menu and nightly changing themed selections on the other side. The option of an 'always available menu' is also provided including steaks, chicken breast and salmon.
Examples of evening meals include poached seafood and avocado, vegetarian spring rolls or blue crab cake quiche for starters, grilled vegetables on lettuce salad or tortellini and spinach soup, New York strip with peppercorn sauce, lobster or spaghetti carbonara for mains and pistachio ice cream, chocolate cake or fresh fruits for dessert.
Vegetarian options such as aubergine lasagne and fettuccine alfredo are also available along with Lotus Spa healthy options.
Dining Experience:
Complimentary
Want to maximise your pool time and minimise your mealtime? Get a quick and satisfying bite whenever you like at our Casual Dining eateries, or get take-out and dine by the pool.
Trident Grill– The Grill overlooks the pool deck and offers an array of burgers, hot dogs, kebabs and pies amongst other choices.
Pizzeria– A perennial Princess passenger favourite, here they serve up freshly made Italian-style pizza by the slice, featuring classic flavours and a daily special.
Sundaes Ice cream bar – Passengers can enjoy a refreshing soft-serve cone complete with dipping sauces and sprinkles or splurge on other ice cream treats.
International Café- The International Café is the place for an ever-changing array of snacks and coffee selections from cappuccino to café au lait. Guests may enjoy freshly baked croissants or beignets in the morning, gourmet paninis and salads at lunchtime, or homemade gelato in the evening. Coffee lovers will find an expanded coffee program featuring a variety of specialty coffee drinks made from a selection of six different coffee beans.
Dining Experience:
Cover charge may apply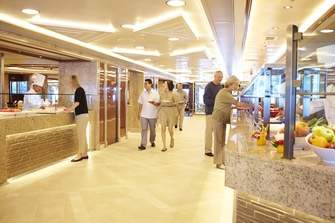 An expanded top-deck buffet featuring multiple live stations, Horizon Court offers a wide selection of buffet meals or snacks. A primary feature of Princess ships, the top-of-the-ship restaurant features floor-to-ceiling windows with stunning sea views as a backdrop for a quick breakfast or casual dinner.
At night, the Horizon Court becomes Café Caribe. This themed buffet captures the flavours of the Caribbean. This elegant but casual dining option presents a changing menu of Caribbean themes with specialties such as Paella-Style Prawns, Whole Roast Suckling Pig, Jerk Chicken, Guiana Pepperpots and Curries, and many more local favourites. The buffet court features an open kitchen where guests can order their meal cooked to their specifications.and offers a casual, self-service buffet. 
Dining Experience:
Complimentary
Casual Dining at its best, a Wine, sushi and tapas bar. Voted one of the 'Best Wine Bars at Sea' by USA Today!
This wine bar offers an extensive menu with more than 30 wines available by the glass plus a series of wine flights. Wine lovers can pair their selections with fresh bites including seafood treats, tapas and artisan meats and cheeses. On some vessels, the adjacent wine shop offers guests the opportunity to purchase their favourite bottle. 
Dining Experience:
Cover charge may apply
Choose a luxurious breakfast or experience the "ultimate" romantic dinner at sea: a sumptuous four-course meal, including succulent lobster tail and juicy steak, your beverage of choice, hors d'oeuvres, all served right on your balcony served by our dedicated waitstaff!
Dining Experience:
Cover charge may apply
All ships offer Princess' trademark British-style afternoon tea daily, complete with tablecloths, gleaming Samovars, easy listening music in the background, and tea boxes for herbal and specialty teas. Guests can enjoy freshly prepared finger sandwiches, cookies, biscuits and cakes served by white-gloved waiters in smart, formal attire. 
Tea service can also be enjoyed al fresco on the Promenade Deck as waiters stroll the deck with a fully stocked tea cart.
Dining Experience:
Cover charge may apply
The International Café, located on the 5th Deck, is open 24 hours a day and serves a selection of teas and coffees along with a range of pastries, doughnuts, cakes, desserts, sandwiches, salads and soup which are complimentary.
Its location by the central plaza area with its own entertainment makes it a good place for a drink and light snack during the day and night.

Dining Experience:
Complimentary
The Chef's Table experience provides the chance to tour the ship's busy galley during dinner service, where the ship's executive chef previews the evenings menu with a selection of hors d'oeuvres and Champagne for guests to enjoy.
Guests are then taken to a private table in the main dining room to enjoy a specially created multi-course menu accompanied by selected wines to complement each course.
During the dessert course the chef re-joins the table to discuss the evenings menu and share their culinary knowledge.
Dining Experience:
Cover charge may apply
Several times throughout the cruise, The ships' Wheelhouse Bar is transformed into an authentic English-style pub, serving a selection of traditional dishes.
A range of British favourites (displayed on chalkboards and counters) from bangers & mash, fish & chips and Ploughman's Lunch to cottage pie, complement a selection of traditional pub drinks such as Stella Artois, Bass Ale or Guinness.
Pub lunch meal service is free of charge and opens between 11:30 a.m. to 2:30 p.m.
Dining Experience:
Complimentary
Chef Curtis Stone's first restaurant at sea, SHARE, gives you an exclusive opportunity to enjoy his exquisite cuisine. Perfect for a special celebration or simply reveling in time spent together, Chef Stone has made an art out of reconnecting with loved ones over a six course fine dining experience. The finest ingredients — ultra premium meats, seafood and more — create inspired dishes beautifully served.

Dining Experience:

Cover charge may apply
CRAFTED BURGERS FROM EXPERT CHEF UCHIMURA
A warm, inviting gastropub experience developed with Ernesto Uchimura, a founding chef of the original Umami Burger. Try one of our innovative gourmet creations inspired by pub favorites or devour the "Ernesto", a savory rib eye burger named "Best Burger at Sea" by Cruise Critic. Offering a unique variety of beer, whiskey and cocktail selections, plus live music, there's something for everyone at this hip, friendly twist on traditional pub fare.
Dining Experience:
Cover charge may apply
Seafood lovers won't want to miss this full crab shack experience. An intriguing bistro option housed within the Horizon Court buffet, Crab Shack diners can savor Bayou-style boiled crawfish and spicy sausage, popcorn shrimp, steaming clam chowder and a tantalizing mixed steamer pot filled with snow crab, jumbo shrimp, clams and mussels.

Dining Experience:

Cover charge may apply
Entertainment
To say the night-life on-board is entertaining is an understatement. Illuminating the stage in captivating productions, Princess Cruises performers are some of the most talented musicians, singers and dancers at sea. Our Princess Signature Shows, lounge performers, movies and casinos are just some of the entertainment our guests enjoy as they escape completely.
Princess Cruises largest theatre yet, with sophisticated architectural lighting. West End-style shows are on every cruise, with more than one performance each evening allowing passengers the flexibility to see a show before or after dinner. With lively music, stunning choreography and some of the largest casts at sea.
The 300 square foot outdoor movie theatre offers a unique opportunity to enjoy blockbuster movies against a backdrop of twinkling stars. Personal touches include comfortable chaise lounges, complimentary popcorn, warm cookies and milk, with cosy blankets in the evenings.
Choose from 17 table games in this spacious casino, located on Deck 6. 
Featuring games tables including roulette, poker, craps and blackjack it also hosts a range of slots and video poker machines as well as the ships daily bingo sessions.
Complimentary gaming sessions are available for newcomers. The Casino also has its own bar and is open to over 21's only.
Explorers Lounge is one of the ship's three main entertainment venues.
Located midship on the 7th Deck, events held here range from Princess Pop Star, liars club game show, themed nights, art auctions and trivia competitions to cocktails and dancing and karaoke.
A popular, top-deck nightclub- During the day its location makes it an ideal observation lounge to sit and enjoy the ever changing scenery.
The Crooners Lounge and Bar, located midship on deck 7 opens from 1pm onwards and is reminiscent of a classic Martini bar.
Evening entertainment features live piano music with requests and name that tune elements. Here they also offer an enticing menu of 75 martinis, plus entertainers at spectacular duelling glass pianos.
The designated cigar lounge where guests can relax with a premium cigar and cognac and enjoy sporting events aired on the TV screens within the bar.
It is located on the 6th Deck outside the lower level of the Princess Theatre.
The internet is available onboard the ship either in the Internet Café on Deck 5 or via passengers' personal wi-fi devices. Charges apply.
The boutiques onboard offer more than just accessories and sundries you may have left at home. Shop onboard and benefit from incredible tax-and duty-free savings off suggested U.S. retail prices on fragrances, cosmetics, jewellery and gifts, apparel and liquor.
In addition to everyday savings, they bring you special promotions throughout the cruise.
The Platinum Studio, located on the 19th Deck in between the sports court and Princess Links mini golf, provides guests with the opportunity to have natural black and white portrait pictures taken using creative lighting.
The sessions are free with no obligation to purchase the photos which guests can look through and select their favourite if they do wish to buy it. 
The Mermaids Tail bar serves the Neptune pool area and is located forward of the 14th Deck.
It also sells a small selection of sweets and chocolates, for guests to purchase whilst watching the movies under the stars at night on the large overhead TV screen.
The Oasis Bar serves the Sports Deck (16) and is located aft of the deck in between the two hot tubs.
Outrigger Bar is an outside bar aft of the 14th Deck serving the Horizon Terrace sundeck and pool below.
Calypso Bar serves the Calypso pool midship on the 14th Deck also.
Tradewinds is an outdoor bar serving the 17-18th Deck.
The ship's library is in the multi purpose internet cafe and library room on the 5th deck, featuring a range of books from fiction to reference along with audio books and board games for guests to use. 
Club Fusion on Deck 7, offers a range of activities for guests to participate in including trivia quizzes and dance classes during the day and, from 7.30pm onwards, karaoke and music from a variety of eras from 70's disco to 50's and 60's dance music.
With plenty of seats, guests can also opt to sit and enjoy the entertainment with a drink from the bar.
The Adagio Bar is found next to Sabatini's Italian Restaurant on deck 16 and offers stunning views, making it the the ideal place for pre and post dinner drinks after eating in Sabatini's.
Open from 6pm onwards it serves up Italian inspired cocktails accompanied by complimentary olives and an extensive wine list with live musical entertainment from classical piano recitals to jazz.
Passengers eating at Sabatini's can retire to Adagio's to enjoy their desserts and Italian style coffee and liqueurs.
Health and fitness
The many activities on-board our ships are designed to stimulate, educate, entertain, inspire and sweat - not necessarily in that order. But, guests can be sure crew onboard will do their best to cover all the bases. From art auctions to The Sanctuary Spa, this ship is loaded with fun things to do.
Sometimes floating serenely just isn't enough - splash around, ride the waves, swim against the current or take a dip in one of this ship's seven bubbling hot tubs. Pools to visit include the Calypso Reef pool, Neptune's Reef Pool, the Terrace pool, the Lap pool, and the Lotus Spa Pool.
A retractable crystal dome roof provides protection from the elements, so despite the weather, the pool areas are always accessible.
This ship will keep you on the run, literally, with basketball, paddle tennis, jogging tracks and state-of-the-art gyms equipped with machines that'll keep your heart rate pumping. If that isn't enough, there is also a nine-hole putting course for guests to use.
The Fitness Centre pairs a state-of-the-art gym with spectacular ocean views. This multi-tiered facility offers something for all fitness levels, so everyone from beginner to expert can find challenging exercise options. 
Passengers can use the latest in exercise equipment like treadmills, recumbent bicycles, elliptical machines, strength equipment, as well as a selection of free weights. 
Most equipment features personal TV screens, and some even offer an interactive, virtual experience that makes exercising a bit more fun and engaging.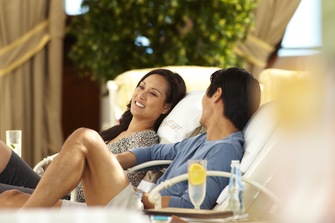 Leave stress at the door when you enter this blissful signature haven exclusively for adults. Perfect for that al fresco massage, feel the gentle breeze on your skin and listen to the ocean waves wash your cares away as you enjoy refreshing drinks and healthy snacks settled on a comfy lounger.
This oasis of tranquility includes all the special touches that have made The Sanctuary so popular since it was first introduced in 2006, plus a number of new features. The Sanctuary has Cabanas for more luxurious experience, plus two Lotus Spa Cabanas offering an elegant private space for a range of spa treatments. 
Featuring the air of a romantic hideaway under its distinctive white canopy cover, The Sanctuary design includes strategically placed rock gardens and special topiary planting with atmospheric lighting. These elements create an inviting path leading to a new central pavilion. Passengers can relax on luxurious plush lounge chairs or circular daybeds, while Serenity Stewards provide healthy refreshments and music players with peaceful music. Space in The Sanctuary can be reserved for $20 for a half day/$40 for a full day, per person.
Adjacent to The Sanctuary, the Retreat Pool provides an exclusive area for adults to relax and rejuvenate. The Retreat Pool is open to all adults, and Retreat Pool Cabana rental is available beginning at $50 for a half day. At night, this area turns into the "Chill Lounge," offering passengers a relaxed outdoor space to enjoy the night with drinks and music.
In the Lotus Spa, cruisers will find a welcoming feel and contemporary, sophisticated décor, New features include private Couples Villas and The Enclave thermal suite. Here passengers can totally decompress with new relaxing options such as the Hammam (a Turkish-style steam room), the Caldarium (an herbal steam room), the Laconium (a dry heat sauna) and the hydro-therapy pool.
The Lotus Spa provides guests with everything from facials, massages and scrubs to body wraps and acupuncture.
Within the spa, there is a unisex beauty salon offering a range of services from hair cuts and styling to manicures, teeth whitening and barber services.
Kids and Teens
Passengers ages 3 to 17 will enjoy many exciting on-board activities. The Youth Centres and Teen Lounges are staffed by experienced counsellors, who are ready to ensure the youngest cruisers stay happy all day long. There's everything from art projects, game tables, the latest movies, pizza parties, talent shows, video games, and much more.

Children under the age of 3 are welcome to visit the Youth Centre, if accompanied and supervised by a parent at all times.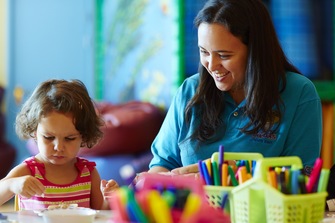 Ages 3-7- There's an exciting toddler area, a mini air hockey table, great arts and crafts stations, plus a space for group activities like movie nights.
Offering dance parties, movies and cartoons, along with ice cream and pizza parties, your little ones can enjoy t-shirt colouring, theme nights and getting creative with art projects.
Ages 8-12- Offering games and activities like air hockey, skeeball, and video game stations – not to mention a dedicated lounge with a giant TV and arts and crafts tables. 
There are plenty of exciting activities for older kids to enjoy, including kids-only dinners, movies, PS2/PS3, Wii (and all the latest games), along with scavenger hunts, talent shows and sports tournaments. California Science Centre workshops and junior chef@sea educational classes are also on offer.
Ages 13-17- Featuring a new lounge area, perfect for meeting new friends, with skeeball, foosball, and great video games. In the teen-only exclusive lounges, junior cruisers can come and go as they please. 
Make new friends whilst enjoying PS2/PS3 and Wii games, football tables, sports competitions and late night movies. Take part in the shipboard Olympics, mocktail parties, DJ workshops, or check out the hot tub parties and formal dinners.
Enrichment
When is a cruise an opportunity to enrich? When it's a Princess cruise. This ship offers area lectures, art exhibits and classes taught by local experts.
Princess Cruises believe learning is fun. Through their exclusive partnership with the California Science Centre, their Youth Staff are trained to deliver exciting interactive science activities for kids ages 3-12. Whale watching, roller-coaster building, chemistry experiments, and squid dissection are just some of the activities that may be offered.

Also on offer is the Pete's Pals Program as a way for Princess kids to learn more about threatened and endangered species in the areas in which Princess sails. Children participating in this program will receive a limited-edition plush animal to take home as a souvenir.
Expand your mind with an array of engaging Scholarship@sea opportunities. There are up to 40 classes on every cruise. Tantalise your taste buds on the Culinary Arts course or take a Wine Tasting seminar. Discover your crafty side and create a wonderful holiday keepsake.

Fancy a little enlightenment on your holiday? Learn to navigate a cruise ship at an engaging presentation. Embrace the digital age and tackle technology at one of the
---
Art Collections, Galleries and Auctions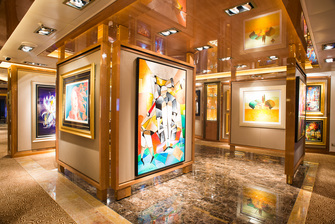 Princess Fine Arts auctions* are fun, fast-paced, and offer an exciting opportunity to collect exceptional works of art. You'll find some of the art world's biggest stars, from Picasso, Chagall, and Rockwell to Peter Max, all represented, with hundreds of works available from contemporary art's most popular figures.

Any purchased pieces from new collections are shipped to your door.
Useful to know
Wheelchair users will find access-friendly design across most of the Princess fleet, making it easy to enjoy each vessel's restaurants, theaters, spas, lounges and open deck space. Elevators have generous 36- to 42-inch doorways, and wheelchair seating is available in show lounges and other public spaces.

Guests with sight and hearing disabilities will find vessels equipped with such helpful features as Braille elevator call buttons, audible arrival sounds and infrared listening assistance systems in the Princess theatres. ADA "all in one" kits are available upon request -- featuring telephone amplifiers, visual smoke detectors, door knock sensors, text telephones (TDD) and other aids.

Princess ships also welcome service animals, and have hosted a variety of such special helpers, including seeing-eye dogs, hearing-assistance dogs, and even a "helping hands" monkey.
---
Special Dietary Requirements
Princess Cruises are happy to meet your request for low-sodium, low-fat, low-sugar and vegetarian diets. Kosher meals and baby food are available upon advance written request. Any other special diet requests must be authorized in advance by the Princess corporate office.

You or your travel agent must advise Princess in writing of any special diet, allergies or medical needs. Requests must be received no later than 35 days prior to departure for cruises to Alaska, Canada/New England, Caribbean, Hawaii, Mexico, Panama Canal and Coastal Getaways. For all other cruises, requests must be received no later than 65 days prior to departure. Once onboard, please check with the Maitre D' to confirm your request.
The legal drinking age of 21 years is always observed on-board all ships and proof of age may be required. All on-board staff are trained to take their responsibility to not serve alcohol to under-age passengers seriously. The age restrictions are clearly posted in the bars.
Entry into the disco is limited to passengers 18 years and older. Be sure to check with the child and teen centres, however, for special disco events designed just for kids. Children under the age of 18 are welcome in the gymnasium, spa and jacuzzi; and also in the evening entertainment show lounges when accompanied by a parent or guardian.

In line with domestic age limits, as well as Princess' company policy, the casino is reserved for passengers 21 years and older. Additionally, only those passengers 21 years and older will be allowed to purchase or consume alcohol. For those whose age is questionable, picture identification may be requested.
You should dress for a cruise with Princess the same way you would for any stylish land-based resort.
Casual sportswear, including shorts, lightweight pants and jogging suits, is the order of the day both at sea and ashore in hotter climates.

Princess recommend you bring a sweater, a jacket or an all-weather coat for cool evenings, and for shore excursions, depending on your destination. Due to unpredictable weather, don't forget a hat or visor and a collapsible umbrella. Please be sure to bring proper clothing for visits to religious sites. You'll also want low-heeled, rubber soled shoes for strolling on deck, as well as comfortable walking shoes or sandals to wear.

Princess makes it easy to know what to pack and what to wear when you're dining on-board our spectacular ships. There are two designations for dress codes: Smart Casual and Formal.

Smart Casual:
Passenger attire should be in keeping with what they would wear to a nice restaurant at home; Skirts/dresses, slacks, and sweaters for ladies, trousers and open-neck shirts for men
Inappropriate dinner wear such as pool or beach attire, shorts, ball caps and casual jeans (with fraying and/or holes) are not permitted in the dining rooms. Shoes must be worn.

Formal:
When formal nights are held, please observe the dress code in the Traditional Dining and Anytime Dining venues for the enjoyment of all guests. Evening gowns and cocktail dresses are suggested for women; Tuxedos, dinner jackets or dark suits with a tie for men
All Inclusive Beverage Package:
Relax and enjoy the convenience of an all inclusive beverage package featuring any drink up to $10 including cocktails, wine, beer, sodas, lattes, cappuccinos, bottled water & more. All for just $49 per person per day.

Unlimited Soda Packages:
Guests wi'll never be without their favourite fountain sodas, from Coke, Diet Coke, Sprite and Barq's Root Beer, to nostalgic orange soda, soda water, tonic water and ginger ale. The Unlimited Soda & More Package allows guests as many fountain sodas, refreshing juices, fruity mocktails and creamy ice cream shakes as you can handle.
---
E-Cigarette & Smoking Policies
Keeping the comfort of our guests a priority, and in consideration of consumer studies which show smokers are a small minority of guests, Princess has implemented the following smoking policy:
Designated Smoking Areas
Clearly marked "Designated Smoking Areas" are available onboard and include a sufficient number of ashtrays that are emptied regularly. Generally, these areas include cigar lounges, a section of the nightclub, as well as a portion of the open decks. The Casino and Casino Bar are non-smoking areas on board, with the exception of designated slot machines where guests are permitted to smoke only while playing at those machines. All table games are non-smoking. The Casino will also have one or more non-smoking nights (6 pm to closing), depending on length of voyage. Show lounges, dining rooms and all food services areas on board all Princess ships are non-smoking. As a safety precaution, guests are reminded to properly dispose of cigarettes, cigars and pipe tobacco, which are never to be thrown overboard as this may be sucked back into the ship and cause fires.
Stateroom Smoking Policy
Princess Cruises prohibits smoking in guest staterooms and balconies. This reflects the preferences of a vast majority of our guests who value having their primary living space (both stateroom and balcony) smoke-free. As balconies are a hallmark of Princess Cruises, we believe it is important to keep this peaceful space clear of smoke. Violations to this policy will result in a $250 fine for each occurrence, which will be charged to the guest's stateroom account. Keeping with the global trend toward more restrictive smoking policies and honoring the wishes of our guests, we feel this enhances our onboard experience.
Electronic Cigarettes
The use of electronic cigarettes is allowed within the confines of the guest's stateroom (balcony not included) and within designated smoking areas only.