Chart a course for adventure and wonder, where elegance and sophistication mingle with storytelling and whimsy. Sister ship to the Disney Dream, the Disney Fantasy is a masterpiece of design and engineering boasting Art Nouveau allure alongside modern technological advancements. Set sail for exotic destinations aboard this 130,000-ton marvel while enjoying Disney magic at sea.
Specifications
Size

large

Style

Resort

Type

ocean

Year of launch

2011

Year of last refit

2014

Gross tonnage

130000t

Length

340.0m

Width

38.0m

Speed

22kts

Decks

14

Language

English (American)

Currency

US Dollar ($)

No. of passengers

5336

No. of crew

1450

No. of cabins

1250

-wheelchair access

12
Unique Features
Pirate Night: Celebrate the pirate life at Pirate Night, a swashbuckling experience on the high seas. From the themed dinner party to the lively deck party to the spectacular fireworks display, the fun is seemingly endless. 
Gratuities
Gratuities are advised at $36 - $84 for a 3-7 night cruise.

An 15% gratuity is automatically added to bar, beverage, wine and deck service tabs. 

An 18% gratuity is automatically added to Spa & Salon visits.

Gratuities are not expected for babysitting services.

Dining Manager and Room Service tipping is at your discretion. 

All gratuities can be charged to your room charge.

Accommodation
Featuring contemporary amenities, ample space and an elegant, yacht-like decor, the staterooms onboard Disney Fantasy provide comfortable accommodation for up to five guests per cabin. With most boasting split bathrooms, her cabins are designed with families in mind.
For a Disney Cruise experience like no other, select an upscale Concierge-level suite situated on their uppermost passenger decks. Here, you'll feel on top of the world as you sail to new worlds, all while being pampered with first-class amenities and exceptional service. With separate living rooms and bedrooms, a sprawling private verandah and special touches like a well-stocked library of music and movies, they've thought of everything you could need or want—and more.
Concierge Family Oceanview Stateroom with Verandah

Concierge 1-Bedroom Suite with Verandah

Concierge 1-Bedroom Suite with Verandah – Accessible

Concierge Family Oceanview Stateroom with Verandah – Accessible

Concierge Royal Suite with Verandah

Sleep up to 5

622-1,781 square feet (including veranda)

A richly appointed accommodation designed for families of 3 to 5, each Verandah Stateroom features a classic nautical motif and deluxe Art Deco design. Relax in private quarters fitted with warm wood finishes, custom fabrics and carpeting, original artwork, crown mouldings, genuine teak accents and a private verandah affording magnificent ocean views. Each room also features generous square footage and floor-to-ceiling windows.
Deluxe Oceanview Stateroom with Verandah – Accessible

Deluxe Family Oceanview Stateroom with Verandah – Accessible

Deluxe Oceanview Stateroom with Verandah

Deluxe Family Oceanview Stateroom with Verandah

Sleeps up to 5

622 square feet (including veranda)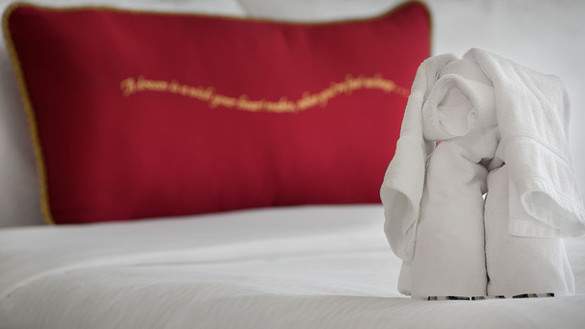 A richly appointed accommodation designed for families of 3 to 5, each Oceanview Stateroom features a classic nautical motif and deluxe Art Deco design. Relax in private quarters fitted with warm wood finishes, custom fabrics and carpeting, original artwork, crown mouldings, genuine teak accents—and your very own porthole window to the ocean world outside, with a furnished seating area from which to admire the view.
Deluxe Family Oceanview Stateroom

Deluxe Family Oceanview Stateroom – Accessible

Deluxe Oceanview Stateroom

Deluxe Oceanview Stateroom – Accessible

Sleeps 3- 5

204-241 Square feet

A richly appointed accommodation designed for families of 3 or 4, each Inside Stateroom features a classic nautical motif and deluxe Art Deco design. Relax in private quarters fitted with warm wood finishes, custom fabrics and carpeting, original artwork, crown mouldings, genuine teak accents and a Magical Porthole for real-time views of the sea—and virtual sightings of animated Disney characters!
Standard Inside Stateroom

Deluxe Inside Stateroom

Standard Inside Stateroom – Accessible

Sleeps 3-5

169-204 Square feet

Decks
Satellite Sun Deck/ Falls

Concierge Private Sun Deck

Currents Bar

Edge

Goofy's Sports Deck

Concierge Royal Suite with Verandah

Concierge 1-Bedroom Suite with Verandah

Concierge Family Oceanview Stateroom with Verandah

Aqua Duck

Aqua Lab

Waves Bar

Remy

Palo

Meridian

Senses Spa & Salon

Couples Villas

Fitness Area

Concierge Family Oceanview Stateroom with Verandah

Concierge 1-Bedroom Suite with Verandah

Quiet Cove Pool

Cove Bar

Cover Cafe

Flo's Cafe

Luifi's Pizza/ Tow-Master's Grill

Fillmore's Favorites

Eye Scream/ rozon Treats

Whozits & Whatzits

Funnel Vision Deck Stage

Donald's Pool

Micky's Pool & Slide

Nemo's Reef

Arr-cade

Cabanas

Deluxe Oceanview Stateroom with Verandah

Standard Inside Stateroom

Deluxe Family Oceanview Stateroom with Verandah

Deluxe Family Oceanview Stateroom

Standad Inside Stateroom

Deluxe Inside Stateroom

Deluxe Family Oceanview Stateroom with Verandah

Deluce Oceanview Stateroom

Deluxe Inside Stateroom,

Deluxe Family Oceanview Stateroom with Verandah

Deluxe Oceanview Stateroom

Deluxe Family Oceanview Stateroom with Verandah

Deluxe Oceanview Stateroom

Deluxe Family Oceanview Stateroom

Deluxe Inside Stateroom

Standard Stateroom

Standard Inside Stateroom

Deluxe Family Oceanview Stateroom with Verandah

Deluxe Family Oceanview Stateroom

Concierge Family Oceanview Stateroom with Verandah

Deluxe Oceanview Stateroom with Verandah

Deluxe Inside Stateroom

Buena Vista Theatre

Port Adventures

It's a Small World Nursery

Bibbidi Bobbidi Boutique (Fantasy only)

Disney's Oceaneer Club

Disney's Oceaneer Lab

Vibe

Standard Inside Stateroom

Deluxe Inside Stateroom

Deluxe Oceanview Stateroom

Deluxe Family Oceanview Stateroom

Walt Disney Theatre

Buena Vista Theatre

Vista Cafe

Shutters

Vista Gallery

Walking/Jogging Track

D Lounge

Distrect Lounge/ La Piazza

687 Lounge/ Ooh La La

Pink/ O' Fill's Pub

Skyline

Evolution/ The Tube

Walt Disney Theatre

Preludes

Mickey's Mainsail

Whitecaps

Sea Treasure

Bon Voyage

Guest Services

Royal Court

Animator's Palate

Deluxe Oceanview Stateroom

Standard Inside Stateroom

Enchanted Garden

Dining
Disney Cruise Line dining is sure to satisfy the appetites of your entire family—thanks to fresh, expertly prepared dishes made available 24 hours a day. Featuring diverse menus inspired by some of the world's most intriguing destinations, and restaurants that are distinctly themed and brimming with charm, Disney Cruise Line invites you to enjoy the finest dining at sea.
Savor distinctive choices onboard—from menus inspired by romantic destinations to restaurants with magical themes. With Disney's Rotational Dining, you'll "rotate" to one of 3 different restaurants with a unique menu each night of your cruise, but your servers—who know your every taste—remain with you.
MAIN DINING
Don't miss an innovative dinner show at Animator's Palate called Animation Magic. You can also dine in a lovely setting that feels like an Enchanted Garden, or eat like a king at Royal Court in a dining room inspired by Disney fairytales.
CASUAL DINING
Explore a boardwalk of fresh food favourites at Cabanas, eat a quick lunch at Flo's Café, then grab a sweet snack at Eye Scream and Frozone Treats. You can even satisfy a midnight craving with complimentary, 24-hour in-room dining.
ADULT-EXCLUSIVE DINING
For romance at sea, the Disney Fantasy serves up stunning sunsets. Choose Palo—Northern Italian cuisine with a piano serenade, or Remy—intimate, French, with a dedicated wine room. Date night has never been so fun!
Animator's Palate on the Disney Dream is a delightfully themed, Main Dining restaurant located on Deck 3, Aft that serves contemporary Pacific Rim cuisine with an American flair for dinner. Inspired by the magic of Disney animation, Animator's Palate is a spacious yet stylised restaurant filled with everything you would expect to find inside an actual animator's studio. Character sketches, scale models, light boxes, paint brushes, coloured pencils, computer work stations and other tools of the animation trade delightfully decorate the venue; and scenes and characters from popular Disney films adorn the walls—creating a one-of-a-kind experience sure to captivate the entire family.
Dining Experience:
Complimentary
Enchanted Garden on the Disney Dream is a large-sized, Main Dining restaurant located on Deck 2, Midship. Inspired by the picturesque gardens of Versailles, Enchanted Garden boasts a market-inspired menu of mouth-watering flavours from around the world for breakfast, lunch and dinner—and a wondrous environment that magically transforms from day to night over the course of the dining experience.
Boasting painted frescoes where rolling hills mingle with lush greenery and a magnificent blue sky overhead, Enchanted Garden invites guests to dine in a serene splendour that recalls an elegant conservatory amid the foothills in France. Adding to the idyllic atmosphere are custom-glass flower light fixtures that suspend overhead, white trellises, ornamental light posts and—at the centre of the restaurant—a delightful 7-foot tall cascading fountain, home to a fanciful stone cherub Mickey Mouse.
Dining at Enchanted Garden means you can expect something magical to happen. During the course of the day, the restaurant's sweeping ceiling changes from a brilliant blue daytime colour into the golden red of a setting sun, finally transforming into a captivating night-time constellation of twinkling stars. Additionally, flower light fixtures "bloom" and become bathed in colour, decorative wall sconces fall away to become folding fans, wall paintings project a dusky illumination and the centrepiece fountain is flooded with shimmering light.
Dining Experience:
Complimentary
Royal Palace on the Disney Dream is a wondrously themed, Main Dining restaurant located on Deck 3, Midship. Inspired by classic Disney films like Cinderella, Snow White and the Seven Dwarfs, Sleeping Beauty and Beauty and the Beast, Royal Palace serves French-inspired, continental cuisine fit for a king or queen for breakfast, lunch and dinner.
Dining at Royal Palace is an elegant affair. Resplendent décor includes ornate marble floors, a luxurious rose carpet and an elaborate chandelier brimming with glass slippers and roses, along with hand-painted portraits of Disney princesses and princes including Aurora, Cinderella, Snow White and Belle. A marble entryway inlaid with a royal crest featuring a pumpkin coach, glass slipper, rose and tiara, and lavish chair backs embellished with gilded emblems and tiara-topped porthole valances add to the magic.
With an attention to detail only Disney could communicate, dining at the Royal Palace places you and your family in the centre of a classic Disney fairy tale—where much of the restaurant's décor is modelled from classic Disney films. For example, the circular floor plan, fluted columns and iron railing that grace the restaurant are all faithfully recreated from the Cinderella ballroom scene.
Dining Experience:
Complimentary
---
Eye Scream and Frozone Treats
Satisfy your sweet tooth with cool refreshments! Choose from 2 quick-service venues conveniently located near Donald's Pool on Deck 11—Eye Scream Treats and Frozone Treats.
Eye Scream Treats - Inspired by the friendly, one-eyed monster Mike Wazowski from the Disney"Pixar animated feature Monsters, Inc., Eye Scream Treats offers soft-serve ice cream with plenty of popular sundae toppings.
Frozone Treats - Named after the ice-creating superhero in the Disney"Pixar movie The Incredibles, Frozone Treats mixes delicious fruit smoothies.
Food type:
Ice Cream Parlour
Looking for a quick bite to eat? Visit Flo's Café, located near Donald's Pool on Deck 11 aboard the Disney Dream. With 3 unique stations themed after popular characters from the Disney Pixar film Cars—Luigi's Pizza, Tow Mater's Grill and Fillmore's Favourites—this quick-service option serves a variety of delicious dishes.
This is an excellent place to satisfy those between-meal cravings, whether you're seeking healthy options or heartier fare. Although subject to change, menu items may include burgers, pizza, fresh fruit, sandwich wraps and salad.
Preludes, a Quick Service restaurant located on Deck 4, Forward just outside the Walt Disney Theatre, is a bar serving beverages and snacks, open during live show performances and movies.
Savour the refreshing flavour of an ice-cold beverage or scrumptious snack before, during or after a live show at this convenient and cosy bar that serves mixed drinks, non-alcoholic beverages and snacks, located just outside the Walt Disney Theatre.
Open during show times, Preludes also offers wait-staff service inside the Walt Disney Theatre before the curtain goes up, so you can be sure to enjoy a cocktail during the show without ever having to leave your seat. Cookies, chips, pretzels and an assortment of candy can be ordered for an additional charge plus gratuity.
Cabanas on the Disney Fantasy is an indoor/outdoor casual dining restaurant located on Deck 11, Aft that serves a variety of fresh food favourites. During breakfast and lunch, Cabanas offers the finest in made-to-order dining; at dinnertime, Cabanas is transformed into an elegant table-service restaurant serving Main Dining specialities.
Bedecked in a California beach theme, Cabanas recalls a breezy boardwalk along the Pacific coast—with a dash of Disney magic thrown in for good measure. The restaurant's charming décor boasts clam shell tables and Adirondack chairs, palm trees and beach umbrellas, decorative surfboards and kites, and flooring that alternates from wood panelling and sand to an ocean-blue carpet. A sweeping 30-foot-long hand-crafted mosaic depicting an underwater scene from the Disney Pixar animated film Finding Nemo can be found on the wall, as well as a decorative art-piece featuring the five Disney castles.
Dining at Cabanas is a unique culinary experience. During breakfast and lunch, guests are invited to explore the boardwalk—which is home to a variety of food stations, each designed to look like a seaside beach cabana with colourful awnings—and partake in an eclectic menu of freshly prepared, culinary classics. Similar in style to a high-end food court, food stations serve everything from mouth-watering sushi and pasta to one specializing in decadent desserts. At dinnertime, Cabanas is transformed into a table-service dining experience where dinner entrées are cooked to order in the show kitchen. Cocktails and speciality drinks can be ordered from the full-service Clam Bar.
Dining Experience:
Complimentary
Palo on the Disney Fantasy is an intimate, Adult Exclusive restaurant serving traditional Northern Italian cuisine with a contemporary twist for dinner nightly. Brunch is available select dates on cruises lasting four days or longer. These premium dining experiences are available at a fee, and are not included in the cost of price of your cruise.

Along with its exquisite cuisine and upscale atmosphere, Palo offers ocean views and an elegant décor—a perfect romantic setting for Guests 18 years of age or older.

Palo, named after the signature long poles used by gondoliers in Venice, boasts stylish furnishings, custom art and Italian-inspired décor. Highlights include:

Excellent views of the ocean from every seat, thanks to raised seating banquettes along one side of the room, floor-to-ceiling windows and a semi-circular design 

A backlit bar at the restaurant's centre 

A pianist who softly serenades diners 

A private outdoor teak deck offering al fresco dining, picturesque views and gentle ocean breezes.
Experience an Italian feast for the senses at Palo. Savour Northern Italian cuisine with a modern flair—and enjoy the soft notes of classical Italian music while you dine.
Dinner begins at 6pm nightly; the final reservation time is 9pm. Dinner is $25 per person. The restaurant also features an extensive menu of Italian wines—as well as beer and spirits—which are available at an additional fee.
Dining Experience:
Cover charge may apply
Remy is an intimate Adult Exclusive restaurant located on Deck 12, Aft that serves the finest in French-inspired cuisine for dinner. Offering the most upscale dining experience on board, Remy features spectacular ocean views and a warm, sophisticated décor—the perfect romantic setting for guests 18 years of age and older.
Dining at Remy is like being transported to an authentic fine-dining restaurant in France. The luxurious dining room is softly lit and designed in a timeless Art Nouveau style featuring soft greens, rich reds, and gold tones. Graceful, sinuous lines adorn the chair backs, glass and wall etchings, as sweeping floral and leaf designs ornament the carpet and lighting. Adding to the refined ambience, tables are set with Frette linens, Riedel glassware, Christofle silverware, and china created exclusively for the restaurant. The adorable Remy character appears in artful ways throughout the restaurant's design for a touch of Disney magic.
Boasting a French-inspired menu featuring superior seasonal ingredients from around the globe, dining at Remy is a leisurely affair. Beginning with a complimentary chilled Champagne cocktail that is prepared at your table, dinner is comprised of multiple courses. For an extra charge, Remy offers a stellar wine list in addition to a wine pairing option. Elegant touches include a table side trolley for international cheeses, decanting stations for wines, and an after-dinner coffee service.
Remy's gourmet menu was created by Chef Arnaud Lallement from l'Assiette Champenoise—a Michelin 3-star restaurant just outside Reims, France—and Chef Scott Hunnel from award-winning Victoria & Albert's at Walt Disney World Resort.
Dining Experience:
Cover charge may apply
Replenish and recharge at this nutritious refreshment haven near Senses Spa & Salon. Serving blended beverages bursting with fresh fruit and vegetables, Senses Juice Bar provides a vitamin-infused, protein-filled boost after a vigorous workout or massage. 
Food type:
Healthy Option
Dining Experience:
Complimentary
---
Vanellope's Sweets & Treats
Race on down to this decadent dessert shop inspired by the super-sweet arcade game from Disney's Wreck-It Ralph. Enjoy a "Sugar Rush" with hand-scooped gelato, fresh waffle cones, baked treats and candy in a wide variety of delicious flavours.
Food type:
Ice Cream Parlour
Dining Experience:
Complimentary
Entertainment
As entertainment goes, Disney knows a thing or two about keeping Guests amused—and it's no exception on a Disney cruise. Relish topnotch Broadway-style musicals; party at elaborate bashes; enjoy first-run films and delight in enchanting encounters with some of your favourite Disney Characters.
Kids and kids-at-heart can meet some of their favourite Disney Characters and capture the moments with photos. Share hugs with Cinderella. Enjoy a hearty laugh or two with Goofy. Pose for a picture with Peter Pan and collect autographs from the likes of the lovable but mischievous duo Chip 'n Dale.
Although subject to change, Disney Characters you may see during your cruise include:
Mickey Mouse

Minnie Mouse

Donald Duck

Daisy Duck

Chip 'n Dale

Goofy

Pluto

Cinderella

Jake

Princess Anna

Queen Elsa

Doc McStuffins

Sofia the First

Experience magical moments like no other cruise line can with Disney Characters!
Watch Broadway-caliber productions in this grand performance venue aboard Disney Cruise Line ships. With its alluring ambience, the Walt Disney Theatre provides a dramatic setting that reflects a sense of excitement you might feel attending a star-studded gala. It is home to some of the finest entertainment in the cruise industry—from Disney original musicals to fun-filled variety acts.
The theatre décor recalls a bygone elegance of movie houses, yet behind the curtain you'll find a technological marvel. Adorned with Art Deco and Art Nouveau flourishes from the 1930s and 1940s, the Walt Disney Theatre is a luxurious venue designed to handle today's most complex productions. Features include:
An approximately 40-foot-wide proscenium stage

Full-flying capabilities for moveable backdrops and scenery

A projection system for animated scrims and stage lifts

Pyrotechnic capabilities

State-of-the-art lighting and Dolby® sound systems

Orchestra and balcony seating—Disney Fantasy and Disney Dream only

Movie PremEARS at the Walt Disney Theatre
In addition to live entertainment, the Walt Disney Theatre also plays host to Disney movie premieres, allowing Disney Cruise Line Guests to attend a film's nationwide opening at the same time it debuts onshore.
3D at Sea
First to bring you 3D movies at sea, the Walt Disney Theatre now combines state-of-the-art digital 3D projectors and in-theatre special effects for a whole new dimension in your movie-going experience.
Accessibility
Designated wheelchair viewing is available in various locations in the theatre. Guests needing assistance with wheelchair viewing should contact a Crew Member outside the theatre entrance at least 10 minutes prior to show time.
Start your Disney cruise vacation on an upbeat note at a high-energy deck party.
Get ready for all sorts of excitement at the happiest celebration at sea! This jubilant deck party builds anticipation as images of the fun to come are featured on the Funnel Vision—you might even see yourself on the big screen!
It's a magical introduction to your vacation as confetti and streamers rocket through the air, shooting skyward while the Pinocchio classic "When You Wish Upon a Star" bellows from the ship's blow horn. And as the party comes to an end, you know the fun is just beginning. So, be sure to check the Personal Navigator—the Disney Cruise Line daily newsletter—to explore all the excitement that awaits you on your cruise vacation.
Eat, dance and be merry at a buccaneer bash fit for a pirate!
"Pirates in the Caribbean" Deck Party
Venture to the pool deck to dance off dinner with your favorite Disney Characters and enjoy an entertaining pirate show, as well as interactive games with some special surprises!
Fireworks
Shiver me timbers! During the show, a fantastic fireworks display—an industry first—is sure to delight landlubbers and freebooters alike! (The fireworks show is weather permitting and may be postponed or canceled due to weather conditions, including high winds.)
It's a Pirate's Life for You!
Enjoy trivia, games and meet-and-greets with Characters dressed in pirate garb on our very popular Pirate Night.
Get the party started early with a fun family game show in the afternoon. Kids can indulge their inner adentures with activities at the youth clubs—and don't forget to take a picture of your own pirate family with Mickey and his crew!
Eat Like a Scalawag
Enjoy dinner in one of our Main Dining restaurants where our servers, dressed for the occasion, will greet you with a cheerful "Ahoy matey" and "Arrr!" Once seated, the food and fun await, including:
A party bandana for each Guest—tie it on for a little pirate flair

A menu that resembles an old treasure map

Festive dinners include such options as Jolly Rogers Barbecue Rib Salad or Pirates Golden Pot Stickers or even Chilled-to-the-Bone Honeydew Melon and Watermelon Soup (menu offerings subject to change)
Pirates League
Kids—and kids at heart—can get dressed up like pirates aboard the Disney Fantasy. On pirate party nights, Bibbidi Bobbidi Boutique turns into a swashbuckler's hideaway where Guests are transformed into pillaging pirates. Recite a pirate oath and become an official part of Captain Jack's motley crew! 
From blockbusters to Disney classics, see a movie in state-of-the-art comfort—and style.
Hollywood Glamour
Inspired by the golden age of cinema, this grand movie theatre boasts Art Deco splendour. It's a beautifully designed cinema showcasing first-run films as well as popular motion-picture releases and classic Disney films.
A fabulous entertainment escape for movie lovers of all ages, the Buena Vista Theatre features:
Glamorous décor reminiscent of the Art Deco and Art Nouveau styles of the 1920s and 1930s
The latest state-of-the-art technological advancements in projection and sound

Plush, comfortable seating with legroom to spare

On the Disney Dream and Disney Fantasy, you'll also find dual-level stadium seating that provides a perfect vantage point for every seat in the house. It's a very special place to see a movie, and once you step inside for the first time and look around, you'll feel the magic of a bygone era.

---
Disney's Aladdin – A Musical Spectacular
Enjoy an uproarious live performance based on the Disney animated classic.
From the big screen to the live stage, this comedic musical performance retains all of its fun and frivolity. The show opens at the entrance to the Cave of Wonders, where the dreaded Jafar, resident evil villain, has been foiled, failing to gain entry into the treasure-filled cavern that contains a magic lamp. But he hatches a plan to find a "diamond in the rough" and retrieve the lamp. Aladdin—so-called street rat who has fallen head over heels for Princess Jasmine in a chance encounter in the marketplace—is that rough diamond!
Genie's 3 Wishes
The devious Jafar has a hapless Aladdin arrested and forced to retrieve the magic lamp, but instead, a sprightly Magic Carpet advises Aladdin to rub the lamp, which releases the Genie who grants him 3 wishes. After using one wish to escape the cave, Aladdin goes with his heart for wish #2: Make him a prince so he can win over Princess Jasmine.
A Royal Dilemma
Little does Aladdin realize that the princess is looking for true love and not impressed with the field of royal suitors.
Can Aladdin win Jasmine's heart as a street rat in princely clothes or fall flat off his magic carpet? Will the wise-cracking Genie ever gain his freedom or be doomed to delivering magic lamp one-liners? Only time on the Disney Fantasy will tell!
Enjoy an enchanting musical about growing up and staying young at heart, exclusively on the Disney Fantasy.
Ride of Their Lives
Discover a song-and-dance show about joining the grown-up world without giving up the joyful child inside us all.
The story begins with 3 teens—Kayla, Nicole and Brandon—heading off for a visit to Disneyland Resort in celebration of their high school graduation. Unsure of what the future holds, they make a wish to go on the "Rides of Our Lives" and an exhilarating journey ensues!
Treat for All Ages
Watch as the young trio's adventure unfolds, guided by such beloved Disney Characters as Rapunzel, Flynn Rider, Mulan, Hercules, Pinocchio, Timon and Pumbaa. And, with help from their fantastic new friends, the teens realize the meaning of being "young at heart" and the importance of play—no matter your age!
Magical Production
Bask in full-scale production numbers and special effects as Disney Wishes brings sheer glee to the stage. Discover original songs as well as classic Disney tunes—all performed with a captivating, contemporary twist.
Musical Highlights
The show's musical numbers feature Characters from such beloved Disney films as:
Tangled

Lilo and Stitch

The Lion King

Jungle Book

Pinocchio

Mulan

Delight in this live stage spectacular—complete with laughs, stirring sentimentality and magical moments!
Enjoy a spellbinding musical about a workaholic father who reconnects with his daughter through a little Disney magic.
A Bit of Storybook Magic
Discover a heartfelt tale of a loving daughter determined to make her studious father see life beyond work. All it takes is a bit of faith and a dash of magic.
The story begins in the garden of Dr. Cornelius Greenaway, a brilliant botanist captivated with cultivating his precious plants. The good doctor is so passionate about his garden that he forgets what day it is—his daughter's birthday!
That night, Sophia, his daughter makes an emotional wish—and something incredible happens: Genie from Disney's Aladdin comes to the rescue!
Joined by a host of Characters, Genie takes Dr. Greenaway on a magical ride into the world of Disney stories. Along the way, the doctor makes a personal discovery—magic isn't fantasy, but a remarkable reality that has touched both him and his daughter.
Beloved Disney Songs
Along with a stirring story, this modern-day fable has an exuberant original score. Delight in some of your favourite Disney Characters and most memorable songs from these film classics:
Aladdin

Cinderella

Peter Pan

Mary Poppins

Beauty and The Beast

The Lion King

The Princess and the Frog

Behind The Scenes
Come along on this sentimental journey, complete with stunning effects and costumes. This production calls for more than 300 costumes and 200 wigs, as well as 6 massive high-definition digital projectors and nearly 200 moving scenic elements.
It's a musical extravaganza that's sure to be a long-time favourite for Guests of all ages!
Head Underground for libations, dancing and toasting "Cheerio!" in this British-mod nightclub.
Mind The Gap
Take The Tube—be transported to a nightclub in the midst of Piccadilly Circus in swinging 1970s-era London.
Inspired by London's Underground subway, with its metropolitan vibe and iconic décor, this posh club is a hip retreat for adult Guests. Party late into the night on a dance floor complete with a stage-lit British Union flag. Mingle amidst mod furnishings, where a train route map is the carpet motif, the plush sofas resemble a train ticket pattern and red phone booths are peppered throughout the club.
The Tube is a scene to be seen. Grab your mates, latch onto a strap, laugh and groove at The Tube—a smashing good time!
A Taste of London
Savour British-themed libations at this fab nightclub inspired by the London subway.
The Tube's circular bar, set under Big Ben's clock face, features knowledgeable bartending blokes serving up a spirited menu of on-draught and bottled beers, mixed cocktails, hard liquor (or soft drinks), wines—even bubbly by the glass or celebratory bottles on ice.
Try absolutely splendid concoctions, such as:
Mind The Gap: A tasty mix of Drambuie, whiskey and cola

1863 (the year London's Underground opened): A unique sweet and savory aperitif

Bullseye: A proper cocktail containing No3 London Dry Gin and fresh-muddled basil leaves

Of course, if you fancy a cup of tea, you can choose from English Breakfast, Earl Grey and other posh beverages—served, if preferred, with milk.
Sing, dance, play games and enjoy live entertainment as a family at this high-energy entertainment venue.
At D Lounge, you're the star, with family-friendly entertainment like karaoke, trivia game shows and dance parties. A colourful yet casual atmosphere and spacious, comfortable seating make this lounge the perfect gathering place for the whole clan.
Get Ready for a Rollicking Good Time
D Lounge invites parents and children to join in the magic together, with tons of fun-filled activities the whole family will love. Take to the stage and be part of the action or simply watch the merriment unfold. For specific activity details and times, check the Personal Navigator newsletter or Disney Cruise Line Navigator mobile app while onboard the ship.
Set your sights on this Art-Deco-inspired café and Internet hotspot. Enjoy coffee and pastries in the morning or a pre- or post-dinner cocktail at night. You can also connect wirelessly or view your photos available at Shutters via an onsite kiosk.
Sip a drink and sightsee from your seat at this chic sky bar serving sweeping views of the world's most scenic horizons.
Imbibe in a pre- or post-dinner cocktail at this sophisticated indoor and outdoor lounge situated between Palo and Remy.
Anchor yourself at this relaxing, adults-only, indoor/outdoor lounge overlooking Quiet Cove Pool. Find refuge with gourmet coffee, mixed drinks and baked goods, or simply peruse a magazine, watch the flat-screen TV or surf the Internet.
Ride a wave of relaxation at this open-air bar perched high on Deck 13. Offering commanding views of the sea, shore and sunset, this breezy hotspot is the perfect place to sip a cocktail or beverage and simply take it all in.
Swim against the tide at this laid-back bar located on Deck 12. Tucked beneath Goofy's Sports Deck, this breezy spot bedecked in nautical touches is a great place to sip on a beverage while enjoying sweeping views of the sea, shore and sunset.
Toast to a good journey with a refreshing beverage at this sophisticated Art Deco retreat located in the grand Atrium. Serving cocktails, coffees, juices and sodas, this full-service bar is a great place to meet up with loved ones while at sea.
Share a pint and watch all your sports teams on TV at this rollicking, shamrock-sprinkled Irish pub and sports bar.


Live the Legend

The charming O'Gills Pub will have you feeling right at home—that is, if you live in Dublin.

This handsome pub, with dark woods, brass accents and 4-leaf clovers, is saturated in shades of green and flocked with shamrocks. It's a boisterous, joyful tribute to traditional Irish street-corner pubs.

With plenty of room to spread out, converse and cheer your team on, O'Gills Pub is a place to grab a favorite refreshment, hang out, play board games or backgammon and catch live sporting events via satellite on high-definition televisions.

Aboard the Disney Fantasy and the Disney Magic, O'Gills Pub is a celebration of friends, fun and the Emerald Isle's smiles.

Top O' the Evening

O'Gills Pub is a beer drinker's delight, featuring bracing beverages and custom cocktail concoctions.

This cheerful scene carries a wide selection of American, global and Irish beers; indeed, Ireland's best ales, stouts and pilsners are here on draft, too. Do try the red lager made especially for the pub.

Relax a spell with a pint, a mug, a mixed or specialty drink—including O'Gills Pub's private label Irish Cream—or, order the Blarney Stone Tasting Flight that includes Kilbeggan Irish Whisky and a steaming, rich cup of Irish coffee.
Be transported to Italy in this festive bar inspired by the country's picturesque cities and decorative plazas.
Toast "Salute!" to La Bella Vita
Unwind Italian-style at this adults-only venue featuring a very merry-go-round Carosello bar.
This charming lounge, with its colourful bar modelled after a vintage carousel, is the perfect place for adults to relax after an action-packed day.
La Piazza is home to many enchanting touches:
Romantic couple's booths designed to let you reconnect with your loved one

Unique Venetian masks inlaid in the fixtures

A special display showcasing a lovingly restored vintage Vespa (with a sidecar!)

Captivating live music performances

La Piazza is sure to have you saying "salute!" as you celebrate another wonderful day—and fun-filled nights ahead.
Experience cocktails and leisure-time traditions elevated to an Italian art form.
Try a creative Campari cocktail concoction, Grappa fresh from Venice, a fizzy Prosecco Bellini or an award-winning Moretti or Peroni beer. Relish a real espresso, like you'd find in Italia—accompanied by an almond biscotti, of course!
Unwind at this romantic Champagne bar with elegant décor—it's an enchanted, effervescent delight.
Live the Fantasy
Discover a whimsical treat for the eyes and the palate at this elegant lounge.
Be inspired by this romantic, adults-only Champagne lounge, featuring Louis XIV chaises, candle-like lighting, intimate conversation nooks and countless brands of France's most celebrated fizzy libation.
Cozy into a chic chaise longue and cradle a cognac or a favourite cocktail from the crystal-bubble embellished bar with a backdrop suggestive of a dressing-table jewellery box. Victorian furniture, luxe purple carpets, velvet-tufted walls, gilt-edged mirrors and a fleur de lis motif add to the rosy palette that furthers the reverie... and enhances the romance.
A Bit of the Bubbly
Taste true indulgence—Taittinger's elite custom Champagne, created, bottled and private-labeled only for Ooh La La.
Savour the bar's exclusive pièce de résistance, the limited-edition cellar-keepsake is a Taittinger Nocturne featuring a gold-embossed label. Along with authentic French Champagne from vineyards in the Champagne-Ardenne region, Ooh La La serves enchanted rosés, sparkling wines, spirits, liqueurs, aperitifs, traditional bellini's and signature champagne cocktails, including:
The Legend: With aged cognac and rare angostura bitters

Elderbubble: With raspberry vodka and elderflower liqueur

Pomegranate Passion: With passion fruit puree and pomegranate liqueur

Relax in a plush trés comfy couch and indulge in some Champagne fantastique!
Celebrate the legendary saga and its characters in an event of galactic proportions aboard Disney Cruise Line.
May The Force Sail With You
From January through April 2017, Disney Cruise Line Guests can enjoy the return of the popular Star Wars Day at Sea. Come aboard and experience the heroes, villains and sensational action of the saga up close.
Star Wars Day at Sea —available on select Caribbean cruises—combines the power of the Force and the magic of Disney—in an out-of-this-world adventure unlike any other!
As you enjoy your Caribbean cruise, you'll be transported to "a galaxy far, far away" for an entire day of fun, including:
A deck party featuring Star Wars Characters, music, dancing and fireworks

Photo opportunities with Characters from across the Stars Wars universe

An onboard version of the Jedi Training Academy, where young Padawans learn lightsaber maneuvers

Star Wars-themed games and activities at Disney's Oceaneer Club and Disney's Oceaneer Lab

Stellar food and beverage offerings

Screenings of the Star Wars films plus episodes of Disney's animated series Star Wars Rebels

Exclusive themed merchandise

It's a once-in-a-lifetime experience that will thrill all the younglings, Padawans and Jedi Masters in your family.
Health and fitness
Fun comes in every form on the Disney Fantasy—with clubs for tots to teens, adults-only areas and pools for everybody!
AquaDuck is an exciting "water coaster" located on Deck 12, Aft aboard the Disney Dream. Developed by Disney Imagineers, this elevated water coaster is the first of its kind at sea. The AquaDuck water coaster boasts a thrilling 4-deck drop and safely carries guests over the side of the ship and back.
During the ride, you will:
Travel 765 feet through an acrylic tube

Go on a thrilling journey up, down, around and off the side of the ship, through the Forward Funnel—down a span of 4 decks!

Enjoy breathtaking views of the ocean and ship below—assuming you're brave enough to keep your eyes open during the ride

Get a bird's-eye view of the new pools available to family, kids and adults aboard the Disney Fantasy

Splash into a lazy river at the end of the plunge

Riders should note that AquaDuck is designed for adults and children at least 42" or taller. Single riders must be at least 54" or taller. Children under 7 must ride with someone 14 years of age or older, provided the child is at least 42" tall. No snorkel equipment or swim goggles are allowed in the pool.
Mickey's Pool, one of 3 freshwater pools on the Disney Dream, is a Children's pool shaped like Mickey Mouse that's located on Deck 11, Midship. Designed for young kids, this sparkling pool features Mickey Mouse's happy face at the pool bottom and has a maximum depth of 2 feet.
While cooling off in Mickey's pool, children can safely splash and make friends during their cruise vacation. In addition, those who meet appropriate age and height restrictions can use the pool's slide.
Mickey's Pool and family-friendly Donald's Pool are both located in the same area between the forward and aft funnel. This provides an ideal situation for parents with children of varying ages who wish to explore both pools.
Crew Members host games and activities in the Mickey's Pool are at various times daily. Check the Personal Navigator once onboard for the most accurate activities schedule.
Suspended by a gigantic Mickey Mouse hand, the yellow slide at Mickey's Pool twists and turns, beginning one deck above the pool and splashing down right next to it—all the while allowing children an exciting and safe ride. A minimum height of 38 inches (3' 2") and a maximum height of 64 inches (5' 4") are required to use the slide.
Senses Spa & Salon offers therapeutic and beautifying personal care services for men and women in an impressive onboard retreat, spanning Decks 11 and 12, Forward of the ship. Boasting the ultimate in tranquillity, this immaculate setting offers spa treatments, salon services, teeth whitening, a traditional men's barber shop, as well as luxurious spa villas – where individuals, couples and families can enjoy private rejuvenation.
Enjoy a fully loaded workout facility sporting numerous group exercise classes, weight machines and cardiovascular equipment.
Fitness centres aboard Disney ships are expansive, state-of-the-art exercise clubs offering stunning ocean views. Each adults-only facility features everything you need to work out while at sea, including:
Leading edge cardiovascular equipment, treadmills and ellipticals

Weight machines

Classes and seminars offering aerobics, yoga, Pilates instruction and more

Personal training sessions (extra fee applies, pricing subject to change)

You also enjoy use of the following amenities:

Showers

Lockers

Complimentary Towels

Men's and Women's Changing Rooms

Complimentary Water

Goofy's Sports Deck on the Disney Dream is an all ages, open-air activity centre located on Deck 13. Featuring a miniature golf course, virtual sports simulators and a basketball court, it's the perfect place for kids, teens and adults to partake in active recreational fun while onboard—and to enjoy the spectacular seaside views from high atop the ship. Other deck activities include ping pong, foosball and a walking track.
Luxuriate in some relaxing alone time at this refuge expressly for Guests 18 and over.
Sit back or splash it up at this family wading pool located on Deck 12, Forward aboard the Disney Fantasy and the Disney Dream.
Splash around, cool off and make new friends at this whimsical water play area for children 8 years of age and under.
One of 3 freshwater pools on the Disney Dream and Disney Fantasy, Donald's Pool is the place for family fun in the sun.
Fun is always in the works at this sprawling water playground sure to delight every member of the family!
Kids and Teens
Featuring immersive spaces designed with each age group in mind, Disney Dream's youth clubs encourage kids to use their imaginations.
Open 9am – Midnight.
Disney's Oceaneer Club is a children's activity centre. It is the perfect place for children 3 to 12 years of age to immerse themselves in the imaginative worlds that only Disney could create, while performing on stage, playing games and enjoying a wide variety of supervised activities.
The Oceaneer Club's central rotunda is its main gathering place and, at the same time, a portal to other "lands," including Andy's Room, Monster's Academy, Pixie Hollow and Disney's Explorer Pod. It provides a welcome environment for children, featuring twinkling constellations of Disney characters on its ceiling and sparkling pixie dust. The room's focal point is a stage area where kids can join storytelling sessions and attend special visits by the world-famous Disney character, both in person and virtually.
The rotunda also has a 103-inch plasma screen for watching movies and for magically awesome interactions with Crush, the animated sea turtle from Disney Pixar's Finding Nemo, who speaks like a surfer dude. The turtle personally chats with kids during his real-time animated appearances, asking them about themselves and the human world they inhabit.
Disney's Oceaneer Club includes four distinctly themed play areas, computer banks with child-friendly computers, a reading area, play structure and multiple televisions.
Themed spaces include:
Andy's Room - Inside this vibrantly-coloured room, the world of Disney Pixar's Toy Story comes to life. Children feel toy-sized, because everything around them is built large scale. Throughout this space, kids can play with larger-than-life characters from the animated film, including Rex the dinosaur, Hamm the piggy bank and Mr. Potato Head. This room also features a huge Slinky Dog structure that kids can climb through.

Monsters Academy - This area is based on the Disney Pixar animated film Monsters, Inc., the centrepiece being an elaborately themed play structure, where kids can immerse themselves in the world of Monstropolis. It also boasts computers with unique interactive games.

Pixie Hollow - Inspired by the series of Tinkerbell movies, this fun interactive space transports children to the magical world inhabited by fairies. A pixie dust tree stands in the corner of the room, with glittering lights twinkling among its leaves, and fun acorn and mushroom stools are sprinkled about for children to sit on. This endearing and tranquil environment is designed for dress-up play, individual craft projects and storytelling sessions.

Explorer Pod - Children can explore the Nemo Sub—a scaled version of a submarine inspired by the Disney Pixar animated film Finding Nemo. The bright blue and yellow submarine surrounded by a seascape features virtual environments for children to discover. Onboard the blue and yellow submarine has 16 interactive computers stations for fun-filled individual or group games.

Edge is a loft-style lounge exclusive to tweens—children 11 to 14 years of age. Operating hours vary occasionally, so while onboard, please check your Personal Navigator—the Disney Cruise Line daily newsletter detailing all there is to see and do—for specific times.
Edge features a vast array of hi-tech fun, including an illuminated dance floor for music lovers and notebook computers for game playing and accessing a unique onboard social media application. Perhaps the lounge's most impressive component is a state-of-the-art video wall that stretches more than 18 feet long and nearly 5 feet tall. Comprised of 18 individual LCD screens, the video wall acts as a giant screen—its separate screens can even be divided in any combination to accommodate different-sized video feeds.
Open 11am – 2am.
Vibe is an indoor/outdoor teens-only lounge. Open throughout the day, it is the ideal place for teens ages 14 to 17 to hang out, kick back and make new friends.
Vibe has the look and feel of a hip urban coffee shop and stylish night-club. Its comfortable interior is sleek and trendy while, at the same time, inviting.
Modular, movable furniture and cushy chairs are plentiful and invite teens to relax in style. The trendy venue also features a coffee bar, a DJ/dance area complete with video wall and a media room for video gaming and movie watching.
Vibe's central gathering place is a hi-tech room where teens can chill out by catching a movie on a 103-inch LCD screen with digital surround sound; the cosy, home theatre-style space provides various spots for TV watching. In a separate stage area, teens can grab the spotlight during talents shows, karaoke contests and dance competitions. A lighted, multi-colour disco floor and video wall set the stage for day- and night-dance parties, where aspiring DJs can spin and mix tracks. And for a more laid-back experience, teens can recline in individual nooks, created by built-in oval wall pods, and watch a personal video screen or play video games.
Along with playing video games, teens will enjoy a variety of fun-filled activities throughout the day that they choose at the beginning of their cruise. Boasting a modern, new age design, Vibe's outdoor deck at the ship's bow allows teens to enjoy some fun in the sun without ever having to leave their private club. Here, there are plenty of mod chairs and chaise lounges for sunbathing, as well as "splash" pools, pop jets and misters to help teens cool off. For outdoor recreation, teens can play deck games such as ping-pong, foosball and "old school" board games set on a giant checkerboard that's designed into the floor pattern.
Arr-cade is an action-packed video arcade. Adjacent to Cabanas, the arcade offers a variety of the latest interactive video games, plus several thrilling classics, such as pinball and air hockey. Guests of all ages are invited to compete against each other and partake in some high-tech video fun.
---
It's A Small World Nursery
9am – 11pm.
It's a Small World Nursery—is a nursery for children ages 3 months to 3 years, whose whimsical design was inspired by the classic Disneyland attraction. This nursery is available at an additional charge.
Open throughout the day, It's a Small World Nursery invites Adults to enjoy more adult-oriented adventures during the cruise while their children are safely cared for by trained Disney counsellors. Hours may vary while we are in Port, so please check the Personal Navigator—the Disney Cruise Line daily newsletter detailing all there is to see and do—for daily operating hours.
Inspired by the classic Disneyland attraction—"it's a small world"—this nursery provides a colourful and soothing environment that infants and toddlers are likely to enjoy. The nursery's décor is a stylized patchwork of colourful shapes associated with the "it's a small world" attraction that Disney Legend animator Mary Blair designed.
The facility consists of three distinct areas:
An acclimation zone, designed to help youngsters adjust to the nursery

A main play area, with a 3-dimensional façade of the small world attraction that's filled with interactive features and hidden delights

A separate room for naps that is quiet and peaceful

The main play area also includes a river pattern along the soft surface floor and is surrounded by colourful, kid-sized tables and chairs for toddlers to enjoy crafts, books and games. Activities at It's a Small World Nursery are unscheduled and vary depending on the mood of your child. However, with programs like movie time, story time and craft projects, counsellors are sure to keep your children grinning from ear to ear.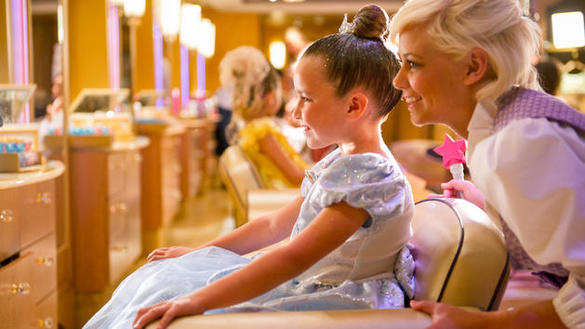 Makeovers for Boys and Girls
When young princesses-to-be make their royal entrance at the Bibbidi Bobbidi Boutique at Deck 5, Midship on the Disney Fantasy, they are greeted by their very own Fairy Godmother-in-training who transforms them with magical makeovers.

Princesses-to-be can choose from a variety of royal treatment packages that combine lustrous hairstyles, shimmering makeup and fanciful nails. Kids can chose between Disney Diva, pop Princess or Fairy Tale Princess.
Princess costumes—complete with crown, wand and shoes—are available. Guests may also choose from a variety of costume options that are exclusive to Disney Cruise Line, including Captain Mickey Mouse, Princess Minnie Mouse, First Mate Minnie Mouse and special Under the Sea packages.

Pirate Party Nights
On pirate party nights aboard the Disney Fantasy, Bibbidi Bobbidi Boutique transforms into a swashbuckler's hideaway where boys, girls and grownups can get ready for the pirate life.

Applications of beards and bandanas, swords and scars, earrings and eye patches are all done with the savvy skill of a veteran pirate who shares his own tales of sea-sailing adventures.

After the new buccaneers recite a sacred pirate oath, they are officially part of Captain Jack's motley crew, leaving their old identities behind. The shipmates and scoundrels are then turned loose on their pirate vessel.
Enrichment
Choose Your Adventures—They'll Take Care of the Details.
Port Adventures—shore excursions that have been specially selected by Disney Cruise Line—provide you and your family with the very best each destination has to offer. Whether flight seeing over vast canyons, exploring undersea worlds or discovering another culture's traditions, make the most of your cruise with memorable experiences for everyone in your family in exotic ports of call.
Useful to know
Guests with disabilities have access to comfortable staterooms and suites, along with a full range of services, facilities and amenities, including auxiliary aids, on every Disney Cruise Line ship and Disney's private island paradise, Castaway Cay.

Most guest areas aboard ship—including theatres, restaurants and shops—are accessible to all our guests. In some cases, such as when utilising tender services or in pools, guests may need to transfer from their wheelchairs to utilise the facility, and this transfer may require the assistance of a member of their party. Therefore, we recommend that guests plan to sail with someone who can physically assist them when necessary. Please also be advised that in certain situations, it may be impossible for guests using wheelchairs to transfer to the tenders due to safety concerns.

Special Access, Seating and Entrances
Special viewing areas at scheduled onboard activities are set aside for Guests using wheelchairs while on their vacation. Assistance with accessible seating at the Walt Disney Theatre can also be arranged by contacting a Crew Member outside the theatre entrance at least 10 minutes prior to show time.
At any time during your cruise, Crew Members can answer your questions about wheelchair-accessible entrances to restaurants, lounges, common areas and restrooms.

Children with Disabilities
Youth Activities are open to children ages 3-17 who are fully potty trained, able to interact comfortably within our counsellor-to-child ratio groups and with peers of their own physical size. Teen and tween activities are also available in separate areas away from younger children.

Parents may make a request with the Youth Activities team onboard to have a child with disabilities partake in modified participation for a limited time period during the cruise. Disney Cruise Line's ability to fulfil the request will depend upon the child's needs, the availability of counsellors, program participation and other applicable considerations. Disney Cruise Line cannot guarantee that all special requests will be accommodated.

Unfortunately, they are unable to accommodate anyone with a contagious disease or who shows symptoms of illness; children who require one-on-one care; a child or adult who wishes to participate in an age group much younger/smaller than their physical age/size; children who need the attention of a counsellor with special training; or children who need counsellor-assisted medical attention.
---
Special Dietary Requirements
Low-sodium meals, kosher meals and certain other special, diet-restricted meals are available. Please detail any dietary requests or allergies at the time of booking so that Disney Cruise Lines can accommodate your dining requests.
There are many places on Disney Cruise Line ships that offer adults-only activities. The Quiet Cove area, which has a pool, spa and bar, as well as the Cove Café are all off-limits to anyone under 18. The Vista Spa & Salon on the Disney Wonder, as well as the Senses Spa & Salon on the Disney Magic, the Disney Dream and the Disney Fantasy offer adult-only treatments. In addition, there are many lounges that are just for adults—along with music and themed parties. Palo and Remy offer fine dining on all cruises for adults and a champagne brunch on 4-night and longer cruises.
The dress code for dinner varies by the venue or theme night of your cruise. In general, most meals are "cruise casual"—no swimwear or tank tops. Most cruises also have special theme nights with optional opportunities to get dressed up for a special family photo.

Palo and Remy do not allow jeans, shorts, capri pants, flip flops or tennis shoes.
A variety of drinks packages are available, including;

Water (6-24 pack)
Satisfy your thirst and stay hydrated during your cruise vacation. Have a water package delivered to your stateroom and waiting for you when you arrive—there's no need to wait until you get onboard to order anymore. Available in both 24-pack and 6-pack cases.

Imported Beet 6-Pack
Select and enjoy six imported chilled beers for the price of five! Heineken, Guinness, Corona and Pub Ale available.

Domestic Beer 16oz Aluminium 6-Pack
Need a refreshing beverage during your cruise? SElect and enjoy six 16oz chilled domestic beers for the price of five! Bud Light, Bud Light Lime, Budweiser, Michelob Ultra, Miller Light and Coors Light available.

Premium & Classic Wine Packages
3-7 Bottles of Premium Wine
Savour the smooth flavour of a premium vintage every night of your voyage. Save up to 25% when purchasing one of Disney's wine packages from their premium offerings. Choose a bottle from the exclusive wine list selected by onboard sommeliers to pair with your food each night.
Smoking (including E-cigarettes) is prohibited in all interior spaces throughout Disney Cruise Ships.  On Disney Dream and Fantasy, smoking is permitted on Deck 4 portside, aft, the outside Promenade Deck from 6pm - 6am, as well as on Deck 12 portside, aft, in the outdoor area that is accessible through the Meridian Lounge. Deck 13 portside, forward, by Currents Bar is also a designated smoking area.
Guests who are found smoking in their staterooms or on their verandahs will be charged a $250 stateroom recovery fee. This fee covers deep cleaning that includes air filter replacement, carpet extraction and the cleaning and replacement of drapes, comforters, blankets and pillows, along with verandah cleaning and maintenance.
---
Internet & Phone Services
Wave Phones
While aboard the ship and on Castaway Cay, reach out to your fellow travellers via Wave Phone—an option that allows you to text and call without using your personal cell phone. From your Wave Phone, you can call any shipboard phone, stateroom phone or other Wave Phone, making it easy to connect with your travel party or new friends.
In your stateroom, you'll find 2 Wave Phones. Additional phones are available at a fee.

Internet Access
Connect@Sea will offer Internet packages based on what you do online. Instead of paying by the minute, you pay for the data you use. Connect via Wi-Fi anywhere on the ship. Chat, post pictures on social media or simply stay connected while at sea.

Mobile Phone Services
In addition to dedicated locations where you can take advantage of ship-to-shore calling, Disney Cruise Line features Cellular at Sea phone service—so you can use your own mobile phone or wireless PDA just as you would on land. Available from most cell phone carriers including AT&T, Sprint and T-Mobile, this service is currently accessible in staterooms.