Enjoy your drink at Thalassa and Horizons bar and watch the Aegean Sea shimmer before your eyes. Celestyal Olympia includes lounges, bars, restaurants, a fully equipped gym, a library, a children's playground, and an array of shops selling traditional Greek products and tax-free goods.
Specifications
Lloyds No

7927984

Size

medium

Style

classic

Type

ocean

Year of launch

1981

Year of last refit

2016

Gross tonnage

37584t

Length

215.0m

Width

28.4m

Speed

19kts

Decks

10

Language

Varies depending on itinerary

Currency

Euro (€)

No. of passengers

1664

No. of crew

540

No. of cabins

724

-wheelchair access

2
Gratuities
For your convenience Celestyal Cruises automatically adds during the booking process a modest service charge to your total cruise package price. Such charge is calculated based on the number of days in which services are rendered and subject to the itinerary at issue, as per below:
Adults (16 years of age and older): £7 per person / per day

Child (2 years of age and up to 16): £4 per person / per day

Infant (under 2 years old): no service charge applied

At Celestyal Cruises customer satisfaction is always at the top of our concern. In the event, passengers are not satisfied with the service they receive, Celestyal Cruises encourages them to contact the Guest Relations Manager while onboard, in order for Celestyal Cruises to address their concerns timely. Passengers can increase or decrease the amount of the service charge at any time during the cruise by contacting Chief Purser. In addition, Passengers are entitled to a refund in the form of a credit on their onboard account, upon settlement of their onboard account. Any service charge will be deemed undisputed, unless a request to adjust them is received by the time of settling Passengers onboard account.
Accommodation
Cabins onboard Celestyal Olympia are clean and comfortable, with an up-close view of the sea if you select an outside staterooms. They are each serviced twice daily, providing you with fresh towels if you need them, bathroom amenities, as well as a turndown service at night.
Everything is done to make you feel pampered, at home, and relaxed. Your stateroom is a place where you can lounge, relax, and enjoy a delicious room service meal.
The ships in the Celestyal Cruises fleet have been designed as the ideal personal space: cozy and convenient, where you'll always find a hot shower and comfortable bed. The housekeeping staff is always available to make sure you have everything you need.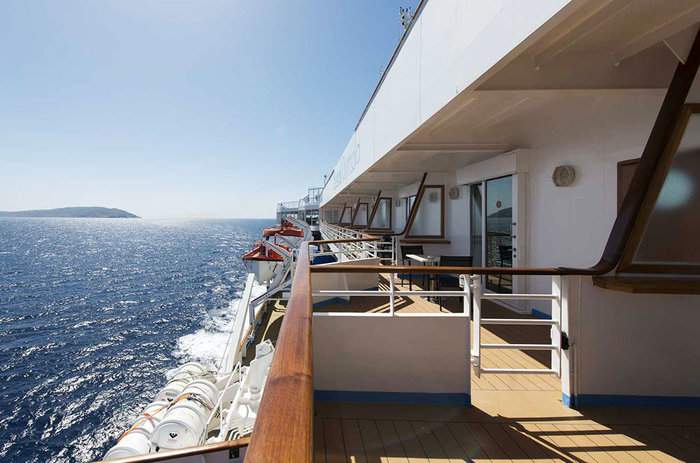 Balcony cabin with double bed and sitting area with sofa bed and minibar. The bathroom is equipped with bathtub and separate shower. A walk in dressing room is available in the room, as well as a hair dryer, TV set, telephone and safe box. All rooms also benefit from air conditioning.
Sleeps 3 (one in sofa bed)

367.8 square feet
Balcony cabin with double bed and sitting area with sofa bed and minibar. The bathroom is equipped with a bathtub. The room also includes hair dryer, TV set, telephone, safe box, and benefits from air conditioning.
Sleeps 3 (one in sofa bed)

302 square feet
Cabin with separate bedroom, with two single beds pushed together, which can be separated upon request. The cabin includes a small sitting area with one sofa bed. Hair dryer, TV set, telephone, and safe box are also included in the room, as well as air conditioning equipment.
Sleeps 2 - 3

231.75 square feet
All outside cabins located on Deck Athena have a round porthole, while those located on decks above benefit from a square window. These cabins includes two to three single beds and a bathroom with shower. Each also benefits from hair dryer, TV set, telephone, and safe box, as well as air conditioning equipment.
Sleeps 2-3

121.6-125.5 square feet
Inside cabins include two to four single beds, as well as a bathroom with shower. Each room also benefits from hair dryer, TV set, telephone, and safe box, as well as air conditioning equipment.
Sleeps 2-4

115.6 square feet
Decks
Aura Grill

Pools

Helios Bar

Horizons Bar

Leda Casual Dining

Beer Corner
Ice Cream Corner
Balcony Suites
Grand Suite
Bridge
Saunas

Olympian Gym

Massage Rooms
Eclipse Bar

Kid's Club

Junior Suites

Sports Deck
Wheelchair Accessible Cabins

Inside Cabins

Outside Cabins

Muses Lounge & Bar

Photo Shop

Argo Lounge & Bar

Casino

Beauty Centre

Selene Lounge & Bar

Agora Shop
Outside Cabins
Inside Cabins
Aegean Restaurant

Shops

Agora Duty Free and Value Shop
Library
Reception

Shore Excursions
Outside Cabins

Inside Cabins

Outside Cabins

Inside Cabins

Outside Cabins

Inside Cabins

Dining
The signature Celestyal experience starts in the very heart of our cruise ships – the dining rooms and lounges. Here you can indulge in rich culinary delights cooked from scratch by our talented chefs and savor fresh Mediterranean ingredients. There's no better feeling than sitting back with a crisp glass of wine and delighting in an array of quality, authentic local food.
Your cruise package includes three wholesome meals as well as afternoon tea every day. Start your morning with our freshly-baked bread and pastries, then browse the buffet or à la carte menu for lunch and dinner. When the sun's shining brightly, there's even casual al fresco dining on our decks as well as room service, so you can choose exactly how and when you want to eat.
That's what makes your Celestyal Cruise vacation so special – service from the heart, lovingly-made food, memorable mealtimes and comfortable lounges to relax with a drink. 
Your cruise rate includes three complete and wholly delicious meals every day. Breakfast is American or Continental, with a Greek touch, and includes fresh-baked rolls, muffins and Danish pastries.
At lunch and dinner, choose from dozens of appetizers, salads and soups, and traditional American, Continental and Greek dishes, all prepared for your delight, followed by a variety of decadent cakes, rich ice creams and fresh fruits.
The chefs want to take you on a journey deep into the heart of Greek gastronomy, with healthy Mediterranean meals cooked to please even the most demanding palate, with friends at your table. They also serve a delicious selection of international dishes, including American and Continental fare, as well as hot dogs, hamburgers, salads, and sandwiches.
There's also great pizza for the little travelers, and for anyone who loves a crisp, handmade, oven-baked pizza, delivered to your cabin (room service charges apply).
Dining Experience:
Complimentary
For more casual dining, try the Leda Buffet.
Dining Experience:
Complimentary
Entertainment
The ship has a lot of onboard entertainment: bingo, dancing, exercise programs, games, music performances, sporting events and trivia contests – there's always something to do for everyone on board, from kids to seniors. These activities are a great way to spend time with the people you love and to meet your fellow passengers.
Activities start bright and early, first thing in the morning, and continue all day and throughout the evening. There's always something to do onboard, even if all you want to do is sit down with someone and play backgammon (there's also checkers, chess and other board games). 
Visit the pool deck or any of the luxuriously appointed bars and lounges for a cold beer, a glass of wine, or a specialty cocktail or coffee. Try the Santorini whites, like assyrtiko, dry and fruity, and athiri, which is slightly aromatic, or the Peloponnesian wines, like white Moschofilero, with its aroma of roses and violets and spice, and Agiorghitiko, a dry aromatic red.
Enjoy a chilled glass of ouzo, the famous anise-flavored liqueur of Greece, or the bartenders' spectacular Skinos cocktails, delicious one-of-a-kind concoctions with mastiha, a liqueur made from the mastic bushes of Chios. Bring a newspaper, or just relax and enjoy one of the live music performances. They're open all day until late into the evening. You'll be a regular before you even finish your drink.
Like games of chance? Adrenaline rushes? Unbridled excitement? Join other guests in the comfortable casino and try your luck. There's games for every taste.
While you play, enjoy the stellar service for which Celestyal Cruises is famous – order your favorite drink from the waiters while you play. They'll make you feel at home, no matter how deep into the night you want to roll.
Please note, the game tables close when in port. 
Shopping on board Celestyal Cruises ships is like being transported to the hottest European outlets. You'll be dazzled by an immense array of products at exceptionally competitive prices. The Shopping Arcade is located on Venus deck and features duty free and travel value shops.
There is a small lounge area on Apollo deck where you can access the Web. In order to get online, you must purchase a card from Reception – this card will provide you with a code for a set amount of time to connect to the Internet.
Your onboard account will be automatically charged when you purchase the card.
The magic of a night at a crowded taverna onboard – you will be unable to resist the call of the bouzouki, and you'll soon find yourself on one of the dance floors performing the "sirtaki" from Zorba the Greek with 100 of your closest friends! If you're a bit shy about your "moves," there are Greek dancing classes during the day.
You'll also find classical concerts, disco, karaoke, line dancing and talent shows. Each Celestyal Cruises ships has a complete nightclub onboard, with a high quality sound system and professional club lighting. Come have a drink while professional DJs spin the best contemporary sounds, both Greek and international.
Health and fitness
Celestyal Olympia is a true lady ready to show off her best manners. Just see below for yourself.
Our revitalizing onboard spa is where all your day-to-day worries are left at the door. Choose any of our professional spa treatments and packages that include several types of head and body massages such as Balinese Shiatsu, classic Swedish massage and aromatherapy as well as cleansing facials, honey and sugar body exfoliation, hot stone treatments and mud wraps for a rejuvenating and invigorating cruise vacation. Just remember to book your appointment in advance to avoid disappointment.

Our onboard salons add a touch of glamor to your vacation. Expert beauticians, hairdressers, manicurists and pedicurists will pamper you and make you feel fabulous as you get ready for Gala Night or cocktails with your loved one. And as we only use the best products, your fabulous feeling will last even longer - just remember to book an appointment in advance as our salons are very popular. What's more, our salon packages make great Bon Voyage Gifts!
Our cruise ships all come with well-equipped gyms where you can keep up with your daily fitness routine or even try a new workout regime. Start your morning with a stretching program to feel ready for the day ahead, or come to the gym at the end of a day to disconnect with a motivating exercise program.

Kids and Teens
The Kid's Zone is a large playroom where children can play and be entertained at certain times during the day. Various activities are organised for children up to 12 years of age, depending on the number of children on each departure.
Enrichment
Greek culture and heritage is part of their DNA and it can be experienced through their on board educational workshops as well as through our exciting shore excursions.
With Celestyal Cruises, you will experience a journey to local eno-gastronomy, highlighting the culture of each destination by preparing refined dishes with local products and ingredients, paired with exquisite Greek wines.
Their insider's view and the deep knowledge of the local regions, sets them apart from any other operator and provides passengers with unique cultural and gastronomic experiences.
Special events and classes are organised throughout the course of the cruise, these may include:
Ice sculpting

Quizzes

Vegetable carving

Linen towel folding show

Contests

Dance class

Cooking class

Cooking & Confectionery Expositions by specialist

Lectures about history & archeology

Useful to know
If you are physically challenged or your mobility is impaired, at the time of booking they kindly request that you provide them with full and detailed information in connection to your disability. If they believe there might be a safety issue for you or for your traveling companion, Celestyal Cruises reserves the right to advise that the passenger with health or mobility problems must have the assistance of a person who will be responsible for and take charge of all of this passenger's needs and requirements. If you or your travelling companion requires personal, individual care or supervision, this must be organized by you or your traveling companion at your cost. No Celestyal Cruises ship or staff or crew member can provide specific care or supervision to anyone, nor can we provide any form of medical care for a physical or psychiatric condition.
They have a limited number of cabins suitable for people with disabilities or whose mobility is impaired, and not all areas of the ships are accessible to these passengers or equipped for them. Passengers travelling with a wheelchair should be aware that they may not be allowed to disembark in the ports when tender service is in use, for their own safety. Given these restrictions, bookings for such passengers are dependent upon the availability of suitable onboard lodging. If Celestyal Cruises deems it necessary, the assistance of a fully able person capable of catering to the passenger for the duration of the selected cruise may be requested to escort the passenger with mobility restrictions. All costs are to be supported by the passenger. Passengers in wheelchairs must bring their own wheelchairs, of normal size. Celestyal Cruises only carries wheelchairs for emergencies on its vessels.
---
Special Dietary Requirements
If you have any specific dietary requirements, allergies or intolerances, please let them know in advance so they can make the necessary adjustments wherever possible.
For their own health and safety, infants under three months old are not permitted on board. If your baby is older than three months, please feel free to bring him or her along. If you require a baby cot, please advise the Customer Service Department at least one month prior to your cruise. They must advise you that they do not carry baby food on board, nor do they provide a babysitting service.
For your safety and comfort on board they suggest sports or flat deck shoes with low heels. These types of footwear will make it easier for you to walk in the outside decks and stairwells.
On the seven-day cruises they host Gala Night and the Captain's Cocktail in honour of their passengers, and they ask that you attend in formal dress: a cocktail dress or something smart for the ladies, jacket and tie for the men.