Refurbished in 2014, Adventure of the Seas is packed full of the latest features and innovative facilities, providing passengers with an action packed cruise experience.
Choice is key onboard; from sport, fitness and relaxation to shopping, entertainment and kids clubs. Main, speciality and casual dining are all on offer, with My Time Dining allowing passengers even more freedom to chose just what's right for them.
Specifications
Lloyds No

9167227

Size

super

Style

resort

Type

ocean

Year of launch

2001

Year of last refit

2014

Gross tonnage

137276t

Length

311.1m

Width

47.4m

Speed

22kts

Decks

14

Language

English

Currency

US Dollar ($)

No. of passengers

3114

No. of crew

1185

No. of cabins

1557

-wheelchair access

26
Unique Features
The ship's magnificent Ice Rink is an industry innovation and was the first to appear onboard a cruise ship. As well as allowing passenger's to take ice skating lessons, the rink also provides some fantastic ice shows.
Gratuities
On all our ships, it is customary to offer tips to staff members for their good service and personal attention. You can pre-pay your service charge as part of your booking and this will be shared among Dining Services Staff, Stateroom Attendants and Other Housekeeping Services Personnel. If you have opted not to pre-pay your Service Charge before your cruise, for your convenience we will automatically add a $14.50 per guest per day service charge to each guest's SeaPass account on a daily basis. For guests in a Grand Suite or above, the amount is $17.50.
An 18% service charge is also automatically added to beverages and beverage packages, mini-bar items, spa & salon purchases as well as specialty dining products, including packages, classes and brunches.
Many of our guests choose to reward exceptional service during their cruise by providing additional gratuities. You may do so by providing an additional gratuity to your SeaPass onboard account or a cash gratuity at your discretion.
Accommodation
You could spend your days staying fit, playing games or just lazing in the sun – whatever you do, it's good to head back to an airy, comforting and relaxing room. The staterooms onboard Adventure of the Seas range from lavishly appointed suites with private balcony, to compact rooms to suit any budget – and they've given them all the same attention to detail. 
Treat yourself to something extra special. Enjoy even more amenities and personalised service for an exceptional vacation experience. All of our Owner's Suites have a queen sized bed and separate living area with queen sized sofa bed.  
Returning to the real world may be a bit difficult after staying in one of our Grand Suites. Not only will you get more space to unwind, you'll also receive next-level luxury treatment with perks like reserved seating and priority bookings. Make sure you pack something special, because you'll get an exclusive invite to a cocktail party hosted by the Captain.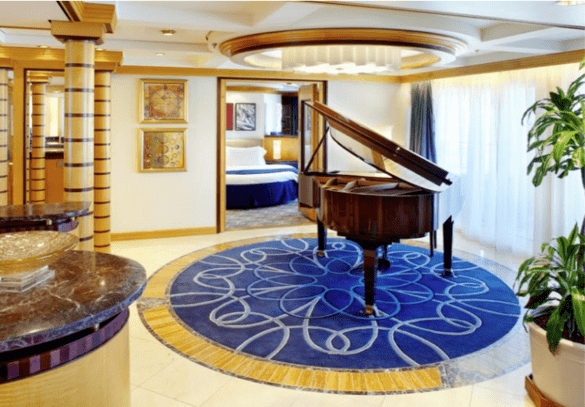 Feel like the King or Queen of the castle in our Royal Suites. You'll get the highest standard of service and will be met and welcomed onboard by your concierge. You'll also get priority bookings, exclusive invites and luxury treats. it's the red carpet, 5-star Royal treatment where your every need is met in style. 
Royal Suite: 1090 Square Feet, Balcony 215 Square Feet, Sleeps 4
Throw open the doors and let the ocean air invigorate you. Take in the view all the way to the horizon in a luxurious stateroom with a private balcony. 
Superior Balcony Staterooms: 180 Square Feet, Balcony 50 Square Feet, Sleeps 4

Deluxe Balcony Staterooms: 185 Square Feet, Balcony 50 Square Feet, Sleeps 4

---
Ultra Spacious Ocean View Staterooms
There's space for the whole family - as well as stunning views out to sea - in these comfortable staterooms, with room for up to six people, Two twin beds that convert to Royal King, two Pullman beds in separate area, separate sitting area with sofa bed and bathroom. 
Wake up to shimmering sunrises and spend nights gazing across star-studded skies. From an Ocean View room jaw-dropping sights are never far away. 
Family Ocean View Staterooms: 265 Square Feet, Sleeps 6

Large Ocean View Staterooms: 180 Square Feet, Sleeps 4

Ocean View Staterooms: 160 Square Feet, Sleeps 2

Promenade View Cabin: 160 Square Feet, Sleeps 2

Stay close to the heart of the action in a comfy Interior Stateroom. Some Staterooms now have virtual balconies which stream real time footage from the deck into your Stateroom  
Decks
Ocean View Staterooms
Interior Staterooms  
Conference Centre
Ocean View Staterooms

Interior Staterooms
Lyric Theatre
Studio B

Photo & Art Gallery

Main Dining Room

Lyric Theatre

Schooner Bar

Chops Grille
Bar
Casino Royale

Boleros 
Centrum

Aquarium Bar

Main Dining Room

Observation Deck

Outdoor Deck

Imperial Lounge

Card Room/Library
Centrum

Cafe Promenade

Royal Promenade

Fashion Boutique 
The Duck and Dog Pub

Promenade Shops

Gravity
Guest Services/Shore Excursions 
Champagne Bar
Main Dining Room

Junior Suites

Spacious Ocean View Staterooms with Balcony

Ultra Spacious Ocean View Staterooms
Spacious Ocean View Staterooms
Ocean View Staterooms
Promenade View Interior Stateroom
Interior Stateroom
Interior Accesible Stateroom
Junior Suites 
Spacious Ocean View Staterooms with Balcony

Ocean View Staterooms with Balcony
Ultra Spacious Ocean View Staterooms
Spacious Ocean View Staterooms

Ocean View Stateroom
Promenade View Interior Staterooms

Interior Staterooms
Next Cruise
Grand Suite - 2 Bedrooms

Spacious Ocean View Staterooms with Balcony

Ocean View Staterooms with Balcony

Ultra Spacious Ocean View Staterooms

Spacious Ocean View Staterooms

Promenade View Interior Staterooms

Interior Staterooms
Interior Accessible Staterooms
Grand Suite 2 Bedrooms 

Junior Suites 
Spacious Ocean View Staterooms with Balcony

Ocean View Staterooms with Balcony

Ultra Spacious Ocean View Staterooms

Spacious Ocean View Staterooms

Ocean View Staterooms
Interior Staterooms
Royal Suite 1 Bedroom

Owner's Suite 1 Bedroom
Grand Suite 1 Bedroom
Junior Suites 

Spacious Ocean View Staterooms with Balcony

Ocean ViewStaterooms with Balcony 
Interior Staterooms
Vitality Spa & Fitness Centre

Whirlpools

Swimming Pools

Solarium

Solarium Bar

Pool Bar

Sea Trek Dive Shop

Splashaway Bay
Outdoor Movie Screen

Bar
Florist

Giovanni's Table

Windjammer Cafe

Island Grill

Vitaltiy Spa & Fitness Centre

Sky Bar

Running Track

Centrum

Video Arcade

Optix Teen Disco

Adventure Ocean

Johnny Rocket's

Adventure Beach

Rock Climbing Wall

Sports Court

The Perfect Storm
Flowrider
Adventure Dunes Golf Course

Cloud Nine

Blue Moon

Seven Hearts

Viking Crown Lounge

Diamond Club

Dining
The bustling boulevard, The Royal Promenade, is a great place to get a snack, ice cream or a light meal such as a sandwich or pizza at the Café Promenade. Casual dining is also available at the 1950s-style diner, Johnny Rockets. For more sophisticated dining, savour Italian classics at Giovanni's or a "who-dunnit" evening at the Mystery Dinner Theatre.
Their Main Dining Rooms deliver attentive service and flexible dining options included in the price of your cruise and the speciality restaurants offer a range of different culinary experiences for a small extra charge. 
The vast, 3-deck high main dining rooms – Mozart, Strauss and Vivaldi - are open for breakfast, lunch and dinner. Serving identical menus, each offer two sittings as well as flexible 'My Time Dining' dining allowing you to eat when you want. Tables typically seat 4-12, with limited seating for two.
Dining Experience:
Complimentary
Get the family together in this all American diner for old fashioned burgers and fries. This relaxed restaurant has 1950's décor including dancing waiters, friendly service and a true American menu. 
Dining Experience:
Cover charge may apply
Whether you want a quick snack after a session in the pool or at the gym, or a laid-back dinner, just take a seat and take in the view. It's all easy.
Dining Experience:
Complimentary
Located right in the heart of the lively Royal Promenade, this is a great place to grab a pizza, sandwich or coffee to go, day or night. 
Dining Experience:
Complimentary
A casual Italian trattoria with indoor and al fresco seating, Giovanni's Table offers rustic dishes with a contemporary flair, including toasted herb foccacia, pastas, braised meat dishes and stews, served family-style
Dining Experience:
Cover charge may apply
Island Grill is within the Windjammer Cafe and seats 454 guests. This casual cafe offers eggs cooked to order in the morning and Asian and Thai dishes in the evening.
Dining Experience:
Complimentary
Featuring the first dry-aged steaks at sea, Chop's Grille the signature Royal Caribbean restaurant serves up perfectly cooked meats, fresh seafood and tempting desserts. 

Food type:

Steak & Seafood

Dining Experience:

Cover charge may apply
The flavours of Japan come to life at Izumi, with delicious fresh sushi, sashimi and more all handmade to order.
Dining Experience:
Cover charge may apply
You never need an excuse for ice cream on holiday, and here, there are, lots of fantastic flavours to choose from. 
Food type:
Ice Cream Parlour
Dining Experience:
Cover charge may apply
Entertainment
From traditional cruise favourites to innovative, first at sea activities; the entertainment onboard offers something for all ages and preferences.
Order your favourite cocktail, dress to impress and enjoy a night on the town – in the middle of the ocean! With Blackjack, Roulette, Poker, a choice of slot machines and much more on offer, this is a little bit of Vegas onboard Adventure of the Seas®. Will Lady Luck smile on you?
Located in the heart of the ship; 2 football pitches long and 4 decks high – the Royal Promenade is lined with boutiques, as well as 24-hour casual dining and drinking options.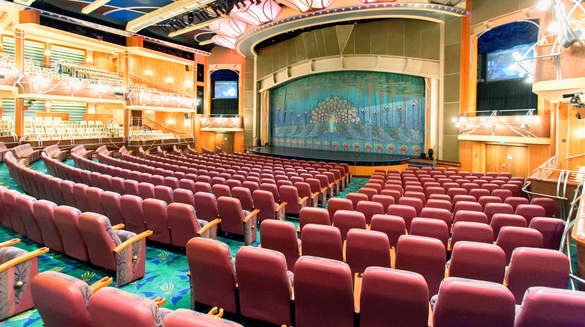 Standing five decks high (from orchestra pit to domed ceiling), the impressive Lyric Theatre showcases contemporary musical stage productions, West End style shows and stand up comedians.
Studio B is a multi-purpose complex housing a wide range of activities – from ice skating to cooking demonstrations and classes.
The Champagne Bar is elegant, sophisticated and most importantly stocks some of the finest champagnes at sea. This venue is great for a special occasion, a pre dinner drink or just to celebrate that you are on holiday. Accompanying drinks will be an assortment of canapés.
Offering traditional ales and lagers within a great British pub atmosphere, this venue truly is a home from home.
The ship's pool bars make it easy to stay cool in the sun without having to stray too far from the deck chair. They offer a range of refreshing drinks and cocktails for passengers to enjoy.
This nautical themed bar is available on all Royal Caribbean ships. In the evening this is a popular place to be, with live piano playing and singing.
Passengers can grab a beer and catch all the big matches in the ship's Sports Bar. It's just like your favourite sports bar at home - only it's at sea.
Offering the best views at sea The Viking Crown Lounge is Royal Caribbean's signature bar. Located on the top deck, this glass lounge, offers unmissable panoramic great views.
Catch a fast-paced comedy show or improvised performance in one of the onboard theatres or try some live underground comedy in Comedy Live. Laugh yourself silly with live stand-up in this New York underground styled comedy venue.
Original art is displayed in the onboard art gallery as well as throughout the ship. To purchase something for your own collection, visit an onboard art auction.
The onboard library features comfortable reading chairs as well as an impressive selection of books and guidebooks.
Guests staying in Grand Suite-level rooms and higher, Diamond Plus and Pinnacle Club Crown & Anchor® Society members enjoy access to this lounge serving complimentary continental breakfast and evening drinks.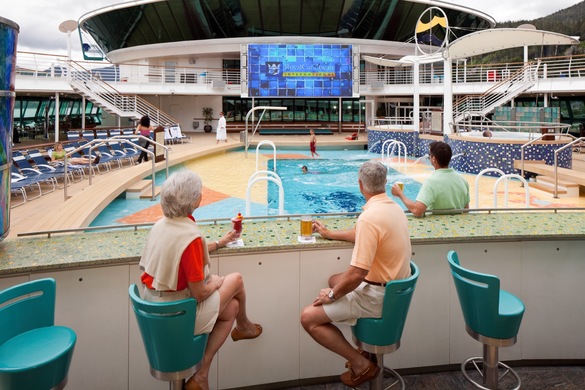 Watch first-run movies and big time sporting events the way they were meant to be seen - poolside, under the stars. A screen hoisted above the main pool area will showcase all the larger-than-life action.
The Seven Hearts card room is a great place to meet for Bridge and other games.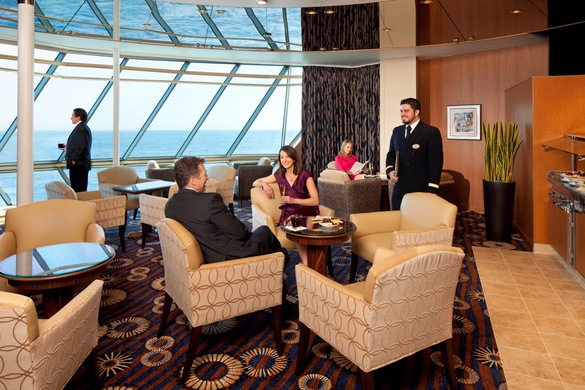 Diamond, Diamond Plus, and Pinnacle Club Crown & Anchor® Society members enjoy access to this lounge, created to serve these loyal guests with concierge access, complimentary continental breakfast, and evening drinks.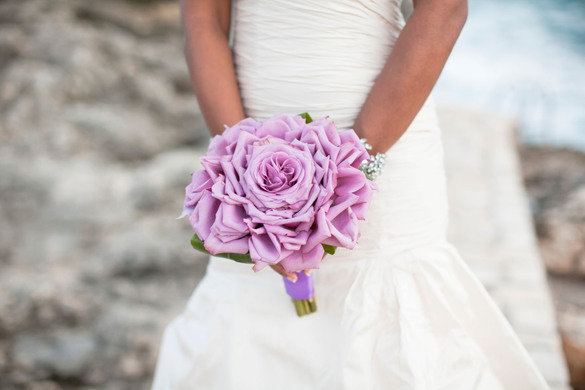 The wedding chapel, which can accommodate 40 people, is located on top of the Viking Crown Lounge (the highest point on the ship), and is the perfect place to say "I do."
The Aquarium bar circumnavigates the Centrum on deck 4 and seats 130. It features large aquarium fish tanks with exotic fish. The venue acts as the ships' lobby bar and with it's green and red décor makes a good central location for a quiet drink or to meet friends and family.
Live music, dancing, and entertainment. 
The music is hot, but the drinks are cold at this lively Latin Lounge.
Exclusively for suite guests, this stylish bar is the perfect place to enjoy an aperitif
Get ready for thrills and spills, with two super splashy waterslides onboard Adventure of the Seas®! Zoom down the Cyclone, and whizz along the Typhoon – whichever one you choose, you're guaranteed a fun-filled ride! Perfect for adults and kids alike.

Health and fitness
The ship features a fantastic array of health and fitness facilities including a spa, fitness centre, rock climbing wall and much more.
A range of services and relaxation treatments are available from the Vitality Spa & Fitness Centre. The salon, located within the spa area, offers haircuts, styling, manicures, pedicures and teeth whitening. Visit Vitality Spa for massages, reflexology, facials, bodywraps and acupuncture. 
Health, fitness and beauty demonstrations and seminars run by qualified professionals during most voyages. The Vitality Wellness Programme offers a holistic approach to well being, with expert advise, healthy menu options, fitness programmes and spa on offer.
There's lots of fun to be had at the full-sized sports courts onboard Adventure of the Seas®, where you can play football, dodgeball and more!
The Solarium offers a calm, quiet, peaceful atmosphere for adults to relax in. Both in and outdoors, the lounge area can be covered during cooler weather by a large glass roof.
Ever thought about climbing a rock wall 200ft above sea level? With the ship's onboard rock wall this can become a reality. Passengers who take on the challenge will experience some of the best views at sea.
---
Swimming Pools & Whirlpools
Warm up in one of the relaxing whirlpools or take a refreshing dip in one of the swimming pools.
Refine your mini-golf game on the first two story golf course at sea!
A walk, jog or run around this dedicated running track is a great way to explore the ship and take in some sea air.
Whether you're a total beginner or seasoned pro, you'll have a blast at this fast-paced onboard surf simulator.
Kids and Teens
Royal Caribbean International's cruise ships offer a wide range of options for the whole family, as well as a great range of just-for-kids options.
The Adventure Beach family pool area offers deckchairs, a slide and pool for kids to splash around in to their hearts content.
Optix Teen Disco lets teens have the chance to relax, hang out, dance and have some fun away from mum and dad.
---
Adventure Ocean Programme
A play area with specially designed activities for kids from 3-17. Run by exceptional, energetic and college-educated staff.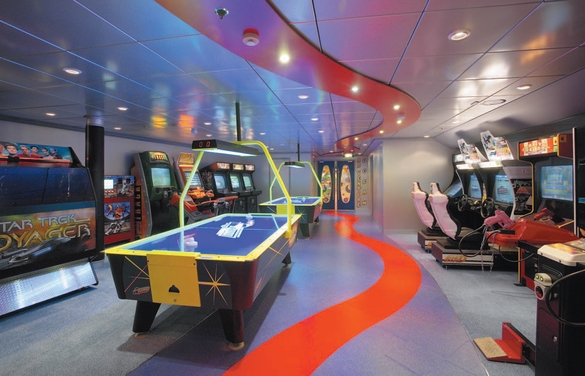 Blips, bleeps, clangs and cheers. Play to win in a classic arcade atmosphere with timeless games like Pacman and table hockey, plus the latest – Guitar Hero, Fast and Furious Drift and more.
Kids will love this watery wonderland, full of fountains, winding slides and colourful sculptures - it's the perfect place to cool down!
Enrichment
Enrichment programs, or 'Explorer Academy' classes cover a wide range of topics, from wine tasting to casino tuition.

Classes include:

Wine tasting - learn about wines from around the world

Casino tuition - from poker to blackjack, learn how to play some of the casino's most popular games

Dance and fitness - including yoga, pilates, ice skating and dance

Language

Cookery - try your hand at cupcake decoration

Useful to know
---
Special Dietary Requirements
Special meals can be provided on all ships, when requested in advance, however not all requests are guaranteed. Requests must be submitted no later than 60 days prior to sailing. 
A wide range of vegetarian and gluten free meals are available onboard as standard.
Wheelchair accessible staterooms are available on request. These can include electric entrance doors and accessible shower facilities. Priority and assisted boarding is also available on request. 
The ship has ramps and lifts on most decks, and hoists are available on request at certain pools and jacuzzis. Please note that passengers must provide their own wheelchairs/scooters or hire from an outside vendor.
There are three distinct types of evening on board: casual, smart casual and formal. Suggested guidelines for these nights are:
Casual: Polo shirts and trousers for men, sundresses or trousers for women.

Smart Casual: Jacket and shirt for men, dresses or trouser suits for women.

Formal: Suits and ties or tuxedos for men, cocktail dresses or trouser suits for women.
There are however certain restaurants onboard which maintain a casual dress code throughout the cruise. On a typical 14 night cruise, 8 nights will be casual, 3 nights will be smart casual and 3 nights will be formal, however this depends upon individual cruise itineraries.
For sailings that depart from a port in Europe, Australia, New Zealand, South America and Asia, the minimum age for purchase and consumption of alcohol is 18. , For any sailing which commences outside of the above stated areas, the minimum drinking age is 21. Therefore any ships departing from or calling at a port in North America the minimum drinking age will be 21. 
Passengers who wish to use the spa, casino and adult nightclub must be 18 years or over. Those wishing to use the solarium and whirlpools must be 16 years or over. Under 16s must be accompanied by an adult when attending the theatre.
The following drinks packages are available onboard:
Non-alcoholic drinks packages
If you don't drink, or want to stick to a budget during your holiday, then the non-alcoholic packages are the best choice for you. There are plenty of different options for you to choose from.
Complimentary drinks
There are drinks onboard that are complimentary, and free for anyone, regardless of what drinks package they have, or even if they haven't opted for a drinks package. The complimentary drinks available to you are tea, coffee, water and cordial.
Classic Soda Package
On a hot day, there is nothing better (or as refreshing) as sipping an ice-cold fizzy drink with the Classic Soda Package, you can have as many fizzy drinks as you could possibly want.
If you're travelling as a family, this is a perfect package for the kids to enjoy.
Refreshment Package
This is one step up from the soda package, and includes a huge range of all our non-alcoholic beverages.
Wouldn't an ice-cold mocktail be lovely and refreshing, while you're lounging by the pool on a hot day?
If that sounds like the dream, then you should opt for the Refreshment Package. You get a lot more choice and variety of non-alcoholic drinks, including non-alcoholic cocktails and premium coffees and teas.
Cafe Select Coffee Card
After all that rest and relaxation, you might find you need something to get your energy levels up. In which case, the Café Select Coffee Card is the one for you.
The card gives you 15 specialty hot drinks, including the premium teas, espresso-based coffees, and hot chocolates for that little indulgent holiday treat you deserve.
Alcoholic drinks packages
If you want even more drinks to choose from, as well as treating yourself to a cocktail or two, then the Deluxe Beverage Package is the one for you.
Deluxe Beverage Package
This drinks package gives you the biggest choice. This includes spirits, liquors, wines and beers. There is a huge list of cocktails you can choose from, including six types of mojitos, and ten different margaritas – we recommend the Champagne margarita as a great way to start an evening.
The benefits of the Deluxe Beverage Package don't stop there, as you will also receive 40% off bottles of wine under $100, and 20% off bottles over $100. With these savings, you don't have to worry about breaking the bank when you go for dinner, or want to treat yourself to a glass of wine (or two!) in the evening.