The Olsen's used to have a ship called Borealis in their fleet many years ago, in 1948, long before they became a cruise line.
The name ties in well with our company heritage stemming from Norway, with so many people going in search of the Northern Lights – the Aurora Borealis – with us, and celebrates the romanticism of cruising.
Each ship has its own unique style and personality and will bring exciting new features for our guests to enjoy.
These include:
- More space throughout the ships
- Original artwork and premium décor
- An all-weather swimming pool with a retractable roof
- A wide choice of restaurants, lounges and bars
- More balcony cabins and suites
- Culinary demonstration and wine tasting venues
- A classic two-tiered theatre
- Dedicated meeting spaces, perfect for groups
- Additional spa facilities including a thermal suite, hydrotherapy pool and more treatment rooms
We are so excited to be bringing these ships to our fleet and can't wait to welcome you on board.
Specifications
Size

medium

Style

Premium

Type

ocean

Year of launch

1997

Year of last refit

2015

Gross tonnage

62735t

Length

237.7m

Width

32.2m

Speed

22kts

Decks

10

Language

English (American)

Currency

US Dollar ($)

No. of passengers

1404

No. of crew

615

No. of cabins

690

-wheelchair access

21
Balcony, cabins & designated areas
Accommodation
Please note that we are waiting for updates from Fred. Olsen Cruise Line for information about the accommodation and what is provided below will change. 
1,127- 1296 Square Feet

Private Veranda

Sleeps 4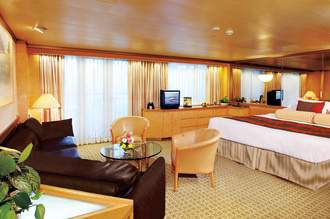 558-644 Square feet

Private Veranda

Sleeps 4

283-379 Square Feet

Private Veranda

Sleeps 2

140-319 Square Feet

Ocean View

Sleeps 2

141-293 Square Feet

Sleeps 2

Decks
Medical Centre
Reception

Ocean View Staterooms

Interior Staterooms

Launderette

Ocean View Staterooms

Interior Staterooms

Atrium
Ocean View Staterooms

Interior Staterooms

Theatre
Shops
Restaurants
Guest Services
Atrium
Excursions/Tours
Theatre
Shops
Atrium
Restaurants
Bars
Casino
Suites

Ocean View Staterooms

Interior Staterooms

Bridge

Lounge

Suites
Ocean View Staterooms

Fitness
Spa & Wellness
Pool
Bars
Restaurants
Sliding Dome Cover

Practice Tennis Court

Basketball Court
Enrichment
---
Digital Workshop powered by Windows
Guests on Holland America Line cruises can learn how to display and share their vacation memories through the Digital Workshop powered by Windows. This enrichment program offers free, informative sessions that are led by a Microsoft-trained "techspert" on a variety of relevant topics such as:
• How to take, edit and enhance better photos
• How to post your photos to the web or email them to friends and family back home
• How to create blog entries, videos, scrapbooks and more
The Digital Workshop offers many free, easy-to-use photo sharing tips and tools, so it's not necessary to be an expert photographer or an experienced computer user to benefit from the program. The workshops showcase state-of-the-art technology provided and maintained by Microsoft -- including Windows8 computers, printers, scanners and a wireless network -- and conveniently have their own dedicated space on each ship. Flat-screen TVs in each session allow for easy viewing of videos and "techspert" demonstrations.
The jargon-free interactive classes include:
• Editing your cruise photos
• Turning your cruise photos and videos into a slide show
• Getting your photos out of the camera and into the computer
• Advanced editing of your cruise photos
• Sharing your cruise photos via email and the Internet
• PC safety and maintenance
• Learning fun ways of staying connected with instant messaging and webcams
• Learning the basics of staying connected through social networking
• Understanding the basics of your digital camera
• Learning what PC is right for your lifestyle and how to find the best offers
• Seeing how Windows 8 can simplify your PC and your life
Guests can choose to attend all or just some of these 60-minute workshops, each of which will be offered at various times and days throughout each cruise. Multiple workshops will be held every day. In addition, one-on-one coaching called "Techspert Time" will also be available every day.
Scheduling of classes can be done on board only and cannot be pre-reserved prior to sailing.
From steel drum lessons in the Caribbean, to tai chi with a master in Asia, to Celtic fiddlers in the Canadian Maritimes—Holland America Line's "On Location" program brings local culture to life showcasing unique entertainment and enriching activities as well as the cuisine of each region.
"On Location" provides so many experiences for guests to enjoy, like taking a Tango lesson in Argentina, a hula class in Hawaii or searching the southern sky with an astronomer in the South Pacific, the options go on and on. The Culinary Arts Center also comes alive as visiting chefs from along the route add local flavour to cooking shows and hands-on classes. Guests may choose to prepare the perfect salmon in Alaska, make sushi in Asia or learn to enhance dishes with the spices of the Caribbean. Wine lovers can pair food with the perfect wine as experts from vineyards in Europe, Australia and Chile host tastings.
There will also be a new sizzle to Holland America Line's menus each day. The onboard chefs will create dishes using locally sourced ingredients, which will delight guests with an enticing array of regional cuisine.
---
Culinary Arts Centre - Demonstrations & Classes
Hosted by the on-board party planner, classes take place in the Culinary Arts Centre, a first-class "show kitchen at sea," or in one of the many bars and lounges. The line schedules classes throughout the day on both sea and port days to fulfil the demand for the culinary program.
Ranging from seasonal cuisine to fruit and vegetable art, the flavourful and fun classes enable guests to learn from Holland America Line's own professional culinary staff and discover the finer art of entertaining during their cruise. Itinerary themed cooking demonstrations focus on the ship's sailing region and bring the local flavours on board. When in Alaska, the program offers "Flavours of the Northwest" and "Fresh Ketch." Guests sailing on Caribbean itineraries may learn how to make jerk chicken or shrimp scampi, while those on Mediterranean cruises could prepare pasta with chorizo sauce or a warm crostini with classic caponata and mozzarella.
---
Culinary Arts Centre - Signature Cooking Classes
The Culinary Art Centre features a theatre-style venue, with two large plasma video screens and a large cooking display counter where guests can learn from Holland America Line's own professional culinary staff. Offered on all sailings and ranging from itinerary based cuisine to fruit and vegetable art, the flavourful and fun classes enable guests to discover the finer art of entertaining during their cruise. Sign up for an intimate hands on cooking class or attend one of the very popular cooking demonstrations in the theatre.
---
Culinary Arts Centre - Wine Tasting and Mixology
In conjunction with the Holland America Line Beverage team, the Culinary Art Centre offers a Signature Cocktail program where guests can learn how to prepare world class cocktails from one of the ship's bartenders. Wine tastings hosted by the Cellar Master and Party Planner are also available on every cruise. You can enjoy two different tasting levels – Navigator Wine Tasting or Premium Wine Tasting.
---
Culinary Arts Centre - Party Planner
To complete the culinary experience the Culinary Art Centre features demonstrations on the Fine Art of Flower Arranging, Ice Carving, Cake Decorating, Plate Presentation and Garnishing, Easy Entertaining and more. All hosted by the onboard Party Planner and demonstrated by Holland America Line culinary experts, florists, and carvers.