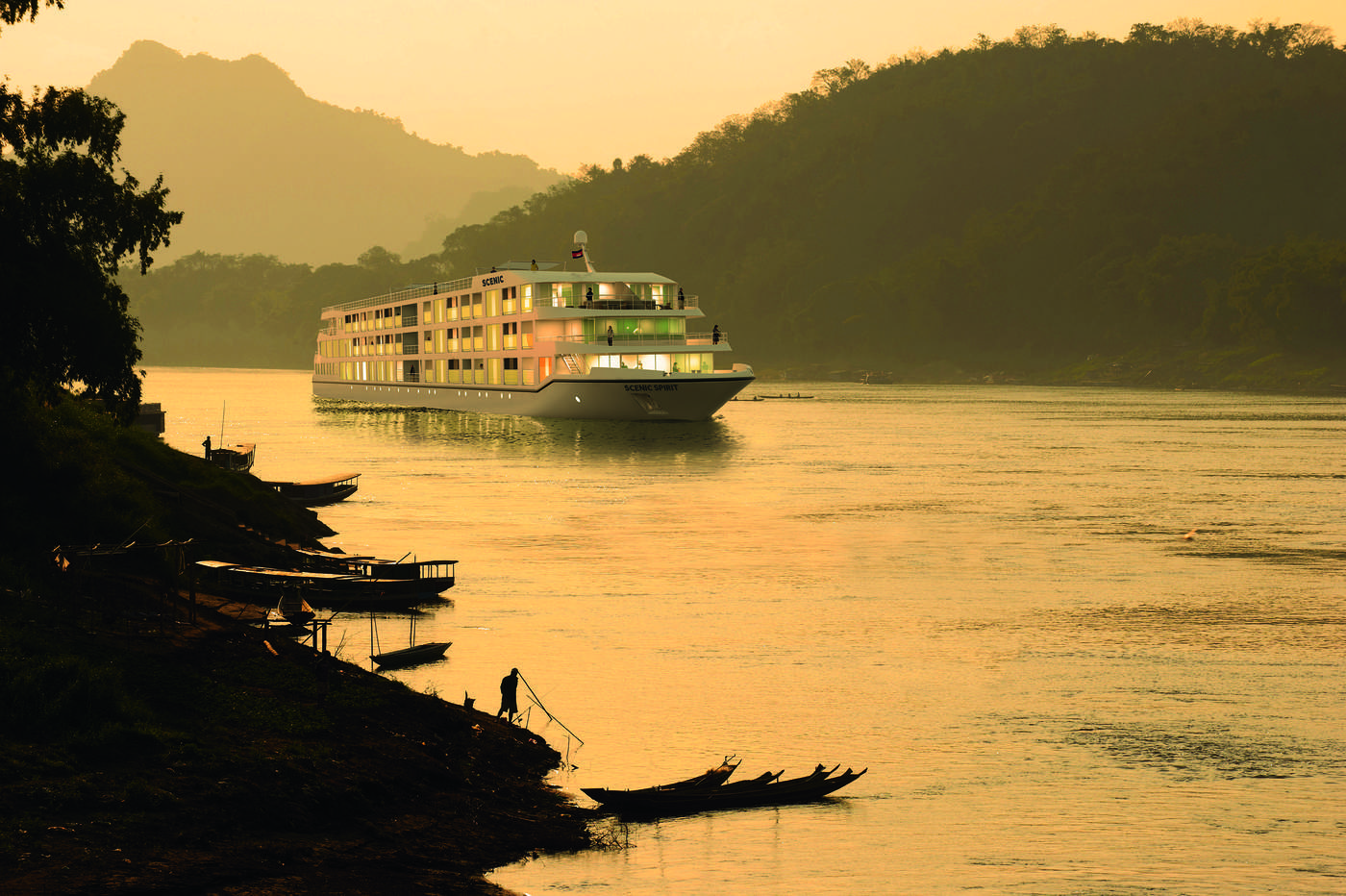 Scenic's Mekong River cruises take place aboard Scenic Spirit, a 279-foot vessel that was launched in 2016 and can accommodate 68 passengers in 34 one-bedroom balcony suites. The Scenic Spirit offers an almost 1:1 staff-to-guest ratio and is equipped with a sleek swimming pool, a steam sauna, and an open-air cinema. Akin to a luxury boutique hotel, Scenic Spirit set a bold new benchmark in luxury Asian river cruising following its launch in January 2016. Inspiring awe at every conceivable aspect, this magnificent vessel marries technological innovation with timeless luxury and elegance — creating a peerless travel experience you'll simply never forget.
Specifications
Size

boutique

Style

Luxury

Type

river

Year of launch

2016

Gross tonnage

3000t

Length

85.0m

Decks

4

Language

English

Currency

Chinese Yuan (¥)

No. of passengers

68

No. of crew

50

No. of cabins

34

-wheelchair access

1
Gratuities
Forget about tipping, Scenic take care of all gratuities, so you don't have to.
Accommodation
Introducing the first 'all-balcony suite' ship on the Mekong river. 100% of the Deluxe Suites include a separate bedroom, living room, en-suite bathroom, and balcony so you can enjoy the sights and unwind on your own terms. The superior queen-size Scenic 'Slumber Beds' with fresh, crisp Egyptian cotton linen are a dream, while individual climate control and a pillow menu offer absolute comfort. Your suite or stateroom includes a flat-screen HDTV and Mac mini system, plus complimentary mini-bar and WiFi internet access. There's also a personal safe for your valuables and a nightly turndown service.
This is the largest suite on the Mekong river. Being up forward on the Diamond Deck, enjoy fantastic views of the passing scenery from your private terrace with outdoor Jacuzzi and day bed. Suites have a separate lounge and dining area, walk-in dressing room and a luxurious oversized bathroom offering a separate bathtub, toilet and shower.
These eight suites on the Diamond Deck are the ultimate in luxury. With more space, impeccable service and thoughtful touches, you can enjoy an outdoor balcony, separate lounge and dining area, extra-large walk in wardrobe and a luxurious oversized bathroom.
These spacious Suites are located on the Jewel, Sapphire and Diamond Decks. Each have a private full-length balcony, walk in wardrobe and elegant en-suite bathrooms featuring a large vanity basin with a separate toilet and shower.
Decks
Pool and Bar
Royal Panorama Suite- Cat RS
Grand Deluxe Suite- Cat RD
Deluxe Suite-Cat A

Outdoor Lounge

Spirit Lounge

River Cafe

Deluxe Suite- Cat B
Deluxe Suite- Cat BB
Deluxe Suite- Cat BA
Library

Gift Shop
Reception
Crystal Dining
Galley

Wellness Centre

Steam Sauna

Beauty Salon

Gym

Guest Laundry

Dining
Southeast Asia is renowned for its fresh and flavoursome cuisines, and the Scenic Spirit gastronomic experience is designed to give you a taste of what this exciting region has to offer. 
They have a selection of complimentary on-board dining venues, including the Crystal Dining Room which offers breakfast, lunch and dinner. Early risers can enjoy an alternative breakfast in the River Café, which also serves Asian-inspired fare and snacks throughout the day. For something different, the Teppanyaki Bar opens on select evenings for al-fresco dining. All of the ingredients used on-board are sourced from local suppliers, so you'll enjoy fresh seasonal produce and the finest regional specialties, created by an expert team of culinary craftsmen.
---
Crystal Dining Restaurant
The Crystal Dining Room offers breakfast, lunch and dinner daily. Buffet or À la carte, you can look forward to flexible seating arrangements and meals prepared by award-winning chefs, accompanied by a generous selection of complimentary drinks.
Dining Experience:
Complimentary
If you're an early riser, you might choose to east at the River Café, which opens early for breakfast and serves casual Asian-inspired fare and snacks throughout the day. 
Dining Experience:
Complimentary
If you're in a more relaxed mood, or simply want a little time to yourself, the inclusive room service ensures that you can also eat in the comfort of your own suite.
Dining Experience:
Complimentary
Entertainment
With championed contemporary comfort onboard, the spirit of Southeast Asia is engrained in every design decision, even within the ships lounge and bar, making the Scenic Spirit unrivalled on the Mekong river...
During your cruise, visit the Spirit Lounge and Bar and choose from a selection of wines, beers, soft drinks, cocktails and spirits or help yourself to teas and coffee, all at no extra cost. It's worth noting that they store their wines in special EuroCave storage cabinets to ensure that your wine is matured and served at the perfect temperature.
Health and fitness
Whilst aboard the ship, guests are provided with a Fitness centre and a Wellbeing centre where luxurious treatments such as a one-hour aroma therapy full-body massage are available.
The Scenic Spirit is akin to a 5-star floating hotel, offering unrivalled health and fitness amenities featuring an Onboard Swimming Pool, Gym, Beauty Salon, Steam Sauna and Wellness Centre.
Kids and Teens
Please note: the the ship does not have any facilities onboard to accommodate Kids/Teens.
Enrichment
Cruising the Mekong will lead you to the heart of South East Asia's vibrant communities, rich culture and timeless history. The region offers an incredible array of sights and experiences and the exclusive Scenic Freechoice and Scenic Enrich activities allow you to personalise your tour to your liking. Visit a local market in Siem Reap and take part in an authentic Khmer cooking class or take a journey through the countryside to the Killing Fields in Phnom Penh.
As the sun sets partake in the tradition of 'oil lamp lighting' around Shwedagon Pagoda in Yangon or witness the sunrise over the magnificent 12th century Angkor Wat temple complex. Take a trek in the areas surrounding Inle Lake and visit a hill tribe village or discover the art of Vietnamese art of water puppetry. With a wonderful variety of relaxed, moderate and active paced options, you can soak up the serene beauty and discover the remarkable stories of this region.
Scenic Enrich experiences are once-in-a-lifetime immersion into local cultural and culinary wealth. Most are unique and exclusive to Scenic and you will walk away with treasured memories. Indulge in high tea before being treated to an exclusive private shadow puppet performance recounting ancient Khmer folk tales at the iconic Raffles, Hotel Le Royal in Phnom Penh, experience life at a village monastery in Bagan, take a tour of the village, meet the locals, before enjoying a spread of traditional Burmese sweets; or receive a traditional monk's blessing at Cambodia's 11th century Angkor-period complex, Wat Nokor.

Scenic Freechoice is a collection of activities in key destinations with a wonderful variety of pace options covering many passions and interests. Personalise your tour to your liking, at no extra cost. Discover the tastes of Laos at a produce market before learning the art of its popular local dishes, tour the streets of Hanoi for its vibrant emerging art scene, or breathe in the beauty of Luang Prabang's Kuang Si Waterfalls and admire the numerous turquoise blue pools.
Useful to know
Scenic welcomes disabled guests but wishes all guests to understand that challenges will exist on-board and during shore excursions. While the ships have elevators, they do not service each deck. Furthermore, you should be aware that the ships also have split-level decks and/or significant thresholds that could make movement difficult. Under appropriate circumstances guests are permitted to use collapsible wheelchairs on-board. Shore excursions may require movement over cobblestones or up and down stairs; accordingly, guests with limited mobility will require the services of a responsible companion to be travelling with them, since crew availability is severely limited. Guests who have any medical, physical or other special needs should contact the travel advisors for further information and also view the deck plans to gain an understanding of the layout of any particular ship.
Travellers who are less than 21 years old on the departure date must be accompanied by and share a cabin/ room with an adult aged 21 or over. Children under 12 years of age are not accepted. This is a condition of carriers and cruise operators.
Casual and comfortable during the day. In the evening dress is semi formal or business casual and casual elegance for ladies. For gentlemen a jacket and tie are requested for the Captain's Dinner.